Craving Warmth? Book a Flight to These Hot Spots.
Want to avoid the winter blues? These warm adventure remedies are here to help, from mountain biking in Baja to hiking Dominica.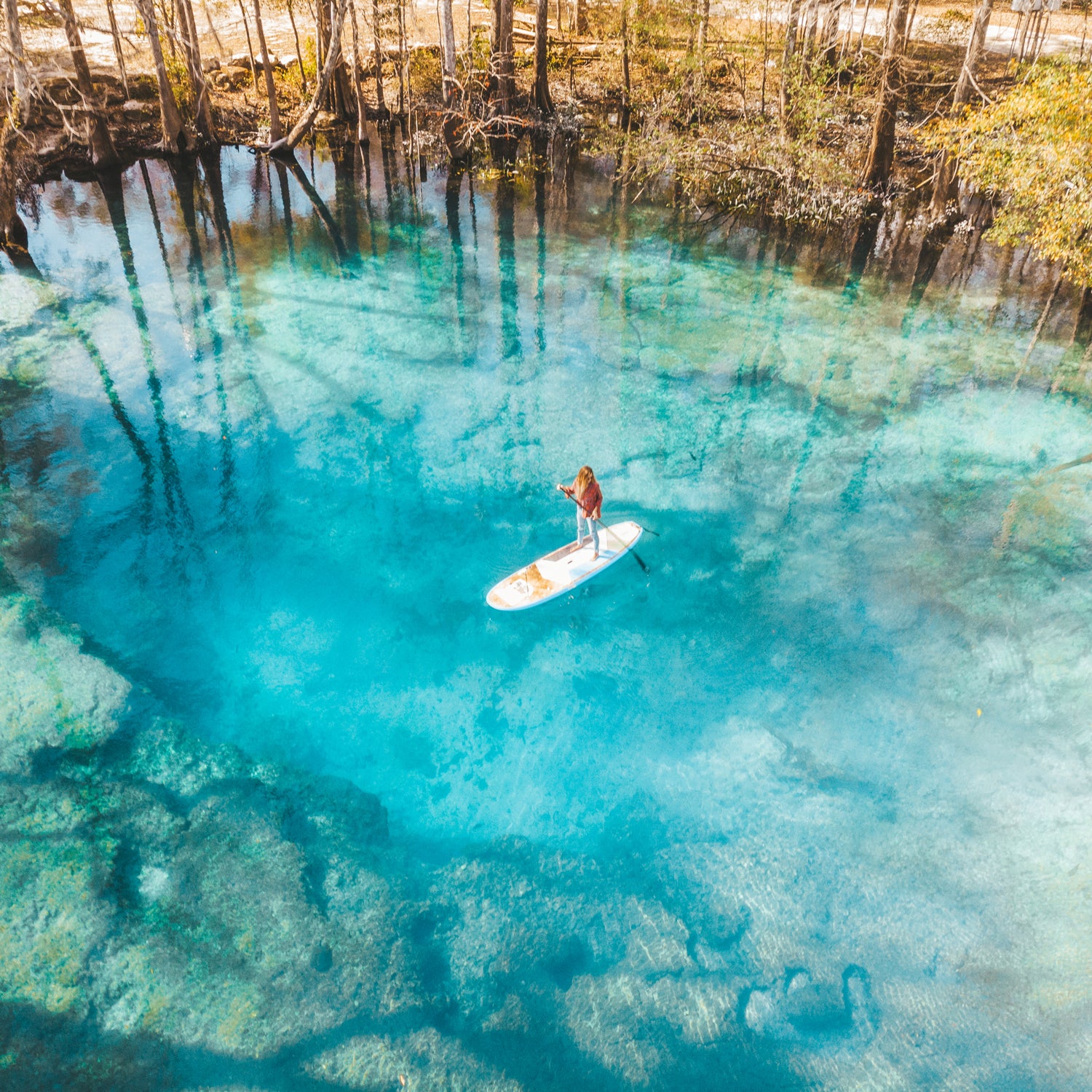 Peter Pontone
Heading out the door? Read this article on the new Outside+ app available now on iOS devices for members! Download the app.
Surf Uncrowded Breaks On Costa Rica's Caribbean Side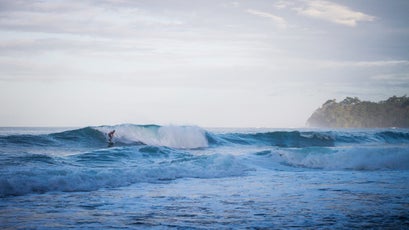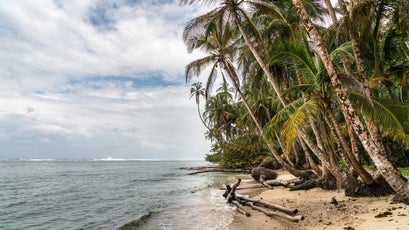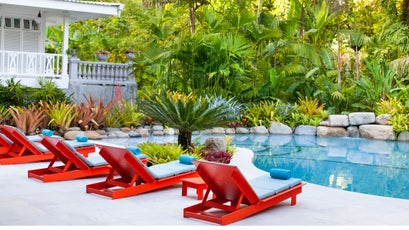 Costa Rica has become one of the world's most popular surf destinations, and with that status have come concerns that the country could lose its pura vida vibe. The once sleepy towns of Tamarindo, Nosara, and Santa Teresa are on surfers' radars, and on the Pacific coast in Pavones—which boasts the second-longest left break in the world—the waves are often packed. But you should still go, and consider the less visited Caribbean side. In the small coastal town of Puerto Viejo de Talamanca, four hours southeast of San José, you'll find 50 miles of white-sand beaches, coral reefs, and waves for every skill level. The main draw is Salsa Brava, a heavy, barreling reef break reminiscent of Oahu's North Shore. But Playa Negra is perfect for foam-top-riding newbies, and Punta Uva for intermediates craving easy rides without drama. Those who want to test the waters before trying out Salsa Brava can hire a boat in Limón to reach Uvita Island, a punchy reef break.
Stay at the year-old Hotel Aguas Claras on Playa Chiquita (from $290, breakfast included). The vision of Costa Rican artist Elizabeth Steinvorth and her daughter Elena Rohrmoser, it has six suites and six bungalows perched in tropical gardens, a restaurant, and bars and nightclubs nearby. Given the area's rainforest, you'll have no shortage of options if the surf's not up. Kayak or SUP the Punta Uva River in search of monkeys and toucans, or get close to sloths and wildcats on a walk at the Jaguar Rescue Center. Cahuita National Park is a 30-minute drive from the hotel and laced with well-marked hiking trails that lead to snorkeling spots rich with marine life. From May to October, you're likely to glimpse leatherback turtles hatching on the beaches. —Jen Murphy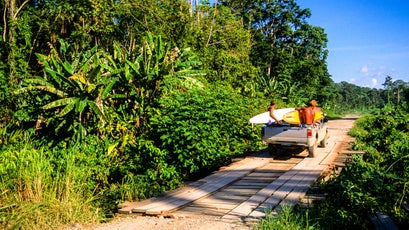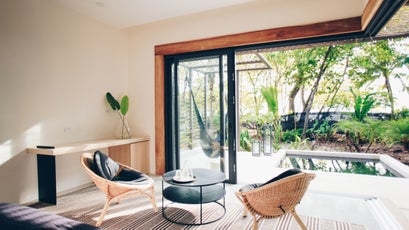 Detour: New Adventure Bases
Kasiiya Papagayo
This off-the-grid eco-retreat on Costa Rica's northern Pacific coast is set on 123 acres of untouched jungle, with trails that lead to two empty beaches. Between the wildlife view­ing (howler monkeys in the trees, eagle rays and turtles in the sea) and five palatial tented suites, Kasiiya rivals the most over-the-top African safari stays. (From $615)
Senda Monteverde Hotel
If spotting a jewel-toned quetzal and two-toed sloths are on your wish list, then this new 24-room lodge, three hours northwest of San José, is a dream base. A hanging bridge connects the property to Aguti Wildlife Reserve, or drive 15 minutes to Monteverde Cloud Forest Reserve, which is home to more than 400 species of birds, 2,500 plants, and jaguars. (From $260)
Hotel Nantipa
The project of three Costa Rican friends, this 15-room beachfront hotel is steps from some of Santa Teresa's best surf breaks. If you aren't a surfer, swap your sandals for hiking boots and explore nearby Monte­zuma Waterfalls and Cabo Blanco Nature Reserve. (From $320)
---
Shred New Trails Across Baja's Sierra Cacachilas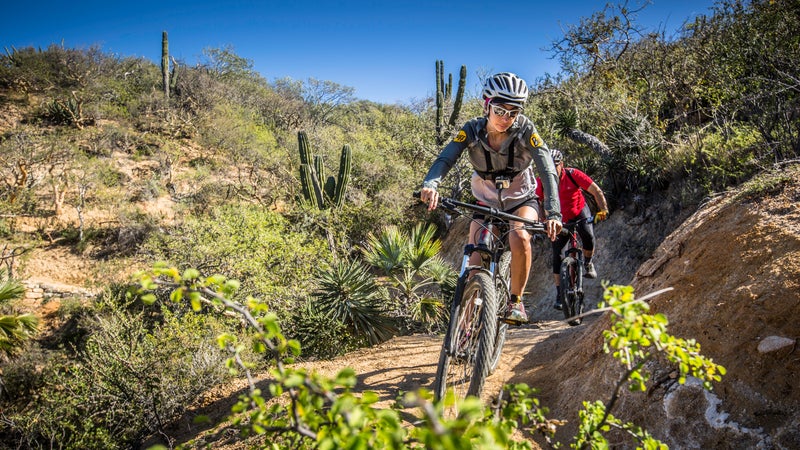 When it comes to Baja, most people think humpback whales, monster Pacific swells, and jalapeño-spiced margaritas sipped on empty beaches. Now mountain bikers eager to escape winter can add their own fantasy: cycling an expanding system of singletrack at Rancho Cacachilas, a solar-powered adventure resort with access to 34,600 acres in the Sierra Cacachilas between La Paz and kiteboarding hub La Ventana. Since 2014, an International Mountain Biking Association–trained, 15-person crew has been building what will eventually be 43 miles of singletrack on the ranch, with an eye toward erosion control and water management, which means the trails won't be washed away in the next flash flood.
Twenty-five miles are complete, giving intermediate and advanced riders a few days' worth of exploration in a trail system that feels like an arid Fruita, Colorado, with saguaro cactus and killer ocean views. The ten-mile Sky Trail will be finished in June and peaks at a summit that overlooks the sea before spilling into a giggle-out-loud downhill. Rancho Cacachilas also offers hiking and bird-watching, as well as on-site workshops in cheesemaking and seed storage. Or just kick back by the pool with a cocktail and take in the expansive view of Cerralvo Island in the Sea of Cortez. —Stephanie Pearson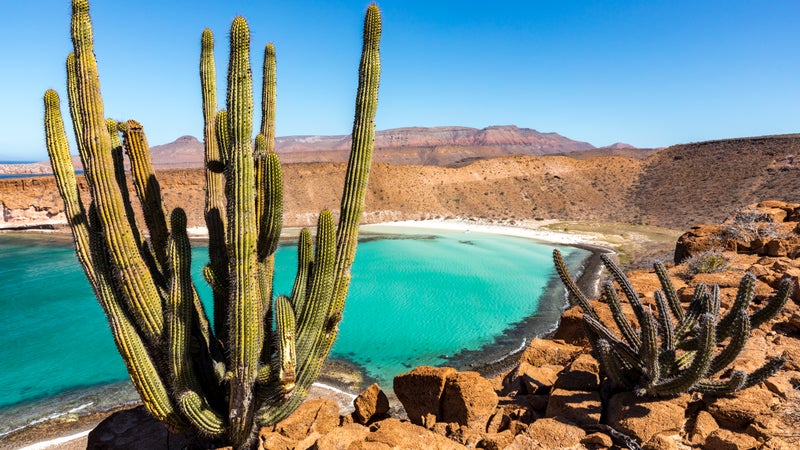 Access and Resources
Where to stay: With a direct line to the trails, Rancho Cacachilas's rustic main lodging area Chivato has eight safari-style glamping tents and four rooms, plus outdoor showers and a small pool overlooking the sea. The minimum stay is two nights (from $175), which includes ac­commodations, food, and activities. The ranch is open from October 1 to May 31.
Other activities: For a change of pace, guests can sign up for ROW Adventures' eight-day Sea to Mountains Adventure, which involves four days of sea-kayaking the wildlife-rich waters near Espíritu Santo Island, followed by four nights at the ranch (from $2,040). Or take a six-hour camp ($399) or two-hour private lesson (from $190) with Evolution Kiteboarding in nearby La Ventana.
Need to know: Don't bother renting a car—shuttle buses are available from Los Cabos Airport to La Paz; from there, guests catch a private shuttle to the ranch. The Mountain and Bike Hub, an on-site rental and repair shop, offers high-performance dual-suspension rides (from $46 for four hours).
---
Snorkel and Dive the Springs of Northern Florida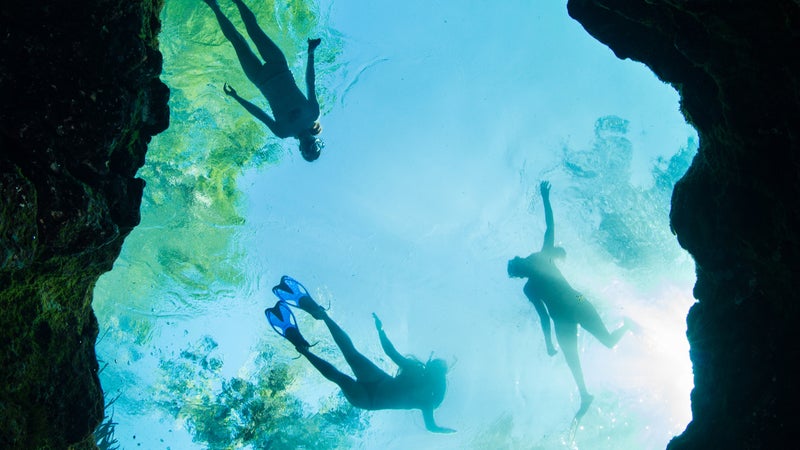 As an aquatic wonder, Florida is overlooked. Some 700 freshwater springs fed by mineral-rich aquifers bubble up from the limestone sponge the state sits on. From ground-level pools that reach down 100 feet to caverns created by sinkholes, these crystalline lagoons look like a cross between a Yucatán cenote and a Caribbean reef. And at a constant 72 degrees, they're always the ideal temperature for snorkeling and diving. The small northern outlets of Branford, Fort White, Mayo, and Old Town are prime places to start exploring, due to their close proximity to the springs and to places to stay.
An hour and a half west of Jacksonville, 2,669-acre Ichetucknee Springs State Park is a great entry point, with bream-filled cerulean pools and a diveable open-­ceiling cavern called Blue Hole. Thirty minutes west of Ichetucknee, less visited Troy Spring State Park features a sunken paddle-wheel riverboat, scuttled by Confederates as Union soldiers advanced in 1863, that makes for a good wreck-diving site. The park's main pool, a 70-foot-deep cavern, is shaped like a funnel, with limestone formations that resemble brain coral. A dive here usually attracts hundreds of yellow-bellied slider turtles that swirl around you.
Ginnie Springs, a 35-minute drive southeast from Troy Spring, has a series of seven aquamarine pools along a two-mile trail that runs parallel to the Santa Fe River, filled with large gar, bass, and turtles. Plan a full day to snorkel or dive the springs. For technical divers, there's also the Devil's Spring system, with more than 30,000 feet of underground tunnels. Forty miles south, Devil's Den Spring and nearby Blue Grotto, in the town of Williston, attract scuba and cave-certified divers, respectively, who come to explore the ancient fossil beds. Devil's Den is a naturally lit underground pool, while Blue Grotto is 100 feet deep and has a passage to a 300-yard-long chamber. —Tony D'Souza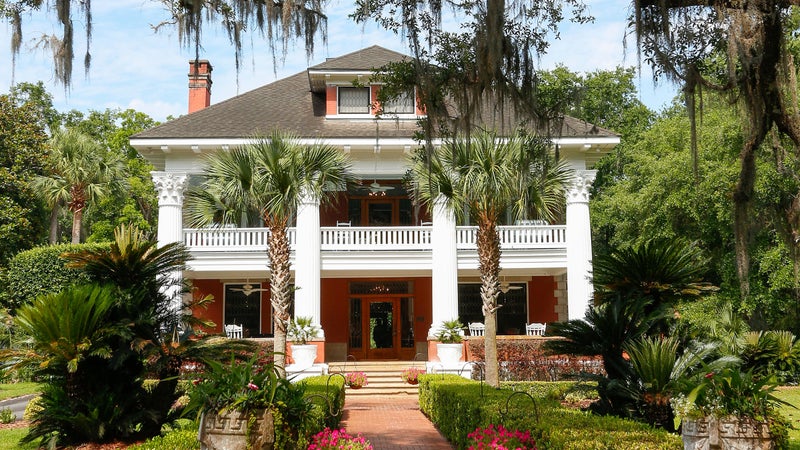 Where to Stay
Ichetucknee Springs Campground (from $20) is a mile from the park's northern entrance, but consider a 20-minute drive to stay at Smoakhouse Ranch (from $100) south of Branford. There are three cabins and a three-bedroom farmhouse on-site; book Earl Cabin, a cyprus-clad 19th-century shotgun house. Snorkeling gear is sold at the general store near the south entrance, but you'll need to bring your own diving equipment.
Primitive camping sites (from $23) dot 200-acre Ginnie Springs, many of them along the Santa Fe River. The three-bedroom Ginnie Cottage (from $175) is also located in the park and has a large deck and a fully equipped kitchen. The park's dive center rents equipment.
In the historic Old Florida town of Micanopy, 20 minutes south of Gainesville, the 11-room, two-cottage Herlong Mansion (from $125) makes a great base for divers headed to Blue Grotto and Devil's Den Spring. Both sites offer full gear rental.
---
Land Some of the Caribbean's Most Evasive Fish in Belize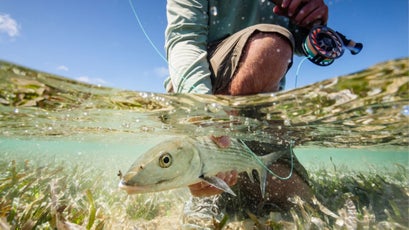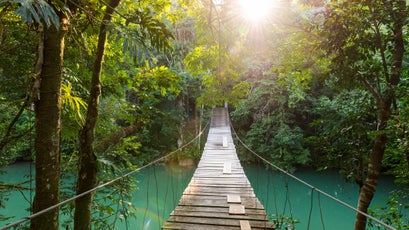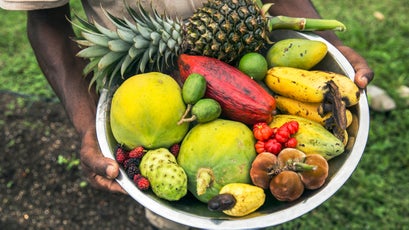 The small fishing town of Punta Gorda in southern Belize offers some of the most elusive catches on a fly. At the edge of Port Honduras Marine Reserve, the area's flats have a thriving population of permit, as well as big schools of bonefish and tarpon. Better yet, Punta Gorda, a 50-minute turboprop flight south from Belize City, still feels undiscovered. For more than 15 years, the Garbutt brothers—Dennis, Eworth, Oliver, and Scully—have been slowly putting the town on the map. Former commercial fishermen, the brothers now run a sportfishing charter company, dive outfit, and three-cabin lodge overlooking Joe Taylor Creek, from which their boats depart (from $1,340 for three nights).
The day starts with a breakfast burrito as you motor to spots chosen by the Garbutts—sometimes a small island in the Gulf of Honduras, some­times coastal marshes, depending on tides and wind. Aboard a 23-foot super-panga with casting decks and poling platforms, your guides will propel the skiff into the shallows while searching for fish. Along the way, it's common to spot manatees, lemon sharks, and dolphins. The brothers also have exclusive access to Lime Caye, a shallow flat 40 miles east of Punta Gorda known for its bonefish, permit, and diving sites. —Chris Santella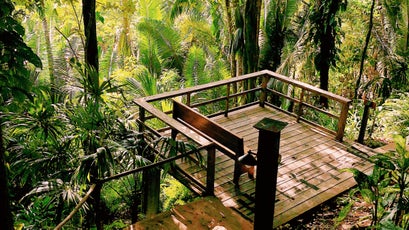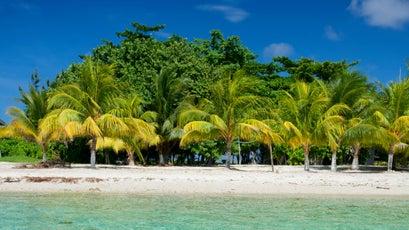 Where to stay: If the three cabins at Garbutt's Fishing Lodge are booked, Copal Tree Lodge (from $179) has 16 spacious suites and a three-bedroom villa overlooking a 12,000-acre nature reserve. The hotel transports you by car to a nearby dock that the Garbutt brothers use to pick up anglers and divers.
Other activities: There are plenty of nonfishing adventures. At the southern edge of the Belize Barrier Reef, 36 miles east of Punta Gorda, snorkel or dive with manta rays, sea turtles, and, from March to June, whale sharks at Sapodillas Cayes Marine Reserve. The well-preserved Lubaantun ruins, a 19-mile drive from Punta Gorda, date back to 730 A.D. After, cool off with a swim in Hokeb Ha Cave about ten miles southwest.
When to go: December through April is high season in Belize, with clear skies and temperatures around 80 degrees. Permit and most fish species are present all year.
What to bring: While the Garbutt brothers have a few rods to loan, most anglers bring a nine- or ten-weight and floating line. Bauer and raghead crabs are popular flies.
---
Hike an Entire Island Along Dominica's Waitukubuli National Trail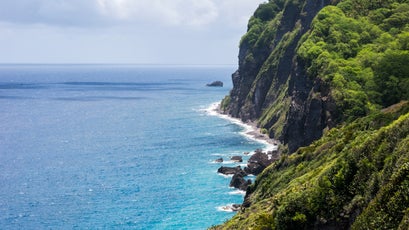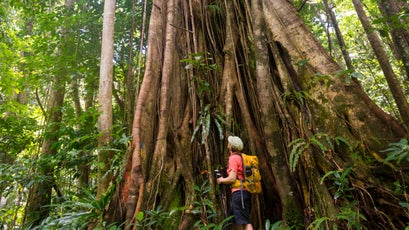 This volcanic island between Martinique and Guadeloupe was well on its way to becoming the Caribbean's top adventure destination when Hurricane Maria hit in 2017. Many of its neighbors are focused on rebuilding as quickly as possible, but Dominica is working toward a different goal. Following the hurricane, prime minister Roosevelt Skerrit pledged to make the small country of 73,000 the world's first climate-resilient nation. In the past few months, long-awaited eco-hotels like Jungle Bay and Cabrits Resort and Spa Kempinski opened, and the country's biggest draw, the 115-mile Waitukubuli National Trail, is expected to be complete by the spring, with final clearing efforts by volunteers, the government, and the private sector.
The entire length can be broken up into day hikes ranging from four to 11.2 miles, each showcasing a different aspect of Dominica's dramatic topography. The first segment (4.7 miles) begins in Scotts Head Village, at the island's southwestern tip, and traverses a wildlife-rich volcanic area and a series of hot sulphur springs. The trail culminates in the seaside village of Soufrière, where you can snorkel Soufrière–Scotts Head Marine Reserve, a bay filled with underwater fumaroles and colorful reefs. On segment four, a challenging eight-mile rainforest route, you'll hit lookouts with views of five of the island's peaks and traverse a deep gorge in the heart of Morne Trois Pitons National Park, home to the famous Boiling Lake, set in a lunar landscape.
Follow that with segment ten, a 4.3-mile meander through a forest that connects to the Syndicate Nature Trail. Join the island's chief ornithologist, Bertrand "Dr. Birdy" Jno Baptiste, for a one-mile-loop detour to spot parrots endemic to the island, like the red-necked Amazon, or jaco, and the Imperial Amazon, or sisserou. Even if the rarest birds stay hidden, Dr. Birdy will make sure you spot at least a few dozen of the island's 167 species. —Gina DeCaprio Vercesi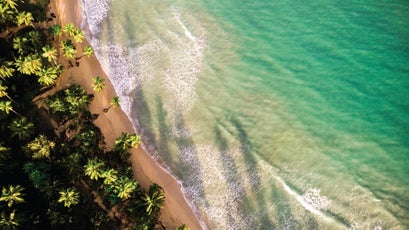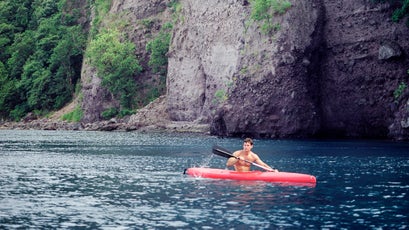 Detour: New Eco-Lodges
Jungle Bay
After being destroyed in 2015 by Tropical Storm Erika, Jungle Bay, a boutique wellness resort overlooking Soufrière–Scotts Head Marine Reserve, reopened in June. Run by a Dominican couple leading the charge on sustainable practices, the lodge uses solar energy (emitting 30 percent less carbon than traditional resorts) and has 30 eco-villas with bamboo furnishings and biodegradable bathroom products. The Waitukubuli National Trail is just an eight-minute drive south. (From $294)
Cabrits Resort and Spa Kempinski
Set adjacent to Cabrits National Park, this 151-room resort opened in October with two dining options and four swimming pools. The hotel gets an estimated 60 percent of its food from local farmers and fishermen, and it uses solar energy and a gray-water treatment system, diverting waste water to irrigation. Nearby, you can visit some of the island's most spectacular beaches, SUP or snorkel crystal-clear Toucari Bay, and access Waitukubuli National Trail's segment 12. (From $370)
Corrections:
(03/07/2022) In the print version of this story, we incorrectly credited a photo of Baja's Espíritu Santo Island to Justin Bailie. The photo is by Ron Watts/Getty. We also incorrectly stated the price per night at Cabrits Resort and Spa Kempinski. It is from $370. Outside regrets the errors.
From
Outside Magazine, January/February 2020
Lead Photo: Peter Pontone