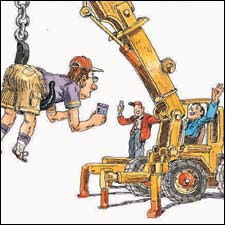 Heading out the door? Read this article on the new Outside+ app available now on iOS devices for members! Download the app.
Dean Cummings H20 Heli Guides

Anybody who's read Jack London knows that Alaska is for men. Mountain men. Dean Cummings knows this, too. That's why Dean's H20 Heli Guides runs the Men's North Shore Big Mountain Camp—five days of heli-touring and skiing in Alaska's Chugach Range, a 300-mile crescent of mountains just east of Anchorage. While they can't guarantee you'll hear the call of the wild, they do promise a week of "skiing and snowboarding at the heli-guide and pro skier level." Exploring the white stuff runs from Sunday through Thursday, while Friday and Saturday are your "avalanche days" in case severe weather precludes hitting the slopes during the week. Dean promises six runs a day with an average of 20,000 vertical feet of downhill action. Travel to and from the Chugachs is aboard a sleek eight-seat helicopter, so space is limited.
H20's camp offers instruction in technical descent techniques, route selection, glacier travel, rope skills, and how to jump out of a helicopter with your skis on. They also provide all of your equipment: Salomon AK Rocket and Pocket Rocket fat skis, snowboards, Smith poles, Arc'Teryx heli-packs, Black Diamond harnesses, Back Country Access Tracker digital transceivers, probes, and shovels in case you need to dig a buddy out.
Accommodations are at the Valdez Harbor Inn where you'll catch breakfast and lunch at Alaska's Bistro, a casual restaurant that serves Mediterranean and Alaskan cuisine. Twelve restaurants in Valdez offer hearty dinners to restock all the calories burned on the slopes. The week of whirling adventure costs $4,885 for double occupancy and $5,165 for a single. But be sure to book early, as Dean and his guides offer the camp for only one intense week, April 16-23, 2005.
Dean Cummings H2O Heli Guides
P.O. Box 2501 Valdez, AK 99686
http://www.h2oguides.com
dean@h2oguides.com
Phone: 907-835-8418
Fax: 907-835-8419
Simba East African Safari
Most tourists flock to East Africa's famed game parks to see the four-legged wildlife. But Simba East African Safaris offers a "Men Only" excursion that may entail frisky encounters with two-legged fauna of the female kind. All in the macho spirit of Hemingway, they say. Simba's 18-day safari promotes Kenya's natural wonders like a hooligan's paradise. Groups of ten to 16 men can roll from the thumping urban tempo of Nairobi's and Mombasa's nightclubs to peaceful evenings under the stars in two-man (or, if you like, one man, one woman) tents. Camel trekking and whitewater rafting are highlights, as is a visit to the Tsavo East National Park, home to the famous man-eating lions.
Simba doesn't promise that female companions are supplied by the tour, but the brochure suggests that lovely ladies will be as endemic as the tsetse fly. If you can't follow the tour's few simple rules, though (like knowing how to hold your drink and treating fellow safari-mates and the local Kenyans with respect), you might find yourself dumped in a nameless village halfway to Rumuruti. Embarking on this hedonistic adventure will set you back $6,230, not to mention all the drinks you'll want to buy for your new friends. Travel begins and ends in Nairobi, and pesky things like visas, vaccinations, and medicine should be looked into before embarking.
Simba East African Safaris
118 Flagler Plaza PMB 117, RT. 100 Palm Coast, FL 32137
http://simbaeastafricansafari.com/men_only.htm
simbasafari@bellsouth.net
Phone: 386-569-6448
Fax: 386-586-0319
Stag Party in the UK
The British Isles may not boast the finest of culinary traditions, but they do know beer. And what better way to enjoy an excellent frothy pint than on a custom-crafted Stag Night in a fun-loving exotic city? Reaching for your plastic antlers already? Round up your mates and log on to Stagweb.co.uk, the MI5 of party planning. Stagweb allows you to craft your ideal testosterone-jammed bachelor evening or weekend in more than two-dozen European locales, from Oxford to Glasgow to Prague to Vilnius (it's in Lithuania). Adventurous revelers can have Stagweb arrange outrageous outings including falconry demos, rides in armored personnel carriers, heavy construction machinery operation, or "zorbing" (a New Zealand game that involves rolling downhill in large air-filled globes). But don't forget the booze: When the sun sets, stag-partying lads heed the call of clubs, casinos, and the fine art of lap dancing. You can even attend a medieval banquet with tankards of amber mead that would make Beowulf wince. Attempting some alcohol acclimatization training before you leave is a good idea. Though the Americans won the Boston Tea Party, the Brits still rule on the harder stuff. Just remember to factor in recovery time, because airborne hangovers at 36,000 feet can get ugly.
Stagweb
www.stagweb.co.uk
organize@stagweb.co.uk
Phone: 011-44-0122-547-4200 (from inside U.S)
Girls Only Adventures

Las Olas Surf Safaris
The ocean can be a fearsome foe, hurling thunderous breakers, riptides, undertows, and the occasional malicious jellyfish at those who venture near. Not the place for novice surfers, you might think. But Las Olas Surf Safaris for Women has been leading women of all abilities and ages into the waves off Puerto Vallarta since well before the movie Blue Crush turned gal-surfers into icons.

Founded in 1997 by Bev Sanders, a veteran snowboarder and businesswoman, La Olas Surf Safaris calls itself the "world's premier surf safari for women," although they also like the tagline of "reverse finishing school." Las Olas claims that surfing "develops inner strength, balance, and an unique bond with the ocean," and they offer an all-female environment for learning and practicing wave riding in the warm waters off Mexico. Participants receive coaching from women instructors at their Surf Diva® school. Each day includes surf lessons and yoga sessions, as well as plenty of opportunities to hit the waves. In between tube rides and duck dives, surf safarians will dine at family-owned restaurants and cantinas using a special currency that Las Olas developed to interact with the local community. A seven-day, six-night trip costs $2,195 for a shared room, and $2,695 for a private room (including meals). Somewhat lower rates are available if you pay 90 days ahead of time. The Las Olas surf season runs from November to June, and they warn that safaris usually sell out 60 to 120 days in advance.

Las Olas Surf Safaris for Women
991 Tyler St. #101 Benicia, CA 94510
www.surflasolas.com
info@surflasolas.com
Phone: 707-746-6435
Fax: 707-745-2261

Chicks With Picks
If you're more of an ice queen than a surfer babe, a trip with Colorado-based Chicks With Picks might be your thing. Operating in both Colorado's Box Canyon area and the White Mountains of New Hampshire, "Chicks" runs ice-climbing clinics for women of all ability levels; from beginners to advanced climbers ready to sink their crampons into some cold sheets of frozen H2O.

Colorado participants stay at the Victorian Inn in Ouray, Colorado, and the daily schedule leaves plenty of time for kicking back in hot tubs and hot springs. The New England clinics are based in the climbing capital of North Conway, New Hampshire, close to some of the best ice sheets in the U.S. Home-cooked meals at the Cranmore Inn will warm up frozen muscles at the end of each day. But don't party too hard, as each day on the ice begins at 6:30 a.m. All women must bring some required gear, including a helmet, climbing harness, locking carabiner, and belay device. A full equipment list is available on the Web site. The New Hampshire clinics run $575 for two days (February 20-22, 2005) and $775 for three days (February 23-26, 2005). Clinics in Ouray, Colorado, range from a two-day sampler for $625 (February 6-8, 2005) to four days of ice climbing at $1,200 (February 1-5, 2005). Chicks also organizes a more intensive clinic for alumni climbers called "Veteran Betty" that costs $1,200 and will take place January 17-21, 2005.

Chicks with Picks
c/o Kim Reynolds
P.O. Box 486 Ridgway, CO 81432
www.chickswithpicks.net
kim@chickswithpicks.net
Phone: 970-626-4424

BVI Sailing Adventure
Some women don't want to climb mountains or conquer waves. They just want to relax. That's why Adventurous Wench organizes a seven-day, six-night cruise in the British Virgin Islands onboard a white-hulled, 58-foot luxury catamaran. The yacht, Fantasy Island, features five guest cabins with queen or twin beds, each with a private head and shower. And don't forget the air conditioning, salon bar (wine and standard bar are included in the trip price), gourmet meals prepared by the yacht's chef, and flat-screen TVs in each suite.

The itinerary is that there is no itinerary—just sailing between luscious Caribbean islands and partaking in tropical activities, both adventurous and relaxing. The catamaran docks each night at an island so the voyagers can investigate terrestrial entertainments too. The 2004 Girl's Week is coming up this winter, from November 28 to December 4, 2004 (they have a week from December 5-11 when guys can come too). A week adrift costs $2,045 for a shared cabin, double occupancy, or $2,695 for a single. The voyages begin and end at Tortola, the largest of the British Virgin Islands, and air transportation is not included.

Tropical Sailing Adventure — British Virgin Islands
www.adventurouswench.com
info@adventurouswench.com
Phone: 1-866-41-WENCH (83624)
Fax: 925-665-1438
Couples Adventures

Red Mountain Spa
Located in southwest Utah adjacent to Snow Canyon State Park, Red Mountain Spa welcomes the adventurous couple to picturesque red rock canyons and Navajo sandstone formations—a stunning environment that includes over 30 trails and dozens of outdoor activities. The spa's 40 specialized guides lead daily trips for a variety of fitness levels, and they can include golf, rock climbing, mountain biking, and extra spa services in any package for an additional fee. Red Mountain Spa also offers a full range of athletic and resort facilities, including indoor and outdoor pools, whirlpools, and a fitness center.

The spa's swank accommodations range from $405 to $445 per night (low season/high season) for a luxury villa, to more spartan doubles for $235 to $275 a night. The spa's two high seasons run from February through May, and September through November. All meals are included.

Red Mountain Spa
P.O. Box 2149 St. George, UT 84771
www.redmountainspa.com
reservations@redmtn.com
Phone: 1-800-407-3002
Fax: 435-673-1363

Xtremely Alaska Adventure Guides
What can you do in Alaska? According to Xtremely Alaska, an adventure-travel service based in Anchorage, just about everything. They organize tours ranging from three days to two weeks that combine a full menu of exciting outdoor activities: kayaking, mountain biking, ice climbing, rafting, and hiking. Most of the terrestrial activities take place in Alaska's Chugach State Park, just outside of Anchorage. Make good use of the provided dry suit on the 14-mile rafting trip that includes several miles of Class IV thrills, or sea kayak through the calm waters of Prince William Sound to visit waterfalls and an active bird rookery. Other options include ice climbing on Matanuska Glacier, two hours north of Anchorage, and mountain biking on trails circling pristine mountain lakes. Xtremely Alaska's three-day trip costs $340 per person, while the ten- and 14-day excursions cost $2,000 and $3,000 per person, respectively. They also offer five- and seven-day trips, June through December.

Xtremely Alaska
PO Box 221862 Anchorage, AK 99522
www.xtremelyalaska.com
guides@xtremelyalaska.com
(877) 914-2735 (toll free)
(907) 868-4098 (local)
(907) 677-1330 (fax)
Fringe Benefits
Border-town bliss
FERNIE, BRITISH, COLUMBIA // Pop. 4,000
Dwarfed by the Lizard Range, Fernie is a gateway to three national parks and home to the wide-open powder bowls of Fernie Alpine Resort. In summer, nothing beats fly-fishing the Elk River for cutthroat and bull trout. Dream Getaway: Five-bedroom house on five acres along the Elk River, $500,000. More info: www.insidefernie.com

ELY, MINNESOTA // Pop. 3,800
Despite drawing 200,000 tourists to the Boundary Waters Canoe Area Wilderness each summer, Ely maintains the hard edge of the iron-mining town it once was. Average high temperatures of five degrees in January don't stop cross-country skiers and ice-fishermen. Dream Getaway: Two-bedroom log home on three and a half acres fronting White Iron Lake, $499,000. More info: www.ely.org

MARFA, TEXAS // Pop. 2,200
On a mile-high plateau, surrounded by sprawling scrub brush and mesquite prairie, Marfa has morphed over the past decade into a hip artists' retreat. Minimalist Donald Judd chose an old barracks outside of this railroad town for his Chinati Foundation, a contemporary art museum that houses large-scale installations. Dream Getaway: Two-bedroom renovated adobe with studio, on an acre, $195,000. More info: www.marfacc.com

SAN ANTONIO DE LAS MINAS, BAJA CALIFORNIA // Pop. 500
This pueblito in the midst of rolling hills and verdant flora 60 miles south of the U.S.-Mexico border and ten miles northeast of Ensenada is part of Baja's renascent wine country. Dream Getaway: Eight-acre winery with two-bedroom house, $240,000. More info: www.sdro.com/ensenadawines

PELEE ISLAND, ONTARIO // Pop. 275
Migrating monarch butterflies find respite on this ten-mile-long island in the middle of Lake Erie, and so can you. The flat island-town is accessible by ferry March through December (and by private plane year-round). Dream Getaway: Three-bedroom beachfront house, $350,000. More info: www.pelee.org

PATAGONIA, ARIZONA // Pop. 881
In the high grasslands between the Patagonia and Santa Rita mountains, artists have grabbed a ranch town—with its clapboard storefronts—by the horns. A section of the 750-mile Arizona Trail runs through the surrounding Coronado National Forest. Dream Getaway: Two-bedroom home on five acres, $459,000. More info: www.patagoniaaz.com