Fly to Ski Resorts Without Breaking the Bank
Travel website Hopper has got snagging airfare deals down to a science.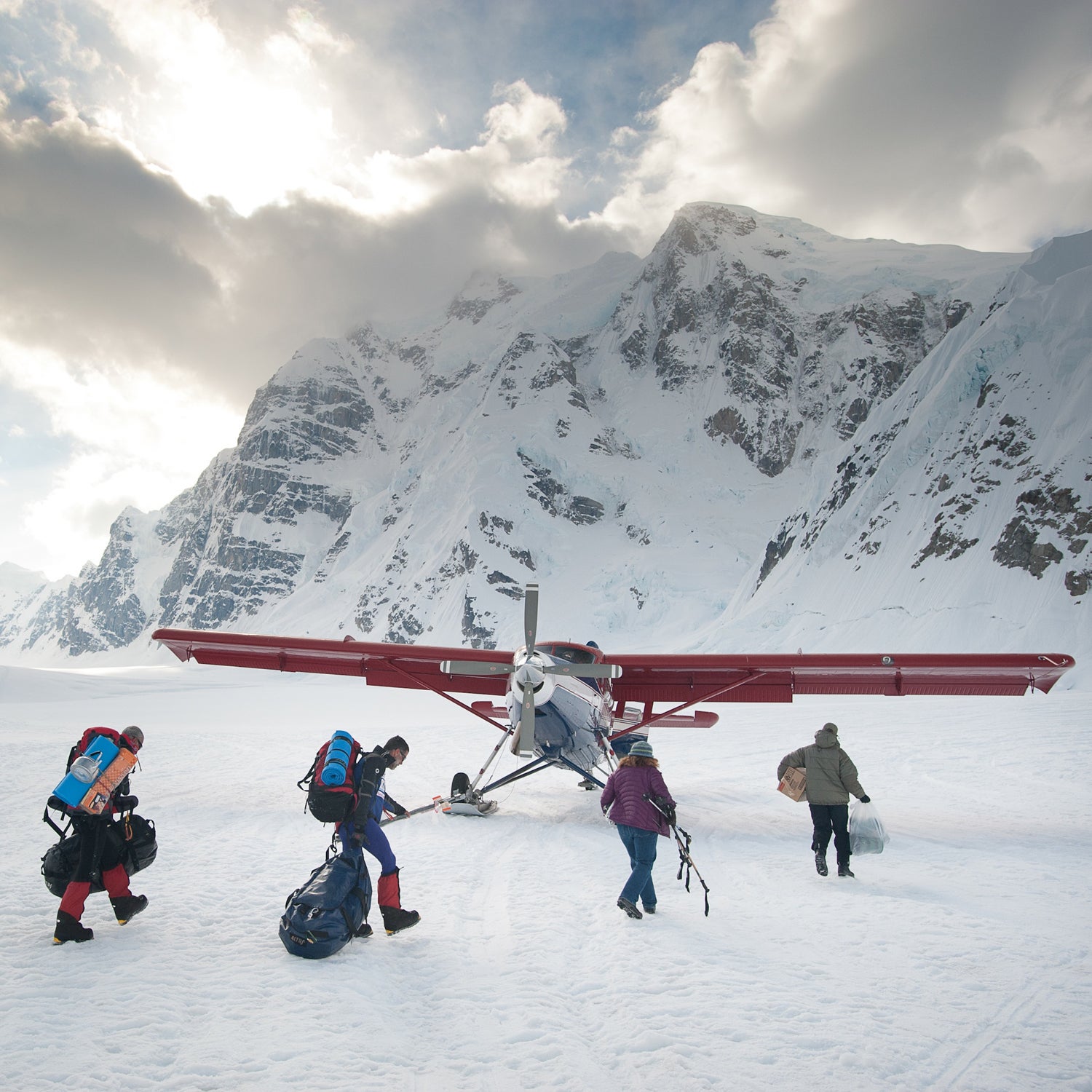 Heading out the door? Read this article on the new Outside+ app available now on iOS devices for members! Download the app.
If you love to ski, then at some point you have to make peace with the hefty price tag that comes with it. Deals can be found on gear, lodges, lift tickets and resort passes if you know where to look. Flights, on the other hand, are a different story. 
Airlines rarely post sales, especially to ski-centric airports during ski season. You can try your luck finding deals with flight search engines like Kayak (which shows you how prices have been trending recently, if they're expected to rise, and then, usually suggests you buy now), but before you head to there, visit the airfare price-tracking website Hopper. It works like the Kayak price tracker, except it pulls data from almost all flight search engines. And because Hopper doesn't sell tickets, its advice isn't biased toward getting you to buy.
They predict when prices usually dip by trend watching and will show you an enire year's worth of price fluxuations. In their Boston and Montreal offices, they've got a real-time ticker feeding them info on almost every single flight search on Earth. According to their chief data scientist, Patrick Surry, that's about 10 million flight queries a day. "We don't see which flight search tool they're coming from, just the results of a search," he says—so they're looking at the same price options you see every time you search for a specific flight. Except from everybody who is searching.
This live ticker for airfares is made possible by the relationship between airlines and flight search engines. Airlines hire outside companies or clearinghouses (also called global distribution systems) to maintain pricing and inventory for airlines (Sabre, formerly part of American Airlines and ITA, which is owned by Google, are two of the most well-known). When airlines change their fares, they do so through these companies. "Hopper has an agreement with a lot of these companies to send us live feeds," says Surry.
The only hole so far? They don't see prices posted on an airline's proprietary site, though according to Surry, "most U.S. airlines, with the exception of Southwest, post the same prices in these clearinghouses as they quote on their sites." 
From there, it's a numbers game. Hopper maintains a database of pricing history. "We can see how fares change over time and are able to use that data to determine what a good price is for any given route," Surrey says.
We put Hopper to task to help find where and when the best deals are to our favorite ski areas. The company created this interactive map that plugs in your local airport to the top ski destinations in the U.S and Canada. You can't buy your ticket directly though Hopper, but search results give you the tools to make a better decision when buying a flight. Click through to give it a try: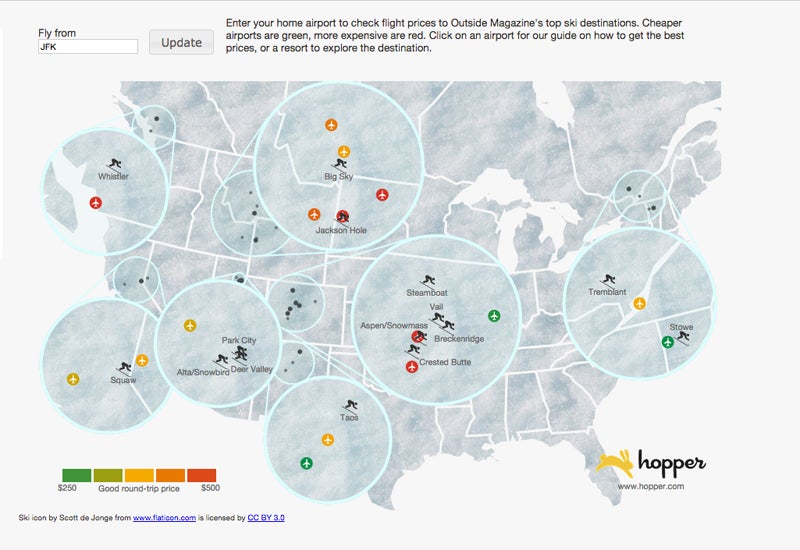 After plugging in your desired flight, Hopper explains when the best days and weeks are to buy and fly, and reveals what a good price is for a ticket (according to Hopper, that's a price better than 90% of quoted ticket prices for the trip). For example, when we searched Dallas to Denver, it told us it's possible to snag a $104 round trip ticket if you fly from the second week of January to the second week of February. It also says that because of demand, prices are likely to rise if you keep waiting and, if you're really penny pinching, that a Wednesday to Wednesday round rip can save you $28 bucks.
Armed with that knowledge, you can then hop onto Kayak  or Expedia with a better idea of the numbers you're looking for. Hopper also provides links to specific "good deal" flights and suggests alternative airports—great for flexible schedules.
Or just follow this mantra, gleaned by looking at a weighted average of all airports: the best weeks for prices are the end of January and early February, just before the season really takes off. The most expensive times to fly are mid-February and mid-March when schools are on vacation. 
Lead Photo: Kent Miller/Flickr