How to Be a Hero
Here are six ways you can change the world.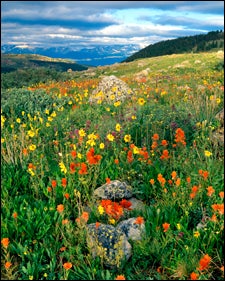 Heading out the door? Read this article on the new Outside+ app available now on iOS devices for members! Download the app.
Keep It Wild
San Isabel National Forest Mosquito Range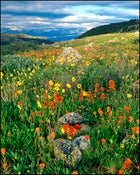 San Isabel National Forest Mosquito Range
Want to protect your favorite hiking area from cookie-cutter homes or oil-and-gas leases? Buy the place.
Assemble a posse: If you care about a threatened wilderness area, chances are other people do, too. Recruit them through local groups, like a recreation club or conservation organization.
Make a plan: A business plan, that is, stating your intent to preserve the area in question. "You need to know money in, money out, basic business things," says Brad McLeod, founding member of the Southeastern Climbers Coalition (SCC), which has purchased five climbing areas endangered by development since 2003. "If you have a $100,000 project, you still have taxes, insurance, the debt service on your note." The Small Business Administration has guidelines on its Web site (sba.gov). Look to partner with a national organization like the Nature Conservancy or the Access Fund for resources and advice. Or start your own nonprofit with 501(c)(3) (charitable) status so your donors get tax write-offs.
Fundraise creatively: When the town of Telluride, Colorado, was faced with raising $17 million in three months to purchase land from a developer in 2007, a local nonprofit built a bulletproof-glass wishing well in the middle of town that raised $1 million. The SCC has sold T-shirts designed by a sympathetic climber-artist and once held a party in a swanky Atlanta club, raising $18,000 in a night.
Court the media: Distribute press releases for media with any accomplishments, even small steps. Sites like PitchEngine.com can get the word out to a broader audience. Call your local newspaper, radio, and TV stations and find a reporter who's covered similar beats. And it's imperative to have a Web site or blog. (Set up free ones at wordpress.com or blogspot.com.)
Be a Hero: Get Sponsorship
Practice authenticity: Be honest about building your expedition around a cause. "If you want to be the first to pogo the length of the Nile, do that. But don't bolt on that you're doing it to solve hunger, unless you really are," says David de Rothschild, who's funding his Plastiki voyage entirely through sponsorship.
Target accurately: Research companies to make sure you fit with the kind of projects they're looking for. Then send proposals to the right person (marketing directors, communications managers, PR reps) before they plan their fiscal year—it's different at every company. Get contact info and fiscal schedules at Hoovers.com (from $75 per month).
Baby steps: Develop relationships with companies by being realistic. Unless you're Ed Viesturs, don't ask Eddie Bauer for $30,000 to climb K2.
Present concisely: "We want to see the idea and its output in one simple page," says Neil Fiske, CEO of Eddie Bauer. "Is the expedition original and meaningful? Will there be dispatches, articles, video? What's the proposed budget?"
Golden rule: Over deliver. It guarantees future funding.
Be a Hero: Influence Your Congressman
It's much simpler than you think, says Massachusetts congressman Barney Frank. "Call your representative and your two senators. I read a variant of every letter that comes in, and I've had legislation that I've passed as a result of things that people brought to my attention. What the representatives are looking for is how strongly you hold your opinion—specifically, to what extent does that opinion influence how you vote? So the less effort you put into it, the less impact you have. If some organization gives you a letter and says, 'Send this letter'—and it can be an eloquent six-page letter—that's much less helpful than you writing your own three-paragraph letter. The most important thing: Call up the office after you've written and say, 'Can I come meet with you?' You don't have to go to Washington. We all have home offices and have meetings with people in our districts. Prove to your rep that you're someone who votes in his or her district and cares about this issue. That's it."
Be a Hero: Live Longer By Doing Good
In 2007, the Corporation for National and Community Service compiled a series of studies from sources like Duke University and the University of Texas to look at the correlation between volunteering and physical health. Their discovery: Giving back lowers rates of depression and improves long-term health. The social ties it creates can even improve immunity. Recent studies have shown that when people want to contribute to something, the brain lights up the mesolimbic pathway. "That part of the brain is associated with good feelings like joy and feel-good chemicals like dopamine," says Stephen Post, director of the Center for Medical Humanities, Compassionate Care, and Bioethics at Stony Brook University and author of Why Good Things Happen to Good People. "Even just making a charitable donation or thinking about it can have an impact neurologically."
Be a Hero: Organize a Race
Know what you're getting into: "You need to feel inspired on a deep and intrinsic level, because it's going to take a lot of your time," says Chris Fickel, co-organizer of the CT Jamboree, a two-day Colo­rado Trail ride that benefits multiple-sclerosis research. "I've spent about 300 hours a year on this race."
Partner with a charitable organization: This will allow donors to write off gifts, which makes fundraising easier. Charity Navigator (charitynavigator.org) independently evaluates charities for their health, effectiveness, and expense ratios.
Get permission: Landowners, cities, counties, and public-land agencies are often open to allowing a nonprofit event on their turf. Chart your course, find out what agencies manage the land, trails, or roads, and get a permit.
Snag sponsors: Hit up a local restaurant for food or a gear shop to provide prizes for the participants who raise the most money.
Having an online fundraising portal is key: Sites like Active.com and JustGiving.com offer online giving modules for charity events. "For the inaugural ride, donations were all cash and checks, and we made $15,000," says Fickel. "The following year, we put up our Web site, and we bumped up to $30,000."
Be a Hero: Get an Audience
Want a louder voice for your cause? Make a movie. Big River Man, the documentary about Martin Strel, has spread the word about his swims. "Having something tangible to show is the best way to present an idea," says Ben Knight, co-director of Red Gold, the film that broke the story on the mining threat to salmon in Alaska's Bristol Bay. Need skills? Learn camera technique, how to create a storyline and direct, and Final Cut Pro at one of Serac's Adventure Film Schools, which take place from Colorado's backcountry to Everest Base Camp (adventurefilmschool.com). Then submit your work to a festival like Adventure Film (adventurefilm.org), in Boulder, or Taos Mountain Film (mountainfilm.net), which considers first-time directors.