Adventure Never Felt So Good
Ten North American spas that will recharge your mind, body, and soul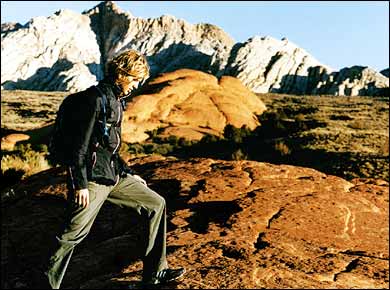 Heading out the door? Read this article on the new Outside+ app available now on iOS devices for members! Download the app.
1. Red Mountain Spa
Natural Fit
CLICK HERE
to access
Outside
's total-body fitness plan.
St. George, Utah
THE VIBE: At Utah's Red Mountain Spa, decorum goes by the wayside: Guests usually don't bother changing out of their dusty hiking boots before heading up for their hot-rock rubdown. Surrounded by 400-foot red cliffs at the entrance to Snow Canyon State Park, Red Mountain anchors its experience in multilevel early-morning guided hikes on 30 local trails. Then it's personal preference: Adventure newbies can take an introductory course on mountain biking, rock climbing, horseback riding, kayaking, or even orienteering. To up the ante, sign on for a hike in the Narrows of Zion National Park or a 26-mile rim-to-rim trek through the Grand Canyon. Or consult with one of the resort's ultrafit guides to design your own custom odyssey. And, of course, there's the spa itself, which is open until 11 p.m. so adventurers can wind down with a massage. Guests stay in villas offering epic red-rock views or southwestern-style rooms. This spring, Red Mountain will complete construction of 40 additional villas and a 30,000-square-foot spa center. For those using Red Mountain as a springboard to future fitness, the health-services staff offers body-composition and metabolic tests to plan a long-term weight-loss or training regimen. GUEST LIST: Red Mountain's demographic is steadily gaining machismo: 30 percent of its clients are male, from 28 to more than 60 years old.
AWE FACTOR: Full-moon hiking through 5,738-acre Snow Canyon State Park.
TO-DIE-FOR TREATMENT: Shed your old skin with the Red Mountain Revitalizer, an 80-minute scalp massage and facial followed by a full-body exfoliation and rubdown.
MENU: The pan-seared elk tenderloin with cherry-rhubarb demi-glace and Mexican chocolate cake are pretty tasty.
HE-MAN RATING: Four grunts (out of four)—canyonland adventure is everywhere.
PRICE: $1,885 per person for one week, based on double occupancy, meals included
CONTACT: 800-407-3002, www.redmountainspa.com
Rancho La Puerta
FLOW FACTS
The Golden Door Spa at The Boulders, in Arizona, offers after-dark desert hiking and mountain biking with night-vision goggles.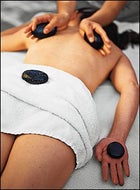 Rancho La Puerta's river-stone massage
2. Rancho La Puerta
Tecate, Mexico
THE VIBE: It's the easiest trip to Mexico you'll ever take. A bus picks you up at the San Diego airport, whisks you across the border at Tecate (yes, that Tecate, but you won't be drinking any this week), and continues to the gates of Rancho La Puerta, set on more than 3,000 acres at the base of boulder-strewn, 3,885-foot Mount Kuchumaa. Opened in 1940 by Edmond and Deborah Szekely, "The Ranch" was the precursor to the fitness spa—a health camp where guests paid $17.50 a week to pitch their own tents and dine on chemical-free food. Now, 160 guests per week stay in Spanish Colonial-style villas in a Garden of Eden full of palms, eucalyptus, and bougainvillea. Days start at dawn with vigorous mountain hikes followed by every-hour-on-the-hour classes with names like Sculpt and Strengthen, Pilates Matwork, Super Cross Training, Yoga Workshop, and African Dance Workout. But the chaise lounges around the resort's three pools, lectures on nutrition, three centers offering a full menu of spa treatments, and meditation sessions are very worthy distractions. The Ranch will propel you toward the new, balanced you.
GUEST LIST: An affluent and well-traveled but down-to-earth crowd with an extremely high return rate; some guests have been there as many as 37 times.
AWE FACTOR: Walking the Labyrinth, a meditative path, lit by luminarias at night.
TO-DIE-FOR TREATMENT: The Aromatherapy Wrap, in which you are rolled up tight in steaming linens, like a rosemary-scented burrito, then given a brisk 20-minute body massage.
MENU: Most of the veggies and herbs come from Rancho La Puerta's six-acre organic farm. The Mexican-inspired spa food is low on fat and mostly vegetarian, with lots of soups and salads.
HE-MAN RATING: Three grunts—with daily hikes and challenging cardio, weight-training, and strength classes, you can push yourself hard. Or not.
PRICE: $2,380 to $3,550 per person per week, meals included
CONTACT: 800-443-7565, www.rancholapuerta.com
New Age Health Spa
FLOW FACTS
Seventeen
Number of degrees that Buddhist monks in northern India can raise the temperature of their fingers and toes by using meditation

Sixty-two-year-old tai chi instructor Anne Walsemann at the New Age Health Spa
3. New Age Health Spa
Neversink, New York
THE VIBE: A giant golden Buddha may seem out of place on a New York farm, but the one peering out of the New Age Health Spa's 1,500-square-foot Cayuga Yoga and Meditation Center looks more than content among the resort's green-shuttered lodges and 280 acres of rolling pastoral paradise. The place draws quite a few nirvana-seeking humans, too—it offers one of the Northeast's widest arrays of yoga instruction, including the deep breathing of Vini yoga, the heart-oriented Anusara yoga, and the gentle movements of restorative yoga. Sun-salutation novices can warm up their joints with beginner classes, and advanced yogis can get a full flex workout with private instruction. New Age emphasizes a core "spirit" program built around chi kung and tai chi, which marry breathing techniques with highly controlled movement. Don't let the tarot readings and Vedic astrology lessons scare you off; some of the spa's 70 guests are there to simply watch bald eagles soar along the Atlantic Flyway. GUEST LIST: Expect lots of New Agey New Yorkers making the 2.5-hour trip from the city.
AWE FACTOR: Three greenhouses grow fresh herbs and salad greens on-site.
TO-DIE-FOR TREATMENT: Try the hour-and-40-minute healing-stone therapy, which includes a hot-rock massage combined with aromatherapy and chakra-balancing with gemstones. If you're feeling adventurous, sign up for the hydro colon therapy—we'll let you visualize that one.
MENU: Dinner alternates nightly between fish, like seared orange roughy, and poultry, like chicken breast with polenta.
HE-MAN RATING: One grunt—the yoga can be tough, but the outdoor fun is mild.
PRICE: From $1,096 per person per week, double occupancy, meals included
CONTACT: 800-682-4348, www.newagehealthspa.com
Dunton Hot Springs
FLOW FACTS
451,995
Avg. number of bubbles a jacuzzi jet shoots out each second

Karnazes at Dunton's Major Ross Cabin.
4. Dunton Hot Springs
Dolores, Colorado
THE VIBE: It's rumored that after robbing a bank in Telluride, Butch Cassidy and the Sundance Kid lay low at Dunton Hot Springs, though it's unlikely they took any yoga classes. In 1994, the 800-acre mining town, on the West Fork of the Dolores River, was transformed into an upscale spa and adventure complex, and these days you won't find outlaws, just celebs who've played them. Midway between the towns of Dolores and Telluride, Dunton is surrounded by the San Juan Mountains, where, depending on the season, guests can wear themselves out with high-alpine hikes, snowshoeing trips, fly-fishing excursions, backcountry skiing, and horseback riding. But Dunton's claim to fame is its orange-tinged mineral hot springs, where guests slip on their Stetsons after yoga class, sit back, and take in the scenery. The 28 visitors stay in the 12 restored 19th-century log cabins (and three tepees) scattered under the spruces and aspens.
GUEST LIST: Executives, movie stars, and other well-heeled wellness seekers.
AWE FACTOR: No need for public displays of soaking: One cabin and one tepee have 103-degree geothermal springwater piped straight into their tubs.
TO-DIE-FOR TREATMENT: Trager Therapy, in which joints are loosened by repetitive rocking and shaking movements. Trust us: It's more relaxing than it sounds.
MENU: Local organic produce, served with organic free-range beef and lamb from local suppliers. The culinary team tops it off with homemade organic peach ice cream.
HE-MAN RATING: Three grunts—Dunton provides tremendous outdoor opportunities.
PRICE: From $250 per person per night (two-night minimum), double occupancy, meals included
CONTACT: 970-882-4800, www.duntonhotsprings.com
Mountain Trek Fitness Retreat and Health Spa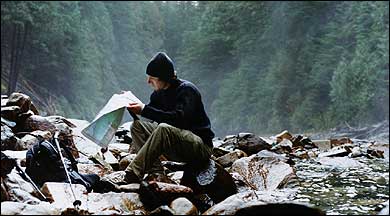 5. Mountain Trek Retreat and Health Spa
Ainsworth Hot Springs, British Columbia
THE VIBE: With a staff-to-guest ratio of more than two to one (only 14 guests are allowed at a time), visitors to Mountain Trek, in southeastern B.C., are pampered like Sinatra in Vegas. But be warned: The staff's main job isn't performing chemical peels; it's getting your butt out the door and up the surrounding Columbia, Selkirk, and Purcell mountains. And no wonder—Mountain Trek employs a Delta Force cadre of local guides who can't wait to get out there every morning. In fact, these folks are so hardcore, they spend their precious days off … hiking. Guests can choose beginner, intermediate, or advanced hiking groups. (Advanced boot jockeys typically trek 12-plus miles per day over 4,000 feet of elevation gain.) After the day's trek, spa-goers crash in a fully feng shui 8,000-square-foot cedar lodge located on a former fruit orchard along the banks of 90-mile-long Kootenay Lake. Though hiking is Mountain Trek's raison d'être (notice "Trek" in the name), the resort periodically follows a different path, offering weight-loss retreats, supervised fasting regimens, and other specialized programs. GUEST LIST: Energetic hikers and dieters looking to amp up their fitness program.
AWE FACTOR: Yoga and meditation on the beach of ice-blue Kootenay Lake, with the 11,000-foot Purcells as a backdrop.
TO-DIE-FOR TREATMENT: Forgo the standard three-massage-per-week package and pay $185 extra for the Zombie, an option that includes a decadent hourlong full-body Swedish massage every day.
MENU: Favorites of head chef Aaron Jeffs include tofu tarts with tomato, basil, and black olive, and banana-coconut raw-fruit flan.
HE-MAN RATING: Four grunts—six days of hardcore mountain hiking means you earn that daily rubdown.
PRICE: $2,598 per person for the seven-night mountain-hiking option, meals included
CONTACT: 800-661-5161, www.hiking.com
Double Eagle Resort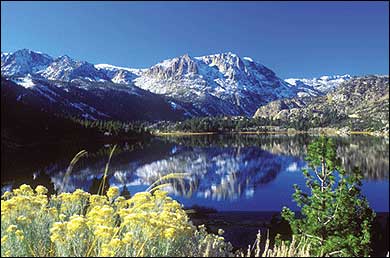 FLOW FACTS
55
Average number of minutes women spend grooming each day

51
Average number of minutes men spend grooming each day

6. Double Eagle Resort
June Lake, California
THE VIBE: Hero worshipers, take note: During last winter's American Snowboard Tour at June Mountain, you were more likely to spot the pros lying on Double Eagle Resort's massage tables than flying over the lip of the superpipe. With good reason: The spa/resort sits on Reversed Creek at the base of 10,909-foot Carson Peak, in the heart of the June Lake Loop, a stunning road on the eastern edge of Yosemite. Double Eagle mixes traditional spa amenities—more than 40 treatments, yoga, tai chi, meditation, and many other fitness classes—with outdoor activities like mountain biking, hiking, ice climbing, and fly-fishing. Guests stay at the 13.7-acre getaway in one of 13 two-bedroom cedar-sided cabins. For people who crave structure, Double Eagle offers a Lifetime Wellness Program, designed to help clients take their workouts into the real world. GUEST LIST: Families and anglers gravitate here, as do well-heeled skiers and snowboarders looking to unkink their bods after a day on the bumps.
AWE FACTOR: Catching (and releasing) a 17-pound Alpers rainbow trout in a Double Eagle pond.
TO-DIE-FOR TREATMENT: During the 50-minute Symphony Duo Massage, two therapists perform a head-to-toe rubdown guaranteed to melt you into a puddle of relaxed goo.
MENU: Expect hearty meals like the Ranchero Filet Tip Burrito.
HE-MAN RATING: Three grunts—a luxe base camp for some of the best skiing, snowboarding, and fishing in California.
PRICE: From $275 per cabin per night (each cabin sleeps six), meals not included
CONTACT: 760-648-7004, www.doubleeagleresort.com
The Hills Health Ranch

7. The Hills Health Ranch
100 Mile House, British Columbia
THE VIBE: The Hills Health Ranch, in south-central B.C.'s Cariboo district, is a self-contained adventure nation: 1,200 acres of dude ranch surrounded by 20,000 acres of crown land, featuring dozens of lakes; 124 miles of groomed cross-country ski terrain; 100 miles of hiking and biking trails; more than 16 treatment rooms; and, to top it all off, the Snow Park, a lighted, seven-run ski-snowboard-and-tubing hill. The ranch's real specialty is injecting its wealth of adventure into dozens of packages, including hike-and-spa, weight-loss, and winter-sports options. HQ is found in a barnlike 30,000-square-foot building where clients can partake in dozens of therapies, like herbal wraps and hydrotherapy, or sign up for guided hiking, biking, and canoeing trips. The horseback-riding program lets you play cowboy with all-day rides and cookouts. Guests stay in 26 hotel-style rooms in lodges near the main building or in three-bedroom chalets. The staff will also help you design a wellness plan with fitness assessments, computerized lifestyle analysis, and a staff medical team willing to answer all the questions you're too embarrassed to ask your doctor. GUEST LIST: The Hills is family-friendly and relatively affordable, and it attracts folks eager to get into the mountains.
AWE FACTOR: In the winter, mush a six-dog team of huskies through snow-covered pines in Moose Valley.
TO-DIE-FOR TREATMENT: Anything with wild rose hip, which grows on the ranch. Try the Swedish rose-hip full-body massage.
MENU: Customized calories. Upon arrival, you get a personalized nutrition consultation. If you're a meat eater, the peppered beef tenderloin will fit your needs.
HE-MAN RATING: Three grunts—20,000 acres is a lot of territory to explore.
PRICE: $1,615 per person, double occupancy, for the six-night wilderness fitness adventure package, meals included
CONTACT: 250-791-5225, www.hillshealthranch.com
Rio Caliente
FLOW FACTS
900
Increase in calls from men to Spa Finder, a spa-travel-and-marketing company, between 1998 and 2001

Aquatic bliss at Rio Caliente
8. Rio Caliente
La Primavera, Mexico
THE VIBE: Some of us design vacations as jam-packed and stressful as our daily routines. Luckily, there's Mexico. Rio Caliente, tucked into a pine-oak-and-mesquite forest an hour northwest of Guadalajara, has done away with sweaty weight rooms, Jacuzzis, and loud aerobics studios in favor of au naturel surroundings in the Primavera Mountains. These days, Rio Caliente emphasizes fresh food, spa treatments, water aerobics, yoga, and tai chi. But the main attractions on the 24-acre resort are the four pools, fed with 120-degree water captured from the nearby Rio Caliente, a near-boiling river. Most guests lounge around the two coed plunges or bask in the men's or women's pool. Or they hike along the Rio Caliente to add one of the area's 100 bird species, like the Inca dove, to their life lists. Rio's guests stay in cottages decorated with handmade tiles and locally crafted furniture.
GUEST LIST: For a spa, Rio is inexpensive, attracting gringo bargain hunters.
AWE FACTOR: Chill in the underground natural steam room, scented with eucalyptus leaves, which is open 24 hours a day.
TO-DIE-FOR TREATMENT: Plug yourself in to bioresonance therapy, a popular European treatment that sends electromagnetic oscillations through the body to purge organs of harmful magnetic fields.
MENU: Some of the ingredients for Rio's all-vegetarian menu are grown on-site. The buffet-style meals include homemade tortillas, scrambled eggs, and vegetable soup with rice.
HE-MAN RATING: One grunt-this spa is about taking it easy. The outdoor program is relaxed and optional.
PRICE: From $120 per person per night, double occupancy, meals included
CONTACT: 800-200-2927, www.riocaliente.com
Miraval
9. Miraval
Catalina, Arizona
THE VIBE: After a hot day of desert adventure, Miraval, about 30 miles north of Tucson, is there to help you shed your lizardlike dry skin. Located on 135 acres of classic Sonoran Desert, the resort offers cutting-edge treatments like chi nei tsang abdominal massage and hardcore desert excursions on bike, foot, and horse. But the real spa stud will opt for Miraval's new five-day men-only Conquering Your Inner Everest program, a package designed to awaken the warrior within. (Note: This does not involve Viagra.) Miraval Everesters learn to rock-climb, go camping, bond during a sweat-lodge pipe ceremony, de-stress during a "Zen Bootcamp," and, because sweating blocks pores, cap it off with a men's facial. Guests bunk in casitas that offer patios with views to die for. GUEST LIST: Expect wealthy guests looking for classic desert adventure and loads of pampering.
AWE FACTOR: With the Sonoran Mud Wrap—featuring the area's mineral-rich red clay slathered head to toe—you'll blend right in with the landscape.
TO-DIE-FOR TREATMENT: During Zero Balancing Body Work, a therapist realigns the body to help the free flow of energy.
MENU: Fanned tenderloin of ostrich, seafood towers, and pumpkin cheesecake. Sounds dangerous, yet it's nutritionally balanced cuisine.
HE-MAN RATING: Two grunts. Decent outdoor activities, but it's ultra-luxurious.
PRICE: From $520 per person per night, double occupancy, meals included
CONTACT: 800-232-3969, www.miraval resort.com
Canyon Ranch

Paddling at Canyon Ranch
10. Canyon Ranch
Lenox, Massachusetts
THE VIBE: Weight problems, lymphatic disturbances, mental blocks, bad posture, bad attitudes, sexual boredom, stress, osteoporosis, insomnia, bad genes—the list of problems treated at Canyon Ranch (its sister spa is in Tucson—hence "Canyon") goes on longer than a Chinese menu. The healing begins in the resort's 100,000-square-foot spa complex, with its yoga studio, indoor track, five gyms, indoor basketball, tennis, squash, and racquetball courts, steam rooms, massage rooms, and beauty salon. Besides the more-than-full menu of wellness classes, consultations, and activities, guests come to Canyon Ranch to connect with the flinty New England Berkshires. The spa's guides lead hikes on the Appalachian Trail, canoeing trips to nearby Goose Pond, mountain-bike rides through the fall foliage, and more. In the winter, guests head to local ski areas like Butternut Basin and Jiminy Peak to put in a few turns before lunch. And for those who need a little help keeping off the pounds or finding enough motivation to lace up their hiking boots, Canyon Ranch offers wellness services to go, including coaching through phone consultations. If you ever have time to relax in your room, you'll find New England-style suites. GUEST LIST: Expect a healthy dose of East Coast upper crust.
AWE FACTOR: Many treatments and classes are held in the Bellefontaine Mansion, built in 1897 as a replica of Louis XV's Petit Trianon château, in Versailles.
TO-DIE-FOR TREATMENT: The Lulur Ritual, a Javanese treatment that combines Thai massage techniques with a turmeric-and-yogurt exfoliation.
MENU: Mustard-crusted frenched chicken, Mediterranean forest-mushroom wrap, tiramisu … it's as decadent as it sounds.
HE-MAN RATING: Two grunts—there are so many activities inside Canyon Ranch, you have to make sure you don't forget to step outside.
PRICE: From $1,520 per person for three nights, double occupancy, meals included
CONTACT: 800-742-9000, www.canyonranch.com/lenox
I Was a Spa Virgin
One man discovers that a restorative retreat is much more than mud, sweat, and (gasp) no beers
FROM A CERTAIN ANGLE, Red Mountain Spa, on the outskirts of St. George, Utah, looks like a desert village from the original Star Wars—a 55-acre cluster of adobe buildings and geodesic domes rising out of a jagged black-lava field surrounded by red cliff faces. Late one Saturday afternoon, with the mercury pushing 103, I checked into Red Mountain for my first spa experience. I feared I'd find a soap-opera world of women swishing around in robes with towels on their heads, and braced myself for a cojones-withering experience.
There was a white robe laid out on the bed when I entered my room. But when the sun began to set, the women and men at the spa were wearing wraparound Oakleys and scuffed CamelBaks, and were making their way home from grueling mountain-bike rides or hikes.
Red Mountain got into the adventure-spa business in 1998. The concept is brilliant: Use hiking, mountain biking, and rock climbing as the cornerstone of a wellness program, and couch the fun in a five-star bubble of pampering. My stay was a seven-day package, two and a half of which were taken up by a 26-mile hike through the Grand Canyon.
Morning hiking is the foundation of Red Mountain, and before breakfast, guests divide into three skill levels, with the toughest group trekking about eight miles and climbing a total of at least 1,000 feet. I opted for group two, which covered a not-too-shabby six miles. After breakfast I signed on for a road ride down to the village of Kayenta, six miles away. By lunchtime I'd logged more miles than I do in an average weekend.
That afternoon, I visited the health-services division, where I had my basal metabolic rate charted. During the test, Eric, a personal trainer, strapped a metal contraption to my head, put a plastic guard in my mouth, and had me lie down and breathe—while drooling uncontrollably—for the next half-hour. Then, armed with my metabolic rate, we worked out an exercise plan and diet, which I religiously stuck to for a few months.
I spent the rest of the afternoon in the air-conditioned workout center, taking stretching and weight-lifting classes followed by, I'll admit, a nice, long nap in my room. Dinner seemed a bit skimpy for a man burning an extra 2,000 calories a day. The other fellas at the spa agreed, and we all took a few extra trips to the salad bar.
The next two days included biking in the canyons, swimming, a massage, and hours in the hot tub. By the time our group of eight left for the Grand Canyon, at 4 a.m. Thursday, my muscles were loose, my lungs were strong—and I was beat. But I made surprising progress down the North Rim's North Kaibab Trail. When we arrived at our cabin at Phantom Ranch, I felt great. The trip back up the South Rim's Bright Angel Trail was tough, but conversation made the hours fly.
Back at the spa, I had to cram my treatments into a one-day tour de pampering. In the afternoon, I had a Red Rock Therapy massage: Juniper-oiled river stones were pressed into my muscles until they melted like butter. Later that night, I opted for the ultimate in froufrou, the Gentleman's Facial. After 50 minutes of a sour-cherry mud mask, tea-tree exfoliant, and a round of pore-squeezing that, I'm convinced, popped a couple of rocks out of my membranes, I was red-faced and felt inside-out clean. When I returned to my room, I thought about slipping into the fluffy white robe I'd unceremoniously thrown in the corner, but instead put on a pair of boxers and nibbled on my complimentary Luna bar.
Metro Essential
Take refuge from the concrete jungle at these five urban oases

The placid white interior of San Fran's International Orange
Exhale Mindbody Spa, New York
Tone your mind and muscles with a Core-Fusion class—60 invigorating minutes of stretching, Pilates, and yoga. PRICE: $30. CONTACT: 212-249-3000, www.exhalespa.com
The Sports Club/LA, Los Angeles
West Coast hardbodies appreciate the focus on total fitness—weights, Pilates, yoga, and treatments like the green-tea-and-ginger body wrap. PRICE: day pass, $25, spa treatments not included; body wrap, $135. CONTACT: 310-888-8100, www.thesportsclubla.com
Urban Oasis, Chicago
More than 40 nimble-fingered therapists offer ten styles of massage, including deep-muscle therapy, hot-stone massage, and shiatsu. PRICE: 60-minute massage, $85. CONTACT: 312-640-0001, www.urbanoasis.biz
International Orange, San Francisco
Stop by for lunchtime yoga or a ginger-lemongrass-and-tangerine-oil massage (said to improve circulation). PRICE: 60-minute massage, $95. CONTACT: 415-563-5000, www.internationalorange.com
Ten Thousand Waves, Santa Fe
Soak in an outdoor hot tub after your favorite spa treatment. Ours: a facial with purified nightingale droppings. PRICE: 55-minute hot tub, $20-$27 per person; 55-minute facial, $104. CONTACT: 505-982-9304, www.tenthousandwaves.com