The Best Outdoor Activities in New York City
The best runs, rides, climbs, and places to refuel in the city that never sleeps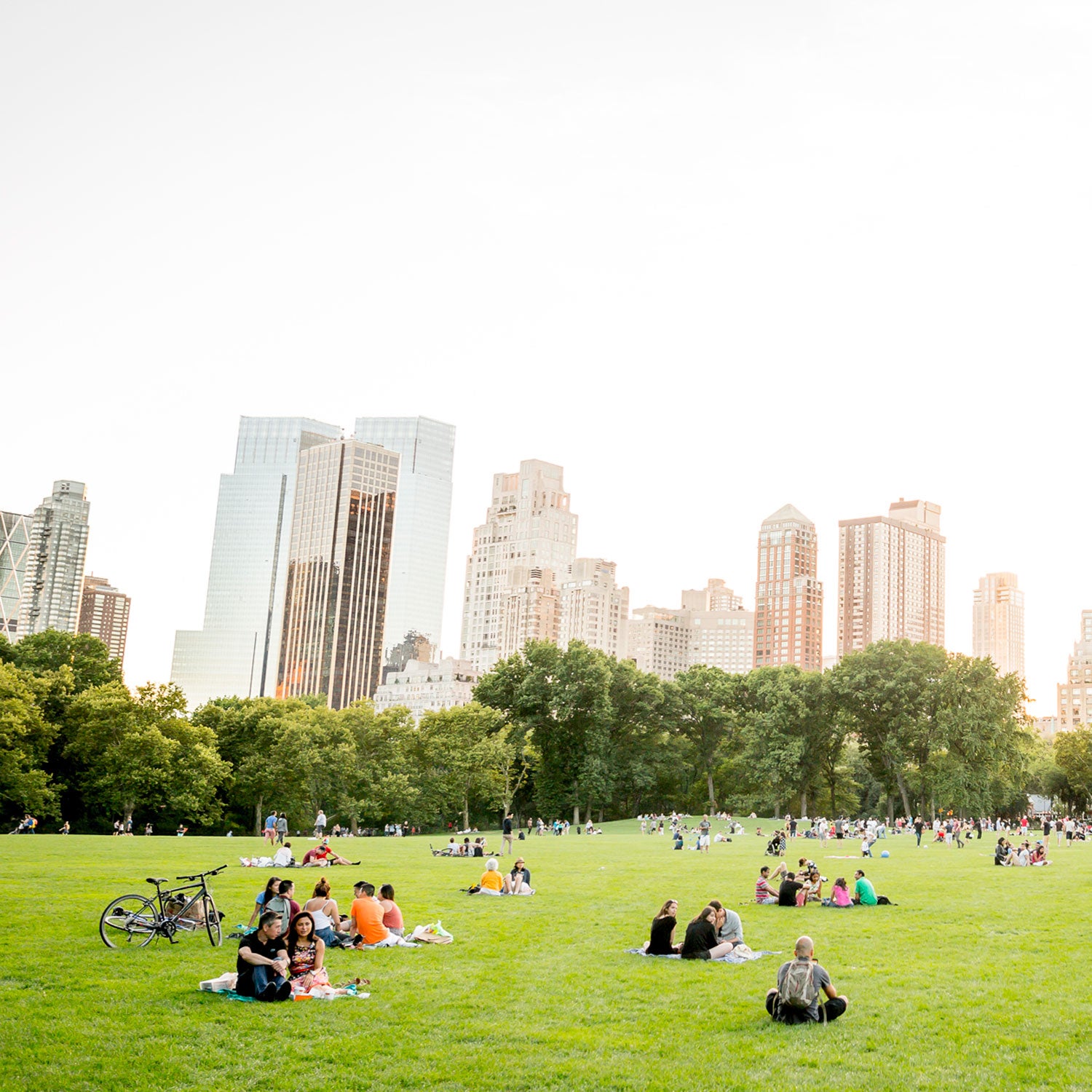 Mat Rick/Tandemstock(Photo)
Heading out the door? Read this article on the new Outside+ app available now on iOS devices for members! Download the app.
Anyone who thinks New York City's outdoor recreational opportunities begin and end in Central Park needs a wake-up call. Thanks to ambitious urban development projects in recent years—including renovations to the bike path on the Manhattan Waterfront Greenway and the flourishing of Brooklyn Bridge Park—the country's largest city is providing ever more opportunities to get after it under the Empire State sun.
As one might expect from a city of over eight million people, New York's great strength lies in its diversity—there really is nothing you can't do. Want to go gym climbing at 11 p.m.? You got it. Want to go on a century ride through rolling, lush terrain? Easy. Want to have the entire world's cuisine at your disposal for your post-race meal? Done. Despite the evidence that seems to point to the contrary, as far as big cities go, New York can really be an outsider's playground. Here's how to make the most of it.
---
Best Runs
At first glance, the country's most populous city might not seem like an ideal place to be a runner: traffic, crowds, no major hills, and the intermittent reek of urine in summer. And yet, New York is home to one of the largest and most dedicated running communities in the United States. Not to mention the city has some surprisingly awesome places to run. Below, we list several of the best in and around Gotham.
—Martin Fritz Huber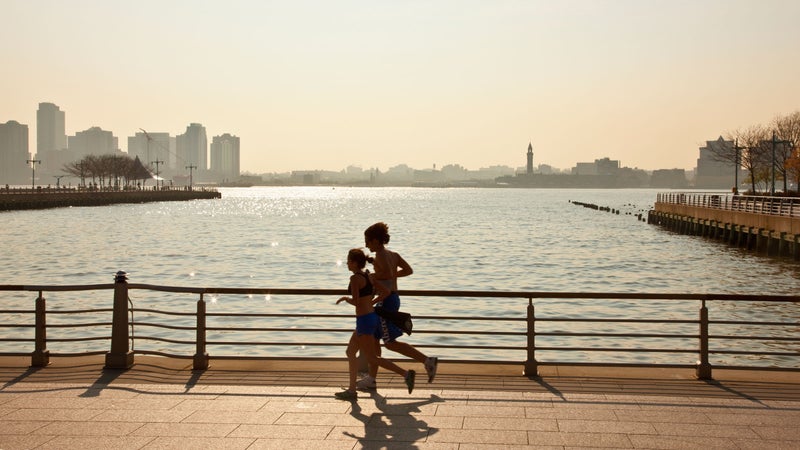 Central Park Drive
Distance: 6 miles
Type of run: Paved loop
For: People watchers
This run—one full loop around the inside of Central Park—is arguably the most famous in New York City, so don't count on being alone. But do count on passing by some of the city's most iconic buildings—like the like Metropolitan Museum of Art—while traversing the final miles of the New York City Marathon (run clockwise to simulate the course). The full loop is just over six miles, but the park's east-west traverses allow runners to customize the length of their route. But be warned: The Park Drive Loop is deceptively hilly.
Central Park Reservoir
Distance: 1.5 miles
Type of run: Gravel loop
For: Midtown speedsters
Call it a run within a run. If you want to avoid the hills of the Park Drive Loop or tread in Dustin Hoffman's Marathon Man footsteps, this flat stretch around the Central Park Reservoir is for you. The 1.5-mile cinder jogging track is ideal for a short recovery run or banging out a quick speed session. Those interested in the latter will benefit from the quarter-mile markers along the inside of the path. Speedsters should beware that the track is narrow, and the risk of mowing down diminutive Upper East Siders is high. Pro tip: Save the Reservoir for after-dark runs—the nocturnal view from the top of the loop, which looks across the water at skyscrapers rising above treetop silhouettes, is pure magic.
Prospect Park
Distance: 3 miles
Type of run: Paved loop
For: Stroller pushers
In Brooklyn, Prospect Park holds similar prominence among the borough's runners as Central Park does for active Manhattanites. Both parks were designed in the latter half of the 19th century by landscape architecture duo Frederick Law Olmstead and Calvert Vaux. Although Central Park came first, the two godfathers of U.S. urban park design considered Prospect Park to be their masterpiece. You can judge for yourself: Run the three-mile loop around Prospect Park's drive, and then do a cool-down jog by the Long Meadow, an undulating mile of continuous green that can make you almost forget you're in New York.
Van Cortlandt Park Cross-Country Course
Distance: 3 miles
Type of run: Woodland trail
For: Aspiring cross-country runners
Active New Yorkers who neglect the Bronx are depriving themselves of one of the country's most iconic racing venues: Van Cortlandt Park. At well over 1,000 acres, Van Cortlandt is New York's third-largest park and is easily accessible from the 242nd Street stop of the 1 subway line. Come here to run the famously challenging 3.1-mile cross-country course that was officially established in 1913 and has since hosted innumerable races at the high school, college, and professional levels. After a brief stretch on the parade ground meadow, the course follows a cinder path for an undulating loop through the woods. Be advised: If you come here on a weekend morning in the fall, a race is probably in progress.
Rockaway Boardwalk
Distance: 5 miles
Type of run: Boardwalk
For: Post-run swimmers
Head to the Rockaways on the southern end of Long Island for a boardwalk run that, in the warmer months, can be followed by a refreshing dip in the ocean. The waters here are far more swimmable (read: less polluted) than those around Coney Island, a likely reason why Rockaway's beaches are popular with surfers and hipsters alike. In 2012, Hurricane Sandy devastated the area, but in 2012, $140 million was allotted to beach area restoration, and a new boardwalk is now complete. If you feel like clicking off the miles on pancake-flat terrain to the sound of crashing waves, this is the run for you. Get here by taking the Far Rockaway–bound A train to Broad Channel and jumping on the shuttle.
Hudson River Greenway
Distance: 13 miles
Type of run: Paved jaunt along the river
For: New York nostalgists
If you're in the mood for something longer, you can run the length of Manhattan, from Inwood to Battery Park, along the Hudson River Greenway, a 13-mile stretch that provides cyclists and runners with a view of the New Jersey cliffs across the river. The path also borders several of New York's favorite attractions. If, for some reason, you want to break up your long run, you can visits to places like Grant's Tomb (mausoleum of the 18th president of the United States) and the Whitney Museum of American Art. We recommend running north to south, so take the A subway line to its penultimate stop at Dyckman Street.
Brooklyn Bridge/Manhattan Bridge
Distance: 3.5 miles
Type of run: Flat and easy (but crowded)
For: Photo-op fiends
The NYC Marathon famously includes five bridges: Verrazano-Narrows, Pulaski, Queensboro, Willis Avenue, and Madison Avenue. The city's prettiest and most iconic, however, is noticeably absent from the race. Yes, we are talking about the Brooklyn Bridge, backdrop to innumerable films and nostalgic New York reveries. Start your run at New York City Hall in Lower Manhattan, cross the Brooklyn Bridge, and complete the loop by coming back over the Manhattan Bridge. If you can help it, avoid warm summer weekends, when foot traffic can get a little out of control.
Suffern-Bear Mountain Trail
Distance: 23 miles
Type of run: Hardcore trail
For: Masochists
Trail-running snobs may favor the mountains out West, but don't be fooled: Rugged adventure can be found right outside of New York City (gasp!). At 23.5 miles and 6,000-plus feet of elevation gain, the Suffern-Bear Mountain Trail is not for beginners. Ambitious day-trippers, however, can take on the challenge, which includes a portion of the Appalachian Trail and ascents of Pyngyp Mountain and Bear Mountain—though these are closer to hills by western standards. Due to the length of the trail, logistics can be tricky, even though the southern trailhead is easily accessible from the Suffern train station. Our tip: Have a good (and reliable) friend meet you at Bear Mountain Inn to give you a ride home.
Old Croton Aqueduct Trail
Distance: 22 miles
Type of run: Leafy, flat, forest roads
For: Marathon-bound runners
Another long run, but one that's flatter, smoother, and far easier on your joints, is the Old Croton Aqueduct Trail, which leads from the New Croton Reservoir to Yonkers, just north of the Bronx. The route follows what was, beginning in 1842, NYC's main water supply for more than a century. Most of the aqueduct is subterranean, but parts of its architecture make aboveground cameos as you proceed along the leafy trail. Keep an eye out for the stone ventilation shafts along the route. The trail runs through the village of Sleepy Hollow, legendary domain of Washington Irving's Headless Horseman, so save this one for Halloween for maximum terror.
Long Path, New Jersey Palisades
Distance: Up to you
Type of run: Clifftop trail
For: View seekers
One of the best trail runs near New York City is actually in New Jersey. Starting in Upper Manhattan, traverse the pedestrian walkway across the George Washington Bridge to New Jersey. Once there, follow the blue markings of the Long Path, which will take you along the top of the Palisades, dramatic basalt cliffs that rise hundreds of feet above the Hudson River. At more than 350 miles, the entire Long Path is something of a commitment, but the initial 13 miles from Fort Lee, New Jersey, to the New York state line are relatively flat and offer beautiful views of the Manhattan skyline and Hudson River. This is an out-and-back affair, however, so don't get carried away.
---
Best Rides
You don't have to be a bike messenger to enjoy riding in New York City. Sure, adrenaline seekers can zoom alongside city busses on Manhattan's busy avenues, but regular cyclists can also find routes similar to those in Anytown, USA. Whether you consider yourself a newbie, weekend warrior, or bona fide racer, achieving road cycling Nirvana in NYC starts with knowing the rides. Below, we've selected nine classic routes (and one race) to get you started.
—Frederick Dreier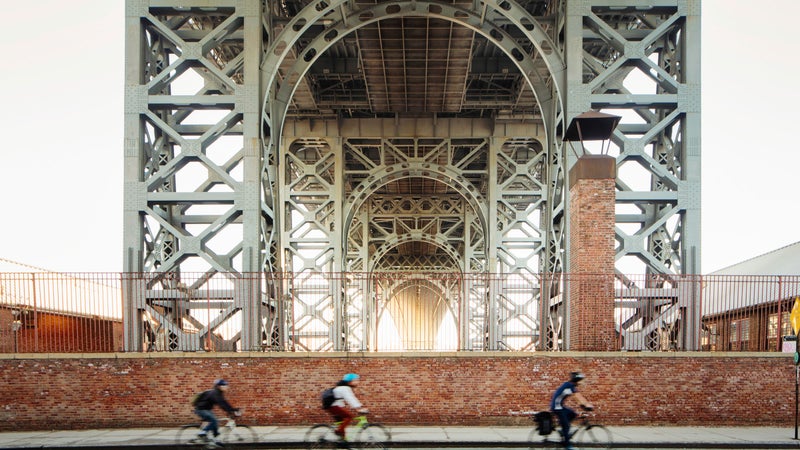 Central Park Loop
Distance: 6.2 miles
Elevation gain: 383 feet
For: New York newbies
Any cycling trip to New York City must include a spin through the city's great green heart. The 6.1-mile ride around Central Park Drive takes you past a plethora of historical landmarks and famous places, from the Metropolitan Museum of Art to Strawberry Fields and the Dakota. The park loop isn't for slouches, either, as the full journey features nearly 400 total feet of climbing, including the punch ascent of Harlem Hill on the north end. Central Park is the preferred workout center for the city's thousands of endurance athletes. During the early morning and evening hours, you'll see group rides, packs of runners, and even competitive inline skaters whizzing by.
A few warnings for the uninitiated: Stay on the road (cycling on most pathways is prohibited). Time your ride wisely: On weekdays, the southern portions of Central Park Drive are open to car traffic (west side, 8 a.m. to 10 a.m.; east side, 7 a.m. to 7 p.m.). And the park is often so overrun with walkers and tourists on weekends—especially during the warm months—that a bike ride can quickly become a maddening exercise in crash avoidance.
Hudson River Greenway
Distance: 26.6 miles round-trip
Elevation gain: 135 feet
For: Endorphin-seeking tourists
Much of Manhattan is ringed by the 32-mile Manhattan Waterfront Greenway, a bikeway that is separated from car traffic. The Hudson River Greenway is the most scenic stretch, running along the island's western shore, from Battery Park past the George Washington Bridge and up to Inwood Park. The route showcases a wide swath of distinctly New York City sights, sounds, and even smells (for better or worse). In lower Manhattan, you'll spin past busy Wall Streeters and posh fashionistas. Farther uptown, the smell of Dominican barbecue fills the air. Be warned: The path is extremely busy on weekends in summer, so keep your eyes open, your speed to a crawl, and your earbuds out.
Fort Tilden
Distance: 26.7 miles round-trip
Elevation: 0 feet
For: Adventurous newbies
For newbie cyclists looking for an urban adventure—that includes a swim—we recommend the out-and-back ride to the beach at Fort Tilden in the Rockaways, which reopened in 2014 after a two-year closure due to Hurricane Sandy. The journey is a deep tour of Brooklyn culture—along the way you'll ride past hipsters, hip-hoppers, Orthodox Jewish families, Russians, and multigenerational Brooklynites whose New Yawk accent is straight out of Central Casting.
From Manhattan, ride over the Manhattan Bridge (never ride over the Brooklyn Bridge—the crowds of clueless tourists make for a maddening experience), and then make your way to Prospect Park via Vanderbilt Avenue. From Prospect, take the Ocean Parkway bike path (the country's first bicycle path) south toward Coney Island, where you can link up with the Belt Parkway bike path, which then takes you east toward the Flatbush Avenue bike path. Continue over the Marine Parkway Gil Hodges Memorial Bridge and arrive at the northwestern end of Jacob Riis Park, where you'll see signs for Fort Tilden Beach. In summer, a cool dip in the Atlantic is the best post-ride chill-out. Pro tip: No trip would be complete without a bite at Tacoway Beach.
River Road
Distance: 41 miles round-trip from Midtown
Elevation: 2,062 feet
For: Urban escapists
It's impossible to find rural roads and backwoods-style riding near New York City, right? Wrong. On the western side of the George Washington Bridge sits New Jersey's Palisades Interstate Park, a thin band of open space that runs alongside the Hudson River for six or so miles. Running northbound within the park is Henry Hudson Drive—called River Road by locals—which skirts below the tree canopy for seven uninterrupted miles. Local cyclists flock to River Road for its views of Manhattan, rural feel, and punishing 400-foot climb.
To get there from Manhattan, ride north along the Henry Hudson Greenway, ride over the George Washington Bridge, and take an immediate left. The entrance to River Road is on the left side of the street. Most riders come back to the city along Highway 9W, a popular north-south corridor for cyclists.
Highway 9W to Nyack
Distance: 55 miles from Midtown
Elevation: 2,772 feet
For: Hungry weekend warriors
Looking for a longer route (and a mid-ride snack)? On weekends, throngs of cyclists ride across the George Washington Bridge from Manhattan and head north on the popular Highway 9W, which runs along the western bank of the Hudson River all the way to Albany. The route climbs along the Palisades cliffs before dropping into the town of Piermont, where some cyclists continue northbound on the flat River Road, while others climb up Tweed Road. Everyone's destination, however, is the same: The Runcible Spoon in Nyack. On most Saturdays, the carbon fiber bicycles are stacked ten deep in front of the cafe, where muffins, croissants, and scones provide a tasty incentive to get out and sweat.
The Orchards
Distance: 86.5 miles from Midtown
Elevation: 4,137
For: The century-curious
Past Nyack on Highway 9W are dozens of popular rural loops and out-and-back routes for cyclists of all abilities. Ambitious riders regularly tackle the Bear Mountain/Harriman State Park out-and-back, easily a 100-mile day from the city. For a shorter route, the Orchards can be done either as an out-and-back or a loop.
From 9W, head west on Haverstraw Road, which becomes South Mountain. This rural road climbs through a series or apple orchards for approximately five miles before ending at a small market called the Orchards of Conklin. Refuel with a homemade apple pie before heading back, either on 9W or North Little Tor and Riverdale Roads.
The Gimbels Ride
Distance: 90 miles (long route from Manhattan)
Elevation: 3,800 feet
For: Racers in training
Like all major cities, New York has several competitive group training rides. But none is more famous—dare we say infamous—than the Gimbels Ride, which takes cyclists on a fast and furious tour of Westchester County, just north of the city. For the past half-century, riders from New York City, Westchester, and Connecticut have met every Saturday and Sunday at the Cross Country shopping center in Yonkers promptly at 9:20 a.m. The pack heads north along Central Park Avenue at a slow pace to White Plains, where the group splits into two (one slower, one faster) just past the Kensico Reservoir. By the time of the split, you'll hear multiple languages in the pack. "You have so many different nationalities and cultures represented on the ride—it's a melting pot just like the city," says Will Schneider, a longtime participant.
Competitive racers embark the longer route, which includes several punishing hills through the towns Chappaqua and Mount Kisco. The shorter route attracts the weekend warrior crowd; it's also fast but without the hills. Both rides finish with a sprint to Mamaroneck, where riders either board trains back to the city or ride home through the Bronx. For both rides, expect a fast tempo and paceline-style riding. Fair warning: Neither group waits for stragglers.
The Triangle Ride
Distance: 100 miles from Midtown, 55 miles from meetup
Elevation: 3,865 feet
For: Aggressive racers
Long Island's best-known group ride departs every Saturday and Sunday morning at 8:30 a.m. from a small park called the Triangle, which is located along 57th Avenue in Little Neck, Queens. From there, the pack heads east along the Long Island Expressway to the town of Melville, where they continue north along country roads to the coastal towns of Laurel Hollow and Mill Neck before looping back toward Queens through Oyster Bay and Brookville. Like the Gimbels, you can expect a fast, steady tempo, with plenty of attacks and regroupings.
You might assume that Long Island is flat. Wrong. A half-dozen punchy, painful climbs pack the Triangle route. And like the Gimbels, the Triangle ride has been going every weekend for decades. In fact, we recommend riding up to one of the senior members of the group and asking for a history lesson. "Our ride has existed since the early 1970s, when pro riders like George Hincapie, who was at that time a teenager and lived on Long Island, would be among the pack," says Ernest Knox, a longtime Triangle rider.
The Rocket Ride (Nyack Ride)
Distance: 85 miles from Manhattan, 50 miles from Nyack,
Elevation: 4,500 feet
For: The competitors
Cyclists who live along the Hudson River's west bank meet in the small town of Nyack every Sunday morning for the Rocket Ride, which speeds along through the suburban towns in New Jersey into New York State. The ride departs from the Runcible Spoon promptly at 8 a.m. and heads southbound on Piermont Road (Route 501) at parade pace. As you pass through Tenafly and Englewood, New Jersey—where a few additional cyclists might join—the ride speeds up and heads northbound on Knickerbocker Road (Route 565), which eventually links up with South Little Tor Road. The Rocket Ride hits race pace as it passes through the towns of Old Tappan and Nanuet. Just south of Harriman State Park, the ride heads eastbound on South Mountain Road, and then speeds back to Nyack on Highway 9W, where it finishes with a sprint up the climb to Rockland Lake. After that, it's time for a recovery muffin at the Spoon before riding home.
Be warned: Heavy Sunday car traffic and group riding dynamics can create dicey conditions. On many Sundays, the Rocket Ride attracts strongmen from New York City's local racing scene. "The occasional elite rider shows up to test themselves on a non-race day, and they usually shake up the group," Schneider says. "It's fast."
Floyd Bennett Field
Distance: Variable
Elevation: 0 feet
For: Racers looking to suffer
New York City supports a thriving racing scene, including the Century Road Club of America's weekend series in Central Park and regular events in Brooklyn's Prospect Park. In our opinion, the city's most authentic series are the Tuesday night races at Floyd Bennett Field, on the southern tip of Brooklyn. Held on a pancake-flat runway—Floyd Bennett was New York's first municipal airfield—the evening races dish out maximum amounts of pain (and fun).
The attacks start from the gun, and the pace rarely drops below 25 mph. Small fields—30 or so per category—mean there's nowhere to hide from the swirling offshore winds. And the peloton is as diverse as the host city: Guyanese and Jamaican racers from surrounding communities generally dominate the pack, but the peloton also includes everyone from tattooed bike messengers to Midtown hedge fund managers. With little more than a starting line and a handful of safety pylons, Floyd races are a gritty, no-frills affair. But isn't that the true flavor of New York City? "There's something really pure about the style of racing at Floyd," says pro racer Kyle Murphy of the Jamis cycling team. "It's flat-out racing."
---
Best Climbs
You don't have to scale spires like Jimmy Chin to climb in the New York area. Whether you want to boulder outside, climb multipitch routes, or get your fix top roping in a gym, you can find it all within (or a couple hours outside of) Manhattan.
—Abigail Wise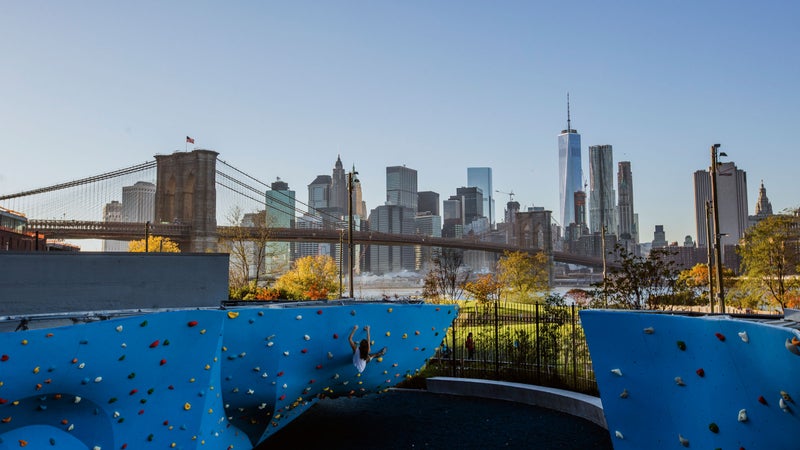 The Gunks
Type of climb: Trad, top rope, bouldering
For: Trad enthusiasts
We love Yosemite as much as the next climber, but the West shouldn't get all the climbing glory. As one of the best trad spots in the country, the Shawangunks Ridge, or "the Gunks," features hundreds of quartz conglomerate routes. Known for its jugs, roofs, and horizontal cracks that rise as high as 250 feet, this area has played host to climbers since the 1930s. There's no sport climbing and limited top-rope options, but if you're a trad climber, the Gunks is paradise.
Peterskill
Type of climb: Top rope, trad
For: Weekend warriors
Not quite ready to embrace multipitch routes? Head to Peterskill, a quartzite conglomerate crag within the Shawangunks that's better suited to less-experienced climbers. The area is home to nearly 100 trad options, but it has even more top-roping routes. There's also a range of easy-to-intermediate bouldering problems. While there are a handful of bolt anchors, be prepared to build your own when you're sending in Peterskill. All climbers register and pay a small fee at the front desk of the visitors' center, but the upside is that management regulates the number of climbers who enter each day, making this the spot to escape crag crowds.
The Cliffs LIC
Type of climb: Sport, top rope, bouldering, auto belay
For: Queens-based crushers
Get ready for big walls and a wide variety of styles on routes at the Cliffs Long Island City. Located a block from Court Square, it's easily accessible from Queens, Manhattan, and Brooklyn. Beginners can sign up for an intro class, and more experienced climbers can build strength leading the overhanging routes in the cave. The bouldering problems are changed regularly, and there's a weight room and exercise area upstairs for ample cross-training. Route setters also devoted a couple lines to ice-climbing practice, in case you're already prepping for this winter's epic adventure.
The Cliffs LIC runs $28 for a day pass and $140 per month. Sign up for a yearly membership and it'll cost you only $105 per month.
Dumbo Boulders
Type of climb: Bouldering
For: Gym-rat outdoorists
Outdoor climbing meets gym bouldering at Dumbo Boulders, a brand-new bouldering area underneath the Manhattan Bridge in Brooklyn that features nearly 8,000 square feet of space, making it the largest outdoor bouldering gym in North America. It's owned and operated by the Cliffs, which opened Dumbo Boulders last spring in Brooklyn Bridge Park.
Day passes are $9, and summer pass are $199, although you can get in for free with a Cliffs membership.
Brooklyn Boulders
Type of climb: Top rope, sport, bouldering, auto belay
For: Climbing Brooklynites
There's a reason Brooklyn Boulders is one of the most popular gyms east of the Mississippi: Diverse bouldering problems, challenging top rope and sport routes, and a range of difficulty levels on auto belay mean you'll always have something new to try. You can even turn your bouldering into a video game with the company's augmented reality feature. Although BKB has expanded to Queens, Somerville, and Chicago, its Brooklyn location will always be the original.
While day passes cost $32, off-peak hours (Monday through Friday, 10 a.m. to 3 p.m.) are only $28. A monthly membership will run you $115.
Rat Rock
Type of climb: Bouldering
For: After-work boulderers
What Rat Rock lacks in size, it makes up for in convenience. On the south side of Central Park sits a single large boulder with two climbing faces. (It's where 15-year-old phenom Ashima Shiraishi first began climbing.) There are only a handful of problems to choose from—most range from V2 to V5—but a group of regular climbers frequent the rock, which creates an interesting climbing culture in the heart of the city. Focus on the east and north faces to discover the more established problems, as well as some of your own. As the Mountain Project says, "The best plan is to follow the chalk and use your imagination."
---
Best Places to Refuel
In New York, every group run, Soul Cycle class, and group ride begins and ends with a conversation about where to eat afterwards. And rightfully so: their city is so full of amazing options that it can take an entire ten-mile run to hash out who really has the best brunch. Like any tourist city, though, there are traps to avoid. Here's where to go to make sure you're not squandering your post-run indulgence.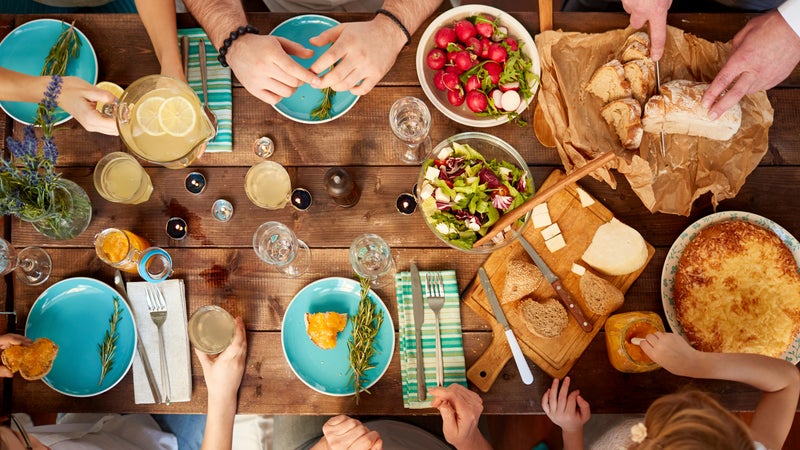 Shake Shack
How much do runners love junk food? So much that this burger joint has its very own track club. At least once a month, runs start and end at three of its New York locations. Occasionally, there are free yoga classes or bike rides, too. If it's hot, order the Fair Shack, which combines runners' two favorite things: ice cream and coffee.
Various locations; shakeshack.com
Peter Pan Donut and Pastry Shop
When doughnuts are $1.10 apiece, it's hard to limit yourself to just one—and there's no reason to if you've just finished a long ride or run. The apple fritters are unforgettable, especially when they're fresh out of the fryer. And the apple bits tucked between the folds of fried dough make them seem healthy-ish. They also have decent coffee.
727 Manhattan Avenue, Brooklyn; 718-389-3676; peterpandonuts.com
Corner Bistro
"Their burgers and fries are served on plastic plates so you won't feel self-conscious rolling up covered in sweat," says Kelly Roberts, a November Project junkie and the blogger behind Run, Selfie, Repeat. The no-frills bar and restaurant (it has wood tables, a menu with only nine items, and an old weathered bar that could tell 1,000 good stories) has a loyal following. Some people swear it's the best burger in New York. Opt for the Bistro Burger, which comes with an overabundance of bacon and cheese. One note: Cash only.
331 West 4th Street; 212-242-9502; cornerbistrony.com 
Juice Press
Whether you're recovering from a marathon or a marathon night out, Juice Press can help mend your weary body. Get a fresh-pressed glass of Doctor Earth, which mixes apples, kale, celery, pineapple, swiss chard, and a handful of other ingredients into a fix-all tonic. Or get a strawberry banana smoothie, which includes flax, hemp seeds, and pea protein.
Various locations; juicepress.com
Gotham West Market
This high-quality food court is a good stop when you're cruising down the Hudson River Greenway. There are a handful of great places to eat and a bike shop to help with that sticky derailleur. The best may be Cannibal, a charcuterie and beer bar whose name is a nod to pro cyclist Eddie Merckx. Matt Allyn, a cyclist and senior associate editor at MensJournal.com, recommends going to Cannibal in July to watch the Tour de France—the bar will give a free beer to anyone who shows up in a kit.
600 11th Avenue; 212-582-7940; gothamwestmarket.com 
Red Lantern Bicycles
At this casual cafe meets bike repair shop, you can drink a beer while your bike gets fixed—need we say more? You'll feel right at home clicking around in your cleats, and no one tells you to get your sweaty chamois off the bar stool. The cafe makes its own nut milks with unique options, like cashew. Local baked goods from North Side Bakery and Ovenly will get you carbed up for your cruise home.
345 Myrtle Avenue, Brooklyn; (347) 889-5338; redlanternbicycles.com 
Ample Hills Creamery
When the city is so hot the roaches start flying and your entire running route smells like melting garbage, ice cream is what you need. Named for a line in Walt Whitman's poem "Crossing Brooklyn Ferry," Ample Hills Creamery makes every pint from scratch with milk from grass-fed cows. All the mix-ins are homemade, too—even the peppermint patties.
623 Vanderbilt Avenue, Brooklyn; 347-240-3926; amplehills.com
Injera
Want to eat like some of the world's fastest runners? Stop by this West Village Ethiopian restaurant. Dip pieces of spongy injera (a traditional sourdough bread) into bowls of spicy lamb or chicken stew. The servers are accustomed to dealing with newbs, so they'll patiently explain what everything is and how to eat it.
11 Abingdon Square, West Village; 212-206-9330; www.injeranyc.com
Joe's Pizza
There's so much good pizza in this town, but this is Roberts' go-to spot for by-the-slice New York–style pie. Slices here are that perfect combo of crunchy, chewy, and cheesy. And everything is served on paper plates, so you know that it's the type of place where showing up in spandex is kosher.
7 Carmine Street; 212-366-1182; joespizzanyc.com
Ippudo
This is Roberts' pick for best post-workout ramen. The only downside is that there can be a long wait since it's one of the most popular ramen shops in New York. (But if you finish a ride at 2 p.m. and want a late lunch, you'll probably be able to walk right in.) Don't skip the pork or vegetable buns, and wash your meal down with a shot of shochu, a distilled spirit similar to sake.
Various locations; ippudony.com
Corrections:
(10/08/2021) A previous version of this article inaccurately referred to a restaurant as Rockaway Taco. The correct name is Tacoway Beach. Outside regrets the error.
Lead Photo: Mat Rick/Tandemstock
Trending on Outside Online