Bison Bones, a Backhoe, and a Crow Curse
Leslie MacMillan investigates the questionable destruction of a Crow Indian religious site in Montana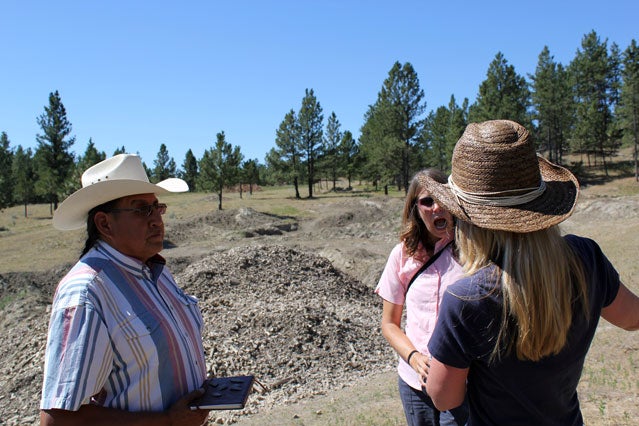 Heading out the door? Read this article on the new Outside+ app available now on iOS devices for members! Download the app.
Around the time of Christ's birth, while the Roman Empire was reigning over the civilized world, a group of Indian hunters in what is now Sarpy Creek, Montana, chased a herd of 2,000 wild bison into a narrow drainage area and launched an attack, filling the sky with a sheet of arrows. As the wooly beasts lay bleeding to death from their wounds, the hunters then set upon them with their flint knives, scouring the animals for meat, hide, and bones. These mass hunts went on for a millenia, and were a super-efficient way to get all the things the tribes needed in order to last through the brutal winters.

Some elements of the archeological site were still intact last summer. Many of the bison bones shown here were broken so that their marrow could be extracted.

Different types of prehistoric "projectile points" chiseled out of stones that would have been used as weapons—on the ends of spears, arrows or as knives—to kill bison and other animals.
Today, hundreds of "bison kill sites" dot plains and prairies of North America—compacted bone beds littered with arrowheads and other artifacts. What makes the Sarpy site special, archeologists say, is that it seems to have been closed in a religious ceremony: the hunters laid their weapons—many of them unused—as offerings on top of the roughly 30,000 pounds of bison bones then buried it all.
For 2,000 years, those spears, flint knives, and projectile points lay under a carpet of prairie grass, untouched.
Until 2005, when the site was uncovered by Westmoreland Resources, a company seeking to expand its Absaloka coal mine, who found that the massive bison bone bed was in the way. Working in compliance with federal laws, the company hired a consultant who excavated the site for two years, salvaging enough artifacts and bone to nearly fill a semitrailer. Then, in a plan backed by the federal government, he plowed 98 percent of the site into a heap with a backhoe, a move that amounts to "nothing less than controlled, federally sanctioned looting," according to archaeologist and Utah State University professor Judson Finley.
The site should have been painstakingly excavated with delicate hand tools over a period of several years, said Kelly Branam, a cultural anthropologist and professor at St. Cloud State University. 
But Tom Durham, vice president of planning and engineering of Westmoreland Resources, maintains that the "artifacts were treated with the respect they deserve. We don't just go in and rape and scrape." The bone bed sits on the Crow Indian reservation, as does the Absaloka mine, which Westmoreland has been operating under a lease from the Crow since 1974. "We have a lot of respect for that culture," said Durham, "and have tried very hard to work with those folks."
LAST AUGUST, WITH THE temperature hovering just over 100 degrees, Berdick Two Leggins, tribal historic preservation officer for the Crow tribe, pulled an arrowhead from beneath a rock where he had hidden it away. "These offerings were made because people were thankful," he told me, turning the gleaming stone in the palm of his hand. "For the food, the hides, and bones."
To him, bulldozing the site into a heap is a desecration and has invited a curse on the land, one that was foretold by Crow Chief Blackfoot when he signed away Crow land in a treaty nearly 150 years ago.
In the '70s and '80s, the government created laws, such as the National Historic Preservation Act, meant to strengthen requirements for permitting processes on both public and tribal land that would affect Indian cultural resources. NHPA requires the lead federal agency to work with either a state or tribal historic-preservation office and get public input in each step of the process.
When scoping for the Sarpy excavation began in 2005, Dale Herbort from the U.S. Office of Surface Mining worked with Montana state archeologist Stan Wilmoth and Gene Munson of GCM Services, a private consultant hired by the mining company. (Mining companies hiring their own consultants is common practice.) However, federal funds established a tribal historic-preservation office in 2007, so Wilmoth—who worked for the state—was then replaced with the new Crow tribal historic preservation officer, Dale Old Horn.
The law requires consultation and public input for every stage of the process, and is thereby meant to create a system of checks and balances. However, critics say the three parties—OSM's Herbort, Dale Old Horn, and mining consultant Munson—acted with a single vision: to move the project along as quickly as possible.
Together, they devised a "data recovery plan" that consisted of putting the material through a powerscreen to filter valuable artifacts from dirt and bone and then plowing the rest with a backhoe.
"It doesn't make any sense to me and it doesn't seem appropriate," said Wilmoth.
Herbort did not answer phone calls, but the U.S. Interior Department, which oversees OSM, responded in a written statement, saying: "The data recovery plans for the site were reviewed by the Bureau of Indian Affairs and the Crow Tribal Historic Preservation Officer. No agency or the tribe asked for further public involvement." 
When reached on his cell phone, Munson abruptly hung up.
"I probably shouldn't tell you this," said Wilmoth. "But GCM used to consult with mining companies all over the West. They don't do that anymore."
Old Horn has since been fired. This week, agents from the FBI and the U.S. Interior Department's Inspector General's Office arrived on the reservation to ask Old Horn questions about the THPO's finances, according to Burton Pretty on Top, chairman of the Crow cultural committee. 
As for the artifacts that were salvaged, Pretty on Top said the tribe sent a formal request to GCM Services last Monday asking that they be returned to the tribe, their legal owner.
MEANWHILE, A COLLECTIVE OF tribal officials, environmentalists, and archeologists met last Friday to discuss next steps. They want Westmoreland to conduct a thorough excavation, provide a detailed accounting of the artifacts and potentially reimburse the tribe for damages. This could include building a museum for the artifacts that might attract tourism to the reservation.
The site is near the Little Big Horn Battlefield, where General Custer and the Seventh Cavalry met their fate at the hands of Lakota (Sioux) and Northern Cheyenne warriors in 1876. It was a resounding victory for the Indians, but it was their last. By the end of the 19th century, federal policy had pushed most Indians onto reservations, where the tribes' best money-making option was often to lease the land to coal and other mining operations.
The Crow tribe is in a tricky position, according to Mike Scott of the Sierra Club, which is working with the Crow investigate the situation. It's "dependent on coal for revenue," Scott said. "So they probably don't want to wage an all-out campaign on this."
But while money is a necessity of modern life that bears down on the tribe, so do other, more ancient concerns.
Driving away from the Sarpy site last summer, Two Leggins turned around and flashed a sly grin. "Coal sales are down," he said, his glee is perplexing at first, until I understand that this proves a point he's been trying to make—about a treaty, a chief's prophetic words and a curse. "When you destroy something like that site, you won't be able to profit from the land anymore. It goes back to what the chief said about the curse of the land when he signed the treaty at Fort Laramie. That curse is still with us," he said. "It affects us to this day."
Leslie MacMillan is a freelance journalist who has written for the New York Times, Associated Press, the Boston Globe and others.
Lead Photo: Carmel Brennan