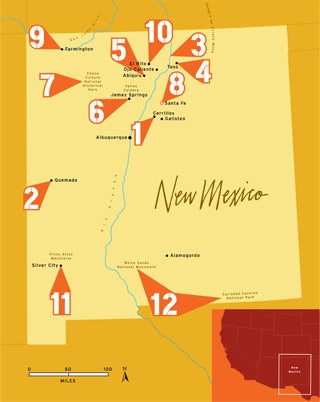 Evan Hecox
Heading out the door? Read this article on the new Outside+ app available now on iOS devices for members! Download the app.
From the red-rock vistas of Abiquiu to the dunes of White Sands—with a few shots of tequila mixed in—New Mexico is another world. Try these 12 perfect days in the Land of Enchantment.
Horseback Riding into the Sunset
Cerrillos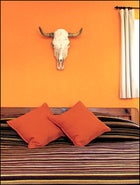 Twenty miles south of Santa Fe, where the southern Rockies peter out into desert, the landscape turns iconic. This is Hollywood-western terrain—films like Young Guns and The Hi-Lo Country have been shot in the sandy washes and scrub-covered hills. Appropriately, it's also the setting for the Broken Saddle Riding Company, a 22-horse operation in the pleasingly forlorn former mining town of Cerrillos. The stables' low-slung paddocks and metal ranch fence strung with rogue mementos—requisite cow skull, spurs, and old bridles—suit the scene: At the sound of your car, the lanky and laconic Harrold Grantham will amble out of the tilting tack room in his Wranglers, give you a small but genuine smile, get you situated on a drowsy Tennessee walker, and lead you out for an hour (or two or three) in the piñon-and-juniper country of the Cerrillos Hills Historic Park.
Though I've ridden with Harrold plenty of times over the years, it seems like we never take the same route twice. There are dozens of trails looping through the hills—past fenced-off turquoise mines and panoramas of five mountain ranges and the high desert. Down in the steep-walled Crooked Hat and Devil's canyons, your horse will ease into a canter so smooth you'll find yourself whooping with crazed delight.
After the ride, the movie script sends you 12 miles east to the Galisteo Inn's 1703 adobe hacienda, in the village of Galisteo. Refurbished in late 2004 with an uncluttered Santa Fe design—plaster walls in saturated shades of turquoise and cream, wide-plank pine floors polished to a high luster, deep windowsills, kiva fireplaces in nearly every room—the inn and its 12 guest rooms exude the perfect blend of style and substance. Out front, a portal is shaded by 100-year-old cottonwoods, and a quiet road winds past art galleries to a narrow bridge over the Galisteo River and the high, open lonesome beyond.
BONUS: At the Mine Shaft Tavern (505-473-0743), a classic shoot-'em-up saloon just south of Cerrillos in the outpost of Madrid (pronounced MAD-rid), order a Bud and a green-chile cheeseburger at what's rumored to be the longest stand-up bar in the West (40 feet of lodgepole pine). The place is dark, moody, and cheap—definitely the real deal.
DETAILS: Horseback riding at the Broken Saddle (505-424-7774, www.brokensaddle.com) costs $50 for a one-hour outing, or $85 for three hours. Doubles at the Galisteo Inn (866-404-8200, www.galisteoinn.com) start at $99 per night.
High-Art Experience
Lightning Field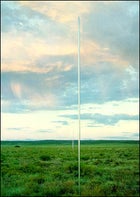 Lighten Up: The New Mexico Lightning Field
Four hundred stainless-steel poles, each about 20 feet tall, spread over a mile-by-kilometer expanse of high desert wouldn't seem to have the makings of a fun-filled getaway. Yet art aficionados come from all over the world to experience The Lightning Field, a land-art installation completed by Walter De Maria in 1977. The sculptor scoured the Southwest looking for the perfect spot to erect this influential contribution to contemporary art. Decide for yourself during an overnight stay at the secluded log cabin that looks out on De Maria's labor of love.
Lest The Lightning Field become some roadside amusement for the traveling hoi polloi, visitors are required to follow a precise routine—and to make reservations well in advance. Your art adventure begins in Quemado, a wind-scoured west-central town. Here, you and up to five companions (the cabin has three bedrooms) are picked up midafternoon by the caretaker, who drives you 40 minutes to the cabin—dropping you off with enchiladas, breakfast food, and snacks. You're on your own until he retrieves you the next morning.
While the cabin is comfortable, with hot showers and Wild West furnishings, there are no games, books, or TV; you're here to experience "the work." And it doesn't look like much at first. But then you walk the vast field—looking, feeling, sensing. If you're lucky, thunderheads sweep in, lightning flashes, and the poles glow pink, orange, and blue. Love it or hate it, you'll never take in art like this, and that alone is worth the trip.
BONUS: After all that art appreciation, treat yourself to dessert in Pie Town, east of Quemado on Highway 60. The Daily Pie Cafe (505-772-2700) serves 25 varieties. Or stop to ponder some other big objects at the Very Large Array, 27 giant radio dish antennae clustered west of Socorro.
DETAILS: Visit The Lightning Field (www.lightningfield.org), maintained by the Dia Art Foundation, from May to October for $110–$135 per person, with meals.
Whitewater Thrills
The Rio Grande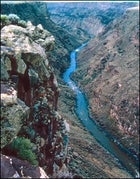 Rapid Descent: The Rio Grande near Taos
In a climate as dry as New Mexico's, it seems slightly sinful to spend a day immersed in cool, flowing water. But as you raft the Rio Grande through the 800-foot-deep canyon known as the Taos Box, you'll be too busy issuing Hail Marys (and yelling "Holy Crap!") to think about guilt. The 17-mile-long Lower Box, with its Class IV rapids, is home to some of the wildest whitewater along the 1,885-mile river.
The scarcity of water makes trip timing critical. So last May, when I noticed the online river-gauge graph leap from a barely floatable 600 cubic feet per second to more than 1,000, I mustered a six-person crew and headed to the put-in, six miles north of Taos at the John Dunn Bridge. Our first 12 miles were gentle, but the Rio Grande spoke up as we approached Powerline Falls, where the cacophony of water reached a thunder. We parked to have a look at the 14-foot drop—we'd have to drift into a slot guarded by boulders, with no chance of paddles touching water until we hit the pool at the bottom. Then we got back in, cinched up our PFDs, and let the pushy current have its way.
Everyone howled at the tipping point, where the tongue of water carried us over the edge and ricocheted us off rocks on our way down. Nervous laughter led to high-fives as we realized we'd made it through the first of many formidable drops. Then the rapids came in succession: Pinball, Rock Garden, Boat Reamer, Screaming Left, Screaming Right, and, before the take-out at Taos Junction Bridge, the appropriately named Sunset. As the sun drew an inky shadow across the canyon, we stepped back on land, reeling from the adrenaline buzz. We kept the thrill alive by driving across the bridge to the BLM campground and cracking beers.
BONUS: Kick-start a river day with a hearty cup of joe and a breakfast burrito at the Bean (505-758-7711), with locations on both ends of Taos.
DETAILS: Kokopelli Rafting Adventures (800-879-9035, www.kokopelliraft.com) leads Lower Box trips from $95 per person. Camping in the Orilla Verde Recreation Area (505-758-8851, www.nm.blm.gov) costs $7 per vehicle.
Eco-Friendly Escape
Taos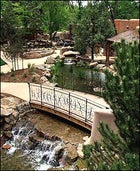 Eco-Sensitive Bliss: The Courtyard at El Monte Sagrado
Morocco is an inferno. At least, that's how it feels from my cushion next to the fire as the masseuse pretzels my legs into "healing" Thai massage positions. When the contortions are over, I slide my eyelids open, prop my elbows on gold pillows, and look out the window. No camels. No bazaar. Instead, steep peaks meet clear skies, and gnarled cottonwoods tower over a low-slung cluster of adobes with signs that read TEXAS, BALI, and MOROCCO. But instead of North Africa, I'm at El Monte Sagrado resort. No matter—both places have a knack for suspending reality.
El Monte Sagrado, 36 suites and casitas circling a luscious green "sacred circle" east of downtown Taos, is all about suspended reality. Half its mission is to propel the notion of luxury escapism to new heights; the other half is to serve as a model of sustainability. On the luxury side: Merge scrambled eggs with the sublime while breakfasting under a priceless Warhol, a Picasso, and multiple Basquiats, part of owner Tom Worrell's private collection. Get fully buffed with the spa's High Altitude Adjustment massage or High Desert body polish. Then, after a couple of hours of hiking and yoga, the rich-with-cinnamon Mexican chocolate cake in the De la Tierra restaurant doesn't seem like a vice.
On the sustainability side, the resort, finished in July 2003, is a 3-D manual on living right. Worrell built El Monte Sagrado to showcase his other business, Dharma Living Systems, which designs eco-friendly wastewater-treatment systems. So as you listen to the splash and trickle of water running from one goldfish-stocked pond to the next, remember: All the nonpotable water is recycled effluent.
BONUS: For unsustainable culinary debauchery, hit Antonio's (505-758-9889), a cozy Mexican restaurant on Taos's south side, for chiles rellenos with walnut-and-brandy cream sauce.
DETAILS: One-bedroom casitas at El Monte Sagrado (800-828-8267, www.elmontesagrado.com) start at $345 per night; two-bedroom suites start at $1,495.
Splendid Isolation
The rich colors and textures of the canyons and mesas near the village of Abiquiu are nothing short of perfect. This is Georgia O'Keeffe country—the painter first visited in 1917, and more than two decades later she moved here permanently. One look at Abiquiu's 70-year-old adobe church—its bell tower and wooden cross towering against a brilliant blue sky—and it's easy to see why she left New York for these more contemplative environs. I'm tempted to stay here, too.
O'Keeffe had a summer house at Ghost Ranch, 14 miles north of Abiquiu, a 21,000-acre property that is now a Presbyterian retreat center and the gateway to spectacular hiking. I've chosen a five-miler that starts in a cottonwood-filled valley but quickly gains altitude. I hike alongside the trail's hulking namesake: Kitchen Mesa, a 600-foot-high sandstone mass. I negotiate a tricky chimney to the flat mesa top and am rewarded with 360-degree views of Abiquiu Reservoir and the Jemez Mountains.
Later, I ease my pickup down the deeply rutted 13-mile road from Highway 84 in Abiquiu to the Monastery of Christ in the Desert, where Benedictine monks keep beehives. The monastery opens its 16-room guesthouse to visitors, who can stay for silent retreat weekends. When I arrive, a smiling Father Bernard gets up from his rocking chair and encourages me to visit their church. I sit in the sacred space, listening to my breath go from shallow to deep. I wonder if O'Keeffe ever spent time at this peaceful place. Somehow I think she could have.
BONUS: Step inside O'Keeffe's winter home, a 5,000-square-foot adobe in Abiquiu ($25, reservations required; 505-685-4539).
DETAILS: Ghost Ranch (505-685-4333, www.ghostranch.org) provides hiking info. Rooms at Christ in the Desert (www.christdesert.org) run $70–$125 per person, with meals.
Smokin' Road Trip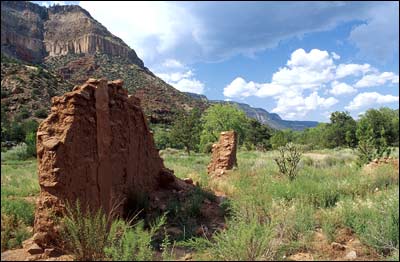 Highway 4 has a story to tell, a real whopper, and I'm driving through the middle of it—the Valles Caldera, a bowl of grass, forest, and streamlets that's a dozen miles wide and boxed in by the 11,000-foot Jemez Mountains. The massive crater and the region's volcanic tuff are the fruits of blasts from a ring of prehistoric volcanoes that were 100 times more destructive than Mount St. Helens' 1980 eruption.
More than a million years later, here I am on a twisty 58-mile road that leads visitors from the sheer canyons of Bandelier National Monument to the yawning meadows of Valles Caldera National Preserve and on to Jemez Springs, where the earth's interior, although quiet, is far from cold.
For four centuries, Bandelier's Frijoles Canyon was home to cliff dwellers who lived in (yes, in) its 400-foot-high bluffs. On the mile-long Main Loop trail, you'll peek inside caves carved into the chalky rock and reflect on what life was like 500 years before the monument was made accessible by road, in 1935.
After leaving the park, Highway 4 skirts Los Alamos and climbs west through a forest of cinnamon-red ponderosa pine before spilling into the remarkable 89,000-acre Valles Caldera National Preserve. Purchased from private owners in July 2000, the preserve is managed by a trust that plans to make it self-sustaining by 2015. Climb halfway up Cerros del Abrigo, a fir-covered volcanic dome that bulges from the crater, and watch a herd of elk graze in the basin some 800 feet below.
Now you're ready for the blink-and-you'll-miss-it town of Jemez Springs (whose geothermal hot pools are steamy indications that the mountains remain volatile) and the end of the road: the charmingly cowboy-kitsch Jemez Mountain Inn.
BONUS: Twelve miles south of Jemez Springs, sample Ponderosa Valley Winery's award-winning 2004 New Mexico Riesling (505-834-7487, www.ponderosawinery.com).
DETAILS: Arrive early at Bandelier (505-672-3861, www.nps.gov); reserve online to hike Valles Caldera (877-851-8946, www.vallescaldera.gov). Jemez Mountain Inn (888-819-1075, www.jemezmtninn.com) doubles run $85–$125.
Secrets of the Ancients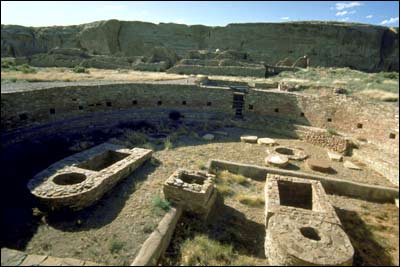 Much of New Mexico's vivid character seems to come in the middle of nowhere, but nothing in the state feels quite as nowhere as Chaco Canyon. Stretching through the San Juan Basin, about 100 miles northwest of Albuquerque, this lonely valley, a beneficiary of nine inches of rain per year, seems an unlikely place in which to base a major civilization. But a thousand years ago, this nowhere was a bigger somewhere than anywhere in the Southwest.
Between 850 and 1250, the Chacoans, ancestors of the Hopi and of Pueblo peoples like the Zuni, constructed a dozen "great houses"—multistory stone dwellings unlike anything on the continent before them, the largest comprising more than 600 rooms—and scores of smaller structures throughout the canyon and the surrounding mesas. Archaeologists, astronomers, and the metaphysically inclined have yet to get to the bottom of why this spot was chosen, or to explain the buildings' eerily accurate alignments along paths of celestial importance. So they still come, over bouncy dirt roads (the route from Nageezi, northeast of the park, is easiest—four-wheel drive usually isn't needed), to tread lightly among these ancient, expertly constructed walls, which have stood for centuries with the help of the dry climate. Six of the major structures can be accessed easily from the main driving loop, but having ventured all the way here, you'll want to pick up a free permit at the visitor center and hike some of the 20 miles of backcountry trails to overlooks and more remote sites, such as the massive, ninth-century Peñasco Blanco.
Chaco Culture National Historical Park—one of three UNESCO World Heritage Sites in New Mexico, along with Taos Pueblo and Carlsbad Caverns—can be done as a day trip, even with some backcountry exploration, but leaving before dusk to get to a hotel would feel sacrilegious. To get the whole, timeless experience, you'll want to be here for a day and a night, which means after-dark astronomy lectures and camping under the stars as coyotes yelp on the cliffs above you.
BONUS: In Cuba, about 90 minutes from the park on Highway 550, you'll find some of the state's best carne adovada (pork in red-chile sauce) and stuffed sopaipillas. El Bruno's (505-289-9429) happens to have held the first Guinness World Record for longest burrito—7,856 feet in all, with almost two tons of pinto beans. (No pressure: It's been eaten.)
DETAILS: The 48-site campground is the only place to stay in or anywhere near the park; claim your spot early, on a weekday if you can. Park admission is $8 per car; camping, $10 per site (505-786-7014, www.nps.gov).
Spins and Spas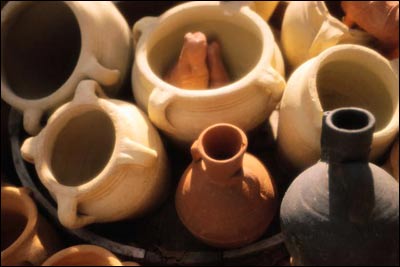 I'm crawling up the Chamisa Trail in my mountain bike's lowest gear—the one affectionately called "granny"—though right now I'm wishing I had a great-granny. Maybe it's breakfast from Cafe Pasqual's, a 13-table Water Street institution in Santa Fe, that's throwing a cog out of my cogset. My choice, selected from 25 menu items during a three-coffee deliberation, was a jack-stuffed chile relleno buried under two eggs over easy, which narrowly edged out the smoked-trout hash.
Both my breakfast spot and my spin are New Mexico classics—the Winsor Trail network, including links like the Chamisa, is a must-ride. You can pedal eight miles on the Winsor, from the village of Tesuque to Santa Fe's small but cherished ski area, for a net gain of 3,100 feet (or a net loss, if you're a gravity freak with a car shuttle). My hour-plus climb today brings rewards—a tangent on the Borrego and Bear Wallow trails, a glorious rolling descent—and a question: Do I ride too much?
Considering that my town is home to hundreds of great restaurants, 200 art galleries, 11 museums, an opera, and a rich, four-hundred-plus-year history, not to mention ashrams, teahouses, art barns, and Wiccans, I think a change is in order. So I trade sandy singletrack for basalt and marble, letting a massage therapist at Ten Thousand Waves, Santa Fe's most serene spa, apply 65 stones to my body. The 130-degree black rocks supply heat, while the cool white marble removes it. This stone sauté is like regression analysis—as in past injuries, not past lives.
The new, fluid me drops back to La Posada de Santa Fe, a cottonwood-canopied downtown hotel with 157 "casita" rooms (Spanish for "don't pack tons of stuff"), some with a kiva fireplace and a porch. Then it's off to Canyon Road to catch the Friday-evening gallery openings. The sun is dropping below the somewhat expressionistic Jemez Mountains, the clouds above the Sangre de Cristos are an imperial violet, and I walk through nearly 20 galleries without spotting a single bandanna-festooned coyote howling at the moon.
BONUS: The palette at El Farol (505-983-9912), amid the galleries on Canyon, is 100 percent blue agave. A Hornitos marg or two is best consumed with creative tapas like the crispy avocado (battered and flash-fried).
DETAILS: A 70-minute Japanese hot-stone treatment at Ten Thousand Waves Japanese Health Spa (505-982-9304, www.tenthousandwaves.com) is $139. Rooms at La Posada de Santa Fe (888-367-7625, www.laposada.rockresorts.com) start at $209. New Mexico Bike 'n' Sport (505-820-0809, www.nmbikensport.com) rents demo cross-country bikes, like Specialized Stumpjumpers, for $35–$45 per day.
Fishing on the Fly
San Juan River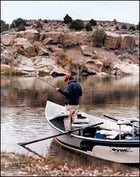 In the parched and wind-abraded sandstone desert northeast of Farmington, the San Juan River is not only wet but surprisingly profuse with aquatic life. Well known to fly-rod-waving diehards but obscure to the masses, the four-mile, mostly catch-and-release section below the Navajo Dam is stacked fin to fin with up to 75,000 wild browns and stocked rainbows—some as plump as Oprah's thigh. The fish attain such super-salmonid size by slurping a never-ending buffet of gnats the way whales devour krill. Best of all, you don't need a master's in entomology to hook in.
My girlfriend, Lisa—who'd never fished—and I signed up for a day on the San Juan with John Tavenner, a guide there since 1991. John showed her the basics and tied on her flies. While I tried to coax a wily one to eat a No. 24 dry fly, Lisa landed lunkers as fast as John could dance around netting them.
After spending a sun-baked day under bluebird skies, you'll need someplace dark to sleep. Very dark. For the erudite troglodyte with a flair for the quirky, there's Kokopelli's Cave, a bed-and-breakfast an hour from the river on the outskirts of Farmington. With love, care, and plenty of dynamite, geologist Bruce Black blasted a plush, 1,750-square-foot, one-bedroom cave into a sandstone cliff 200 feet above the La Plata River. The cavern, 172 steps below the clifftop, features a waterfall shower and jetted tub, as well as a kitchen and two balconies for watching the sun set while spinning outrageous fishing yarns.
BONUS: Stop in Aztec for a Bus Driver (hash browns smothered in cheddar cheese and green chile) at the Aztec Restaurant (505-334-9586), about 15 miles east of Farmington at the junction of highway 550 and Main Street.
DETAILS: A full-day float with Tavenner's Sandstone Anglers (888-339-9789, www.sandstoneanglers.com) costs $315 for two; Kokopelli's Cave (505-326-2461, www.bbonline.com) rents for $220 per night.
Send Me to Climbing Heaven
El Rito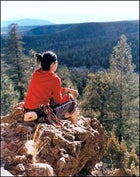 Midway between Española and no place, really, hides El Rito, little more than a general store, a pint-size restaurant, and a handful of adobes clustered on Highway 554. It took me seven years of living in Santa Fe to discover the village, its gorgeous climbers' playground, and the serene Rancho de San Juan resort nearby. El Rito's restaurant, El Farolito, couldn't look less assuming, yet its rich green chile, studded with hunks of pork and tomato, is a three-time winner of the state's chile cookoff. (Have it atop the pork tamales: true New Mexico comfort food.)
A meal at El Farolito handily fuels a visit to El Rito's sport crags, a wonderland of about 60 bolted routes ranging from 5.7 to 5.13c/d, all a four-mile drive north from town on Forest Road 44. The area's appeal is its conglomerate rock, found in perpendicular, cobbled walls that look like they'll crumble at your touch—but don't. Instead, the enormous ocher-, brick-, rust-, and chestnut-colored faces—punctuated with electric-green lichen—provide generous holds. As I blasted up Walt's Wall Waltz, a 72-foot 5.8 (superfun for a novice), the calls of circling ravens replaced the fading voices of my chatty girlfriends below.
Adventure takes a turn for the cush at Rancho de San Juan. The main hacienda is flanked by a dozen casitas, each with saltillo-tile floors and handsomely outfitted with reading-friendly rattan chairs, a kiva fireplace, and a jumbo bathroom with a jetted tub and views of the piñon-dotted 225-acre property. Walk to a shrine that an artisan carved out of sandstone, or the top of Black Mesa, which looms above the resort and U.S. 285, ribboning in the distance.
You're meant to bring an appetite to this Relais & Châteaux property, which attracts diners from Santa Fe and Taos, in addition to hotel guests. The prix fixe dinner is limited only by what's fresh at the market. One fine meal might include seared king salmon with braised fennel. And then it's lights out.
BONUS: Authenticity rules at Ojo Caliente Mineral Springs (800-222-9162, www.ojocalientespa.com), an unpretentious spa catering to "cultural creatives" that offers hot iron- and arsenic-rich pools, plus apricot facials, just a hot rock's throw from El Rito.
DETAILS: El Farolito (505-581-9509) is open every day but Monday. Collect climbing beta at http://www.naclassics.com/elrito. Doubles at Rancho de San Juan (505-753-6818, www.ranchodesanjuan.com) start at $225; dinner is $55 per person.
Cycling in the High Country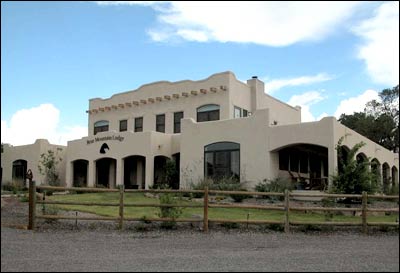 God bless the mining industry. Without man's lust for wealth, how would anyone have settled the remote southwest corner of New Mexico around Silver City? The mountain town of 10,500 people, nestled at 6,000 feet in the southern foothills of the Pinos Altos Mountains, is closer to Mexico than it is to the nearest U.S. city (El Paso, Texas). And with hundreds of miles of lightly traveled blacktop and a seemingly endless network of high-country trails, it's one of the country's best destinations for spring and fall biking.
The quintessential roadie tour is the Gila (pronounced HEE-lah) Inner Loop, a challenging 75-mile ride that crosses the Continental Divide twice and passes a best-of roundup of New Mexico landscapes: striated sandstone cliffs, ponderosa pine forests, streams lined with cottonwoods, and alpine lakes. The route heads north from Silver City on Highway 15, winds through the mountains, and descends into the Mimbres Valley. Sure, there are 3,800 feet of climbing involved, but the visual rewards more than compensate.
Knobby fans will savor the miles of marked singletrack that loop up 7,275-foot Gomez Peak. You can access the network—a spaghetti bowl of technical sections and whoop-de-do downhills—off Little Walnut Road, four miles north of town.
Stay at the Bear Mountain Lodge, an 11-room bed-and-breakfast three miles north of town that's owned by the Nature Conservancy. The 178-acre converted dude ranch is a bird-watcher's nirvana. Binoculars and a library of birding books are at your disposal, and every day a naturalist leads hikes or activities. For cyclists, the best parts of Bear Mountain are the jetted bathtubs and Robin Hodges, the cook. My dinner—sirloin tips covered in a light barbecue sauce with a casserole made from cashews, mushrooms, hummus, and rice—may be the state's best $12 meal.
BONUS: Soak in the hot springs near Gila Cliff Dwellings National Monument (505-536-9461, www.nps.gov/gicl), 90 minutes north of Silver City.
DETAILS: Doubles at Bear Mountain Lodge (877-620-2327, www.bearmountainlodge.com) start at $125. For free biking maps, stop at Gila Hike & Bike (505-388-3222), downtown.
Postcards from Beyond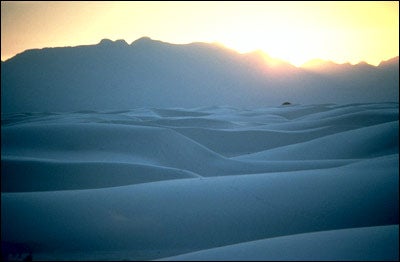 The sand beneath me glistens almost as brightly as the stars overhead as I summit another 30-foot dune and look out over the rolling, nearly treeless landscape. It's just as I've always imagined life on the moon—and while White Sands National Monument is not the final frontier, hiking here can be an otherworldly experience. White Sands' 73,600 acres of windswept gypsum dunes, surrounded by the Chihuahuan Desert and, beyond, by the San Andres and Sacramento mountains, are as desolate as nuclear winter—and eerily quiet. The silence is broken only when a jet from nearby Holloman Air Force Base thunders overhead.
You could easily spend a day riding a sled—yes, sledding—down the soft hills, basking in the sun, or wandering the park's six miles of trails. But White Sands is best at night—especially during a full moon, when the reflective sand helps illuminate the landscape and midnight hikes are bright and Nikon-worthy. The cosmic ambience, coupled with a good bottle of Patrón tequila (no Tang on this trip), makes camping surreal.
For a nearly-as-fantastic encore, head 175 miles southeast to Carlsbad Caverns National Park, a 100-mile-long cave network and UNESCO World Heritage Site. Guided tours into less traveled sections are offered, but I opted for the popular self-guided walk through Carlsbad's main corridor. The paved, well-lit path descended 100 vertical feet to the Big Room, one of the largest cave rooms in the world. Despite my claustrophobic tendencies, I was relaxed enough to admire the stalagmites, stalactites, and other rock formations, which seemed to evolve with every water droplet that fell sloppily from the 200-foot ceiling.
BONUS: Practice landing the space shuttle (via a high-tech simulator) at the New Mexico Museum of Space History, in Alamogordo, between White Sands and Carlsbad.
DETAILS: Camping at White Sands (505-679-2599, www.nps.gov) is $3 per person per night; register at least an hour before sunset (no advance reservations). Admission to Carlsbad Caverns (505-785-2232, www.nps.gov) is $6 per person.
Trending on Outside Online