Urban Waterways
From farm shares to bike shares, these seven flashes of genius are reinventing a metropolis near you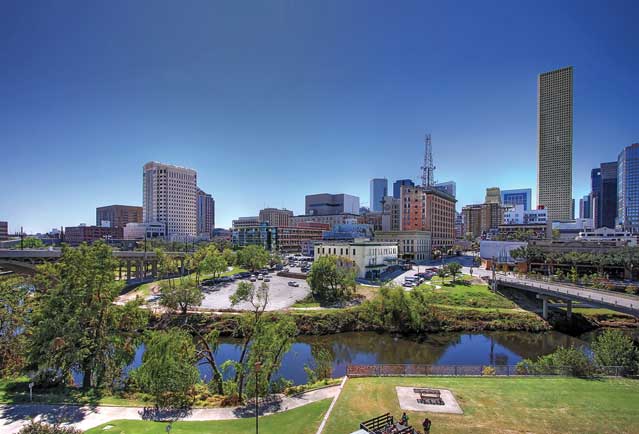 Heading out the door? Read this article on the new Outside+ app available now on iOS devices for members! Download the app.
Green Acres
Open Water
Urban waterways for paddling
Detroit, Houston, Milwaukee—none of these cities are exactly paddling meccas. But in the past decade, paddle routes have become centerpieces of ­urban-restoration projects across the country. Why the surge? Water trails decrease pollution, expand transportation options, and—most important—increase tourism. North Carolina's water trails bring in $55 million in revenue each year. Here are four urban waterways helping to revitalize their cities.
Milwaukee Urban Paddle Trail, Milwaukee
A 25-mile stretch of the Milwau­kee, Menomonee, and Kinni­ckin­nic rivers passes idled industrial plants, marshes full of egrets, and (key stop) the Rock Bottom Brewery. mkeriverkeeper.org
Detroit Heritage River Water Trail, Detroit
This route will eventually include 120 miles of paddling on the ­Detroit, Huron, Rouge, and Raisin rivers. For now your best bet is Riverside Kayak Connections Canal Tour, a loop beginning at Maheras Gentry Park that highlights the river's rejuvenation and Detroit's historic canal neighborhood. riversidekayak.com
Buffalo Bayou Paddle Trail, Houston
A local nonprofit cleaned up Houston's downtown slough, adding parks and green spaces on-shore. Put in at Woodway Memorial Park for a 7.5-mile evening paddle, and stop at the Waugh Bridge to watch 300,000 Mexican free-tailed bats go berserk. buffalobayou.org
Congaree River Trail, Columbia, South Carolina
Launch from West Columbia Landing near the Gervais Street Bridge for a four-mile paddle through forested Granby Park. Pack a bag if you intend to pass Cayce Landing—it's the last take-out for 48 miles, until Congaree National Park, an immense stretch of old-growth hardwood forest. congareeriverbluetrail.blogspot.com
Market Watch
Local-food distributors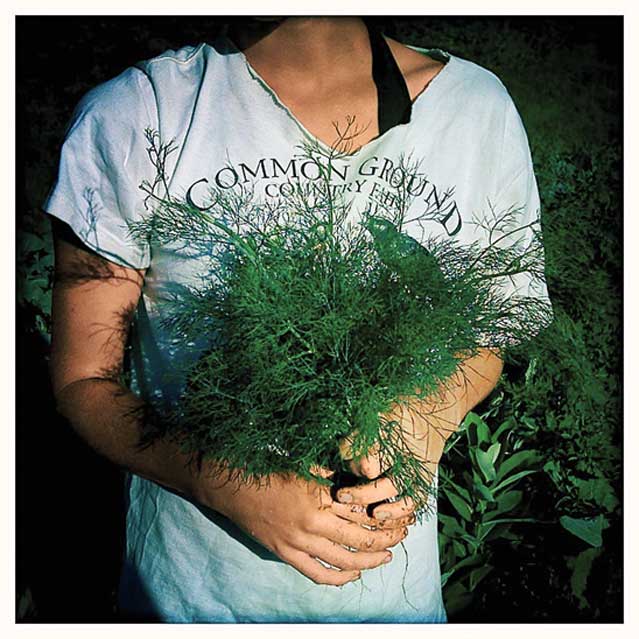 City Farm

Chicago's City Farm
In order for locally grown food to have a true impact on urban sustainability, all those tomatoes and radishes need to move beyond just the NPR tote bags and into grocery stores, school lunches, and inner-city food deserts. The problem is, produce buyers don't have the time to coordinate with a dozen farmers. That's why recently launched websites like Local Dirt and FoodHub are combining social networking and agri­culture. Growers list what they're harvesting, and buyers place orders online and pick them up. Which is good for, say, a tiny bistro, but public schools aren't going to stock their cafeterias from individual farm stands.
The next step? Local distribution centers: farmers send their crops to a modern processing facility, which delivers them to urban stores and restaurants, the same way conventional food finishes its 3,000-mile journey. The SENC Foods Processing and Distribution Center opened in Burgaw, North Carolina, in March; Madison, Wisconsin, and Berkeley, California, have similar projects launching in the next year.
The real game-changer, however, could be a company many consider the antichrist of localism: Walmart. Now the largest grocer in the nation, the big-box retailer has begun selling local produce to reduce shipping costs and reach its sustainability goals. Even more, a new program aims to support growers who reestablish traditional local crops, like blueberries and onions, that have been displaced by cotton, soybeans, and corn.
Bigger Walls
Urban climbing gyms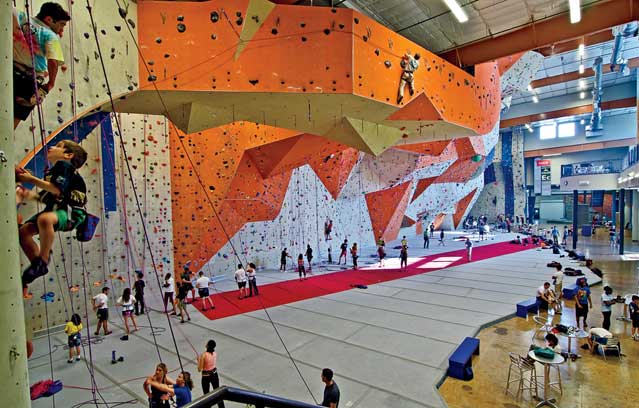 High-end climbing gyms started popping up in New York City and San Francisco in the nineties. But the new surprise hub? Atlanta, home to the country's largest, the year-old Stone ­Summit Climbing and Fitness Center, a 45,000-square-foot facility with 60-foot-tall crags and a bouldering room.
Stone Summit's director of operations, 28-year-old Daniel Luke, realizes that building such a huge space was a gamble, especially in a city with an athletic scene dominated by ball sports. "The climbing culture in Atlanta was not very large, so we were nervous going into this," he says. But Stone Summit and other new climbing ­cathedrals like San Diego's Mesa Rim and Boulder's Movement are turning solid profits. Luke estimates that Stone Summit attracts 2,000 novices a month, many of whom eventually spring for a $500 annual membership. Luke's goal? Welcome a new group of climbers and give at least a few rock rats something completely novel: steady employment. "Our staff are passionate climbers who can pursue their career at this gym," says Luke. "That means a better quality of employee and better customer service."
Going Dark
Dark-sky preservation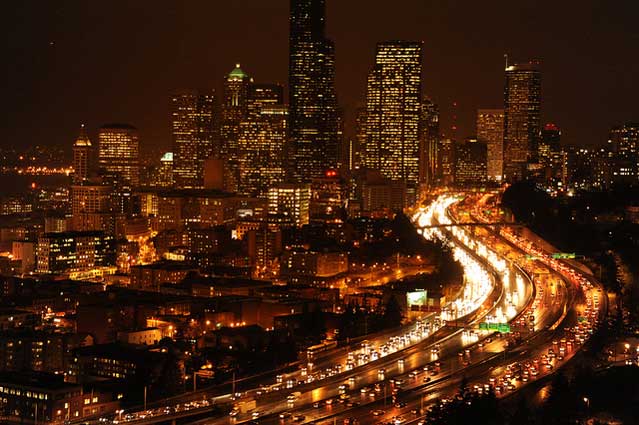 Between 30 and 50 percent of outdoor lighting is wasted, with $1 billion worth of stray lumens released into the air each year. (Google "NASA Earth night­lights" if you don't believe it.) Not only does overlighting obscure the night sky, confuse birds, and add CO2 to the atmo­sphere, but recent research has found that it also screws up our circadian rhythms. And until recently, little towns like Davis, California, and Flagstaff, Arizona, were the few bright spots in dark-sky preservation.
There's reason to think the big boys will be headed that way soon, though. It's estimated that in the next few years, LEDs will be 40 percent more ­efficient than the 37 million high-­pressure sodium lights currently ­lining our streets, a savings that will spur a switch. Since LEDs shoot straight, putting light where they're pointed and not up into the stratosphere, they're a big part of the ­dark-sky equa­tion. More ­important, in June the Tucson, Arizona–based International Dark-Sky Association (IDA) released the Model Lighting Ordinance for urban areas. The plan recommends cities set up lighting zones. Think of it as a muni­cipal cap-and-trade system: in New York City, Times Square could keep its brights burning while downtown Brooklyn dims its parking lots, hoods streetlights, and darkens office buildings. The plan hasn't been in circulation long enough for anyone to vote it into law, but IDA director Bob Parks is confident we'll see several metropolises going dark soon. "For the past year, I've had cities calling me every few weeks asking if this was ready," he says. "It's the tool they've all been waiting for."
Smarter Sharing
Bike-sharing programs
These are heady times for fans of two-wheeled transport. Washington, D.C., and Montreal already have popular bike-share programs in place. So do San Antonio and Des Moines, Iowa. Coming soon: New York City, San Francisco, and Chattanooga.
The question is which of these programs will stick and which will turn out to be taxpayer-funded flops. Not surprisingly, it helps to start with a relatively bike-friendly city like Washington, D.C., whose program, Capital Bikeshare, boasted 1,100 bikes and 360,000 trips in its first seven months. The nation's capital, which has expanded its bike lanes from three miles to fifty in the past decade, saw an 80 percent boost in ridership from 2007 to 2010.
It's a model that Boston and New York—two cities considered challenging for ­bikers—have taken note of. Boston launched Hubway, with 600 bikes and 38 miles of lanes, in July, and New York was on track to roll out its program by spring 2012.
But bike shares do have their limiting factors. There's the issue of ­capacity. "It's all about the docks," says ­Alison Cohen, president of Alta Bike Share, the company that owns the racking docks in D.C., Boston, and Melbourne, Australia. Finding space downtown to ­accommodate the morning flow is always tough. In New York, critics in tourist-heavy zones like SoHo worry about losing real estate on narrow sidewalks to bike-parking stations.
And then there's the germ issue: for safety and hygiene reasons, no bike-share program rents helmets. Whereas D.C.'s bikes average five rides per day, notes Cohen, in Melbourne, Australia, they get just one. The primary reason: a ­mandatory helmet law. But ­Cohen feels the market could provide a solution. London-based designer Ani­­rudha Rao has already prototyped the Kranium, an inexpensive cardboard helmet that Rao envisions being sold in vending machines at bike-share stations.
The bottom line: make it easy and they will ride.
Tent Cities
Urban campgrounds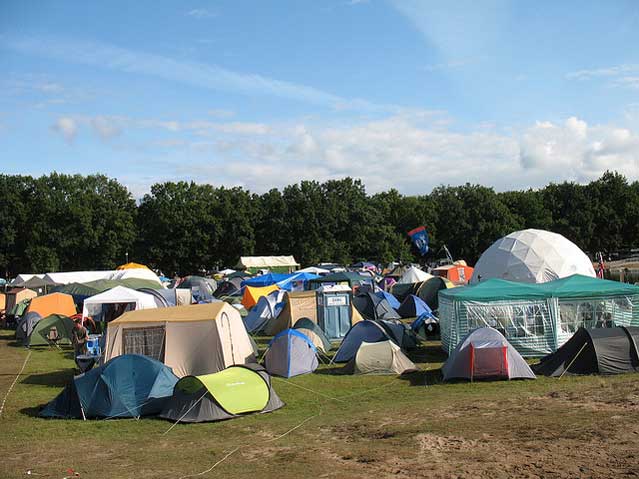 On June 29, Gateway National ­Recreation Area inaugurated 35 new campsites—a totally unremarkable event except that the sites are located at Floyd Bennett Field, a defunct municipal airport in the southeast corner of Brooklyn. By 2013, park officials hope to raise that ­number to 90 and eventually offer as many as 600 campsites, which cost $20 to $40 per night and can be booked online. And no, this is not a ploy to get the homeless out of Manhattan.
"We want to make New York the leading example of what we can do with urban parks," Secretary of the Interior Ken Salazar said during a June visit to the site.
If other urban campgrounds around the country—including Rob Hill in San ­Francisco; Oak Mountain State Park near Birmingham, Alabama; and ­Greenbelt Park in the D.C. suburbs—are anything like Floyd Bennett Field, they'll offer an ice rink, a model-airplane runway, and miniature golf.
And while the concept is easy to poke fun at, the campsites themselves aren't bad—especially G31, which is tucked away in the foliage. The idea isn't so much to offer an urban wilderness experience as to suggest the existence of wilderness at all.
"Campers aren't going to Yellowstone," says Jennifer Bethea, a park ranger, "but maybe after camping here they will." And that's just it: if this unlikely getaway can somehow make the inner-city residents who are its most frequent visitors feel more comfortable in their national parks, then it's done its job.
Backyard Livestock
How down on the farm came to mean an empty lot in Berkeley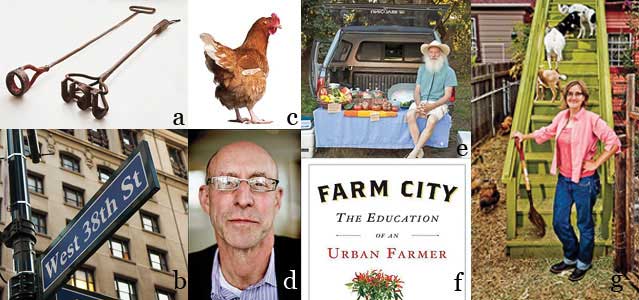 7th Century: Medieval farmers invent the cattle brand. a.
1932: The Underground Cattle Passage is built beneath West 38th Street in New York City to increase the flow to slaughterhouses. b.
1960s: The majority of city slaughterhouses in Manhattan close. Many cities ban backyard hens.
2004: A group in Madison, Wisconsin, forms the Poultry Underground to overturn a ban on domestic birds. The revival is on. c.
2006: Michael Pollan publishes The Omnivore's Dilemma. d.
2007: The New Oxford American Dictionary designates locavore word of the year. e.
2009: Oakland resident Novella Carpenter's Farm City is published. In the next year, sales of chicken feed in the city double. f.
2009: Entrepreneur John Hantz pledges $30 million to a complex of urban farms housed in Detroit's abandoned plots.
2010: The New York City Department of Health and Mental Hygiene rescinds a long-standing ban on honeybees.
March 2011: Oakland shuts down Novella Carpenter's farm for selling produce without a permit. g.