Islands in the Sky: A New Kind of Park
Bill Ulfelder, the New York director of The Nature Conservancy, sees 14,000 acres of rooftops in his city that could be used for everything from generating electricity to restoring nature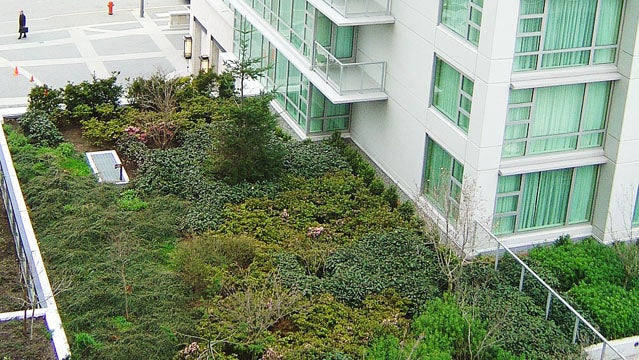 Heading out the door? Read this article on the new Outside+ app available now on iOS devices for members! Download the app.
Rick Cook knew he had something special when, out the corner of his eye, he saw a cloud of feathers. A peregrine falcon had just seized a small bird from the rooftop terrace that his architectural firm, Cook + Fox, built on their nearly hundred-year-old office building in Manhattan. Cook + Fox, who also worked on the first and largest LEED Platinum skyscraper in the world at One Bryant Park in Manhattan, had created not only a green roof, but a living roof. It was a reminder of the opportunities we have with an often forgotten part of the city.
There are many kinds of roofs that are good for both people and nature, and they come in a variety of colors—black, white, blue, and green.
Black roofs hold solar panels. They can generate abundant, clean, renewable energy. White roofs cool their buildings and reduce energy consumption. In urban areas like New York City, roofs that are painted white reflect the sun's heat, rather than absorb it, as conventional black roofs do. Blue roofs catch rain water. Buildings like Cook + Fox's LEED skyscraper cycle rain water into the building for use in cooling systems and bathrooms. Other buildings channel water to irrigate vegetation or store it for later use.
But for me, in my role at The Nature Conservancy, living green roofs are the most exciting. These roofs, like Cook's, are about restoring nature and bringing things to life. These roofs can grow food and help restore wildlife habitats in cities.
Once you plant a roof green, the first wildlife to arrive are the insects. Important pollinators like beetles, butterflies, and bees begin to buzz around their new oasis. Birds follow, feasting on the buffet of insects. And then, just as the birds are getting comfortable, predators—much like the falcon on Cook's roof—swoop in, completing the cycle of life in the heart of the city that never sleeps.
We have big parks here in New York City like Riverside, Pelham Bay, and Central Park. We can connect them for wildlife with mini parks on top of our city's buildings. These sky islands will allow our urban wildlife to fly or be carried among them, pollinating crops, flowers, and trees, producing honey and serving as prey to predators like hawks and falcons.
We have 14,000 acres of rooftops in New York City. That's plenty of room to generate electricity, reduce energy consumption, capture rainwater, grow food—and restore nature.
And we can have fun along the way. My family and I recently went to a party held on a large, living terrace 16 stories above the street. It was planted with grasses, bushes, and 20-foot-tall trees. At the party, my eight-year-old daughter approached me with a sheepish look and said, "Daddy, my clothes are a mess. I've been playing in the dirt all afternoon." Let's add people to the list of species who will thrive on urban sky islands.