Trouble on Coney Island
After sticking out Hurricane Irene, Maksim Charnyy didn't think Sandy would be any different. Ignoring mandatory evacuation orders, he stayed in his building with 70 or 80 percent of the other residents. And then the water came.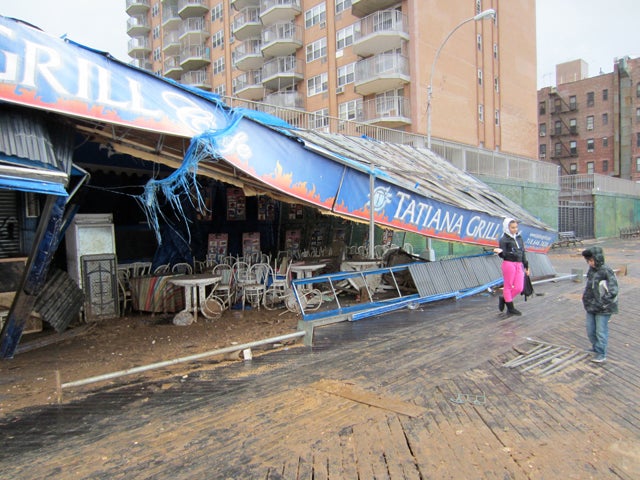 Heading out the door? Read this article on the new Outside+ app available now on iOS devices for members! Download the app.
Yesterday on Seventh Avenue in Park Slope, neon indicated that the pizza and wine shops were open, couples ordered Thai food and teenagers walked around, heads down, texting furiously. Save for some downed trees and the fact that the F train wasn't running, it was difficult to find evidence of a natural disaster. This was not the case just seven miles south, in Coney Island. Cell phone service was absent. Between Avenues S and T passersby huddled around an immense tree that was decorated with pink and blue paint and propped up against a brick home like a deadfall trap. Past Avenue U the power was out, and a small army of traffic police stood in the sand-covered streets, blowing into whistles. Cars were parked in strange places. One BMW was askew in front of an apartment building, its trunk open and full of mud. Another, a sharp sport utility vehicle, sat with its rear wheels propped on a bench, its front seat full of seawater. This was a popular visitation site among the thin crowds of people who walked slowly around, grinning in disbelief and snapping photos of the detritus. The SUV was centered perfectly on the bench, alarming some onlookers and fooling others.

Coney Island.

Maksim Charnyy on Coney Island.
"This guy did it on purpose," said one. "Yeah buddy," murmured a tall man, who looked to be in his twenties. "He did it on purpose. The car's full of water."
The number of downed trees increased dramatically close to the water. On some blocks there were three and four tilted over in a row, roots up. Sirens rang in a constant chorus. Some storefronts on the boardwalk were wrecked. Under the north side of the boardwalk sat what looked like a squatter's camp: mattress, suitcase, soaked clothes, and an English language instruction book for Spanish speakers. Their owner was not around. Not far away, the storefront for a restaurant called Tatiana's Grill Cafe had collapsed.
"You salvaging stuff?" A man in a puffy jacket named Maksim Charnyy asked me. "There's some good stuff down there," he said. "You want a boat?"
Charnyy, who introduced himself as Max, was salvaging plywood and hosing to help out the superintendent of his building with the cleanup. He had decided, like many residents of Coney Island, a mandatory evacuation zone, to stick it out. Some stayed out of loyalty—the employees of the New York Aquarium, for example, who held their ground to assist a baby walrus. Charnyy stayed for a different reason. "I didn't realize it would be that bad," he said. "Last year"—during Irene— "they said to go and it was fine." Charnyy estimated that just 20 or 30 percent of the people in his building had left before the storm's arrival. The water came Monday around five, and the power went out around six or seven. Charnyy weathered Sandy from his fourth floor apartment, from which he saw a number of cars floating. This worried him, because his car had been parked nearby on a service road. "Everybody knows what my car looks like and nobody said the water was coming," he said. "Not one neighbor! It's so selfish. Unbelievable." He didn't know of anyone being stranded, but he didn't have power or a radio, either. (There have been no reports of deaths or injuries in Coney Island.) He'd heard someone say that there was between 12 and 16 inches of water. "But my car is six feet," he said. "Fuck 12 inches. My car was full." According to reports like this one, Charnny was right, and Ocean Parkway, which runs from Coney Island to inland Brooklyn, flooded up to five feet Monday night.
The beach was full of onlookers, salvagers, gulls, seashells, boats, pieces of Halloween pumpkins, bonsai trees, softball bases, driftwood, shoes, a bar, a garden hose reel. A kiteboarder in a thick wetsuit walked by, dragging his kite and frowning, disappointed.
"How is it out there," I asked. "Wind's light," he said. "It was okay for a while. But now the wind's too light." Then he walked away, back toward the sirens.