The Ultimate Guide to Skiing Utah
With ten ski areas less than an hour from Salt Lake City's airport, and incredible backcountry terrain, powder-blessed Utah is arguably the best ski destination in North America. Here's our primer on how to make the most of it.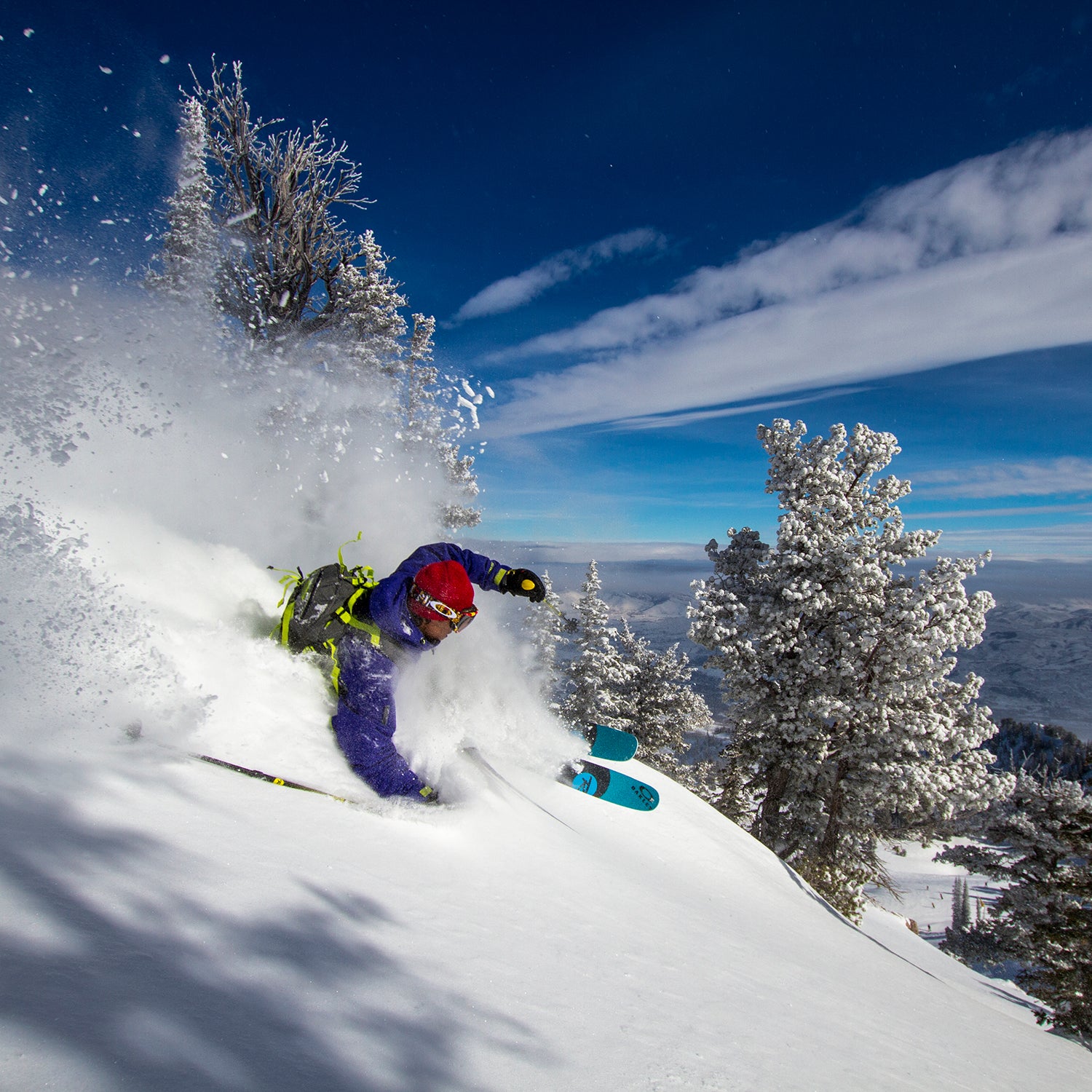 Liam Doran/Tandem(Photo)
Heading out the door? Read this article on the new Outside+ app available now on iOS devices for members! Download the app.
I've been skiing for 42 years and have been lucky enough to ski all over the world, including spots in Europe, Japan, and Alaska. I've had lots of incredible powder days, but the best powder day I ever had was in Utah.
It happened 22 years ago. I had just graduated from college and moved to Vail, Colorado, to do some ski bumming. My father met up with me, and we drove to Snowbird in Utah, where my dad's cousin had a time-share. When we got there, dark clouds rolled in, and it began to snow. Within a few hours, there was a foot of fresh snow on the ground. It kept coming down. We were "interlodged"—an event where avalanches are so likely that it's not safe enough to go outside the property—for two days.
Just as cabin fever began to set in, the skies cleared, avalanche-mitigation bombs echoed through Little Cottonwood Canyon, and, after a few hours, the lifts started turning. On my first run, the snow was chest-deep and billowed over my head. I'd heard plenty about how Utah had the "greatest snow on earth" (it's even printed on the state's license plates), but I'd always been skeptical. As it turns out, it's a scientific fact. Utah's dry, cold atmosphere produces snowflakes called dendrites, which are thin and crystal-like and so light and fluffy that, when skiing through them, they make you feel buoyant without causing a lot of resistance. As such, powder skiing in Utah is the closest most people will get to floating in space.
That was how I felt all day, but it was my last run that was truly remarkable. A ski patroller we met on the chairlift told us he was opening up a new section of the mountain. We followed him, just my father and I, and after he pulled the rope, he said, "Go for it." I found myself on a 45-degree slope, bouncing through the untouched terrain, simultaneously choking on snow and yelping with joy. The impossibly long trail seemed to go on for several minutes. When I finally stopped, I was plucking crystals out of my ears and drunk with euphoria.
I've made many more ski trips to Utah since. After all, with ten ski areas less than an hour from the Salt Lake City airport, incredible backcountry terrain, and almost guaranteed powder (each season Utah averages 18 storms that deliver more than 12 inches of snow each), it's arguably the best ski destination in North America. I've never been disappointed—and this guide will ensure that you get the most out of Utah skiing, too.
What You Need to Know Before You Go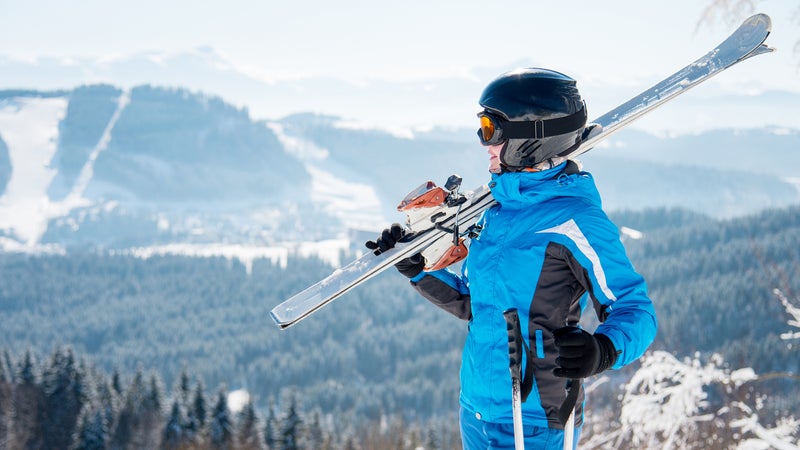 Bring your ski boots and apparel, but leave your skis at home. If you're fortunate to hit a big storm, then you'll want wide powder skis. That said, even in Utah there can be several consecutive weeks of high-pressure systems that yield sunny skies and no snowfall. If that's the case, you'll need either a pair of mid-fat, all-mountain skis, which will handle chopped-up snow and bumps better, or, if groomed trails are your jam, narrow carving skis. Ski Butlers, founded in Park City, rents a wide array of Rossignols and will drive to wherever you're staying and adjust the bindings for you in your living room. If you want to swap out the skis you're using, it'll drive back and do so ($65 per day).
Buy one of these passes. There are five multi-resort passes worth considering that work at Utah ski areas. Depending on where you're going to ski and how many days you plan on skiing, buying one makes a lot of sense. For example, a day ticket at Deer Valley costs $160. But an $800 Ikon Pass will get you five days of skiing there, plus five days at Alta, Brighton, Snowbird, and Solitude. The $1,100 version of the pass gets you seven days of skiing at each ski area. Other options include:
Don't miss getting into the backcountry. There are lots of reasons why, including guaranteed powder turns even weeks after a storm, zero crowds, amazing views, and terrain options that you probably can't find at most ski areas, such as couloirs and powder pillows. In Utah, there are several ways to get into the backcountry. Utah Mountain Adventures will take you ski touring throughout Little and Big Cottonwood Canyons. And its staff doesn't just guide but also provides instruction, like how to most efficiently skin uphill and how to best tackle the deep snow on north-facing slopes. Lots of that terrain is mellow enough that even intermediates can handle it. For more advanced skiers looking for long ascents and gnarly descents, UMA guides tour clients to the 40-degree pitches, bowls, and chutes in the Lone and Twin Peaks Wilderness areas ($219 per person for a group of four). No backcountry experience is needed, but those looking to head out on their own next time can enroll in one of the company's avalanache-safety courses.
If touring isn't your thing, you can fly or ride into the backcountry. Powderbird, a heli-ski operation based out of Snowbird and Park City, has access to 170,000 acres of terrain—everything from gently rolling slopes to steep tree-filled lines. You'll get breakfast and lunch, six to ten runs, and ski thousands of vertical feet ($1,600 per day). Park City Powder Cats, with 43,000 acres to play on, is another option. Cat rides only take between five and ten minutes and gain you access to bowls, chutes, and, should you be so inclined, cliff drops. After six hours of fast laps, you'll be ready for a hot tub and a beer ($629 per day).
How to Get There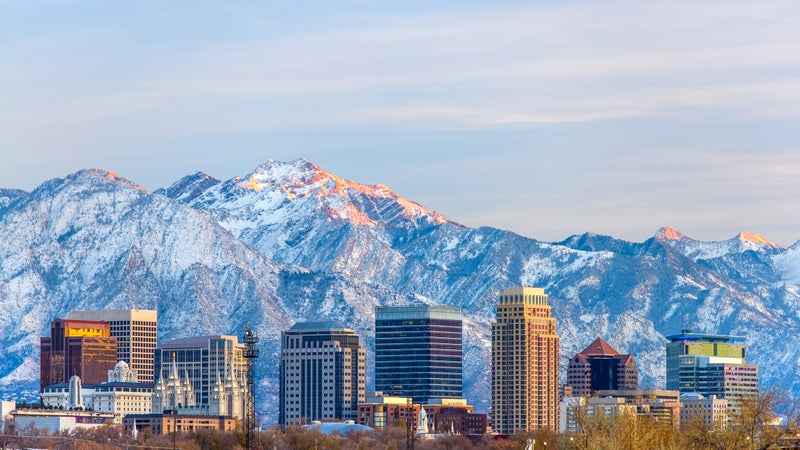 There are arguably no ski areas in the country easier to get to than those in Utah. Ten of the state's 15 ski areas are located within an hour's drive from Salt Lake City International Airport (in addition, Eagle Point, Brian Head, Cherry Peak, and Beaver Mountain are two to 3.5 hours away), which sees around 700 incoming and departing daily nonstop flights from almost 100 destinations.
When I lived in New York City, I would get in the car on a Friday night and, due to traffic, it would take me six hours to drive to the closest ski area in New England. I soon figured out that a nonstop flight from New York to Salt Lake City took just a hair over five hours, and, after landing, I was at the ski area in about an hour. After skiing all weekend, I could hop on a red-eye, pop a melatonin, and be back at my desk in the city just after 9 A.M. on Monday morning. And rather than chattering on New England ice for two days, I was choking on powder.
What's the Best Time of Year to Ski Utah?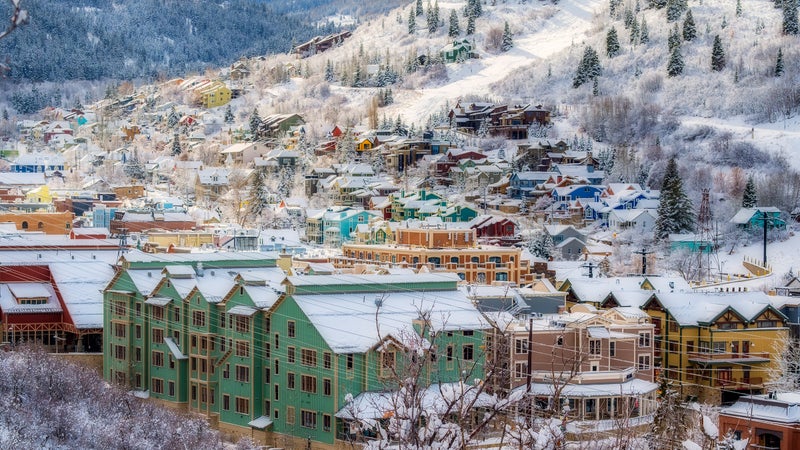 The season usually begins in mid-November and runs until late April. Other than the short shoulder seasons, Utah is constantly packed with people. But since the state gets consistent snowfall throughout the season, finding fresh powder is less of an issue than dealing with crowds. The best-kept secret is that some of the biggest storms hit Utah in late spring.
My second-best powder day ever was on April 15, 2015, at Alta. It snowed around two feet, and, because crowds are much lighter in the spring, I skied deep, untouched powder from bell to bell, never waiting in a lift line. Added bonus: several Utah ski areas host spring festivals, many of which can last weeks or up to an entire month. These après-ski bashes include live bands, pond skimming, and makeshift outdoor bars.
Hit These Ski Areas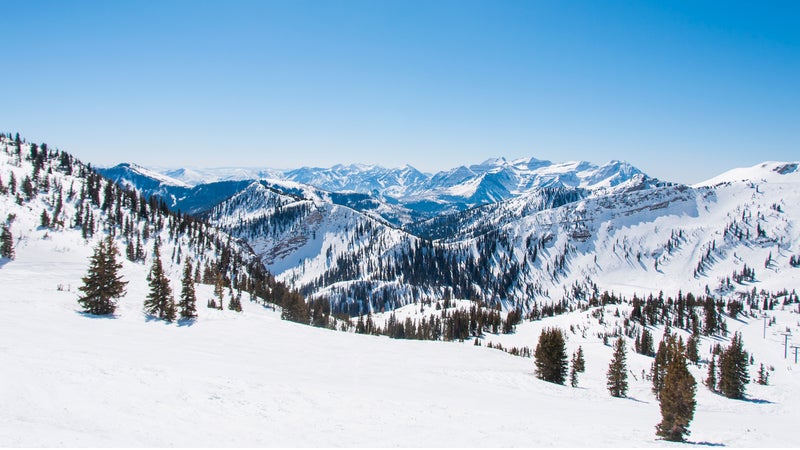 For the Powder Hound: Alta Ski Area/Snowbird
Combined, the two ski areas just southeast of Salt Lake City have nearly 6,000 vertical feet of the best in-bounds terrain in Utah. With the proper pass (see above), you're allowed to ski between them, ticking off classic lines like High Rustler at Alta (day tickets from $60) and Tiger Tail at Snowbird (day tickets from $50).
Where to Stay
Snowbird has five options, including the sprawling 500-room Cliff Lodge (from $160) and the Inn (from $100), which has 35 rooms right in the pedestrian village. Alta has five historic inns that are all independently owned, located at the base of the Wasatch mountains, and similar in price, but they vary in offerings. Its oldest structure, the 58-room Snowpine Lodge (from $329), got a swanky upgrade last year. Eighteen months of renovations yielded the Nest, an on-site game room with a pool, arcade games, and karaoke; guest rooms with sliding barn doors and leather furniture; and a new spa, where you can request the High Altitude Recovery, a combination massage and stretching session that can work out the kinks from a long day on the slopes.
The Terrain
It's not all gnar. Beginners practice their skills on low-angle terrain at Snowbird in the Baby Thunder Family Area, and intermediates hit the groomed trails off the Collins lift at Alta. Experts, though, will truly find their groove here. Ski steep glades and chutes off Alta's Supreme chairlift, then head through the Keyhole, a connector between Alta and Snowbird that features open faces and drops. At Snowbird, head to the Gad 2 chairlift and ski Tiger Tail, a 40-degree pitch that funnels into steep glades. If you have top-notch backcountry skills, head across the canyon and skin up Superior, a two-to-three-hour climb with a big payoff: couloirs and deep snow.
Signature Trail
Though it's not often open and requires boot-packing, a trek up to Alta's Baldy Chutes is well worth the hourlong climb. The 40-degree steeps and narrow chutes will test everything you've got.
The Town
Alta and Snowbird are ski areas. There is no town per se. That said, the base-area hotels have decent dining, and there are shuttles between the ski areas that can transport you to them. The best restaurant is probably the Aerie, inside the Cliff Lodge at Snowbird. It serves everything from grilled salmon to gourmet shepherd's pie with elk meat.
The Bottom Line
There's not a lot going on in Little Cottonwood Canyon other than skiing—which is fine. Alta and Snowbird are where you go if you want to ski hard and don't care much about the après or nightlife scene. If that is a priority, go to Park City (see below).
---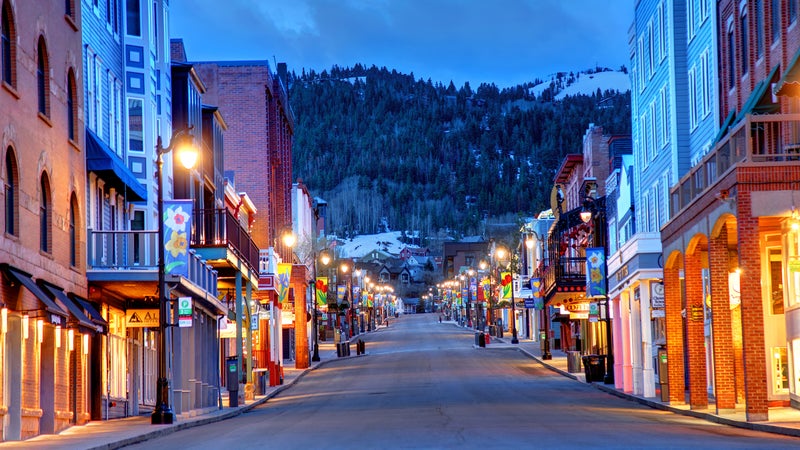 For the Family: Park City
Located just 35 minutes from the Salt Lake City airport, Park City Mountain Resort (day tickets from $108) is spread over 7,300 acres, making it the largest ski area in the United States. Since it's situated right in the town of Park City, which is flush with restaurants, bars, and shopping, it's also the Utah ski resort with the most to do when you're not skiing.
Where to Stay
There's no shortage of options in the area, from pricey ski-in, ski-out hotels to pet-friendly vacation homes. For those who want the former, the Lodge at Blue Sky (from $750), which opened in June, has 700-square-foot rooms and two-story, two-bedroom suites, plus nordic skiing, snowshoeing, and, in the summer, fly-fishing. For something more affordable, Deer Valley Resort's property-management portfolio has more than 150 lodging options within the Park City area, ranging from one-bedroom condos to full homes (from around $200).
The Terrain
Much of the terrain at Park City is family friendly. Last year the ski area introduced High Meadow Park, a new learning area for beginners that's about halfway up the mountain and can be accessed via the Red Pine Gondola. The wide-open, gently graded slope is always well-groomed. Intermediates will love the cruisers off the King Con lift but should also venture over to Iron Mountain, which has some of the best low-angle tree skiing in the state. Experts with the gear and know-how will want to do the ten-minute hike up Ninety-Nine 90 and drop out of the backcountry gate from there. The run down Upper East Face from the top of the mountain is worth it: it's a leg burner that's steep and often full of moguls.
Signature Trail
King's Crown is often overlooked, because it's a pretty easy groomer. But what makes it special are the views: panoramic glimpses of the Wasatch mountains and the town of Park City as you arc down the slope.
The Town 
With so many dining options, it's tough to go wrong in Park City, but here's how I would approach the day: Fuel up on the soft scrambled eggs at Harvest before heading to the mountain. After skiing, grab a cocktail at the High West Saloon, an award-winning whiskey distillery that's right in town, then cruise Main Street, checking in on everything from high-end cowboy boots at Burns Cowboy Shop to the latest ski gear from the apparel company Stio. For dinner head to Tupelo and try the chicken-fried rabbit. Then finish things off by drinking and dancing at the No Name Saloon. Of course, the kids will want to check out Park City's newest addition, Woodward Park City, an indoor skate park that will open in December with 70-foot jumps and a 22-foot halfpipe.
The Bottom Line
Serious skiers won't be blown away by the terrain at Park City, but there's probably no better ski area in Utah for a family vacation, someplace where your kids can have fun on the slopes and you can all enjoy the good food and drink.
---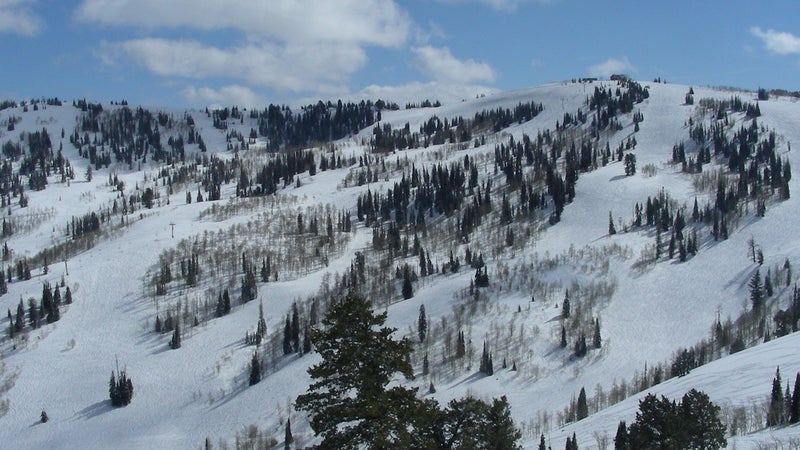 For the Solitude Seeker: Powder Mountain
Though Powder (day tickets from $95) has gotten some decent press over the years, it still feels like a hidden gem. You won't find massive crowds here, even on powder days, and the lodges are total throwbacks—run-down buildings with tiny kitchens that still serve greasy burgers and pizza.
Where to Stay
There's no hotel at Powder Mountain, but there are plenty of condos. One-to-four-bedroom condos can be rented from Powder Mountain Lodging (from $95), which also gets you access to the community pool and Jacuzzi.
The Terrain
Spanning 8,464 acres, Powder Mountain claims it has more skiiable terrain than any other resort in the country. Beginners should start the day at the Sundown area and slowly make their way to the Hidden Lake area. Along the way, you'll tick off several blue and green groomed runs, and you might even feel brave enough to try some of the low-angle terrain that's just off-piste. Intermediates should head straight to the Paradise lift and ski the open bowl directly off the top of it. Experts should also head to Paradise, but at the top, follow the lift down to the ridgeline and drop into the steeper shots on either side. Then invest in a couple $25 single-ride snowcat tickets. The cat will drive you to the base of James Peak. Hike the peak (it will take about 30 minutes), then ski all the way back to the Paradise lift—a 2,500-foot descent with open bowls, trees, and drops.
Signature Trail
Woody's World has it all: steeps, trees, and open shots that all funnel back onto the ski area's access road. From there, follow the singletrack down the road to catch the bus back to the mountain.
The Town
Powder Mountain is working on building a village near the top of the ski area, but it won't be complete for several years. Until then there are the nearby towns of Eden, 15 minutes south, and Huntsville, ten minutes farther—and you'll be shocked by how tiny they are. One must-hit spot is the Shooting Star Saloon in Huntsville. It was established in 1879, there's a stuffed Saint Bernard on the wall, hundreds of dollar bills stapled to the ceiling, and they serve the best burgers you've ever had (but no fries; don't even ask).
The Bottom Line
For the most part, you're not going to find the sustained steeps like at Snowbird and Alta or the fine dining and nightlife that Park City has. But you also won't see crazy crowds, and you might still get powder skiing days after a storm.
Lead Photo: Liam Doran/Tandem
Trending on Outside Online