6 Insta-Worthy A-Frame Cabins for Rent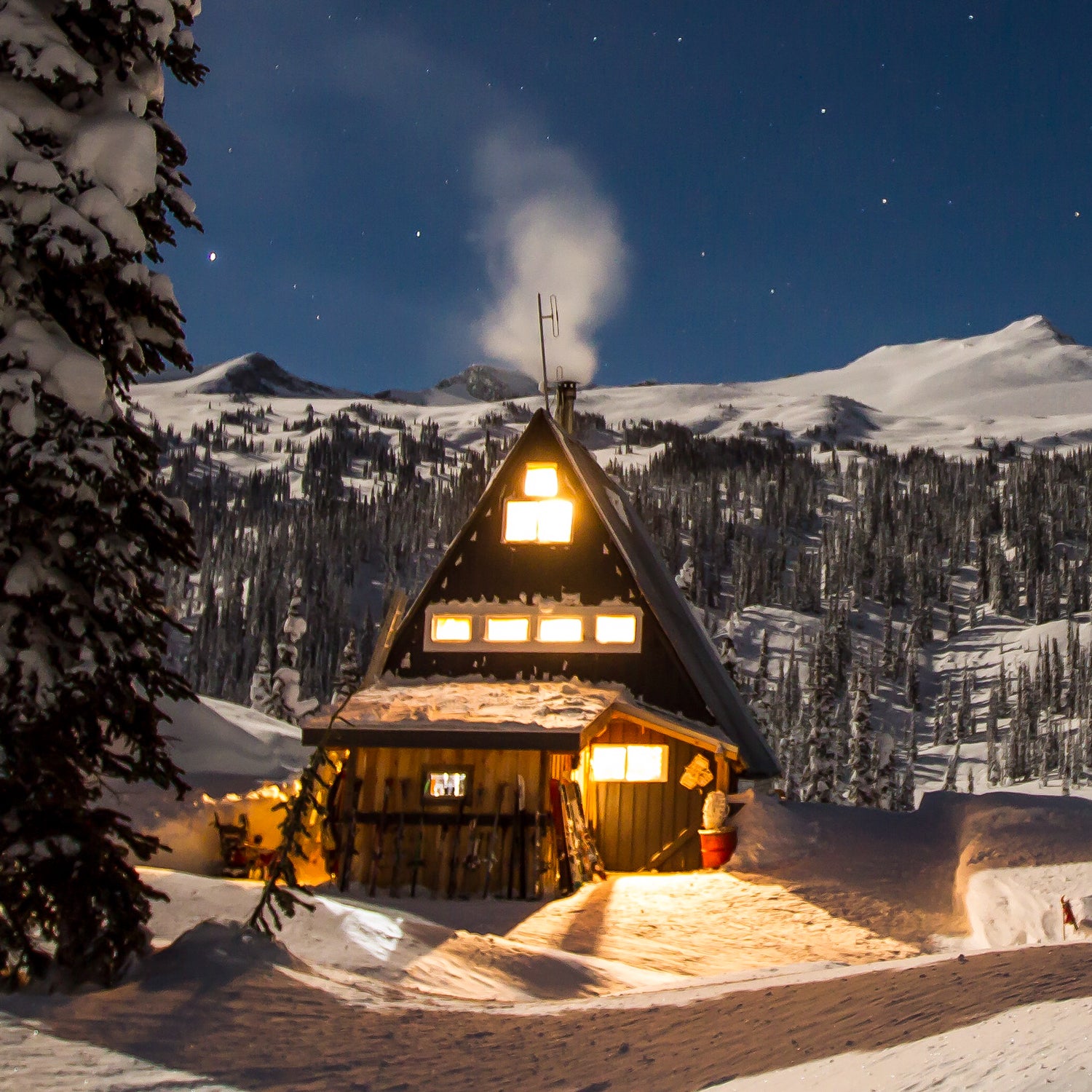 Courtesy(Photo)
Heading out the door? Read this article on the new Outside+ app available now on iOS devices for members! Download the app.
There's something charmingly vintage about a 1970s-era A-frame. Picture one and it's easy to imagine a flannel-clad group of enthusiasts inside, cozied up by a wood-burning stove and playing backgammon. These quirky pointed-roof chalets were big in the mid-20th century, especially in ski towns, where steeply slanted roofs served a real purpose: shedding snow. Nowadays, you can still find these old-school A-frames, and, thankfully, many have been updated on the inside with modern fixings.
Blanket Glacier Chalet
Revelstoke, British Columbia
Located deep in the Monashee Mountains and accessible only by helicopter from Revelstoke, Blanket Glacier Chalet is a family-owned backcountry A-frame, built in 1982, with a ten-person sauna, dorm-style sleeping quarters, and, happily, no Wi-Fi. You and up to 13 friends can book the whole place and be treated to three meals a day prepared by a house chef and certified guides who will escort you into the 20,000 skiable acres outside your door. Or sign up for one of the wintertime camps, where you can ski with pros like Eric Hjorleifson and Lexi Dupont. From $1,270.
Convertible A-Frame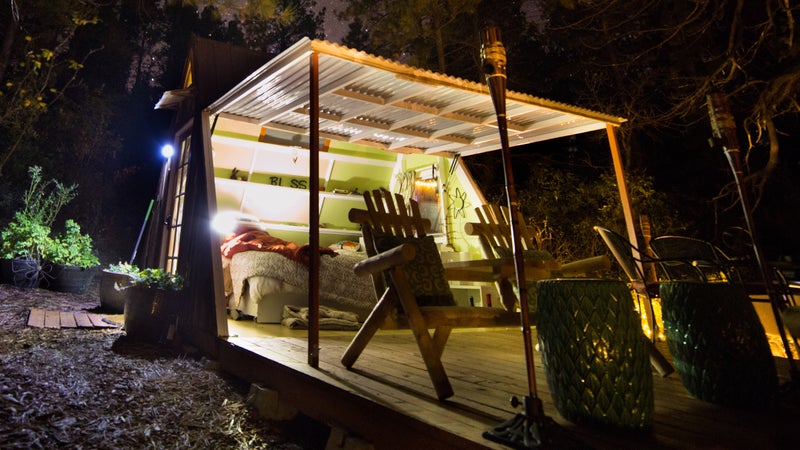 Mount Carmel Junction, Utah
This solar-powered, off-the-grid cabin is located minutes from the East Rim Trailhead in Zion National Park. One wall lifts like an awning, giving you a three-sided structure with unobstructed views of the night sky. To reach the cabin, you'll walk 150 feet through a steep ravine. Inside is a large bed and some storage; outside, you'll find a basic camp kitchen and a composting toilet. The place comes stocked with a telescope, yard games, jars of oatmeal, and a French press. From $145.
Modern A-Frame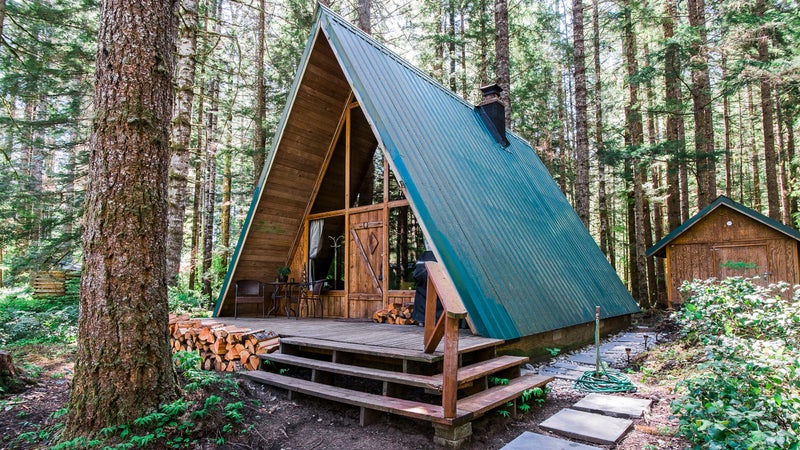 Ashford, Washington
A Rainier mountain guide and a Seattle real estate agent teamed up to meticulously renovate this quaint, 700-square-foot A-frame located near the banks of the Nisqually River and just minutes from the entrance to Mount Rainier National Park. You'll sleep in a loft accessed via pull-down staircase and read a book next to the wood-burning stove. The kitchen is small, but it's equipped with everything you need. From $165.
Far Meadow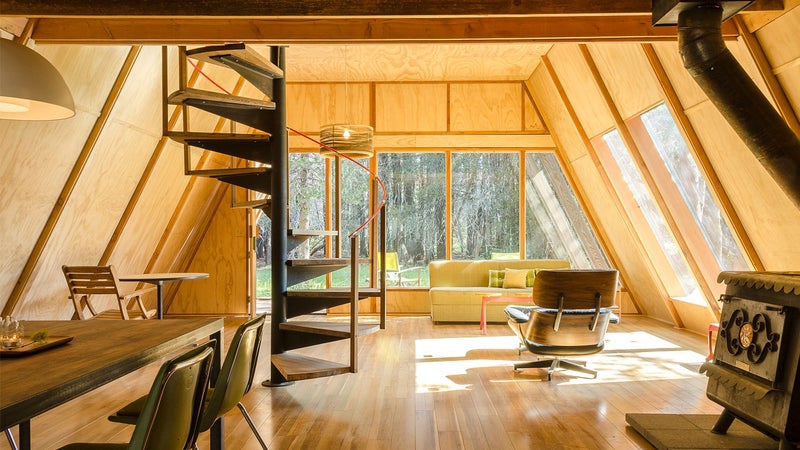 Oakhurst, California
You'll have your choice of three sleek, updated A-frames at Far Meadow, a collection of cabins outside Yosemite National Park on a 20-acre plot of private land in the High Sierra. The cabins are outfitted with wood floors, modern kitchens, wood-burning stoves, and sleeping lofts. In winter, the place is accessible only by snowcat or snowmobile, and you can snowshoe or cross-country ski from your porch. From $260.
Alpine Lakes High Camp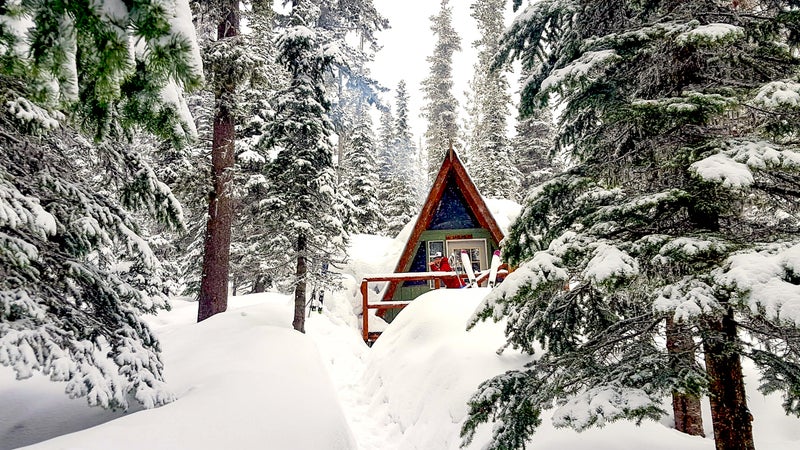 Leavenworth, Washington
Alpine Lakes High Camp is composed of nine cabins in the woods outside the Bavarian-styled mountain town of Leavenworth, Washington, about 15 miles from Stevens Pass Ski Area. The cabins aren't fancy, but they come with everything you need: propane cookstove, wood fireplace, and a place to lay your sleeping bag. To reach the camp's rugged backcountry location in the Cascades, you'll leave your car in a designated lot, then hop into a shuttle vehicle for the last eight miles into camp. There's endless backcountry skiing in the Alpine Lakes Wilderness and 35 miles of cross-country ski trails accessible from your door. From $170.
Oliver Lodge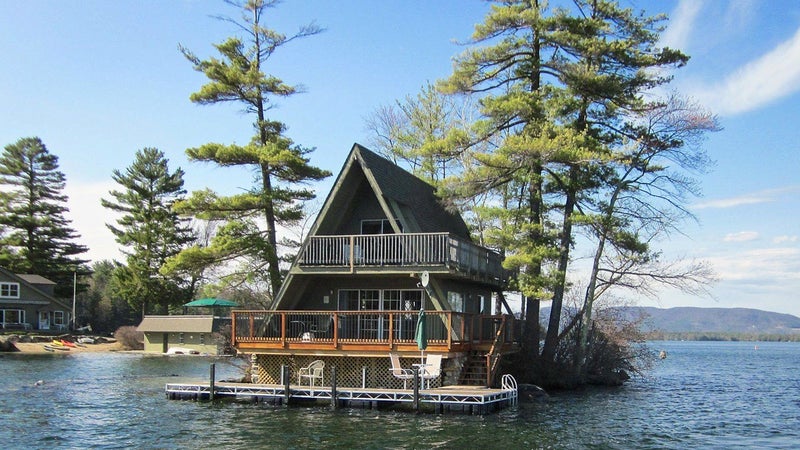 Meredith, New Hampshire
Want to stay in an A-frame on your own private island? Of course you do. This two-bedroom cabin, part of the beachfront Oliver Lodge, is located just offshore on New Hampshire's Lake Winnipesaukee. You'll use a motorboat, canoe, or kayak to reach your own private dock. Note: This spot is more of a summer destination—you'll come for boating, fishing, sailing, and sitting around an outdoor fire pit—but there's still plenty to do midwinter, and the rates are discounted. From $170.
Lead Photo: Courtesy