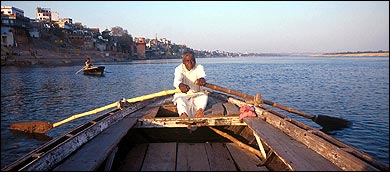 Heading out the door? Read this article on the new Outside+ app available now on iOS devices for members! Download the app.
To maximize the return on your investment in wanderlust, you need know-how and solid advice. We're here to help. From saving on destination packages and high-value gear to insider trips and the bet reasons to blow a bundle, we've got the lowdown on affordable, rip-roaring, full-value adventure travel.


44 Trophy Trips You Can Book Now



Mike Steere Plays Prince and Pauper in Paradise



Five Former Trouble Spots with Big Savings


Ten All-frills Dream Trips



PLUS: Smart Gear for Living Large, Online Tips for Saving Big, and Our Travel-bargain Calendar
Colorado, Arizona, Austria

Let it
Schnee
: Paradise, as seen from an Innsbruck ski lift

REALITY TECH
: Bollé's new MORPH SUNGLASSES combine ultradurable polycarbonate lenses with a lightweight "grilamid" (tough, flexible nylon) frame for all-terrain eyewear at a price that won't make your creditors nervous. Ergonomic rubberized temple tips and nose pads keep them firmly in place. Spring for the set with glare-busting polarized lenses. ($100; 913-752-3400,
www.bolle.com
)
PRICE: $572
1. Cross-Country Ski Snow Mountain Ranch,
COLORADO
THE DEAL: Kick and glide for a week along 60 miles of groomed nordic trails near Fraser, Colorado. Après-ski, ease your tired muscles in the indoor pool before reclining next to your fireplace in a cozy two-bedroom cabin with a fully equipped kitchen. Around you stretch 5,200 wooded acres, plunked near the ridiculously scenic 14,000-foot peaks of Rocky Mountain National Park. Need a fix of vertical? Winter Park and Berthoud Pass are 30 minutes south. Price above includes your cabin for a week (based on four-person occupancy), snowshoe or ski rentals, and sample round-trip airfare from Los Angeles to Denver (about $260). Other Colorado resorts, like those in Telluride, charge upwards of $200 a night for a double room and have fewer cross-country trails.
THE FINE PRINT: The basic yet comfy cabins are owned by the YMCA—don't expect mints on your pillows—and it can be hard to get reservations during the holidays. You'll need to rent a car ($175 per week) or hop a shuttle ($92 per person, round-trip) to get from Denver International Airport to the ranch.
CONTACT: YMCA of the Rockies, 970-887-2152, www.ymcarockies.org PRICE: $603
2. Mountain-Bike Sedona,
ARIZONA
THE DEAL: When chilly, wet weather is shutting down mountain-bike season around much of the country, the riding's just getting good in Sedona. November and December days are dry and sunny, with temps hovering around 60—near-perfect conditions to enjoy the region's more than 200 miles of singletrack. Check in with the friendly folks at Bike & Bean bike shop for trail maps and, if you like, a guide. Spend your afternoons threading the soaring red-sandstone towers, and nights relaxing at one of Don Hoel's Cabins: luxuriously rustic, private huts in Oak Creek Canyon, just a short drive from the trails. Price above includes sample round-trip airfare from Washington, D.C., to Phoenix ($225); car and bike rental; and three nights' lodging. Guided cycling trips in the Southwest this time of year can run as high as $795, not including airfare.
THE FINE PRINT: You pay for food. (Most of Hoel's cabins have kitchens, so eating in is an option.)
CONTACT: Bike & Bean, 928-284-0210, www.bike-bean.com; Don Hoel's Cabins, 800-292-4635, www.hoels.com

PRICE: $670
3. Ski Innsbruck,
AUSTRIA
THE DEAL: More than 60 chairlifts serve Innsbruck, meaning you're never more than a short walk from the slopes. Spend eight days at the three-star, family-run Hotel Tautermann Garni, tucked in a quiet residential neighborhood just ten minutes by foot from the Hungerburg Lift. By day, rip tens of thousands of acres of fluffy Tyrolean schnee. By night, kick back at a classical concert at the Treibhaus or sip a schneevogel cocktail—a frosty apple-flavored cognac drink—at the November Bar. Package price includes round-trip travel from New York to Innsbruck, seven nights' accommodation, breakfasts, and six days of lift passes good at any of the five nearby ski areas. A DIY package would run you at least 65 percent more.
THE FINE PRINT: Travel dates are fixed: January 10-18, 2004. Meals not included.
CONTACT: Ski Europe, 800-333-5533, www.ski-europe.com
British Columbia, Costa Rica, Florida
Get Bang for Bucks
"It's not all about saving money. It's about saving as much as you can while still having fun, traveling wisely, and remembering your purpose for traveling, which is to get out there and see these people and places. You want to get to the point where you're buying what you need but you're not spending extra for all the bells and whistles."
—Karin Muller
Author of Along the Inca Road and Hitchhiking Vietnam

Wave therapy in Costa Rica
PRICE: $694
4. Spring-Ski Whistler,
BRITISH COLUMBIA
THE DEAL: Crash for five nights in a cushy queen-size bed next to a glowing fireplace at the three-star Pinnacle International Hotel, a chalet-style resort on Whistler's Library Square, just a ten-minute walk from the chairlift. Sleep tight: The slopes get about 30 feet of snow a year, so you'll spend long days carving corn off the more than 200 runs that span Whistler Blackcomb's 7,000 acres and 5,280 feet of vertical drop. Price above includes sample round-trip airfare from Miami to Vancouver ($450) and Ski Canada package, which includes five nights' accommodation and a five-day lift pass. Why wait till spring? Because five days of lift tickets alone would cost you $250 midseason, while those evenings gazing over the scenic ridges of Sproat Mountain from the Pinnacle would total about $790.
THE FINE PRINT: Dates are set for April 18-25, 2004. Package doesn't include meals or transfers (about $100 per person from Vancouver).
CONTACT: Ski Canada, 800-333-5533, www.ski-canada.com

PRICE: $747
5. Surf Hermosa Beach,
COSTA RICA
THE DEAL: Hop a morning flight from Miami or Orlando for this seven-day trip and you'll be slicing the glassy tubes of Hermosa Beach that afternoon. When you've had enough barrels for the day, walk 100 paces across the sand to the beachfront Hotel Villa Hermosa. Inside the compound's red-roofed buildings, you can crash in a comfortable but basic air-conditioned room or lounge by the whale-shaped pool, swilling a cold Imperial beer. In the evening, it's about three minutes in your flip-flops to the Backyard Restaurant, where you can dig into blackened mahi-mahi and other seafood dishes. Package price includes round-trip airfare from Miami or Orlando to San José, seven nights' accommodation, and a rental four-wheel drive that can take you to other breaks, like the right and lefts at Dominical, 90 minutes south. Head to Hawaii for the same warm Pacific waves and you'd spend some $750 just for the flight from Los Angeles and a rental car.
THE FINE PRINT: Go in summer or early fall (prices shoot up in November, the beginning of high season). Also, you have to bring a board, or rent one there, and spring for meals.
CONTACT: Surf Express, 888-566-4147, www.surfex.com

PRICE: $753
6. Sea-Kayak the Everglades,
FLORIDA
THE DEAL: Spend four days paddling among the Ten Thousand Islands of Everglades National Park, spying on alligators and dolphins, and sleeping on sandy beaches. Southeast Expeditions ensures good campsites, prepares the food (salmon cakes over couscous, for example), covers park fees, and guides you around the salt- and blackwater narrows to point out birds like white pelicans and roseate spoonbills. Price above includes sample round-trip airfare from Chicago to Miami ($228), boats, paddling and camping gear, meals, and guides. Try doing this trip yourself and you'd typically have to arrive a day early to request campsites (no advance reservations). Boat rental alone would run more than $300 for four days, and that's before you buy the food, pay your park entry and camping fees, rent a car…
THE FINE PRINT: Transfers to Everglades City from Miami will cost an extra $50 per person.
CONTACT: Southeast Expeditions, 800-877-225-2925, www.sekayak.com
Dominican Republic

Endless summer: catching a gust in Cabarete, Dominican Republic

PRICE: $840
7. Windsurf Cabarete,
DOMINICAN REPUBLIC
THE DEAL: Settle in for a full week in the Pinky House at El Pequeño Refugio hotel, just a shell's throw from the water. From this base camp, you can grab a board from the hotel and hitch a ride on the trade winds that sweep the shore. Price above includes sample round-trip airfare from Newark to Puerto Plata ($330), airport transfers, and seven nights in a double room with a shared balcony overlooking the Caribbean. If you prefer your rides without a sail, you're in luck. Cabarete has 300 days of perfect waves a year, but you need to go during the early fall, when airfares to the islands plummet. Book a windsurfing holiday to someplace like Aruba, another breezy mecca, and you'd pay at least $1,000, excluding airfare.
THE FINE PRINT: You do all the planning for flights, transfers, meals, and rentals. Three-day beginner windsurfing lesson runs an extra $140. You share a bathroom that has only cold running water.
CONTACT: El Pequeño Refugio, 809-571-0770, www.pequenorefugio.com

REALITY TECH
PATAGONIA SYNCHILLA MARSUPIAL PULLOVER The classic fleece pullover is a must for any smart traveler: It's a pillow, a blanket, a soft seat on a hard bench, and, of course, a go-anywhere sweater. Patagonia's new Marsupial, a soft-as-baby-koala three-quarter-zip pullover, uses fleece made from recycled plastic bottles. As the name suggests, a huge front pocket keeps hands toasty and has enough room to hold a camera, hat, gloves, and an afternoon snack. ($76; 800-638-6464, www.patagonia.com)
Ireland, Mexico
Dive in the Deep End
"Economizing pushes you into close contact with the local people. This means that learning at least the basics of the language is very important, both for practical chores such as finding a budget-priced room or meal and so that you have something to say other than 'Huh? I don't understand.'"
—Carl Franz
Author of The People's Guide to Mexico

Suck o' the Emerald Isle: Strokestown, Ireland
PRICE: $861
8. Hike Suck Valley Way,
IRELAND
THE DEAL: Don't worry, this self-guided tour—based in a river valley near Roscommon, in central Ireland—hardly sucks. Spend seven days trekking 58 miles on a self-guided, well-signed path through verdant fields, near water mills, and past centuries-old stone castles. Each night you'll pop into villages like Dunamon, staying at local B&Bs and having ample time to find out if Guinness really is better in Ireland. Package price includes round-trip airfare from Chicago to Dublin, transfers to and from trailheads, luggage transfers, six nights' accommodation, most meals, and maps. Similar guided trips from U.S. outfitters cost up to $1,450, not including airfare.
THE FINE PRINT: Dublin is about 130 miles from Castlerea, where you start your hike, so you'll need to train it ($40; www.cie.ie) or rent a car ($237 a week; www.irishcarrentals.com). Go between June and September to avoid the rainy winter season.
CONTACT: Killary Tours, 011-353-95-42276, www.killary.com PRICE: $912
9. Beachcomb/Explore Tulum,
MEXICO
THE DEAL: Dodge gringo-choked Cancœn and head 75 miles south to the tranquillity of Tulum, a laid-back, rural Yucat‡n gem with vast stretches of salt-white beaches. You'll chill for six days in a beachside cabana, nursing margaritas and venturing out to wander among ancient Maya ruins. Tierras del Sol, a collection of beachside palapa bungalows, is just a ten-minute drive from the stone temples. Snorkel 200 yards offshore and you can dive a coral reef populated with parrot fish. Price above includes sample round-trip airfare from Denver to Cancœn ($472), airport transfers, and six nights' accommodations. You can find similarly priced digs in Cancœn, Ixtapa, and Cabo San Lucas, but most are shrink-wrapped resorts lacking Tulum's charm.
THE FINE PRINT: The biggest savings are in summer, when it's hottest (average temps in the nineties). Also, you have to arrange and pay for extracurricular activities like scuba diving.
CONTACT: Tierras del Sol, 011-52-984-879-5055, www.tierrasdelsol.com
Fiji, Ecuador

Attending school in Fiji's clear blue wonders

REALITY TECH:
TECHNICA PACMOC Do you really need to haul all those shoes? The short answer: no. Save space, and boost your hipness, by bringing the PacMoc—nylon-mesh slip-ons that stuff down about as small as a folded T-shirt. Rubber soles can handle your river trip one day, and the comfy kicks will look smart in town the next. ($50; 603-298-8032,
www.tecnicausa.com
)
PRICE: $1,460
10. Island-Hop/Snorkel/
Kayak
FIJI
THE DEAL: Spend seven days pretending you're a rescued Crusoe, cruising around Fiji's Yasawa and Outer Mamanuca islands on a motorized catamaran and the 83-foot schooner Sea Spray. At night, you'll snooze onshore in a thatch-roofed beach bure. Days find you snorkeling over pulsating sea clams and other marine life, sea-kayaking Kuata Island's slender peninsula, or hiking its interior, where you might just spot a many-colored fruit dove. Feeling lazy? Laze around in the vodka-clear pools and turquoise bays that you may have first seen in The Blue Lagoon and Cast Away. Package price includes round-trip airfare from Los Angeles, six nights' accommodation, and most meals and gear. A round-trip flight to Fiji by itself typically costs a grand or more.
THE FINE PRINT: Travel at the end of March, the tail end of the rainy season, to get the good airfare. On some of the remote islands, electricity is on only from sunset to midnight.
CONTACT: Outdoor Travel Adventures, 877-682-5433, www.otadventures.com

PRICE: $1,621
11. Paddle/Sail/Hike
EQUADOR
THE DEAL: Sure, the Galápagos are cool. But so is Ecuador proper. Spend 18 days paddling the Amazon in a dugout canoe, hiking through rainforests to waterfalls, beachcombing near the coastal town of Machalilla, and motoring to Isla de la Plata, a.k.a. the poor man's Galápagos, home to masked boobies and humpbacks. Add on other adventures as you like, including a guided climb up 20,561-foot Chimborazo for $170. Price above includes sample round-trip airfare from Phoenix ($678) and a tour package that includes 15 nights in local hotels and inns and a two-night homestay with an indigenous family in the Amazon. Guided climbs of Chimborazo alone can run as high as $1,000.
THE FINE PRINT: Meals are extra, as are activities such as mountain biking and rafting.
CONTACT: Intrepid Travel, 866-847-8192, www.intrepidtravel.com


Peru, Nepal
Get Your Guide On
"Find a good, personable, honest guide and pay him well so that you are that person's personal money machine and so that he does not want to see you taken advantage of—because, by golly, that's money he could have in his pocket. He'll want to be sure that your stuff isn't stolen and that your trip isn't cut short for any controllable reason: sickness, hooliganism, or any kind of foul play."
—Tim Cahill
Writer

The creature comforts of encountering locals in Peru
PRICE: $2,019
12. Trek/Climb
PERU
THE DEAL: Competition for climbing business is fierce around Huaraz, in western Peru, keeping prices low but quality high. This 22-day outing will have you climbing four snowcapped summits, including 22,205-foot Huascar‡n, the country's highest. Warm up on 18,148-foot Ishinca Peak. Once you've acclimatized, you can gradually work your way up other mountains, like 19,790-foot Tocllaraju. Price above includes sample round-trip airfare from Atlanta to Lima ($630) and a climbing package that includes transfers, hotels, camping equipment, most meals, guide, park fees, cooks, porters, donkeys, and muleteer. Similar trips from U.S. outfitters cost as much as $3,500, sans airfare.
THE FINE PRINT: You need a minimum of four travelers; if you're only two, the outfitter can pair you up with others.
CONTACT: Sol Andino, 011-51-43-72-22-05, www.solandino.com PRICE: $2,037
13. Raft the Karnali River,
NEPAL
THE DEAL: The Karnali River, the longest waterway in Nepal, runs from Tibet through the Himalayas before flowing into the Ganges on its way to the Bay of Bengal. Spend ten days rafting 112 miles of pristine wilderness from Sauli to Chisopani, threading deep canyons and bouncing over teeth-clattering Class IV rapids. Better pack a camera; the area is home to tigers, langur monkeys, and leopards. Price above includes sample airfare from Los Angeles to Kathmandu ($1,537) and an adventure package that includes a guided raft trip, food, and transportation to and from the river. Still seem like a lot? Grand Canyon trips cost about the same, plus airfare, but you typically need to book more than a year in advance.
THE FINE PRINT: Dates are fixed: April 20-30, 2004. You'll have to arrange your own accommodations before and after the rafting.
CONTACT: Ultimate Descents, 011-64-3-543-2301, www.ultimatedescents.com


Mongolia, New Zealand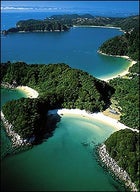 Able-bodied waters in New Zealand's Abel Tasman National Park

PRICE: $2,705
14. Visit the Thousand Camel Festival,
MONGOLIA
THE DEAL: Fly deep into Mongolia's Gobi Desert for eight days to catch the Thousand Camel Festival, an annual celebration that involves camel racing, camel polo, traditional music, dances, and homemade vodka. After a day wandering the markets of Ulaanbaatar, hop a 90-minute flight to Dalanzadgad, in southern Mongolia, where the festival unfolds for the next two days. You'll stay in hotels and gers (yurts) at the Three Camel Lodge, on the Gobi's steppes. Side trips take you to places like the Flaming Cliffs, a fossil-rich area of glowing orange rock, and Gorkhi Terelj National Park. Price above includes sample round-trip airfare from New York ($1,685), meals, transfers, in-country flights, and seven nights' accommodation (three in hotels, four in comfortable camps).
THE FINE PRINT: Dates are set—January 26-February 2, 2004—and winters aren't exactly toasty in Mongolia (in January, high temperatures average 15 degrees Fahrenheit).
CONTACT: Nomadic Expeditions, 800-998-6634, www.nomadicexpeditions.com PRICE: $3,049
15. Multisport
NEW ZEALAND
THE DEAL: For two weeks you'll hike, bike, paddle, and swim your way around New Zealand's South Island, getting your fill of serene parks, seal colonies, and the snowy Southern Alps. You'll also spend three days backpacking through Nelson Lakes National Park and holing up in scenic shelters like the Angelus Hut, perched above tree line between two mountain lakes. Options include mountain-biking the 44-mile Queen Charlotte Track, kayaking in Queen Charlotte Sound, or heli-hiking on the tourmaline Franz Josef Glacier. Spend nights in B&Bs like the spacious Homestead, in Makarora. Price above includes sample round-trip airfare between Los Angeles and Christchurch ($1,050), 14 days of activities, 13 nights' accommodation, transportation, and meals. Six-day multisport trips to Alaska can cost just as much.
THE FINE PRINT: Some activities will run extra (heli-hiking: $100).
CONTACT: Active New Zealand, 800-500-3398, www.activenewzealand.com

REALITY TECH:
HIGH SIERRA A.T. GEAR ACCESS You want the convenience of a wheeled duffel, but the versatility of a backpack. Well, thank High Sierra for its clever hybrid. The front-loading compartment (2,310 cubic inches) is spare and simple, with compression straps to hold several days' worth of clothes and sundries. The detachable 923-cubic-inch daypack is big enough for a sandwich, parka, and camera. ($100; 800-323-9590, www.hssc.com)
Bonanza Boons for Cyberspace Cowboys
The wired traveler's guide to working on the Web
When in Doubt, GO
"Sometimes keeping costs down can be a big mistake. I traveled through Afghanistan in the early seventies, and I missed the opportunity to go up to Bamiyan to see the Buddhas that would later be destroyed by the Taliban. Not enough time, not enough money—I had lots of excuses, but now that opportunity is gone forever, and no amount of money can make up for that foolish economizing."
—Tony Wheeler
Travel writer and cofounder of Lonely Planet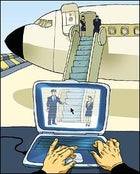 Snagging a great value for your trip is a bit like angling for trout: When you head to the river is less important than how you fish it. Fortunately, ever-fluctuating supply and demand means there are always travel discounts to be had. A few smart tactics can land you a monster deal.

AIRFARE
•Compare fares on the big three Web outlets—Expedia, Travelocity, and Orbitz—as well as those posted on individual airline sites.
•Sign up for free customized fare alerts for your hometown and for travel newsletters, like Tom Parson's Best Fares (www.bestfares.com), which lists daily specials and companion deals.
•If the price of the advance ticket you purchased drops, call the airline and request a refund. Many will return or credit the difference.
•For bulk discounts, canvass national carriers like Varig, which sells the Brazil AirPass (www.varig.com; five flight coupons for $530), Thai Airways (www.thaiairways.com; four tickets for $199), and Europe by Air (www.europebyair.com; its FlightPass goes between any of 150 European cities for $99 per segment).
•Shop the no-frills airlines, like JetBlue (www.jetblue.com), Southwest (www.iflyswa.com), and Canada's WestJet (www.westjet.com). For Europe, check out Ryanair (www.ryanair.com), EasyJet (www.easy.com), and BMIbaby (www.bmibaby.com), which has been known to post fares as staggeringly low as $1.60.
•Scan sites like Site59.com, Bid4Vacations.com, and SkyAuction.com (recent bid: $326 round-trip to Spain from several East Coast cities).
•Nab an oft-discounted ticket to London, then fly a Euro-local airline.
•Check Independent Traveler (www.independenttraveler.com) on Wednesday for weekend Web deals. Travelzoo (www.travelzoo.com) culls fares from 200 companies, then sends out a top-20 e-mail on Thursdays.
•For European deals, try sites like ELT Express (www.flights.com), a discounter that includes consolidator tickets, and eBookers (www.ebookers.com), Europe's version of Expedia.

ACCOMMODATIONS
•When booking, a simple "Is this the best rate you can offer?" can often net quick savings.
•Check hotel Web sites for special deals. Starwood (www.starwood.com) recently offered a 50 percent discount to AAA members who booked three weeks in advance.
•Browse Resort Quest (www.resortquest.com) and (World-Stay.com, which tracks more than 60,000 international hotels. EuroCheapo.com lists character-rich, well-located hotels in Europe.
•Try auction sites like Priceline (www.priceline.com) or Hotwire (www.hotwire.com) for hotel rooms. One recent winning bid: $180 a night for a five-star hotel on the Champs Elysées with a front-row view of the Tour de France finish. BiddingForTravel.com and BetterBidding.com offer user tips.
•Sol Melia (www.solmelia.com), a leading hotel company in Spain, Latin America, and the Caribbean, offers "Wednesday Web Weekends" charting specials, like $50-a-night four-star digs in Barcelona.
•Off-season, consider renting an apartment, hacienda, or villa. Example: A Telluride Victorian that sleeps ten rents for $309 per night during the summer but $1,239 in winter.

OUTFITTED TRIPS
•Try Away.com, a partner with Outside that lists hundreds of trips worldwide, including many that are featured in the magazine. The Travel Deals section has discounts and last-minute airfare, hotel, and car-rental bargains.
•If you're planning way ahead, request an early-booking discount. Some outfitters honor the previous year's prices until a certain date, or offer a 10 percent savings for being among the first to sign up.
•Recruit your friends. Some outfitters comp one spot if you fill up the trip.
•Traveling solo? Sign up more than two months in advance and some companies will guarantee you a roommate, saving you the sometimes steep extra fee as a single.
•Adventure Center (www.adventurecenter.com) offers value trips like five days of snowshoeing in the Dolomites ($650) or 15 days of hiking in Turkey ($650).
•UK-based Saddle Skedaddle Tours (www.skedaddle.co.uk) and Graham Baxter Sporting Tours (www.sportingtours.co.uk) offer great last-minute deals on biking trips, such as eight days of mountain biking in Greece's Parnitha Mountains for $1,005.
Back-in-business Bargain Days
Five destinations in the comeback trail
Blow it on the High Points
"I usually try to save on the big-ticket items—transportation and lodging—so that I can be a little more free in my day-to-day expenses. I'll try to eat cheaply by having one picnic a day or by choosing lodgings where a hearty breakfast is included. But since I travel to do and see things, I don't skimp when it comes to sight-seeing."
—Pauline Frommer
Executive Editor of
budgettravel.msnbc.com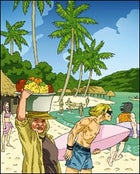 As world events and geopolitical instabilities have driven anxious globetrotters back inside their own borders, the folks who run overseas hotels, airlines, and adventure outfits have been slashing prices in order to lure them back out again. Lest you feel like too much of an opportunist, think of it this way: An influx of tourist dollars is no small boon for these destinations—and you may find yourself gaining perspective on issues abroad that you'd never acquire on your home turf.

BALI
Just as this tourism-dependent island was recovering from last year's terrorist attack at a Kuta Beach nightclub, a car bombing in August at the Jakarta Marriott, on Java, put Indonesia back on the world's danger list. While the two spots are hundreds of miles apart—geographically and culturally—trouble anywhere in Indonesia slows traffic to Bali. Which is why Escapes Unlimited (800-243-7227, www.escapesltd.com) is offering five nights' lodging, airport transfers, and a round-trip Cathay Pacific flight to Denpasar from L.A. or San Francisco for $799 ($859 from New York; additional days cost $20 per person) so that you can surf, kayak, and hike in the nearby towns of Seminyak, Sanur, and Ubud.

FRANCE
"Let's Fall in Love Again!" reads the smiley-face banner on the French Government Tourist Office Web site. Tourism in France is down 10 percent, due in part to Franco-Yankee dissension before the Iraq War. Now the French are eagerly courting Americans again. Rail Europe fares between France and Italy, Belgium, and Switzerland have been cut 40 to 70 percent, and some hotels are offering discounts to guests with U.S. passports. At Paris Abotels, Americans get 25 percent off through mid-December.

ARGENTINA
Go ahead, cry for Argentina and the plight of its peso after several years of political strife. Better yet, take your U.S. dollars southward and enjoy the advantageous exchange rate. Bargains start at $133 per night at the formerly very pricey Llao Llao Hotel & Resort (011-5429-4444-8530, www.llaollao.com) in Nahuel Huap' National Park, near Bariloche. Or join a four-day Maxim Tours (800-655-0222, www.maximtours.com) trek in the high Andean plains for $244 per person—down from $535. "When their currency crashed," says owner Caryn Maxim, "so did our prices." KENYA
East Africa's safari industry was just bouncing back from the 1998 embassy bombings when 9/11 renewed concerns about connections between Nairobi and Al Qaeda. The resulting tourism fall-off means a higher-than-average lion-to-human ratio in Kenya's game parks these days. Adventure Center (800-227-8747, www.adventurecenter.com) now posts last-minute specials offering up to 15 percent off seats that would otherwise go empty. In August it advertised a rate of $2,179 on its 15-day Faces of Kenya itinerary, including airfare from New York—more than $600 below the regular price.

CHINA
When the World Health Organization declared the SARS threat contained in July, airlines responded with unprecedented discounts that they hoped would spur tourism back to its pre-scare highs. But travelers have been slow to respond. The result: You can still fly to Hong Kong from the West Coast at a deep discount (a Cathay Pacific flight from Los Angeles cost $499 at press time, about 30 percent below traditional fares). Once you're there, take a 12-day, hotel-based hiking trip in the rugged Yunnan province with World Expeditions (888-464-8735, www.weadventures.com) for $1,690.
Say When
Pick your off-peak moment and have a peak experience
11/03
NOV=HAWAII
In the quiet weeks before the holidays, save 10 percent or more on airfare and lodging. Example: A one-bedroom oceanfront condo at Outrigger Kiahuna Plantation (800-688-7444, www.outrigger.com), on Kauai, costs $495 per night as of mid-December, but is $450 in November, the start of big North Shore waves and the annual humpback migration.

12/03
DEC=ANDORRA
You can find relatively cheap flights to Barcelona this month, then drive three hours to tiny Andorra, a Catalan-speaking, nightlife-loving country in the Pyrenees that's home to some of the best ski bargains in Europe. A five-day pass good at all four major alpine resorts (Ordino Arcal's, Pal Arinsal, Pas de la Casa/Grau Roig, and Soldeu el Tarter) costs about $34 per day.

01/04
JAN=BRITISH COLUMBIA
During the soggy season, the upscale Wickaninnish Inn (800-333-4604, www.wickinn.com), on Vancouver Island's west coast, has a winter storm-watching special that includes raingear for damp hikes to the beach, where 35-foot waves pound the coast. Two-night packages for two at this much-lauded Relais & Ch‰teaux inn start at US$480 (down from $743 in summer).

02/04
FEB=GUATEMALA
Outside of summer and holidays, February—the height of dry season—is one of the best and least expensive times here. The Travel Collaborative (800-370-7400 ext. 51, www.tvlcoll.com) offers airfare as low as $450 from New York, $200 less than in summer. Guatemala Unlimited (800-733-3350, www.guatemalaunlimited.com) has info on mountain biking, climbing, and rafting.

03/04
MAR=CHILE
LanChile fares from the U.S. to Santiago are about 10 percent less than earlier in the season. And since it's the beginning of low season in Patagonia, hotel rates drop before the air temperature does. In mid-March, book a room at the Hoster'a Mirador del Payne (www.miradordelpayne.com), on an 1894 ranch near Torres del Paine National Park, for $70 per night (down from $112).

04/04
APR=TANZANIA
At the start of rainy season, wildebeest gather in the Serengeti for their summer migration, and outfitters discount trips for those willing to deal with mud. Born Free Safaris and Tours (800-372-3274, www.bornfreesafaris.com) runs a 13-day April package from New York for $3,000, normally $3,800 in June.

05/04
MAY=MONTANA
Catch low-season rates at many Montana wilderness lodges up until the river-fishing season starts on the third Saturday in May. Potosi Hot Springs Resort (888-685-1695, www.potosiresort.com), in southwestern Montana, has plush cabins in prime hiking, rafting, and hot-springs territory that rent for $200 for two people in early May but shoot up to $330 by month's end.

06/04
JUN=SARDINIA
Most Europeans hit this Italian island in August. But get here in June, when temps average a blissful 80 degrees, and you'll have the hiking trails, dive spots, and white-sand beaches to yourself. Nab a roomy two-bedroom, two-bath home overlooking the ocean for $1,628 in June, down from the August rate of $2,147 per week (800-726-6702, www.rentvillas.com).

07/04
JUL=U.S. VIRGIN ISLANDS
Summer low season here is when the diving off St. Croix is typically at its best (calmer weather, clearer water), and hotels often cost 20 percent less than in the winter high season. At the beachfront Buccaneer resort (800-255-3881, www.thebuccaneer.com), on St. Croix, doubles that start at $215 per night in the summer cost $295 and up in the winter.

08/04
AUG=AUSTRALIA
Late winter in southern Australia is cool, comfortable, and off-peak, perfect for trekking or cycling on land, while the diving waters near Queensland's Great Barrier Reef are calm and clear. Qantas (800-227-4500, www.qantas.com) offers two-week trips to Sydney, Kangaroo Island, and the GBR that start at US$1,799 in late August. Cost of the same trip jumps to $2,139 in December.

09/04
SEP=GALÁPAGOS ISLANDS
Flights from Quito, Ecuador, to the Galápagos cost about 15 percent less during the mid-September-to-November low season, and you'll still catch the end of seabird nesting season. This year, Adventure Life (800-344-6118, www.adventure-life.com) offers eight- to ten-day yacht cruises at 20 percent off, like a ten-day luxury sailing trip for $2,175, down from the normal $2,595.

10/04
OCT=MEXICO
It's the tail end of rainy season, but big waves still rock the surf town of Puerto Escondido, and mornings are delightfully clear. Grab a double at the Hotel Santa Fe (for reservations, 011-52-954-582-2030, www.puertoconnection.com) for $72, about two-thirds of the $103 November rate.
The Trip Fantastic
How to shoot the moon for maximum (or minimum) big bucks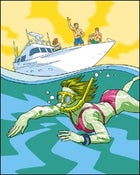 RENT YOUR OWN TROPICAL ISLAND
The Impossible Dream: Necker Island, British Virgin Islands
Cost: $22,500-$36,000 per day, all-inclusive. You Get: a staff-to-guest ratio of almost two to one at Virgin Records magnate Richard Branson's private 74-acre island hideaway. The ten-bedroom main house is an airy Balinese-style villa. By day, scuba, snorkel, and windsurf—then hit the three freshwater pools and two hot tubs. Contact: Limited Edition by Virgin, 800-557-4255, www.neckerisland.com

The Affordable Dream: Seabird Key, Florida Keys
Cost: $4,495 per week for four.
You Get: your own private ten-acre key, a three-bedroom tropical-hardwood house with a wraparound porch, cathedral ceilings, and a path leading straight to sea-foam green water. Grab a snorkel and fishing gear and hop into the canoe, kayaks, or the 19-foot runabout to hit Sombrero Reef. Contact: Seabird Key, 305-669-0044, www.seabirdkey.com

SAIL YOUR OWN PRIVATE YACHT
The Impossible Dream: The Mediterranean on the Trinity II
Cost: $90,000-$95,000 per week for up to ten guests (add up to $22,000 for food, alcohol, and gas). You Get: a 140-foot home with teak decks, marble bathrooms, Jacuzzis, and a crew of eight, including a gourmet chef. Indulge in windsurfing, scuba-diving, and fishing. Sunset cocktails and night swims are de rigueur. Contact: Ocean Voyages, 800-299-4444, www.oceanvoyages.com

The Affordable Dream: The South Pacific on the Tamara
Cost: $16,870 per week for up to eight guests, including meals and gas You Get: to see the Marquesas aboard the 57-foot catamaran Tamara, snorkeling, swimming, and scuba-ing yourself silly (BYO scuba gear). The three-person crew will keep you on course, well fed, and versed in South Pacific lore. Contact: Ocean Voyages, 800-299-4444, www.oceanvoyages.com.

SKI BOTTOMLESS CANADIAN POWDER
The Impossible Dream: Heli-skiing in the Cariboos
Cost: $112,745 per week for ten guests, all-inclusive. You Get: unlimited vertical, a helicopter, 925 square miles of untracked fluff, and two expert guides. Retire in rustic elegance to Valemount, a private lodge with vaulted ceilings, Jacuzzi, two masseuses, and a pastry chef. Contact: Canadian Mountain Holidays, 800-661-0252, www.canadianmountainholidays.com

The Affordable Dream: Cat-skiing at Island Lake Lodge
Cost: $3,927 per person for seven days, all-inclusive. You Get: 5,000 skiable acres in British Columbia's Lizard Range that remain accessible even when it's dumping. Cedar Lodge has eight bedrooms, each with a private deck and soaker tub. You'll ski with two guides, and only 12 clients per cat. Contact: Island Lake Lodge, 888-422-8754, www.islandlakelodge.com

TAKE A HEMINGWAY-STYLE SAFARI
The Impossible Dream: Africa's great parks by air
Cost: $14,980 per person (minimum of six). You Get: Kenya, Tanzania, Zanzibar, Zambia, Botswana, and South Africa via your own private Cessna 402, hopping for 12 days along the Great Rift Valley. Repose at night in the most luxurious safari digs in East and South Africa. Contact: Bushtracks Expeditions, 800-995-8689, www.bushtracks.com

The Affordable Dream: Tanzania on the Northern Circuit
Cost: $2,875 per person. You Get: the same big game on this 12-day classic looping from Kilimanjaro. Bed down at a permanent tent camp. A guide leads you to Lake Manyara, Ngorongoro Crater, and the Serengeti. Contact: The Africa Adventure Company, 800-882-9453, www.africa-adventure.com

LIVE LIKE A KING
The Impossible Dream: Villa Paradis de la Mar, Cap D'Ail, France
Cost: $35,000 per week for up to 12. You Get: a belle époque villa frequented by Garbo, with seaside views of the sunny coastline from Cap Ferrat to Monaco. A formal dining room, pastel walls, marble and parquet floors, and a 330-foot terrace contribute to the airy grandeur—as do the towel warmers and full-time chef and housekeeper. Contact: Provençal Estates, 978-453-7839, www.provencalestates.com

The Affordable Dream: Villa Controni, Vorno, Italy
Cost: $12,000 per week for up to ten. You Get: a 19th-century Lucchese estate with its own castle ruins, chapel, wine cellar, and olive-oil press. There's also a swimming pool, walking trails, and an adjacent equestrian center. An on-site manager cleans and dishes local advice, and a full-time private chef whips up local Lucchese specialties. Contact: Tuscan Estates, 978-453-7839, www.tuscanestates.com

REALITY TECH:
OLYPMUS STYLUS 400 DIGITAL CAMERA Good news: Price tags on high-end digital cameras are falling as fast as features and quality are rising. The new Olympus Stylus 400 packs a four-megapixel, magazine-photo-quality punch with a 3x optical zoom lens in a weatherized body that allows you to snag shots of breaching humpbacks without fear of sea spray. The diminutive point-and-shoot tucks into a shirt pocket but doesn't skimp on features, like a QuickTime movie setting. Rechargeable lithium-ion battery, software, and USB connection included. ($450; 800-622-6372, www.olympusamerica.com)
Money Changes Everything
Looking high and low for the heart of travel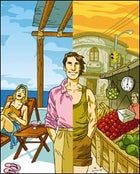 ABOVE LOS CABOS, at the tip of Mexico's Baja Peninsula, looms a steep escarpment, invisible unless you know it's there. The thing is made of money, with its summit at a nonpareil 61-room beach resort called Las Ventanas al Paraíso ("Windows to Paradise"), between the towns of Cabo San Lucas and San José del Cabo. Were the dollars spent every day at Las Ventanas piled up and burned, the brightness would be visible from space.


I have come to Los Cabos to make a touristic first descent: Following two nights at a low-season rate of $2,032 per in a Las Ventanas deluxe oceanfront suite, I will relocate some five miles eastward for two nights at Señor Mañana ("Mr. Tomorrow"), a micro-lodge in downtown San José del Cabo, where a low-season single goes for $30. Pricewise, Mr. Tomorrow isn't the bottom, but in Mexico the wise don't try to hit bottom. I will make a 98.52 percent room-rate drop in the same bold spirit of those who have skied off Mount Everest. As in all adventure that deserves the name, this is a quest for greater knowledge of reality and self. I want to meet the Cosmic Vacation Dollar and pose the big question: Does more money really buy a better time? FIRST, THE ASCENT: At the Los Cabos airport, I am greeted by the driver of a silver Las Ventanas Mercedes who hands me an icy Evian and a chilled wet towel. Las Ventanas itself, with its open-air lobby overlooking a complex of modest-scale buildings done in a tastefully stark Pueblo-Mediterranean-Aztec fusion, fails at first to overwhelm. But then I notice lavish details—the floor's amazing "rock carpet" inlays, original art, the serpentine horizonless pool doing a design dance with the searing-bright beach. The savage perfection extends to staffers, who outnumber guests five to one. In the lobby, people in earth-tone Armani-oid tropicals start assuring me what a pleasure it will be to make my stay more perfect. I swear they mean it.


Convention obliges the writer to jeer and throw dung, but Las Ventanas wins me over in the first hour, to the point that it seems right and proper to occupy a 1,600-square-foot suite with its own pool and whirlpools. There's tennis on the property and golf at the best local courses, and the concierge has a fat book of off-property outings—marlin fishing, shopping, kayaking, snorkeling—but there's no urge to get out and about. Even the beach is deserted, in spite of the fact that the place is 92 percent full. (I learned on check-in that it's mostly a show beach anyway, too steep at the surf line and racked by treacherous currents.)


What people seem to do at Las Ventanas is quietly loll and swim in the pools and glide around the grounds, mostly two by two. The vibe discourages approach. One of four fellow guests I meet, a honeymooner from Alabama, seems unhinged by the implosive hush. "I'm high gregarious!" he yells at me. Spa director Carole Sullivan cracks the code: This is a healing place, not Club Med.


So leave me alone, I'm healing. I run on the beach, work out in the gym, and learn the hard way how wrong it is to leave the property for a three-hour surfing lesson that's great, except I ache for the Shrine of the Pampered Me. Back at Las Ventanas I get lost in a ceviche of parrot fish and pear chunks in coconut milk and am gently buzzed because somebody saw Jennifer Aniston. Then the spa's 80-minute Seventh Heaven aromatherapy massage nukes all other delights. During this lifetime-best muscle manipulation, it comes to me in a flash how narrow and wrong it is to write off a place like this as ridiculously expensive—because it isn't that way for the ridiculously wealthy. Judge not what you do not have. Were I one of the financially blessed, feeling the need for the ultimate in grande luxe quiet and stroking, I'd be booking the next long weekend right now.
Money Changes Everything (cont.)
DRIVING AWAY from Las Ventanas is an instantaneous phase change, like one of those rare multiple-personality disorders where Mr. X doesn't know Mr. Y exists except with help from drugs and deep hypnosis. Exit Mr. White Linen Pants. Enter Mr. Hiking Sandal, who goes cheap with the same mad enthusiasm with which a Las Ventanian throws around money, nursing a smug sense of superiority over the fools paying huge to stay in soulless big hotels, where you partake not at all of local culture and ecology. Señor Mañana, yeah, man, is the real deal. Check out the surfboard and kayaks in the raked-dirt yard and the adopted street dog—that's Chica—saying, "Buenos días."


Owned by an expat couple from Fairbanks, Alaska, Señor Mañana is amazingly up to gringo snuff. Every one of the eight guest rooms has its own john and shower, and there's a raised open-air common kitchen and sitting room. Add thatch roofing, shade from tropical foliage, and hammocks and the place takes on a grub-ass, proudly humble look. Marga Bearden, the mom half of the mom-and-pop owners, says her price is low largely because of three conspicuous absences: (a) the beach, (b) a pool, (c) air conditioning. I hear her, but in the honeymoon opening hours, the place still seems miraculously complete—for the money.


A half-block walk gets you to the plaza in San José del Cabo, population 25,000, the quiet, historic, thinking person's city in Los Cabos. My half-day of around-town prowling turns into a local-food-stand binge. With Ms. Bearden as guide and companion, I go from a shrimp taco to pork carnitas on a bun to stewed goat meat in a bowl, called birria. The goat, cooked to fraying fibers and swimming in a deep-red broth, is as good, in its way, as anything I had at Las Ventanas, and it costs less than the minibar Pringles.


Then—damn the low end anyway—comes the hellish night. I toss in sweaty discomfort and curse the lack of air conditioning (management says this is no problem at all in winter tourist season) until the predawn arrives blessedly cool and full of promise. Unlike Las Ventanas, Señor Mañana shoots its guests out into the world every morning. First I head out on Jessy, a 22-foot open runabout (or panga), which is to sportfishing boats what Señor Mañana is to resort properties. The skipper, Lupe Miranda, seems annoyed after a few hours of trolling yields nada. I try to assure him that seeing dolphins and a leatherback turtle and a still sea flattened and polished by the sun suffice, but then at the last possible moment he connects me with a hefty dorado (a.k.a. mahi-mahi) that fights for almost a half-hour. Gracias, Capitán. Fishing without catching sucks.


It would have been bad, too, to get dizzy-hot on a postfishing hike in the foothills of the Sierra de la Laguna without the final plunge into a cliff-backed pool at the base of a narrow waterfall. After another night in sweaty sheets, I make my peace with the agony-ecstasy rhythm of life at Señor Mañana. At 6 a.m. the alarm goes off and the eyes open. Rise and shine, says Mr. Tomorrow. You're going kayaking.


The goal of the guided trip with the outfitter Baja Wild is Land's End, where there is no more Baja and the Sea of Cortez meets its mother, the Pacific. I declare this a lifetime top-ten paddle even before a sea lion launches itself onto a rock and poses, head straight up. This brain poster, good until I die, costs $50. It couldn't be improved by spending $50,000. Throw in a $10 guide's tip and the kayaking costs 18.5 percent of the ticket for my Seventh Heaven spa extravaganza at Las Ventanas.


The thought, which is startling, invites comparison and judgments about which experience is really worth it. But they refuse to be compared, even while one is fresh and the other is actually happening. Only an idiot would damage such fabulous moments trying to do cost-benefit. Just because killer street food costs $3, that doesn't make my $13.75 martini and $106.25 dinner two nights ago a bad deal. New Lamborghinis and 15-year-old Nissans have equal rights to existence and love, as do Las Ventanas and Señor Mañana. Judge not, spake the Cosmic Dollar. They're both worth it.