Yes You Can: Ride the 24 Hours of Moab
This fat-tire Shangri-La's got stunning scenery, challenging riding, plenty of beer and music—and you don't have to be an expert rider or endurance junkie. Here's everything you need to make the most of this weekend-long party, er, mountain-bike race.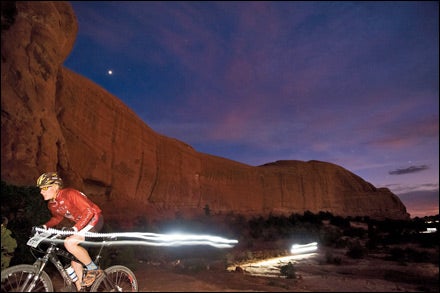 Heading out the door? Read this article on the new Outside+ app available now on iOS devices for members! Download the app.
Go Interactive
Getting In
This year the BLM has expanded the number of teams allowed at the 24 Hours of Moab to 550, or about 2,000 racers. Even in years with a lower limit, the race has generally had openings in the team categories right up to the day before the start. Still, prices go up as race day approaches, so don't leave it to the last minute. Register more than three months out and you'll pay around 5 per rider (
grannygear.com
).
Moab is a two-hour drive from Grand Junction, Colorado, the closest sizable airport. But keep in mind that airlines can charge up to 5 each way per bike, and that you might also need to check camping gear, tools, and spare parts. Drive if you can. If you go the RV route, Cruise America ( Sign up for Frank Overton's interactive plan at the Outside Fitness Center to get daily training instructions, email reminders, mappable workouts, and more.
AT SOME POINT during your first 24-hour mountain-bike race—probably when a wild-eyed buddy is rudely waking you up for your 3 A.M. lap—you will honestly wish you'd stayed home. But as soon as the race ends, you'll be thinking about how you and your teammates will do better next time. Because there will be a next time. It's tough to do something this fun just once.
A 24-hour race combines the adventure of a camping excursion, the athleticism of a bike race, the group bonding of a road trip, and the stamina of a rave. It's Burning Man with timing chips.
Invariably, these events are held on some of America's best and most beautiful trails. And when it comes to mountain biking in general, and 24-hour racing in particular, no place is more iconic than Moab, Utah. Over the past 15 years, 24 Hours of Moab has evolved into a 3,500-plus-person bacchanalia of aerobic suffering, technical riding, and beer tents. (The DJs and race announcers go nonstop through the night, too.) If you haven't already, you should join them.
And that's the great thing about 24-hour races: You really can. On a five-person team, all you have to be able to do is ride a mountain bike for maybe 90 minutes, rest for five hours, and then do it twice more. Of course, some technical bike-handling chops will help, but you can always walk sections that are too challenging. Almost everyone does.
While the event's vibe is always fun and inclusive, understand that the riding is real. Solo competitors sometimes log more than 250 miles on the 15-mile loop course. Racers on competitive four-person teams can expect to do five laps each. And even just-for-fun riders on five-person teams can get in 45 miles or more of epic riding on a challenging combination of singletrack, slickrock, fire roads, and soft sand. If you're lucky, you'll be out on course when the desert sunrise lights up the slickrock, reminding you that no matter how isolated you may have felt out there in the arc of your headlamp, you're not in this alone.
And there are still six more hours to go.
There's another great thing about 24-hour races: They last way longer than that. The experience begins months before the event, when you convince—or are convinced by—some friends to assemble a team. Suddenly you have gear to buy, and a team name to create (the bawdier the better). You've got to learn how to ride at night, how to fix a broken chain, how to convince your spouse to be your team manager.
Yep, it's not just about the riders. If you want to pull off a 24-hour race in style, you'll need a crew. This is a group effort. And you've also got to ride your bike. A lot. But that's what you signed up for in the first place, right?
Get In Gear
Tips for thriving at Moab, from event founder and 24-hour-race pioneer Laird Knight.
[photo size="full"]1488826[/photo]
[sidebar hed="Can't Make It to Moab?"] Steer your training toward one of these other top 24-hour races: Burn 24 Hour Challenge (NC; May); Life$tyle$ of the Rich and Famou$ (Ontario; May); Big Bear (WV; June); Summer Solstice (Ontario; June); 24 Hours of Light (Yukon; June); Hardcore 24 (NY; July); Canmore (Alberta; July); 24 Hours in the Sage (CO; August); Salsa Two-Four (MN; August); Hurkey Creek (CA; September); Seven Springs (PA; September); Seven Oaks (IA; September); Old Pueblo (AZ; February).
1. MAN UP

Five-person teams are a lot more relaxed, which is great for your first time. It's challenging but not brutal. You've got a little more time between your laps to eat, rest—even shower or get a rubdown. And trust me: Your third and fourth laps, which you're very likely to get in if your team is at all fast, are still going to be hard.
2. GET ON THE SAME PAGE

This is one of the biggest issues that comes up. And it's understandable. If you're there just to have a good time, but your buddies have been training all summer to be competitive, you're not going to be very popular. Make sure everyone's expectations are in alignment.
3. THICKEN YOUR LEGS

Moab demands that you be in shape. Many 24-hour-race courses are just eight or nine miles. This one is 15 miles with plenty of climbing and slow grinding. Don't underestimate how much fitness you need.
4. SHARPEN YOUR SKILLS

You'll also need confidence in your riding. The course has some gnarly technical sections and deep sand pits (lean back, keep motoring, steer lightly). You'll make up a lot of time if you can take the drops—get comfortable with those (practice landing on front and back tires at the same time). Most important: Know what terrain you can—and can't—ride.
5. LIGHT 'ER UP

In terms of speed, nighttime riding with good lights isn't that different from daytime riding. Do some shakedown cruises long before the race to become familiar with your lights—how to mount them, how to route the cables, and how long your batteries will last. And go with a two-light setup if at all possible—one on the bars and one on your helmet.
6. GET A CREW

This might be the most important advice when it comes to having a good time and being competitive. Sure, you can pull it off with no support, but why suffer needlessly? Bring a team manager to pay attention to your big-picture needs: waking you up, taking you to the log tent for your next lap, keeping your bike running. Having two is even better, so they can get some sleep. And, remember, these people are also your teammates. Feed them, buy them beers, give them team jerseys to wear.
7. KICK BACK

It's so easy, especially early in the race, to come back from your laps and get caught up in the excitement of the day. It's the middle of the afternoon, the tunes are jamming. And then, suddenly, "Hey, it's your lap." Ignore the distractions and go lie down. Come four in the morning, you'll be glad you did.
8. PLAN ON FLATTING

On every lap, make sure you're carrying what you need to fix two flats, just in case. Also, learn how to repair a broken chain. It doesn't happen often, but carrying a chain tool and an extra link means you won't have to walk back to camp.
9. SPLURGE ON THE RV

The hot ticket is the motor home. No question. More often than not, the winds kick up or it's close to freezing at night. Even a small RV as your base, with people sleeping in tents around it, is worth the expense.
10. SCOUT IT OUT

Get there at least a day or two early so you can pre-ride the course in a relaxed way. Learn where to go fast, where to conserve energy, where to be prepared. Honestly, though, you're going to Moab. There are so many other spectacular trails around there besides the racecourse.
11. WATCH THE STANDINGS

Even if you're in 64th place, 63rd is just a couple minutes ahead of you, and 65th is just a minute behind. No matter where you are in the standings, you've got a race.
The Plan
A six-month program to prepare you for the 24 Hours of Moab.
Training Plan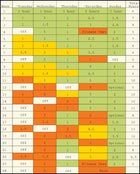 For a larger view of this training plan,
see the pdf
Frank Overton is a former semi-pro mountain biker and owner of Boulder, Colorado–based FasCat Coaching. To the right, you'll find his six-month, desk-job-friendly plan, designed to have you peaking for the race on October 9. The key: total weekly hours on the bike. If you need some day-to-day flexibility, try to make up for it to hit your weekly goal—usually about eight hours. To time this plan for the 24 Hours of Moab, start on April 27.
Easy (green): Pick a steady, conversational, "all day" pace and aim for a heart rate in the mid-130s.
Moderate (yellow): Ride at 80 percent of race pace, with heart rate in the 160s. It should feel like you're working, not suffering.
Hard (orange): Ride at 90–95 percent of race pace (your heart rate in the high 160s or 170s). Join a fast group ride or an XC race. Rip it up.
Fitness Test Warm up for 30–40 minutes. Pick a destination and ride as fast as you can toward it for 20 minutes. Remember how far you got. Cool down for ten minutes. Near the end of your training, do it again and compare your results.
Want these workouts delivered to your inbox every morning?

OutsideOnline.com now makes it easy for you to track your daily progress, upload training data from your watch or GPS, save routes, and chart your improvements. Find an expanded version of this plan—and others—at outsideonline.com/fitnesscenter.
Eat. Ride. Sleep. Repeat.
Danielle LaFata, a sports nutritionist with Athletes' Performance, in Phoenix, offers a strategy to keep you at full power through four or five all-out laps. Use this plan throughout your training so it feels natural on race day.
PRE-RACE DINNER:

About four hours before bedtime on the night before the race, eat a balanced dinner—whole-grain carbs, lean protein, fresh vegetables. Carbs should account for about 65 percent of your calories. Two hours before sleep, have a snack like a sports bar or a banana with peanut butter.
BREAKFAST:

Top off your glycogen stores the next morning with a hearty breakfast three to four hours before your first lap: two cups of oatmeal, two eggs, six ounces of yogurt, and one or two servings of fruit.
PRE-RIDE:

Two hours before your first lap, eat a snack of at least 200 to 300 calories, like a sports bar or a bagel and peanut butter. Don't forget hydration; in the final hour before your lap, you should consume at least 20 ounces of water. Top it off with an energy gel and sports drink 15 to 30 minutes before your start. If your first lap won't be until much later in the afternoon, have the breakfast and snack, but then eat a moderate lunch at midday—a sandwich and some fruit—and follow the timing above for snacks, fluids, and gels.
ON THE BIKE:

You don't usually have to worry about eating during intervals as short as your lap will be, but given the intensity of your effort and the fact that you'll be doing it again in about four hours, some carbs are a good idea. A sports bar or a couple of gels during the lap should do it. And, of course, fluids will be key. Take an electrolyte drink with you and aim for four to six ounces every 15 minutes (one gulp equals roughly one ounce).
BETWEEN LAPS:

Within 15 minutes of finishing your lap, you want to recover with a three-to-one ratio of carbs to protein. Look for a protein drink with 20 to 30 grams of protein, then get down three times as many grams of carbs. (A sports bar plus an apple will deliver this.) About an hour later, eat a small meal: a sandwich or a bit of pasta. Real food is going to settle your stomach. Hydrate, eat a gel 15 minutes before your next lap, and get ready to go again.
The Ride Stuff
The last thing you want is to hike the course. Get dialed with the right gear and practice with it before race day.
Light & Motion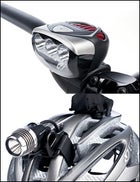 Top: Light & Motion 700; bottom: Light & Motion Stella 150 L
TIRES: We hope you're already running tubeless wheels, which eliminate pinch flats. If not, get some tubeless rims, then wrap them with a pair of Hutchinson Toros ($60 each; hutchinsontires.com), which have reinforced sidewalls that resist cuts and a slightly raised tread pattern that's ideal for Moab. Inflate them for the first time with the company's Fast'Air ($14), which has a latex mixture that will plug any punctures.
LIGHTS: The low angle of Light & Motion's handlebar-mounted 700 ($550; bikelights.com) will cast shadows to give you contrast and depth, while their Stella 150 L ($230) on your helmet will let you look through turns and past obstacles. The batteries have enough juice for two nighttime laps on the high setting (think car-headlight bright).
HYDRATION PACK: You'll be out for no more than two hours at a time, so a smaller pack, like CamelBak's Octane XCT ($70; camelbak.com), is ideal.
REPAIR KIT: Bontrager's Rollbar 18 ($50; bontrager.com) has everything you need for simple trailside fixes (hex wrenches, brake-pad spreader, chain tool), but not blown tires; for that, you'll want their Air Pack flat-repair kit ($40), which includes CO2 cartridges, inflator, tire levers, and patch kit in a padded pouch.
Course Beta
From veteran rider Nat Ross, who has won the 24 Hours of Moab as both a solo and team rider.

MILE 0: Riders on the first lap begin by running to their bikes in one big group (Le Mans style). Have a teammate standing with your bike so you can find it easily after the run.
MILE 0.2: There's a big dip that goes into a sand pit. This section is rideable, but it's easy to go over your bars. (The first lap starts on a dirt road that skips this.)
MILE 1.5: A big off-camber rock that comes out of nowhere. It's easily negotiated, but you've got to be in the right gear (a low one) or you're going to stall and end up having to walk it.
MILE 1.7: This is the approximate start of the course's longest climb. It's steep and rocky, but it's doable. In the first-lap mayhem, though, you will be walking unless you're at the front. So will everyone else. Just laugh.
MILE 2: You're still climbing, but it's not nearly as technical. Mostly rolling, middle-chainring terrain.
MILE 3.2: As soon as you crest the climb, you head down a twisting chute filled with deep sand. Don't fight it. Try to get all your weight onto your back tire, let your bars kind of go where they want to, and keep pedaling.
MILE 5.5: This is a ravine called Nose Dive. Walk it. Some people try to ride down it, but there's no reason to. You have to walk your bike back out the other side regardless, and trying to ride into it is a good way to crash.
MILE 6: Drink and eat. You're entering about four miles of mostly easy single- and doubletrack. Use this time to hydrate and find a rhythm.
MILE 10.3: Another sandy ravine. This one is called the Ledge. There's a trail off to the left that's completely rideable; it's not even difficult. There are two lines for riding back out, one left and one right. If you find yourself in the middle, walk.
MILE 11: It's around here that the trail starts going over a long section of Moab's famous slickrock. Enjoy it, and remember to drink again.
MILE 12.5: There's a tricky little left-hand turn here, just after a climb. Be ready or you'll end up having to put a foot down.
MILE 13: You're in the middle of a fast two-mile descent here. It looks like it will last all the way back to camp. It won't. Save something.
MILE 14.4: After crossing a dry creek bed, you'll turn left for the half-mile-plus climb and quick descent back to camp.
MILE 14.9: You're not quite done. Make sure you ride into the scorer's tent to have your lap recorded and pass the baton to your teammate.
Trending on Outside Online