The Ultimate Yellowstone National Park Travel Guide
It isn't just the astounding geological wonders that give our country's first national park its allure, from 500 geysers that erupt up to 400 feet into the air to deep glacier-carved valleys and fossil forests. The vibrant megafauna and endless backcountry terrain make it one of the wildest areas in the country. And if you know where to go, you can avoid the crowds.
Heading out the door? Read this article on the new Outside+ app available now on iOS devices for members! Download the app.
Yellowstone is a trippy place. Its 2.2 million acres are dotted with bubbling mud pots, steaming hot pools of concentric rainbow hues, and some 500 geysers that spew water—and, occasionally, cinderblocks and decades-old pacifiers. Among it all are elk, bighorn sheep, and 1,000-pound bison that would just as soon toss you 10 feet in the air as look at you.
The people are just as strange. More than 4 million pour in from around the globe every year, causing mile-long bear jams on the park's two-lane roads, in addition to petting bison, challenging bison to fights, loading them into their cars, and peeing directly into Old Faithful. (Luckily, the park has its own jail.) Yellowstone visitors have been boiled to death in thermal pools, drowned while searching for hidden treasure, and, of course, eaten by grizzlies.
Personally, I find the mayhem fascinating (apart from people throwing garbage into geysers—honestly, what the hell?) and indicative of just how wild the landscape is. When president Ulysses S. Grant designated the area the country's first park in 1872, Yellowstone took hold in the modern imagination as the quintessential portrait of the American West and, despite its recent news coverage, has largely remained that way. Spanning the northwest corner of Wyoming and extending into parts of Montana and Idaho, the park's sheer magnitude means that, with the right planning, you can have the unspoiled experience that made our forefathers awestruck enough to preserve it.
Along with containing the largest concentration of geothermal features in the world, Yellowstone is one of the most ecologically diverse parks. Its most famous residents are its wolves, which have thrived since their 1995 reintroduction, helped revive the ecosystem, and have become a major tourist attraction in their own right. The park offers exceptional fishing and paddling on vast windswept lakes. It's threaded with more than 900 miles of trails winding over mountain ridges, past thundering waterfalls, and into remote geyser basins where you won't see another soul—after all, the common Yellowstone maxim is that fewer than 10 percent of all tourists make it more than one mile from the paved parking lots.
What You Need to Know Before Visiting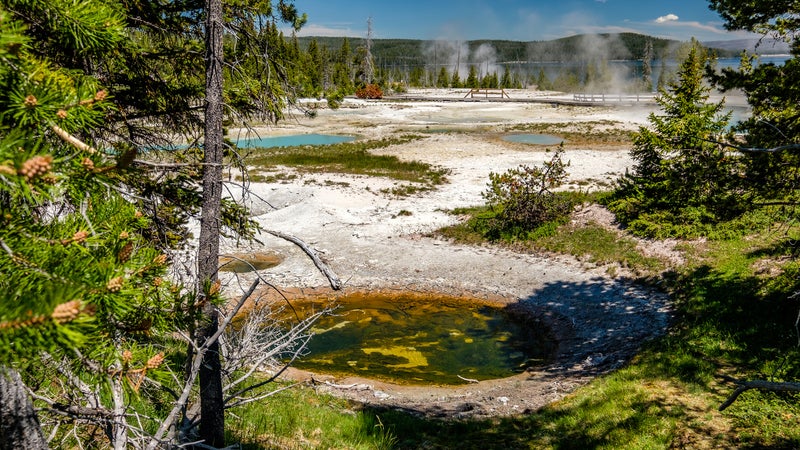 Bring a spotting scope, or at least some good binoculars. Yellowstone has been called America's Serengeti for the vast herds of bison and elk and the constellations of other charismatic megafauna that inhabit the park. Don't want to spring for a $400 spotting scope or a $1,000 telephoto camera lens? You can rent them by the day or week from camera stores in West Yellowstone or Gardiner, Montana (from $25 a day). Barring that, it's easy to borrow a look from the crowds of wildlife watchers and guides who line the roadways. A bit of advice on etiquette: Don't just roll up and demand to know what people are looking at from the window of your idling vehicle. Park safely off the road, stroll up to a group clustered around a spotting scope, and ask polite questions. They'll usually be delighted to share what they are seeing and what they know, and they'll most likely offer you a look through their lens.
Expect crowds in the summer. Around 43 percent of Yellowstone's visitors—some 1.78 million people—cram into the park in July and August. They're all jockeying for parking spaces, and crowds four people deep are watching Old Faithful erupt. Plan to visit popular spots like Old Faithful and the West Thumb and Norris Geyser Basins early in the morning; midday, head to the backcountry, where crowds thin quickly. The east shore of Yellowstone Lake, via the Thorofare Trail, is a great place to escape people.
Plan your hikes around the park's thermal features. Yellowstone became the world's first national park because of its thermal features, and they remain its prime attraction. Despite the crowds at Old Faithful, the Upper Geyser Basin is absolutely worth a look, especially if you can catch Grand Geyser, with its 200-foot-high plume (erupts every six to seven hours), and Riverside, which throws an arch of water 75 feet into the Firehole River every five or so hours, in the same visit. The park posts estimated eruption times online and on a board in the visitor's center. Steamboat Geyser, in the Norris Geyser Basin, features the world's tallest plume at 300 to 400 feet and has become exceptionally active lately. It was dormant for 50 years until an uptick of eruptions in the 1960s and has erupted record 38 times in 2019. Catching Steamboat is a matter of luck, but one indicator can help: If touring Norris, keep an eye out for Geyser Gazers, members of a 300-strong volunteer association who record observations for the park via two-way radios. If you spot someone running toward Steamboat yelling into a radio, you'd be wise to follow.
How to Get There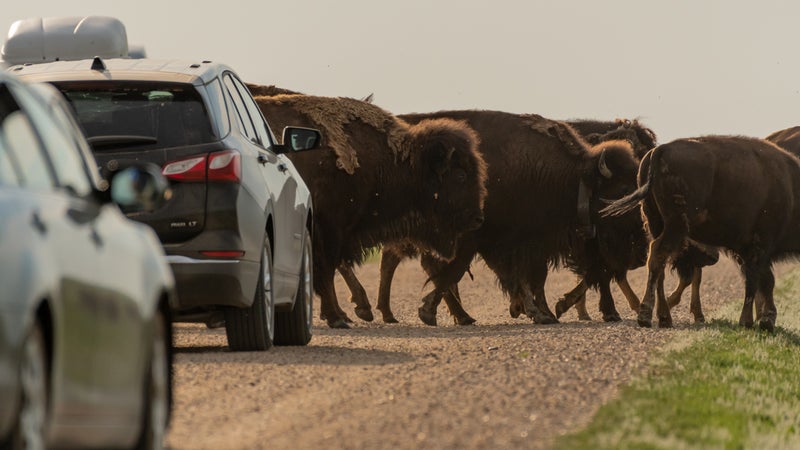 Yellowstone is fully in the grip of the automotive industrial complex—there is no public transportation to or inside the park. You can drive into Yellowstone via one of the five entrances: West Yellowstone, Montana; Grand Teton National Park to the south; Cody, Wyoming, to the east; Cook City, Montana, to the northeast; and Gardiner to the north. The closest major airports are Bozeman, Montana, to the north, and Jackson, Wyoming, to the south, both less than 1.5-hour drives to the park and stocked with cars for rent. Yellowstone's 466 miles of roads are all paved, so high-clearance four-wheel-drive vehicles aren't necessary.
When Is the Best Time of Year to Visit Yellowstone?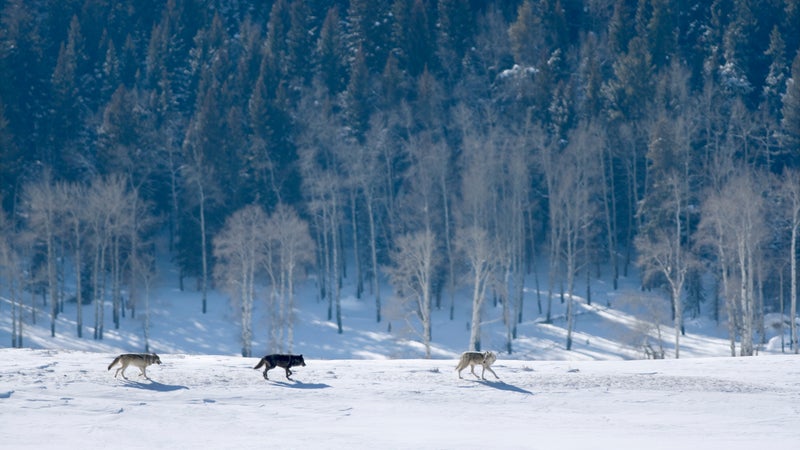 Winter: Most of the park's roads are closed from late fall to late spring due to snow and subzero temperatures. Park headquarters at Mammoth Hot Springs (near the north entrance) and Highway 212 from Mammoth to Cooke City (at the east entrance) are open year-round. Highway 212 traverses the Lamar Valley, where you'll find some of the park's finest wildlife watching. The remainder of the park opens in mid-December for oversnow travel by skis or snowshoes, snowmobile, or snowcoach—vehicles with tank-like tracks in lieu of wheels. For lodging, only two hotels, Old Faithful Snow Lodge and Mammoth Hot Springs Hotel and Cabins, are open, though visitors are welcome to camp with a backcountry permit, which are free in winter. (One advantage to sleeping on the snow: the grizzlies are hibernating.) Wolf watchers prefer winter, when deep snow makes for good tracking and easy visibility against the snow.
Spring: March and April are best for seeing the bears that have stumbled hungry from their hibernation dens. Bison and elk can be seen calving. In May, the wolf pups finally emerge from their dens. I have friends who plan a "baby animals" weekend in the spring to see the numerous newly born critters. Many park roads open around April 20, conditions depending, though many facilities like stores and hotels may not open until May, and some higher-elevation roads and campgrounds may not open until June. Check the park's hours page for details. In spring, expect few crowds, but plan for snow and temperatures between 30 and 60 degrees during the day and as low as single digits at night.
Summer: Especially in summer, don't expect to just snag a room at one of the park's nine hotels. Plan ahead—most rooms are booked a year in advance, as are many campgrounds. Some 70 percent of Yellowstone's more than 300 backcountry campsites are reservable by mail beginning on April 1. Applications cost $25 and ask for first, second, and third choices per night. The remaining 90 sites, apportioned equitably across the park, are left open each day to be claimed on a first-come, first-served basis, reservable up to 48 hours in advance of the night you plan to camp ($3 to $15 per person). Even if latecomers can't get their first-choice sites, they should be able to get a spot nearby. Temperatures average 70 degrees, and afternoon thunderstorms are frequent.
Fall: Fall is the ideal time to visit Yellowstone. The crowds and mosquitoes are gone; animals are more active (even fighting!) because of the rut and are fattening up for winter. September features crisp weather; October can bring snow, with temperatures that fall in the same range as spring.
Where to Stay in Yellowstone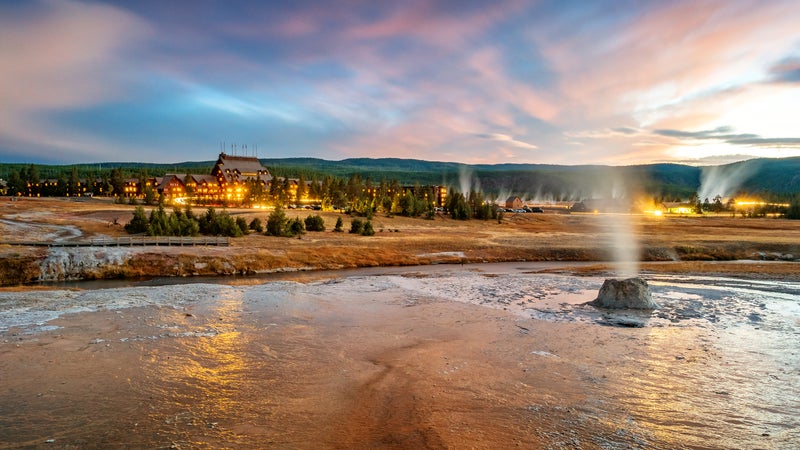 Outside Inc.'s National Park Trips offers a free

Yellowstone Trip Planner

filled with a complete itinerary, beautiful photography, a park map, and everything else you need to plan your dream vacation.
In the Park
Yellowstone's nine hotels offer more than 2,000 rooms and cabins and are booked through concessionaire Xanterra. The bright-yellow, 153-room Lake Yellowstone Hotel (from $217) is the park's oldest and most upscale. It was renovated in 2014 with expanded and modernized rooms, as well as restoration of the famously spacious dining room, lobby, and sunroom that features nightly piano or string quartet performances. The 327-room Old Faithful Inn (from $99) shares a spot on the National Historic Register with the Lake Yellowstone Hotel. Built entirely from local materials, it is considered the largest log structure in the world. Even if you don't stay at the Old Faithful Inn, its lobby is worth a visit. Seemingly random windows spread around the cavernous, 65-foot-high room are meant to mimic the way light falls through a forest canopy. The observation deck on the lobby's roof was closed to the public after an earthquake in 1959, but the inn allows eight people to attend the flag-lowering ceremony there each day at dusk. To make a reservation, call the hotel's bell desk at 307-344-7311 starting on May 8.
Car campers can claim one of 2,178 campsites ($15 to $30) spread across 12 campgrounds within the park. Five of the campgrounds are administered by Xanterra and take reservations. The other seven are first-come, first-served, including the more intimate 27-site Pebble Creek and 16-site Slough Creek campgrounds in the Lamar Valley, which are optimally located for early and late wildlife watching. Check availability here.
Beyond the Park 
Opened in 2018, the four-star, 50-guestroom Sage Lodge (from $259) offers a more stylish alternative to Yellowstone's massive hotels. A 35-minute drive north from the park and set on a 1,200-acre ranch overlooking the Yellowstone River, Sage specializes in fishing, horseback riding, and mountain biking outings, as well as culinary experiences like dry-aged beef tastings. Sage is pet-friendly (unlike Yellowstone's hotels) and has a full-service spa.
What to Do While You're There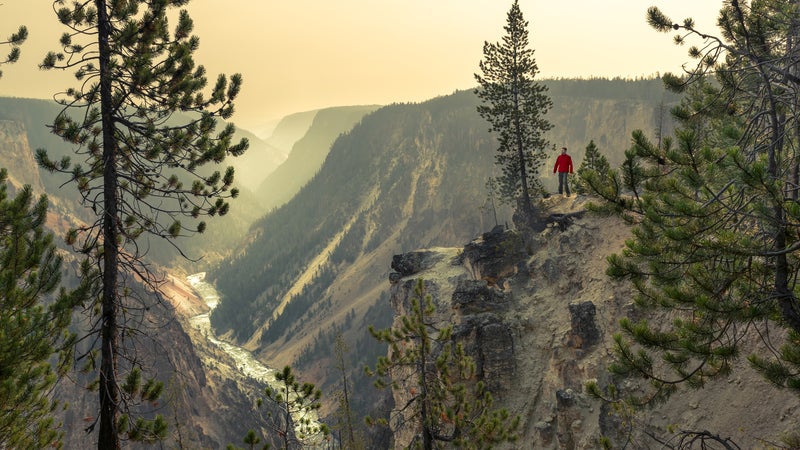 Hiking
Just 1.2 miles round-trip, the Grand Prismatic Springs Overlook Trail gets you a far better view of the world-famous multihued hot spring than the boardwalk running along its edge. Park at the Fairy Falls Trailhead, just off the west side of Grand Loop Road, and climb 105 feet to an observation spot for Instagram gold. From the path, which is within the park's Midway Geyser Basin, you'll also be able to see Excelsior Geyser, Turquoise Pool, and Opal Pool.
The 20.6-mile route to 10,969-foot Electric Peak makes for a good trail run or overnight hike (be sure to get a backcountry camping permit). Start at Glen Creek Trailhead, south of Mammoth Hot Springs, and head east through the open grasslands. The area is frequented by bison and grizzly, so stay heads-up and carry bear spray. Campsites 1G3 or 1G4, six miles from the trailhead, are closest to the pyramid-shaped peak.
The 32-mile Bechler River Trail, in Yellowstone's southwest corner, is a stone-cold classic. To do the four-day route between Lone Star Trailhead and the Bechler River ranger station, you'll have to ascend a moderate grade up the waterfall-studded Bechler River, through forests largely missed by Yellowstone's infamous 1988 fires. This trail also passes Lone Star Geyser, which erupts every three hours, and Mr. Bubbles hot springs, one of Yellowstone's few thermal features that are legal (and cool enough) to swim in. Go in August or September to avoid mosquitoes and crowds and for more moderate river crossings.
Biking
My favorite way to see Yellowstone is to cycle its roads in spring, when they've been plowed but are not yet open to cars. From the third week of March to April 20, depending on conditions, Highway 20 from West Yellowstone connecting to Highway 89 to Mammoth Hot Springs opens to human-powered traffic only—a pedal of 49 miles. Cycle between snowbanks and past bison herds, and visit the Norris Geyser basin. Overnight at Mammoth Hot Springs Hotel or Gardiner, 16 miles farther on, and then return the next day. Rent road bikes at West Yellowstone's Freeheel and Wheel (from $40), which also makes the town's best espresso.
Paddling
The 24-mile round-trip paddle to Shoshone Lake Geyser Basin is usually done as a three-day excursion, which includes spending a few hours exploring the 40-geyser thermal area on the west shore of Shoshone Lake. Put in at the Lewis Lake boat dock and head for the Lewis River Channel, a three-mile-long river connecting the two lakes. In late summer, you'll need to walk your boats through shallower sections. Snag campsite 8Q4 or 8R1 on Shoshone Lake if you can—both have black-gravel beaches for easy landing and good sunrise and sunset views. Start early—Yellowstone's lakes are notorious for ferocious afternoon winds. Rendezvous River Sports offers Shoshone Lake expeditions as soon as the ice melts in late spring (from $1,125).
Horseback Riding
While visitors are allowed to bring stock into the site (abide by stock-packing regulations), the park has dozens of private outfitters offering day trips and guided overnight backcountry trips that include stops for hiking and fly-fishing. Its nine hotels lead one-to-two-hour trips at Canyon and Roosevelt.
Wildlife Viewing
Yellowstone Forever, a nonprofit that supports park research and facilities, offers excellent wildlife guiding, educational programs, and expeditions year-round. Its winter Lamar Valley Wolf Week programs (from $780), which include lodging at a historic biology field station, generally sell out a year in advance. Consider reading Decade of the Wolf, written by the park service biologist who led the effort to reintroduce the animals to Yellowstone and, in the process, restored the health of the entire ecosystem.
The Best Places to Eat and Drink Around Yellowstone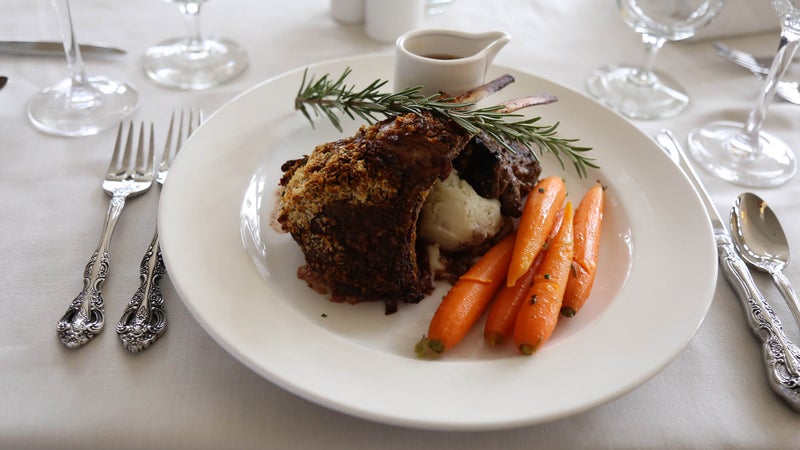 Catering to 4 million visitors a year, Yellowstone's eateries are more focused on quantity than quality. The good news is that Xanterra, the concessionaire that runs the park's catering, says that in 2018, 60 percent of their food purchases included at least one sustainable attribute, including regional production, eco-certification, or responsibly harvested products. Inside the park, the most upscale options are found at the Lake Hotel dining room, which serves steakhouse-style dishes. Early morning Lamar Valley wildlife-watching outings often end at the Roosevelt Cabins (open May to September) for a hearty late breakfast. Order the eggs and ham steak, sourced from Yoder, Wyoming. The park's best drinking establishment is in the lobby of the Old Faithful Inn, which features seating on two separate balconies ringing the main floor. Or grab a pint of Grand Teton Brewing's Old Faithful Ale (obviously), and people-watch as crowds stream through the lobby on one of the inn's historical tours, which happen four times daily.
Outside the park boundary, the Grill at Sage Lodge specializes in fish and meat, like bison filet and chicken-fried rabbit, cooked over a wood fire. In Gardiner, where many of the park guides reside, the Wonderland Café serves upscale comfort food like baked elk chili mac, as well as good vegetarian fare. For drinks, the Iron Horse Bar and Grille is a friendly institution featuring bric-a-brac decor. Grab a Montana microbrew and catch the sun's last rays on the huge deck overhanging the Yellowstone River.
If You Have Time for a Detour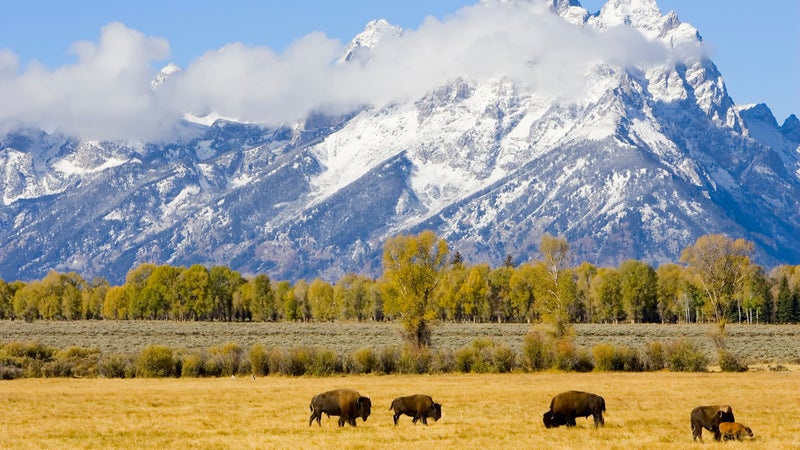 Chico Hot Springs, in the Paradise Valley, an hour north of the park, opened in 1900 and remains a celebrated piece of authentic Americana. The resort features a pair of geothermically heated mineral pools, a hotel, a dining room known for its steak, and a funky saloon with live music and dancing on Friday and Saturday nights.
It's worth stopping by Grand Teton National Park (from $20), which lies just 6.9 miles to the south. Grand Teton is an adventure playground, featuring iconic mountaineering and backpacking routes, as well as world-class fishing and boating on Jackson Lake and the Snake River. At Grand Teton's doorstep is the town of Jackson, renowned for fly-fishing, whitewater boating, mountain biking, and a bustling arts and culinary scene.
The Beartooth Highway, at Yellowstone's northeast corner, between Cooke City-Silver Gate and Red Lodge, is one of the country's most spectacular drives. This National Scenic Byway swings through the Absaroka and Beartooth mountains at elevations up to 12,000 feet and includes views of glaciers, granite peaks, and high alpine lakes. It also includes summer skiing at Beartooth Basin, which opens as soon as the road does in June (usually around June 15).
How to Be Conscious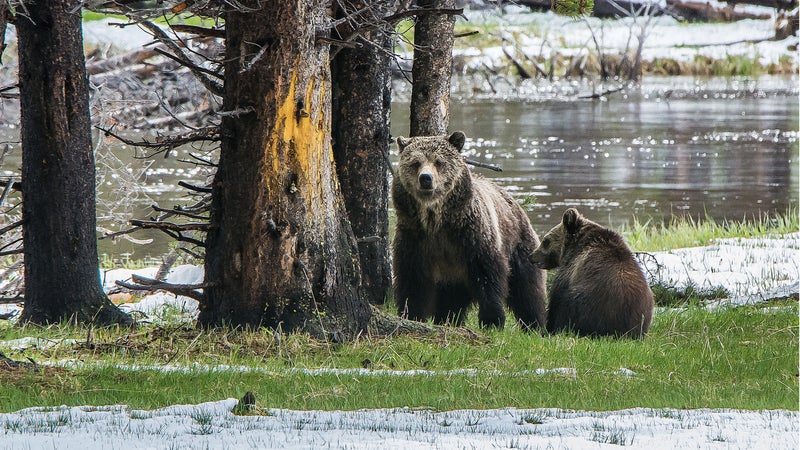 The most popular book in the park's gift shops is Death in Yellowstone, and for good reason—it's chock-full of accounts of unusual fatalities, from being mauled by grizzly bears to boiling to death in 212-degree pools. Don't add your name to the list, because, to to paraphrase Keanu, those who love you will miss you, and because your passing will likely impact Yellowstone's delicate ecosystem. If you're killed by a bear, that bear will likely be put down. The aforementioned bison stashed in the hatchback? Also put down. Letting your boiled bones settle to the bottom of a hot pool may affect its plumbing. Less dramatically, even stepping on the surface of thermal features can mar them forever. It's also illegal and can get you jailed and barred from federal lands, as three Canadian bloggers famously discovered in 2017. The park has a lengthy web page devoted to protecting yourself and the park, including guidelines on safe distances from which to view wildlife, how to store food in bear country, and warnings about lightning, drowning, falling trees, hypothermia, and insect bites.
Corrections:
(02/22/2022) This story has been updated to reflect Sage Lodge is 35 minutes from the north entrance of Yellowstone. Outside regrets the error.
Lead Photo: XIN WANG/iStock