What It Was Like in Europe as the Coronavirus Spread
While reporting a story about skiing in Spain, Kade Krichko felt far away from the coronavirus, until he watched it take over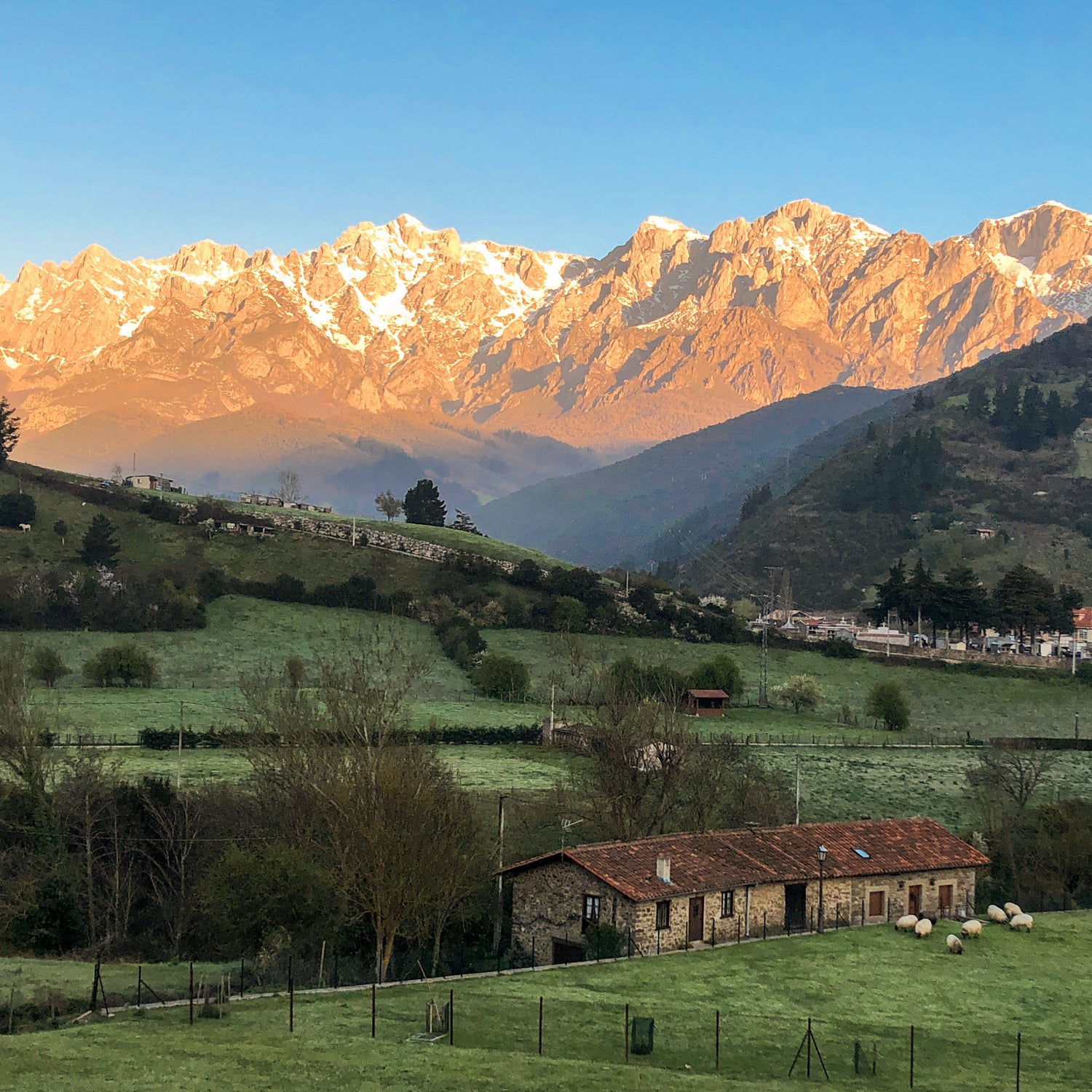 Heading out the door? Read this article on the new Outside+ app available now on iOS devices for members! Download the app.
Everything fell apart at 2,500 feet. Julio, Alberto, Fernando, and I had spent the day skiing secluded Spanish peaks, carving easy turns into forgiving corn snow, and putting close to 14 miles on our ski legs. Climbing out of the high-alpine amphitheater, we watched airplane contrails crisscross the late-day horizon. A wet slide rumbled downhill in the distance. As you so often do in the mountains, we felt at once untouchable and insignificant. 
As we rounded the corner to our exit ridge, texts that had been hanging in dead-zone service limbo came rushing forth on our phones, an onslaught of panic and confusion. The coronavirus had arrived in Spain a few weeks ago, but it caught up with us on the crest of the Valley of Valdeón in the north-central part of the country. "We lost Madrid," murmured Julio, who, along with Alberto and Fernando, works as a professional mountain guide. Clients that were set to arrive from Spain's capital city, fearing that they would be officially locked down within the next few days, were canceling their weekend clinic. The trio continued reading the bad news aloud. A group of Valencians who had booked months in advance had backed out as well. Summer tour groups were pulling the plug—from Spain, England, Germany—one after the other. In the span of minutes, my group of new friends watched a third of their annual income evaporate. Julio's impenetrable smile waned. The mountains that had seemed so invulnerable hours before were no longer a shelter from the world's terrifying new reality.
Numb, we chased the sun until it hit the last jagged outcroppings of limestone and gneiss. As it disappeared, we made our way down toward the dark unknown below. 
I had landed in Europe two weeks earlier, on assignment for a U.S. ski magazine, and was eager to reconnect with the continent I had called home for three years. I moved to Spain in 2017 to freelance and learn a new language, and it was my first time back since returning to the U.S. in November. My plan was to make my way up to Bilbao in Spanish Basque country before chasing snow in the north of Italy. 
For most of the winter, the coronavirus had been stealing headlines in China, and it had already made landfall in Italy when I arrived in northern Spain on February 26.
Its spread through the Italian countryside was enough to set off alarm bells, especially the rapid rise of cases in Lombardy, a northern region whose capital is Milan. Every morning I monitored the numbers, and, as the virus touched down on the Spanish island of Tenerife and then the capital of Madrid, I started a tally for Spain as well.
But the virus still felt foreign, far away. I settled into the Basque routine I had carved out during the years I lived in Iberia. I went to a Saturday soccer match, packing in with thousands of red-and-white-clad fans to cheer on the local pro team, Athletic Bilbao. I spent the evenings with old friends in the plazas of Casco Viejo, enjoying sidra and pintxos, the Basque version of cider and tapas, as kids in school uniforms chased each other around. I even caught the last day of carnival in a nearby village, sharing food with a raucous local community group. Irreverent, the sign above their stand mirrored my own feelings of denial: "Here we eat together, we drink together, we kiss each other. Coronavirus, you're not invited to the party."
On March 8, I made the decision to cancel my trip to Italy as the number of cases there topped 7,300. In Basque country, despite occasional news of case clusters around the peninsula, I still somehow felt safe. Newspapers showed Athletic Bilbao's victories on their covers. At the time, those sick and dying from the virus were hidden on page three. 
Trying to adjust my assignment, I rerouted my plans to a mountain range in the north of Spain, connecting with Julio through a friend. 
Irreverent, the sign above their stand mirrored my own feelings of denial: "Here we eat together, we drink together, we kiss each other. Coronavirus, you're not invited to the party."
On March 10, a day before we were to meet in the mountains, the momentum abruptly shifted. The case tallies for Spain I'd been scribbling in my daily travel journal started jumping—from 13 to more than 2,200 in a little over two weeks—and Madrid announced the closure of all of its schools, effective immediately. We didn't realize it then, but it was the first move in a domino cascade of efforts to control a pandemic that was already well underway. Within an hour, Vitoria, the capital of Basque country, shuttered its schools as well, with the promise of more closures in the coming days.
After the bad news on the mountainside, I was grappling with our new reality in a Bilbao Airbnb when President Trump announced his sweeping European travel ban. For the second time in six hours, I was inundated with texts, this time from friends and family in the U.S. I frantically tried to reassure my loved ones that I was safe and that I knew I had less than two days before the ban would rupture travel between the two continents indefinitely. I'll be honest: I went to bed angry. I had two weeks left on my trip, why should I have to leave? Why all the fearmongering? 
I woke up defiant, ready to stick it out in Bilbao, where I felt equipped to weather this storm, despite the many cases already reported around the city. But I had woken up to a different Europe. The streets that normally pulsed with a human current sat empty. Instead, lines of agitated people trailed out of grocery stores, and restaurants hung "closed" signs. The warm morning greetings always accompanied by dos besos (two kisses) were replaced by looks of distrust and uncertainty. This was not the welcoming city I was used to. This was something else: Paranoia. Fear.
That afternoon an expat friend called to tell me she was locking herself into quarantine at home. Julio texted that he didn't think they would be skiing much after the announcements. But my focus was now far from the mountains.
I thought of my sister back in the U.S., seven and a half months pregnant, who was somehow still more worried about me and my safety. Was I going to get stuck here and miss the birth of my first niece? Worse yet, would I be a health risk by returning and being in the same room? My mind raced, as my initial confidence unraveled.
As I sit in self-quarantine thousands of miles from Spain, trying to do my part to end the COVID-19 cycle, I worry that Europe's story is already starting to repeat itself at home.
My instinct as a world traveler has always been to adapt to the situation on the ground, to endure and find a solution. But what if my presence could potentially put others' health at risk, not only in Spain but back at home? As everyone scattered, I suddenly felt alone and exposed in a place that now felt more foreign than ever before. The script was rewriting itself in real time. I thought of my sister. I knew it was time to go.  
Calling to change my flight, I hit a wall of four-hour wait times and dropped connections. A mass exodus of American tourists were jamming the phone lines. I eventually managed a ticket change by working through the lesser used Spanish help hotline, sliding just under the lowering travel-ban door. I left with pangs of guilt, feeling as if I were leaving my Spanish friends to fight this new battle alone.
The layover in Paris was like a disorienting family reunion, except instead of aunts and uncles, it was other U.S. citizens—a whole lot of us. A Florida flight attendant hoping to squeeze her friend into standby. A man from Portland, Oregon, who had just finished a ski trip across Finland. An entire class from an Alaskan high school that had cut its senior trip in half. Like everyone I spoke to, I was operating on the hope that, if we could just get on that flight, everything would be all right. But once in my seat, the shame that maybe I was bringing the virus home with me started to seep in.
Two days later, Spain entered total lockdown. My friends can only leave their apartments to get food and medicine. Some can escape to walk their dogs. Anyone else will be fined by the police, who patrol the streets 24 hours a day. The total number of sick now tops 20,000.
From the comfort of Basque country, I watched as Italy made all of the mistakes. Then my friends and I went and made them ourselves. Soccer games, festivals, parties—we lived like Italy's situation could never happen where we were, let alone in the U.S. We didn't know it would go this far.
Now, with new directives from the State Department telling U.S. citizens in international countries to come home immediately or be prepared to stay put, thousands of others face an even more difficult decision. As I sit in self-quarantine thousands of miles from Spain, trying to do my part to end the COVID-19 cycle, I worry that Europe's story is already starting to repeat itself at home.