Operation Afghanistan Rescue
Writer Jason Motlagh has been reporting in Afghanistan since 2006, which has involved developing close relationships with Afghan journalists and their families. He and a network of media colleagues are currently in a race to get more than 100 of them out of the country as the Taliban cracks down.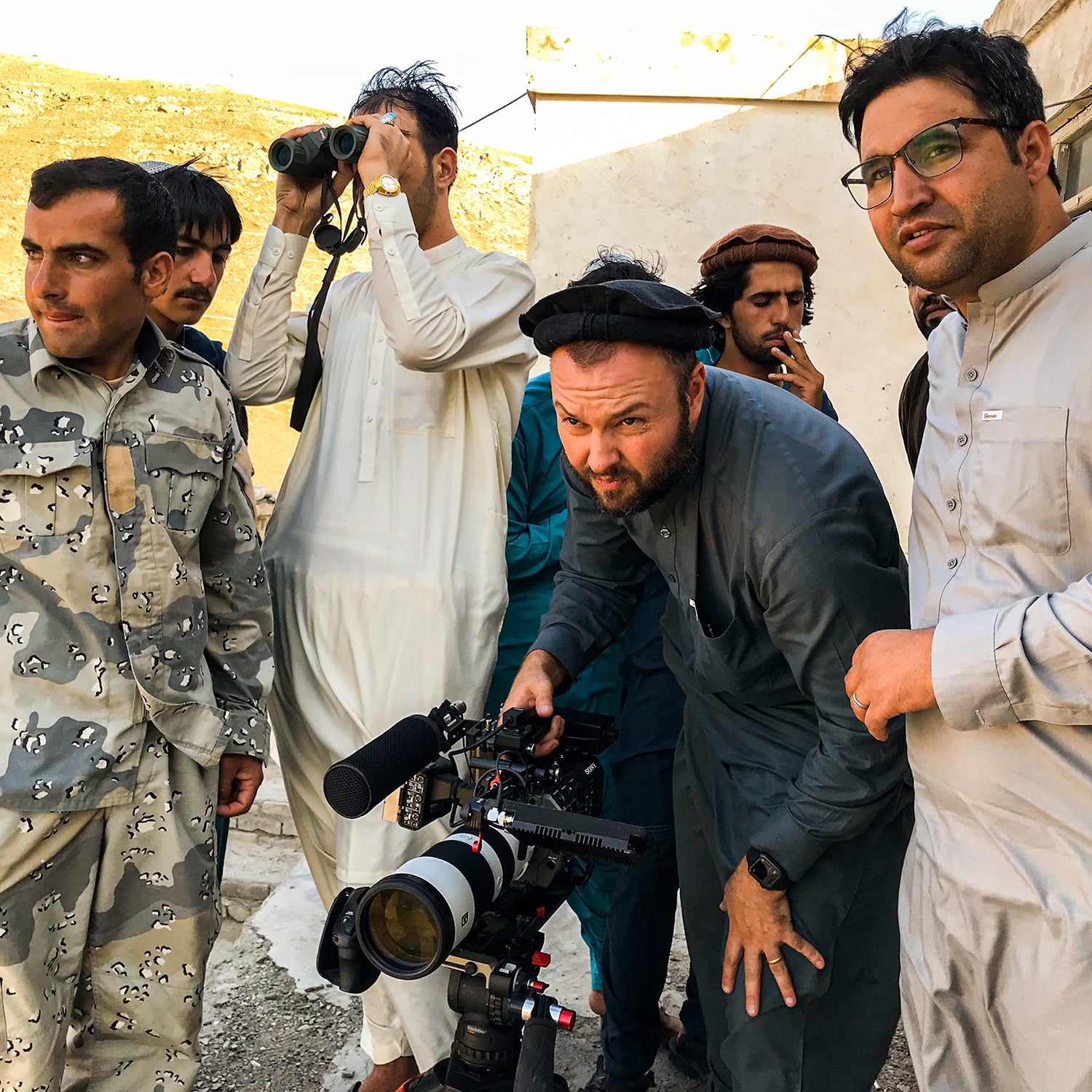 Jason Motlagh
Heading out the door? Read this article on the new Outside+ app available now on iOS devices for members! Download the app.
Jason Motlagh, who's been reporting in Afghanistan off and on for the past 15 years, wrote an unforgettable Outside story in 2017 about the wild and dangerous horseback sport called buzkashi. Working in a nation at war required developing a network of dependable journalists, translators, and travel facilitators. And when Afghanistan devolved into a state of chaos during the rapid takeover by the Taliban, we asked Motlagh if he's involved in efforts to get people he knows out of harm's way. He said he is. How many? "Right now it's more than 100."
Motlagh happened to be in Santa Fe, and he came to the Outside offices to discuss the evacuation effort with editorial director Alex Heard. Just as they were sitting down, Motlagh's phone rang. On the other end was a man who's currently hiding in Kabul and in fear for his life. Motlagh tried to calm him down—"Remember that there's a plan and we're working on it"—but his words only seemed to be of partial help. The man was terrified and despondent, and he said he'd just gotten word that two of his colleagues had already been captured and killed by the Taliban. Their crime? Working with Westerners.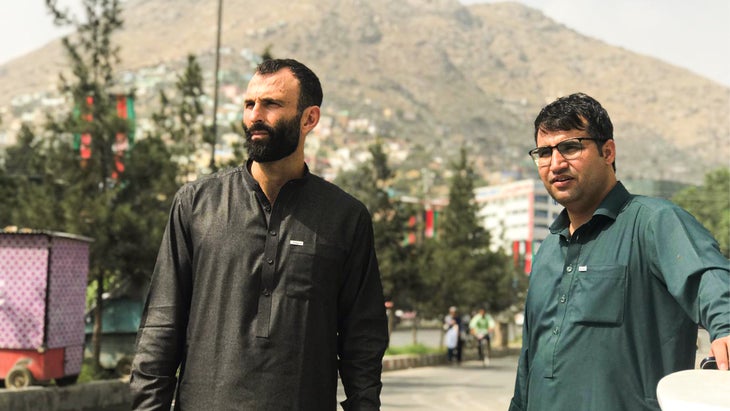 OUTSIDE: Don't use names, obviously, but walk us through the particulars of somebody who you and others are trying to save.
MOTLAGH: One is a friend I worked with a few months ago in Kandahar on a National Geographic assignment. He's an experienced Afghan journalist, one of the beneficiaries of the post-Taliban era who received training and some funding from Western organizations to become a reporter. He's from Helmand Province. Several of his closest reporter friends have been assassinated over the past year, part of a systemic campaign to take out people who, under the Taliban regime, would be considered undesirable.
So his being a journalist is, by itself, enough to get him targeted?
Not necessarily. It's the fact that he has aggressively reported on Taliban lies and abuses. When the militants were encircling Kandahar, he had to get his family out because he was on a hit list. He knows that for a fact.
And if he's caught he'll be executed?
He's been told as much. He has a wife and six children.
What has to happen to rescue people like this? How do you get somebody out?
This man and his family already got out of Kandahar and fled to Kabul. Now they're hiding there. We're trying to get them on a flight—one of these ad hoc flights organized by the U.S. military. The challenge in this case is emblematic of a lot of the cases we're managing. He has the documents he needs. His children don't. That complicates the exit process.
Have you seen any improvement in the logjam we keep hearing about?
It seems like some of the bureaucratic hurdles are now at least starting to melt away. People are getting how urgent this is, and that we have to act as quickly as we can and work together. The folks I'm working with at National Geographic, and a network of journalists who have worked in Afghanistan, are doing everything they can to get people out.
Once the paperwork is set, what happens?
It's a matter of gathering everyone and getting them to the airport, through the chaos outside. That's the real challenge now.
Do they have to go through Taliban-controlled checkpoints to get there?
Yes. Which, as you can imagine, is not going to be easy for a lot of evacuees to swallow. They're fleeing the Taliban. They have a mortal fear of the Taliban. It's a waking nightmare.
Moving back in time a bit, I assume that the deal made by the Trump Administration was like a signal for you, in that you knew it was time to start preparing for this massive transition. Did you assume it was going to be this chaotic, or has that been a surprise?
I think we saw the writing on the wall—that the Taliban were gathering force, and that things were falling apart in the provinces. But I don't think anyone anticipated that the fall would be this precipitous. You know, until about two weeks ago, the Taliban didn't even have a provincial capital. No one saw this happening as quickly as it happened.
What's been so damn frustrating is that a lot of us—journalists and people who have worked with Afghans, foreign military, NGOs—have been trying to coordinate visas for Afghans  for months and months. And it has felt like a totally futile process, just full of bureaucracy, basically sending messages into a black hole. The U.S. could have made this a lot easier by expediting that process. That's one of the reasons we're stuck with this massive bottleneck now.
The Trump and Biden Administrations are very different, but did you expect Biden to handle this better than he's done? Or are you not really surprised?
Trump made his commitment to withdraw, and after that the question became: Will Biden stick to Trump's timeline—which had the U.S. military exiting completely by May 1—or would he bump it back? He ended up delaying it just a few months. Biden made it clear, as he has in the past, that he wanted U.S. troops out, ending the so-called Forever War. And I think that both Trump and Biden were in alignment on this. Politically, it was the place to be: support among the U.S. public for this war was gone. I think it worked in Biden's favor to continue the Trump playbook and get troops out. But he definitely owns how it has played out. We never saw any meaningful signs that he was planning for the worst case scenario and streamlining the bureaucracy to issue visas and begin to evacuate the people whose applications have been pending for years. My people are journalists, but there are thousands of people who worked with the U.S. military, bet their lives on support, and were promised an exit card when the time came. It simply hasn't happened. And then there's this fiasco at the airport. With all other outlets gone, how on earth did anyone in the U.S. government or military think a mass evacuation could be carried out at a facility smack in the center of a city of 4.5 million? A total failure of leadership at the highest levels.
Looking at the people in your group, where would they go if given the choice?
Every person I've worked with over 15 years, man or woman, would come to the U.S. right now—across the board. I think some see that their prospects and support may be better in some European countries or Canada, but if given the option versus what they're facing now? Absolutely, 100 percent, they would leap at the chance to live in the U.S.
What makes them still want to come here?
For all the disappointments and the betrayal that a lot of people are feeling, many Afghans have had strong relationships with Americans. Many have family members who fled previous wars and went to America. So they have roots here. I think many Afghans, based on their impressions of the U.S., still have a high degree of hope about life here, an expectation of security and opportunity. At least compared to the alternative at home. But they're devastated to leave the land they love.
There's been a predictable amount of racism about the prospect of large numbers of Afghans suddenly coming here. There was a picture of a planeload of refugees on social media, with a caption that went something like: Do you want this landing in your town?
I would. I've been fortunate to meet a lot of extraordinary people in Afghanistan over the years, people who take the values that the U.S. stands for very seriously, even bet their lives on them. These are people who have really enriched our understanding about what's happened in Afghanistan. I couldn't have done my work without them.
Have you lost anybody yet—that is, have any of the people you're trying to save already been killed?
Not that I know of. Though people we're trying to get out of the country have already lost family members and friends.
And have any of your friends and colleagues gotten all the way out?
Yes, this morning we got the first bit of good news. A man named Aziz Tassal, a reporter for the Washington Post who is one of my closest friends and someone I've worked with for the last five years, had made it from Kabul to Doha, Qatar. We just got word that he and his family arrived in Washington, D.C., with his wife and four children. We started working on projects for Al Jazeera years ago, and have since teamed up on some documentary films and several stories for Rolling Stone. He's been my right hand man and we've become very close friends. I'm so grateful that he's out. It gives me hope for others.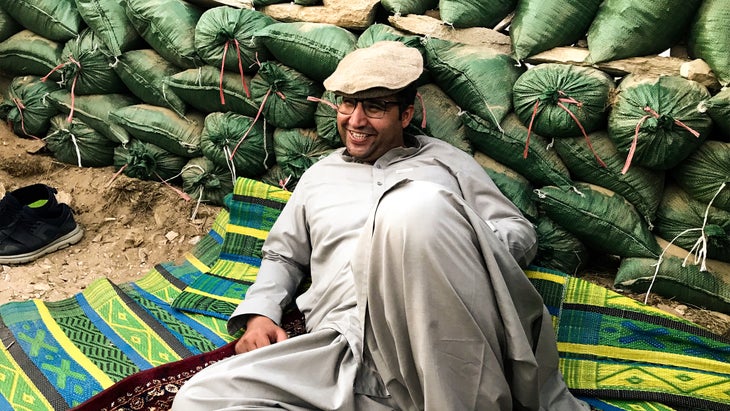 As Afghan refugees make their way to the U.S., how can Americans best support them?
There are plenty of organizations, national and local, that are preparing to receive Afghan refugees. We have to remember that a lot of these people have left their homes in the dark of night with maybe nothing more than a backpack. So, good places to start are by volunteering to pick people up at the airport, and help with living arrangements and meals. Donating food, clothing, and other basic essentials will go a long way. And when the time comes, Afghans will need help securing jobs, arranging, child care, and getting the emotional support they need to integrate in their new communities. Among established organizations, two good ones are the Lutheran Immigration and Refugee Service and Homes Not Borders. Boundless has this helpful Guide to US Immigration, including information for refugees.
What scares you most about what's happening in Afghanistan right now?
I think there's a huge disconnect between what you're seeing in Kabul day to day—where the Taliban, who are savvy about  cultivating the media, are trying to make a good impression—and what's happening in the provinces. We don't know the full extent of what's going on because reporters are just unable to get there. But it's clear that really bad things are happening in the dark. We know, through word of mouth, through social media, that there have been summary executions of people connected to Westerners. We know that people are disappearing—not to be heard from again.
Lead Photo: Jason Motlagh