Can I Safely Fly With My Unvaccinated Kids?
After a long year of staying put during COVID-19, families are dreaming of spring breaks and summer vacations. But should you book that flight? Our experts weigh in.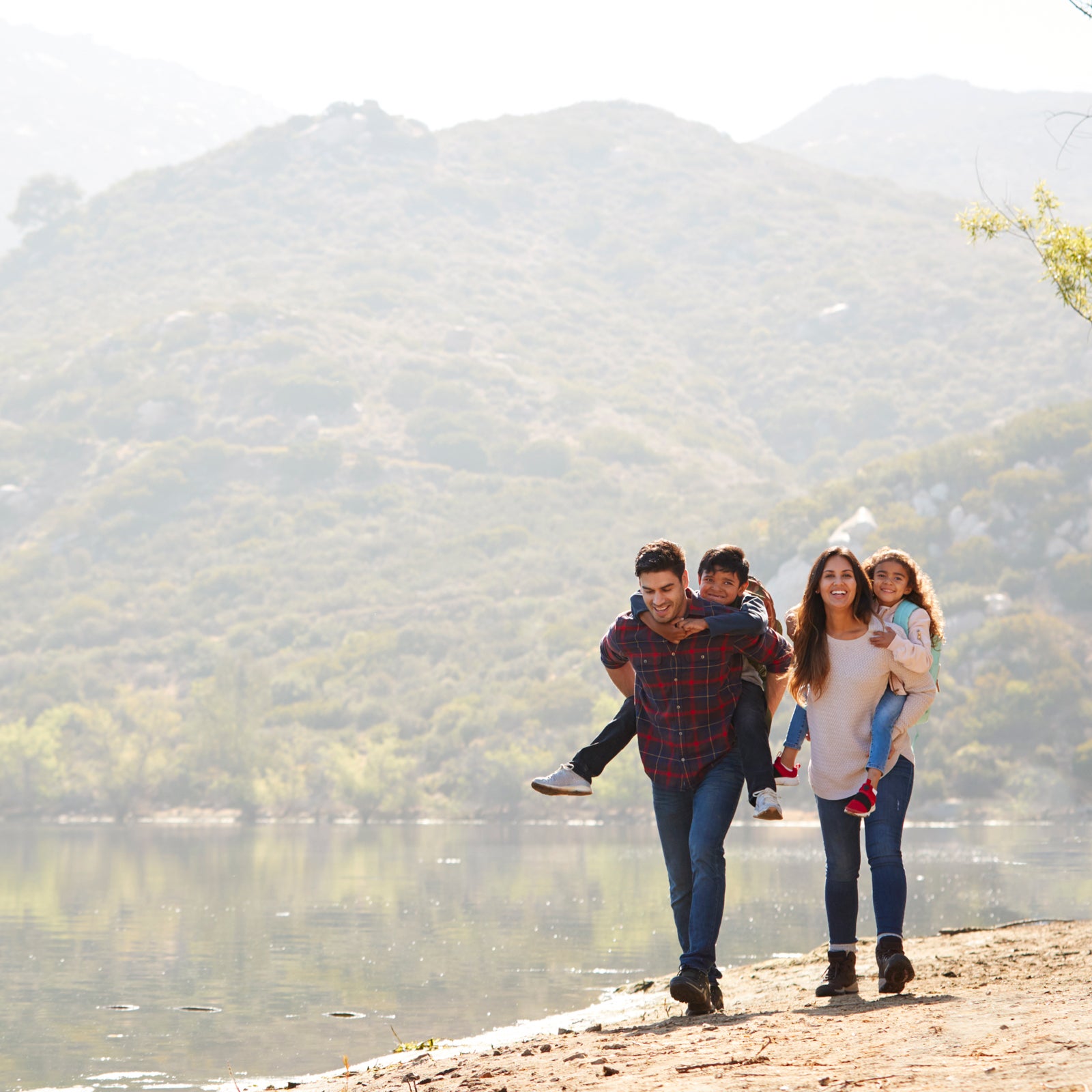 monkeybusinessimages/iStock(Photo)
Heading out the door? Read this article on the new Outside+ app available now on iOS devices for members! Download the app.
As of Friday, April 2, fully vaccinated adults received the all-clear from Centers for Disease Control and Prevention to travel without the need for COVID-19 tests and quarantining. But what about their unvaccinated kids?
Experts say that depends. 
Current projections suggest that all American adults who want the vaccination will have it made available to them by early summer. As a result, Jennifer Nuzzo, senior scholar at the Johns Hopkins Center for Health Security, expects that virus case rates will drop by fall. At that point, she says that traveling with unvaccinated kids on planes will generally be a low-risk activity. Before then, the risk will vary based on each family's individual circumstances. 
In fact, it's not the plane travel itself that poses the greatest risk to unvaccinated travelers. Nuzzo says that airplane filters actually do a good job of preventing virus spread. It's during mealtimes in the air when travelers—especially those who remove their masks—are most at risk. Of greater risk? The interactions that happen before your plane is airborne, including gathering with strangers in airports or stopping to dine in restaurants, she says.
Mask-wearing, keeping your distance, and washing your hands will likely be recommended for the considerable future, says Nuzzo: "We're talking about continuing to layer interventions to make it as low-risk as possible." But, experts warn that even when we are taking all the right precautions, low risk and no risk are two different things. Deciding if your family should travel will remain a highly individual decision dependent on your children's underlying conditions, Nuzzo adds. 
"It's not zero risk," says Amber D'Souza, an epidemiology professor at the Johns Hopkins Bloomberg School of Public Health. "There absolutely are children getting sick. And we're concerned about some of the long term health consequences as well."
Data from the past year has made it clear that children and teenagers can get COVID-19. The difference is that most healthy kids without underlying conditions who are infected have milder, or no, symptoms. According to the American Academy of Pediatrics, children make up only about 13.4 percent of patients and 0.19 percent of all COVID-19 deaths. And studies show that the risk to kids age 5 to 17 is far less than those older. Babies under the age of one even less so.
Recent comments made by C.D.C. director Dr. Rochelle P. Walensky, in which she suggested that vaccinated people can't transmit the virus, received some pushback from scientists. On April 2, the agency shifted its position to say that while fully vaccinated people are "less likely to have asymptomatic infection and potentially less likely to transmit" COVID-19, further investigation is required. 
In terms of when we can expect less risk traveling with children, those who are 16 and older are expected to be eligible for the Pfizer vaccine shortly, and the recent announcement about the success of its clinical trials on children between 12 to 15 suggests that that age group might become qualified by the start of the school year in fall. Pfizer's testing of children aged 5 to 11 has already begun and will start on ages 2 to 5 shortly. Moderna is expected to release its results from a study on 12- to 17-year-olds sometime this summer, and announced last month that testing has started for children aged 6 months to 11 years. If results of vaccine testing continue to show a high-level of virus antibodies, the final approval stages could be swift. "Delaying vacations until a little bit later in the summer might also allow some of those adolescents to be vaccinated," says D'Souza.
When it comes to taking your kids abroad prior to being vaccinated, Nuzzo warns that that adds another layer of unpredictability. "Internationally, it's a lot harder to calculate, because you don't know what other countries' epidemics or travel restrictions are going to be like." Currently, everyone over the age of two who hasn't been vaccinated still has to be tested within three days prior to flights back to the U.S. "What if one of your kids becomes infected while on vacation and tests positive? Be prepared for this and check if your resort will offer free or discounted stays if you have to remain quarantined there for additional days," says Nadeen White, a travel blogger and pediatrician in Atlanta.
"After a year of this, we're all really excited to travel again," says D'Souza. "But we want to do it in a way that minimizes risk. It shouldn't be a vacation like your pre-pandemic vacations." Experts suggest taking direct flights if you're going to fly, continuing to wear masks in public, and opting for domestic trips that offer outdoor activities like hiking, biking, and camping, which remain among the safest activities when it comes to limiting COVID-19 transmission. 
Lead Photo: monkeybusinessimages/iStock
Trending on Outside Online