The Ultimate Guide to Bonfires
How to build a huge fire while staying on the right side of the law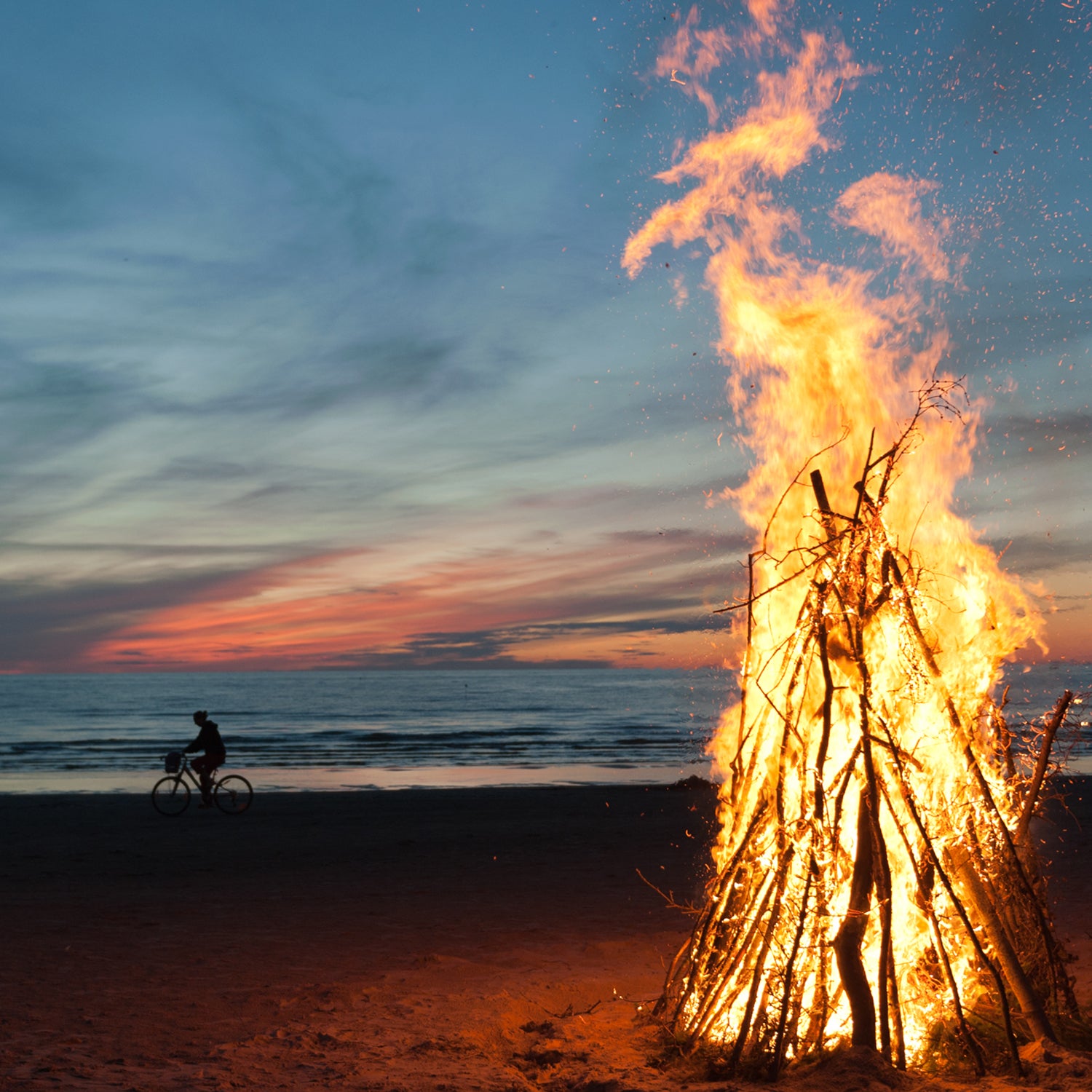 weintel/iStockphoto(Photo)
Heading out the door? Read this article on the new Outside+ app available now on iOS devices for members! Download the app.
There are certain experiences that define summer in all its glory. A cold beer after a hot mountain bike ride. A morning dip in a river after camping. Jumping from a rope swing into the body of water of your choice—these experiences reside somewhere between frivolous distractions and God-given rights. At the top of this list? Sitting by a bonfire on a beach. Picture the sun setting, the waves lapping the shore, the sand between your toes, and a fire roaring…there are beverages, and maybe someone playing a guitar (if one of your friends is "that guy") but mostly, you're just taking in the scene.
But you can't build a bonfire on just any beach. That would be anarchy. Luckily, there are a number of choice strips of sand outlining our coast where campfires are Kosher. We've found five such beaches, and detailed how you can build a fire safely and tick off one of summer's most quintessential experiences.
How to Build a Beach Bonfire
If you can build a campfire, you can build a bonfire on the beach. You'll just need a few extra tools, namely a shovel and a few sturdy buckets. If the beach has an established fire pit, most of the work is done for you. If not, start by picking the site, which needs to be at least 50 feet from any vegetation or sand dunes. Ideally, you'll choose a site that's below the high-tide line.
The Prep: Dig a hole about three feet wide, three feet long, and two feet deep. Use the loose sand to build a ring around the fire to help block the wind. For fuel, stick with wood bought near the site, or driftwood scavenged from the beach. Don't use pallets or construction debris; you don't want to leave behind nails, staples, or screws in the sand.
The Fire: Teepee or log cabin? The shape of your fire lay is a personal choice, much like boxers or briefs. The real question is about size. How big is your blaze going to be? It's tempting to go big when you're building a bonfire, but modesty is the best approach. Most fire departments and land managers have specific fire size guidelines. Regardless, we suggest erring on the side of moderation. Think robust campfire, not a towering signal fire.
Clean Up: This is the most important stage of the bonfire. Don't bury hot coals because the sand will act as insulation, keeping the coals hot much longer than you would think. Instead, you're gonna use those buckets you brought to drag water from the ocean and douse the flames completely. Then douse them again. And again. Once the fire is completely out, use those buckets again to haul away everything, from the half-burned logs to the ashes in the sand. Leave no trace.
5 Beaches Perfect for Bonfires
Ocracoke Island, Cape Hatteras National Seashore, North Carolina
You have to take a ferry to reach Ocracoke, one of the barrier islands off North Carolina's coast, but the destination is worth the trouble. More than 16 miles of pristine beaches and grassy dunes stretch north of Ocracoke's small village, giving you plenty of room to spread out. You have to camp in designated campgrounds, but you're free to set up a bonfire in the sand between the dunes and surf. Bonus: You can drive your truck on the beach. Just be sure to snag a permit from the National Park Service before lighting a match.
Perdido Key, Gulf Islands National Seashore, Florida
The Gulf Coast is lined with beaches where bonfires are allowed (some areas need permits); there are even companies who will set up and manage the bonfire for you in certain spots. But for a more primitive experience, head to the Gulf Islands National Seashore, a collection of barrier islands and undeveloped beaches in Mississippi and Florida. If you have a boat, head to Horn, Petit Bois or one of the other barrier islands on the Mississippi unit of the park. If you're on foot, Perdido Key in Florida is your spot. After a half-mile of beach hiking, you'll have your choice of wide-open sand between the dunes and surf. You're not going to want to lug firewood on the hike, so be prepared to scavenge for driftwood. And keep the fire to the size of a respectable campfire.
Corona Del Mar State Beach, Newport Beach, California
Known locally as Big Corona Beach, the half-mile of sand is framed by tall cliffs, and might be one of the most beautiful beaches in Southern California. The picturesque scene has long been a favorite of Hollywood, serving as a backdrop for Gilligan's Island and countless Disney productions. The state beach has a handful of fire rings available on a first come, first serve basis (no permit necessary). Look for the fire rings closest to the water (the ones high on the beach near the grass are for charcoal only), and show up early to claim a spot—this is a popular beach.
Drake's Beach, Point Reyes National Seashore, California
Northern California's Point Reyes National Seashore has 80 miles of rugged coastline, some of which require several miles of hiking to reach. Drake's Beach is one of the more accessible spots, but still stunning, with tall, gray cliffs sloping away from the sand, all of which is typically blessed with Northern California's signature fog in the morning. Build your fire below the high tide line and keep it 50 feet from any vegetation. For fuel, gather driftwood that's smaller than your arm and keep the fire at a reasonable 3'x3'. Get a free permit from the park service the day you're planning to build the fire.
Cannon Beach, Oregon
Cannon Beach's most famous attribute isn't on the beach at all—it's Haystack Rock, a massive basalt outcropping rising 235 feet from the water just off the coast. There are more outcroppings to explore along the stretch of sand, as well as grassy dunes, all of which is framed by green mountains that slowly rise from the coast. And it's all just 90 minutes from Portland. Get there well before sunset to explore the tidal pools that are revealed at low tide. Driftwood might be scarce, so buy wood from a local spot, and build your fire below the high tide line well way from any vegetation.
Lead Photo: weintel/iStockphoto
Trending on Outside Online