Outside Business Journal
As Marmot Approaches 50, the Brand Is Getting a Makeover
The heritage outdoor brand has a new leadership team in place and a new vision for the way it makes and markets apparel and gear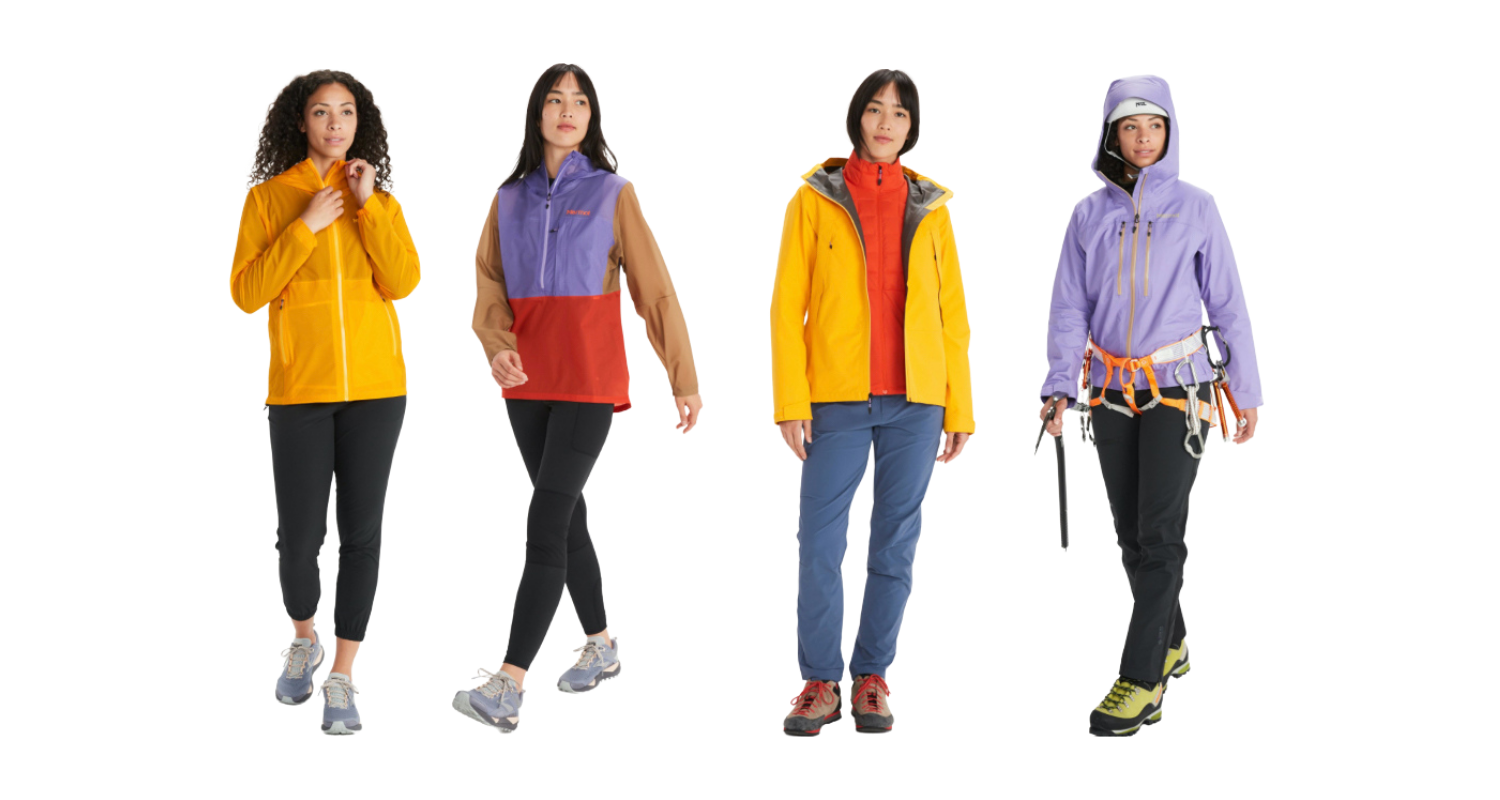 Heading out the door? Read this article on the new Outside+ app available now on iOS devices for members! Download the app.
Chris Harges began his outdoor industry career at Eastern Mountain Sports in the 1990s and later held key roles at both The North Face and Mountain Hardwear before an intriguing job opening caught his eye in late 2018.
Marmot, the heritage outdoor apparel and gear maker, was searching for a director of brand. Based on his industry experience working for and with retailers and vendors, Harges knew the decades-old legacy brand well—and he knew the career move was too good to pass up.
"For years, I had been watching Marmot from the outside," he told Outside Business Journal. "Back in the day, when I was at EMS, if you wanted a good Gore-Tex shell, there were only two places to go—The North Face or Marmot. And Marmot was cooler because it was more niche. But over the years, the brand drifted a little. At some point, it took its foot off the innovation pedal. It wasn't cranking out new shells, insulation, tents, and sleeping bags with the same level of interest that it had previously. When I had an opportunity to come here and help turn it around, I thought, 'This is an icon, and I want to be part of reengineering it.'"
Harges joined Marmot when it was under relatively new ownership and still trying to find its footing. The Rohnert Park, California-based brand, founded in the early 1970s and officially launched in 1974, had become part of Newell Brands Inc. in 2016 when Newell Rubbermaid acquired Marmot's then-parent company, Jarden Corp., for $16 billion. But the new owner appeared to be mishandling what should've been a gem in its outdoor portfolio. As Harges saw it, Marmot had lost its way.
"I came here under the shadow of that acquisition," he said. "It was your classic situation in which indications were made to Wall Street that there were going to be wonderful synergies, but they didn't necessarily manifest immediately, and the business's focus was very much on top-line revenue. For a brand like Marmot, which exists because of specialty dealers, being forced by the vagaries of your parent company's financial situation to dip your toe into channels that aren't brand accretive and are offensive to your specialty base, that wasn't a good moment for the brand."
Joy Over Suffering
Harges believed that with the right guidance and some strategic changes, Marmot could return to its glory days. Sure enough, soon after he joined the company, Newell named Ravi Saligram CEO of the parent company, someone Harges called a "consumer- and brand-focused" executive.
And Newell appointed Jim Pisani—who had recently served as global brand president for VF Corporation-owned Timberland—as president of the company's outdoor and recreation division, which includes Marmot, Coleman, Ex-Officio, and several others.
The company brought in more fresh leadership, including new directors of operations, merchandising, and creative. They were soon joined by a new vice president and general manager Marty Roos, giving Marmot the team it needed to get back on track. These C-suite additions also signaled a new relationship between the asset and its parent company.
"That change at the top allowed us to see our way forward and know that Newell was behind us, not just with financial shared services but with a team of really smart folks who get the industry in a way that just wasn't there two years ago," Harges said. "By the time Marty got here, we had a turnaround strategy in place. We knew where we wanted to go in terms of brand positioning, and we knew where we wanted to go in terms of our product proposition."
Marmot cleaned up distribution and shifted 100 percent of its focus to specialty retail, Harges said, which will remain a priority for the brand moving forward. But there was also a deeper philosophical change brewing. 
The team wanted to stop selling the idea that outdoor endeavors must include "suffering." Gone were the days of the brand's insistence that owning a Marmot jacket, tent, or bag meant the user had to punish his or her body on some gnarly ascent. Instead, they thought, it was "time to reach new consumers and celebrate the real reason we all go outdoors: fun and friends."
"If you think about the early days of The North Face or Mountain Hardwear or even what Arc'teryx does today, it's about a white man on a white mountain conquering summits, often with frost in his eyebrows," Harges said. "It made sense 20, 30 years ago when you had a consumer who might ask, 'Why would I want to pay $400 for a raincoat?' You needed to prove, as a brand, that you weren't fooling around, that your product saves lives and enables people to do amazing things. But the industry never moved away from that."
Harges clarified that statement by pointing out that the industry's technical brands never moved away from the top-of-the-mountain adventure ideal. But Marmot knew it could innovate technically—create bomber apparel and gear with best-in-class materials and designs—while also appealing to the casual outdoor fan who wasn't interested in suffering through extreme conditions and bagging faraway peaks.
"We think the opportunity here is a mash-up of performance and play," Harges said. "We've got that legacy, we've got relationships with Gore, Polartec, 3M, and others. We can make stuff that will get you up Everest, but we can also make stuff that's going to get an intermediate outdoors person a much better experience outdoors. We decided that's where we want to focus our design and our messaging."
A New Product-Centric Focus at Marmot
Marmot's repositioning is about its new people and its newly improved partnership with Newell, but it's mostly about the new product lines the brand will debut at retail next spring.
"The New Outdoors," as Marmot calls its Spring 2022 collection of apparel and equipment, shows where the brand has focused its efforts over the last year. For example, Marmot said it has "a new approach to function and aesthetic aimed directly at the emerging outdoor consumer. Designs are versatile and cross-functional to appeal to today's multi-sport athlete."
Other highlights include a "completely redesigned down bag series with a host of innovative temperature-regulation and comfort features, new tent designs with added usability elements, and an aesthetic approach to equipment that moves far beyond the staid royal blues and forest greens of traditional tents and bags." Colorful stripes, for example, play a big role in the new designs.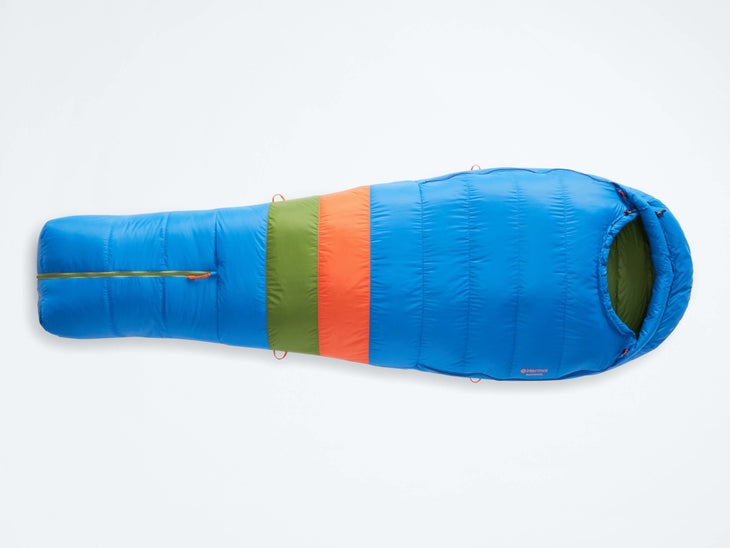 Overseeing the new line is Ruth Beatty, who joined Marmot as creative director in the spring of 2020, just as COVID was hitting. The native of Northern Ireland had previously worked at The North Face, and she was eager to put her stamp on a brand that was looking to honor its past yet lead consumers into the future.
"For me as a creative, coming into a new company that's looking to tap into its heritage and bring that to life in a new and innovative way has been exciting," she told OBJ. "The eagerness and the passion and complete lack of resistance for newness and change have been refreshing."
She knew the story of Marmot's founding, how the brand's creators wanted to make a community that was open to everybody, so she devised a way to bring that ethos into this next chapter.
"That kind of inclusivity spoke to my soul," Beatty said. "I'm someone who's into outdoor sports, but for the joy and the fun of it, not necessarily summiting Everest. It captured why people I know go outside, why I go outside. It makes you smile, and it makes you feel good. My starting point was, 'How do we bring that to life into the product?'"
Beatty looked to Marmot's archives and has retooled much of the brand's older look, working to infuse a "lightheartedness into the product." While the brand positioning won't be fully unveiled until later this year with the Spring 2022 collection, Beatty teased some of the changes coming to Marmot's line of apparel and gear.
"We are aiming for versatility within pieces so that they transition and they adapt into how people are living their lives," Beatty said. "For us, especially on the equipment side, it was all about taking the Marmot spirit and combining it with today's technology to bring something new. We want to make people smile with our most technical products. Backpacking doesn't have to be serious all the time. It can be fun and joyful."
A New Outlook for the Brand
"Fun and joyful" is indeed how Marmot's team is viewing this pivot. Even before announcing the repositioning, the brand had enjoyed some much-needed bounce in its top and bottom lines.
On its most recent earnings call, for example, Newell said its Outdoor & Recreation division saw sales improve 7 percent to $336 million and posted a profit of $15 million, up from a loss of $474 million in Q1 2020 (Newell doesn't break out sales among its outdoor assets). 
During the earnings call with analysts, Saligram said that while that Marmot has "struggled" in the past, the brand's website had a "terrific [first] quarter" and that the parent company is "seeing a minor uptick on consumption" for the Marmot brand, an improvement that should become more apparent later this year.
Another driver of change leading to optimism among brand leaders is how the pandemic has altered outdoor participation. As interest in outdoor activities continues to surge, Marmot believes it has found untapped potential with more casual consumers who still want to buy gear from a technical brand with a rock-solid industry reputation.
"There are all these new consumers coming to the outdoors and finding the benefits," Beatty said. "It's good for the body. It's good for the soul. We wanted to make everyone feel welcome in the outdoors, to shift away from the 'you need to be an expert, you need to be a badass' mentality and instead say, 'Come join us, let's go hike.' We wanted to make gear feel more welcoming and less intimidating for people because I think the outdoor industry has been like that in the past."
The brand is approaching its 50th anniversary in 2024, and it's doing so with that new, more welcoming attitude, one that Harges believes is a return to Marmot's roots.
"It's just kind of a happy accident that we see the world changing and want to pivot the brand right around the time we're about to turn 50," he said. "We very much see it as a ramp. We believe this line that comes out in Spring '22 will turn heads and serve as a keystone moment for us."
And as Pisani told OBJ, the brand is fully committed to targeting all outdoor consumers—no matter where their ambitions lie—while honoring the spirit of innovation that launched Marmot those many decades ago.
"Marmot is uniquely positioned to delight these consumers by bringing our purpose to life, which is to make people healthy through the joy of outdoor sports," he said. "We have spent the past 12 months building a talented, passionate, and experienced leadership team that is focused on our consumer and delivering sustainable, positive results. From the very beginning, we went outside because it's the best playground we can imagine. We will work hard to ensure everyone can enjoy this outside playground through better apparel and equipment solutions."