Outside Business Journal
Bike, Powder, Snowboarder, and Surfer Magazines to Cease Publication Indefinitely
The four titles will pause operations in the coming months and furlough employees without pay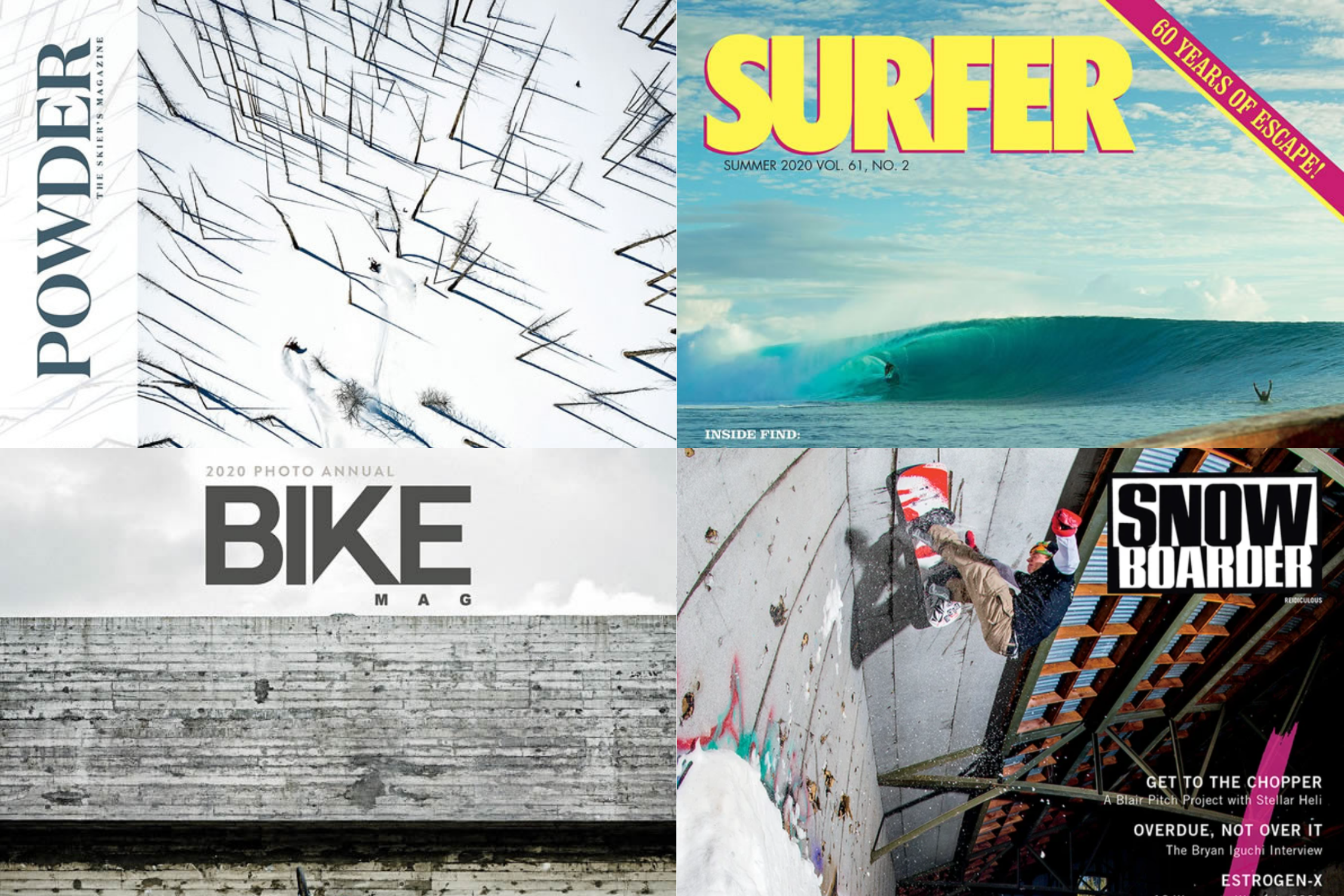 Heading out the door? Read this article on the new Outside+ app available now on iOS devices for members! Download the app.
Four of the outdoor industry's oldest print magazines—Bike, Powder, Snowboarder, and Surfer—will cease publication indefinitely this year, according to multiple sources at the brands' parent company, A360 Media. TransWorld SKATEboarding, another A360 Media property, will also pause operations until further notice.
Sierra Shafer, editor-in-chief at Powder, confirmed today that staff members at all five titles received indefinite furlough notifications late on Friday, October 2. Employees at Bike and Surfer were furloughed immediately, Shafer says, while Powder and Snowboarder staff learned the same would happen to them on November 20. None of the furloughed staff will be paid after operations cease.
In a letter to A360 Media employees obtained by Outside Business Journal on Monday, the company's human resources director, Ken Slivken, confirmed that "COVID-19 has presented unforeseeable business circumstances and has had a sudden and dramatic impact on the business of A360 Media." The letter made clear that the furloughs are a direct consequence of financial challenges created by the coronavirus pandemic.
In its communications to employees, A360 Media described the development as a "pause" in operations, but at least one brand leader among the affected titles is skeptical the magazines will ever resume publishing.
"As far as I know, there's no plan to get our magazines back," said Surfer editor-in-chief Todd Prodanovich. "It was made clear that we shouldn't hold our breath for it to ever come back. It seems silly to say things are on pause when it seems that there's no intention to bring it back. People just want to know—is it done or isn't it?"
Snowboarder editorial director Pat Bridges declined to comment for this story, but there's evidence to suggest his title will be affected differently than the others. Adventure Journal reported today that a single editor will remain at Snowboarder to run the magazine's website and social media accounts until the brand's current obligations to the Dew Tour (also owned by A360 Media) have been fulfilled. TransWorld SKATEboarding, another partner of the Dew Tour, will also retain a limited digital editorial presence after November 20, Bridges confirmed.
The affected magazines are some of the longest-running print publications in the outdoor industry, with the oldest, Surfer, dating to 1960. The history of the brands, and the abruptness of their termination, has made the news particularly painful for readers and industry professionals.
"Today is a sad day in the action sports industry," Teton Gravity Research wrote on its website in response to the news. Adventure Journal echoed the sentiment, calling this a "tremendously sad day for fans of high-quality enthusiast publications."
"These brands have such legacy, to not know what will become of them is really overwhelming," said Shafer. "It will take some time to process for a lot of us. For a long time, we've been a platform to tell essential stories in the industry. Now, there's one less place those stories can be told."
Shafer notes that her title still has one issue coming out before the November 20 furloughs take effect. Powder's annual photo issue—one of the magazine's most anticipated of the year—will land on newsstands on November 16 as scheduled.
"Powder still has one more issue to make and it's going to be damn good—don't count us out yet," she said.
A360 Media has not released an official statement on the furloughs or the future of the affected brands. A representative from the company declined to comment.
Trending on Outside Online