Outside Business Journal
Cotopaxi CEO Outlines Goal to Become Billion-Dollar Brand
Davis Smith detailed his ambitious plans for Cotopaxi following a recent capital raise, including the ways top-line growth can help the company better live its mission
Heading out the door? Read this article on the new Outside+ app available now on iOS devices for members! Download the app.
Cotopaxi is fresh off a new round of funding that infused the outdoor brand with $45 million in additional private equity. Now the company's co-founder and CEO is looking to leverage that investment into much bigger things.
Bigger, as in a billion dollars.
That's the annual revenue goal that Davis Smith, who co-founded the outdoor apparel and gear maker in 2014, has targeted for the brand, he told Outside Business Journal in a wide-ranging interview this week.
Reaching the rarified air of $1 billion in sales would elevate Cotopaxi's profile and place it alongside some of the industry's most recognizable names—names that Smith has long used to benchmark the brand.
"From the time I started the business, my goal was to build the next iconic outdoor brand," Smith said. "We look at the Patagonias and North Faces and Columbias of the outdoor industry and we say we can absolutely be that."
Smith shared his lofty goal for Cotopaxi when OBJ checked in with him following the company's latest capital raise, which was led by Bain Capital Double Impact, the impact investing strategy of Bain Capital.
Just how ambitious is that sales figure? Smith declined to disclose Cotopaxi's current annual revenue, but the company's public 2020 Impact Report from earlier this year said the brand posted revenue of  "around $30 million." If Cotopaxi were to double revenue each year—the brand's current growth rate, Smith notes—it would hit $1 billion in less than six years. He says he expects to reach the billion-dollar mark in the next decade.
Smith acknowledged that doubling sales will become harder as the brand scales up, but that's exactly what this latest investment will allow Cotopaxi to do. From a business perspective, Smith said the funding means the company can hire more talent (his top priority), add more retail partners, bump up its own brick-and-mortar presence, increase marketing, boost e-commerce, and grow distribution in places where he believes the brand sees white space, namely international markets.
Becoming a billion-dollar brand is reminiscent of the revenue goal that Hoka One One's parent company, Deckers Outdoors Corp., outlined for that brand. Hoka, however, is much closer to $1 billion. It's also owned by a public company while Cotopaxi is PE-backed, though Smith didn't rule out an IPO at some point.
Underpinning the aggressive revenue goal—and underscored by Smith as the most important component—is a pair of objectives that go beyond the balance sheet. 
As it grows, Cotopaxi, a longtime Benefit Corporation, plans to continue investing heavily in sustainability and committing to fight poverty around the globe. Those ideals are ingrained in Cotopaxi's DNA, and more money padding the top line means more money to support various environmental and social causes.
Smith said Cotopaxi pledges 1 percent of revenue to charitable giving but winds up donating closer to 3 percent. In its most recent impact report, the company reported $953,982 in total giving last year, which it says was 2.8 percent of 2020 revenue. About half of that dollar amount was the value of donated masks to fight COVID. It estimates the number of people helped in 2020 (through charitable giving and mask donations) at more than 822,000.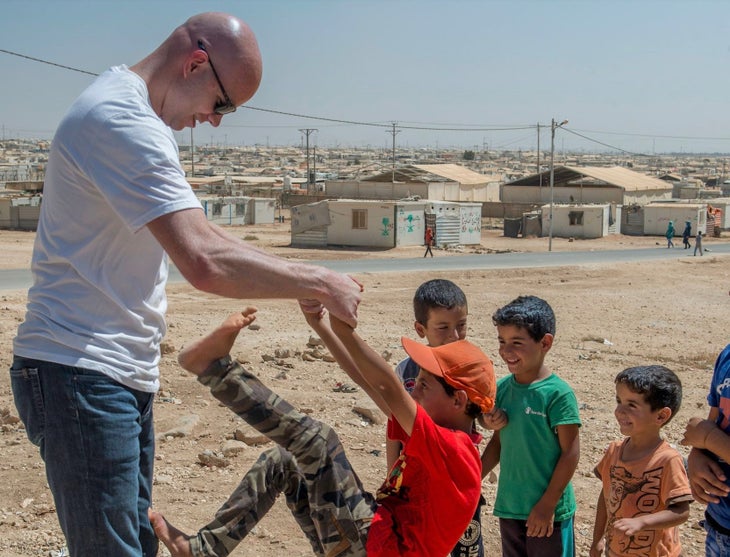 Smith, who grew up in Latin and South America and saw the effects of extreme poverty from an early age, made it his mission from the moment he created Cotopaxi to improve lives around the globe. (His upbringing abroad also inspired the brand's name, llama logo, and colorful style.) 
He believes a brand that sells a billion dollars' worth of apparel and gear each year has a better chance of spreading that mission to more places and impacting more people. At Cotopaxi, #gearforgood isn't just a social hashtag. It's the brand's purpose.
To understand Cotopaxi's plans following this latest capital raise, we spoke with Smith about the brand's growth goals. Below is an edited version of our conversation.
What will this round of funding do for the brand in terms of making more product, getting into more doors, and reaching more consumers?
This investment allows us to expand our current product offerings. It also allows us to expand our reach with physical retail stores. We have five open stores with two leases signed that we're in the process of opening, and we have several other leases that we're working on. We look to expand our physical retail store presence aggressively over the next four to five years. International is another area of focus. We recently hired a director of international from another outdoor brand. We think there's an opportunity to build a global brand. Over the long term, we think 50 percent or more of our revenue should be international, and right now, it's low-single digits, so that's an exciting opportunity for us.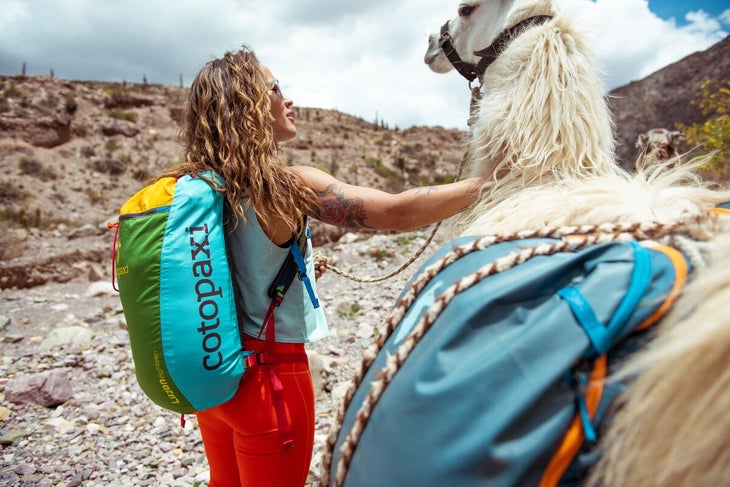 How does this latest investment compare with previous funding rounds?
It's bigger than all our other rounds combined. It was a great deal bigger than anything we've done before. I knew I wanted to build something that could scale rapidly. I believed it was a big opportunity. When you have the capital to accelerate the growth of a business rather than taking on debt, you can go build an amazing team very quickly from the onset. What I love about this round of funding is it shows that this model does work. We're a profitable brand and business. We've committed to giving away a minimum of 1 percent of revenue, but in 2020 we gave away almost 3 percent. We're not looking to give the minimum; we're looking to give the most we can possibly give. This investment shows that doing good and doing well are not mutually exclusive. You can do both. This round validates that.
Does this investment affect the ownership structure of the brand?
It didn't change the ownership structure significantly. Bain Capital is a minority investor. We still have a cap [capitalization] table that's a mix of our management team and our executive team and several outside investors that believe in the brand and the business and have helped fuel our growth.
There are some detractors of private equity in the outdoor space; how do you think PE firms like Bain Capital Double Impact arm benefits not only Cotopaxi but the broader industry?
It's a great point. Cotopaxi has always been private equity-backed. We've always had outside investors. Instead of raising money with debt, we said, "We want to share this pie with other people who believe in what we're doing and can help us accelerate the business, whether through money and/or expertise." Our earliest investor has deep expertise in building consumer brands. It was less about the money and more about having her expertise around the table. That's the real difference—not just the capital, but having people surround you that understand how to scale and build brands and make better decisions. Having those great people around us has been a big part of our success.
How will the funding help support Cotopaxi's sustainable products strategy?
Ninety-four percent of our product last year was made of remnant-recycled or responsibly made material. This investment will allow us to continue to invest in great design and designers and a product team. That's a big part of our brand, our mission, and our purpose. But it also helps our efforts to fight poverty. When we started the business, I felt strongly that our mission should not be exclusively environmental. I didn't feel like that was a defensible competitive advantage. Everyone should be doing it; it's just table stakes. We wanted to go a step further, which was focusing on humanitarian work. This is why we chose this investor [Bain Capital Double Impact]. They have a social impact team that's been working with our social impact team on exploring how we can further accelerate our impact and how we can do a better job of tying impact to our brand.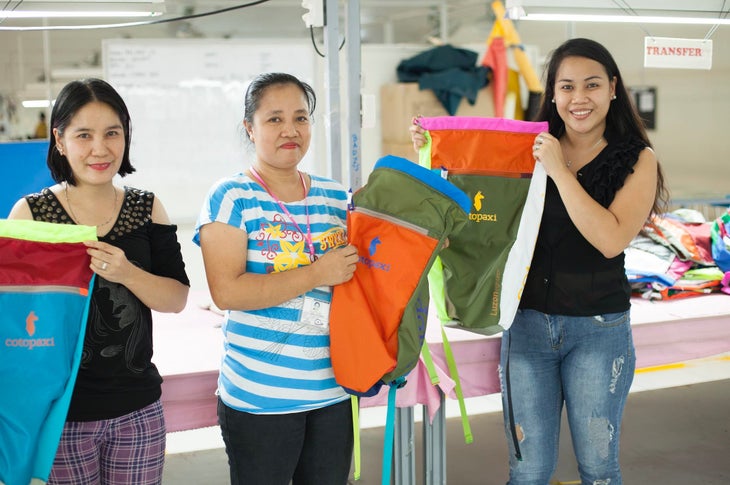 So how will the company use this money to address poverty and support community development?
It comes down to two things. No. 1, improving what we're already doing. And No. 2, simply using the funds that we've been given in this round to expand our business. That's how we build a sustainable and scalable impact—by building a business that continues to do good, and that can scale quickly. If we can build a billion-dollar business, we can have a much bigger impact. And if we can get to a billion dollars faster because of an investment from Bain, then we can have a larger impact. A business without purpose is very shallow, and they invested in a brand like ours that's at the forefront of having an impact with our business.
Are you saying the goal is to become a billion-dollar brand?
Yes. From the time I started the business, my goal was to build the next iconic outdoor brand. We look at the Patagonias and the North Faces and the Columbias of the outdoor industry and we say we can absolutely be that. We believe that the DNA and the values of this brand resonate deeply, especially with millennials and Gen Z. They care deeply about the things that we're passionate about, so that's where we hope to be.
What would the growth rate have to look like for the brand to achieve that goal? Are we talking about doubling sales every year?
We've grown, on average, close to 100 percent a year since our inception. That percentage over time will continue to shrink a little bit, but we're seeing very strong growth in the business—even this year. I haven't done the math on how many years it'll take us to get there, but if we just continue the trajectory that we're on with growth, even at a diminishing rate, it feels like in the next decade we could be there.
Some of the iconic brands you mentioned like the North Face and Columbia are publicly traded. Could there be an IPO in Cotopaxi's future?
Nothing is off the table. That's something that we've considered and looked at, but I think going public can be very challenging for a business. There are some great benefits, and if you do it right it can make sense, so that's something we'll explore. All I know is I want to be part of this business for a long time. I can't imagine doing anything else more important in my life. This is my life's dream and my life's passion.