Outside Business Journal
Eagle Creek Should Not Die, Say Founders Steve and Nona Barker
Founders of the iconic travel brand Eagle Creek sat down for an exclusive interview with OBJ following parent company VF Corp.'s announcement that it will shut down the business by the end of 2021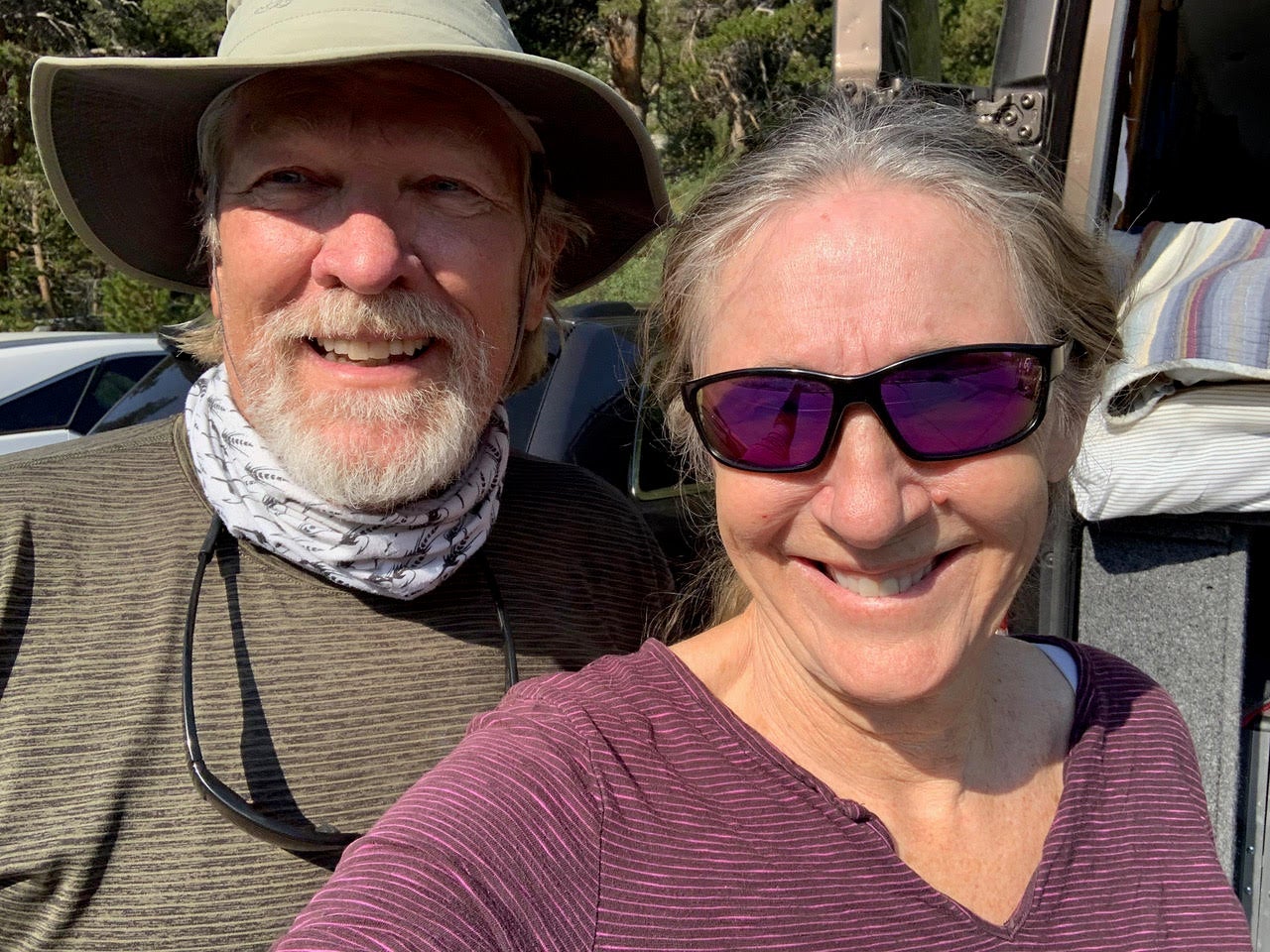 Heading out the door? Read this article on the new Outside+ app available now on iOS devices for members! Download the app.
On June 9, Outside Business Journal broke the news that Eagle Creek, the beloved, legacy travel company, would shut down by the end of 2021. Details and context around parent company VF Corp.'s decision to shutter the iconic brand were scarce, with company spokesperson Craig Hodges saying simply that Eagle Creek "no longer makes strategic or financial sense."
But many people, including founders Steve and Nona Barker, beg to differ.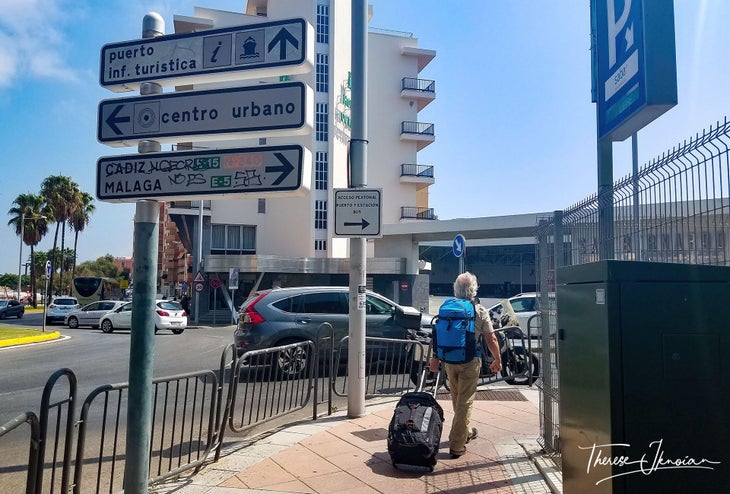 In fall 1975, the Barkers—who met at Steve's California climbing shop, Mountain People—founded Eagle Creek Mountain Packs with $2,500 in savings. Inspired after wandering around the west in a VW Squareback, they saw an opportunity and a need to create a company that focused on travel.
And so they did. Through the '80s, '90s, and early aughts, Eagle Creek grew and thrived. Highlights include opening several retail stores in California, launching a mail-order business, opening a production facility in Mexico, and setting up an ESOP (Employee Stock Ownership Program) so the staff could maintain control of the company. The brand's homegrown culture was legendary. Company leaders served pie each month to celebrate birthdays; hosted horseshoe tournaments and chili contests; and held an annual food drive.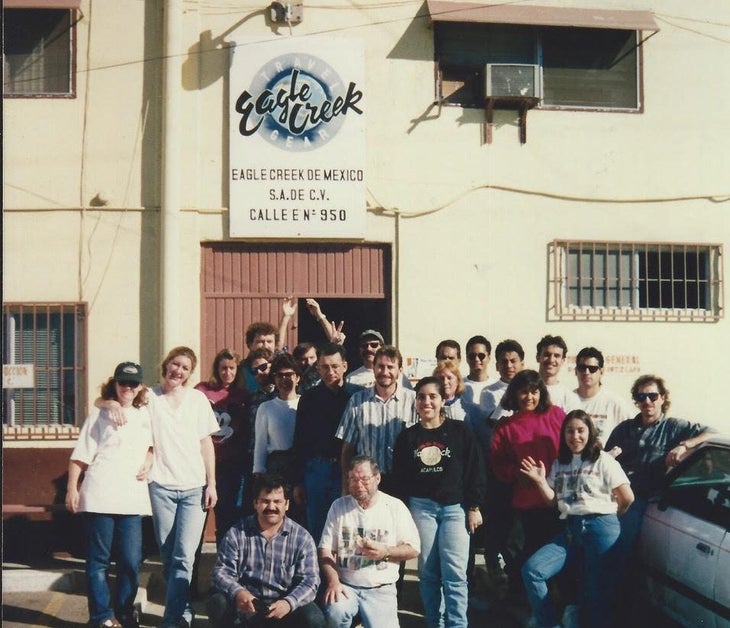 But the early 2000s were dark days. Between September 11, the SARS epidemic, and the Iraq war, Barker calls the period "the perfect storm for a travel gear business." It got so bad that the Barkers' bank tried to liquidate the company and foreclose on their home. Over the next few years, Eagle Creek worked its way back to profitability, thanks to hard work, smart strategy, and the support of so many Eagle Creekers who had joined the family along the way. 
When VF approached them with an acquisition deal in 2007, it seemed to the Barkers like a strong move that would solidify the brand's foothold in the travel world. VF would invest in developing brand awareness and the product line, while leveraging the network of a robust supply chain and vast retailer community. Plus, every employee would receive a nice ESOP payout.
After three years of transition, the Barkers stepped down in 2010 and bid farewell to the brand they had nurtured for more than 30 years. They felt good about handing over the reins.
And even now, they don't regret selling—in general. Barker said it was the right thing to do, especially given that employees received a big payout, around $10 per share, and lots of long-term staff were nearing retirement. But, said Barker, they might regret selling to VF specifically, based on the company's recent decision to shutter the brand.
OBJ sat down for a Zoom call with Steve and Nona Barker about a week after VF's closure announcement. By that time, their anger at the news had worn off. They had a houseful of grandkids and were packing up for a weekend in the mountains. They were nostalgic but also determined. Bottom line: They do not want this brand to die.
An edited version of our conversation is below.
First question: Did you see this coming? 

Steve Barker: We were not blindsided. [VF Corp. CEO] Steve Rendle reached out about 45 days before the announcement. So we saw this coming, but it didn't make the announcement any easier. We've had an overwhelming response from the outdoor industry. I was shocked at how many people reached out. There was a lot of empathy from people who had also grown brands in the industry. We've been going through a sort of grief process. We went through denial and I certainly went through my anger at moments. Then it was depression and acceptance. Now I'm just determined. 
What are you determined about? 

SB: What I'd like folks in the industry to know is that Eagle Creek is a great and viable brand. It has a great future and shouldn't die. A brand is sort of a living thing to us. We created it and nurtured it in its early years, and just as it takes a village to raise a kid, it takes a community to grow a brand. We had a great community of employees, reps, and retailers. And then our retailers themselves created a community around adventure travel. Our secret sauce was to leverage our culture because we had very little money, and so it was all about discretionary effort on the part of our fellow employees. And you know what? That culture ended up being pivotal to our ability to overcome hurdles and to grow as we became more profitable and could fund ourselves.
What kind of hurdles did you hit along the way?

SB: There was 9/11, SARS, the Iraq war. These were all tough tough times for us and others in the travel business. But the culture persevered. Then in the early '90s, some of our early investors pushed us to sell the company, which would have left the employees and founders with very little to show for years of sweat. But we were able to get the company back and put it into employee ownership. We had an ESOP [Employee Stock Ownership Plan], which meant all our employees were able to grow along with us until we decided to sell.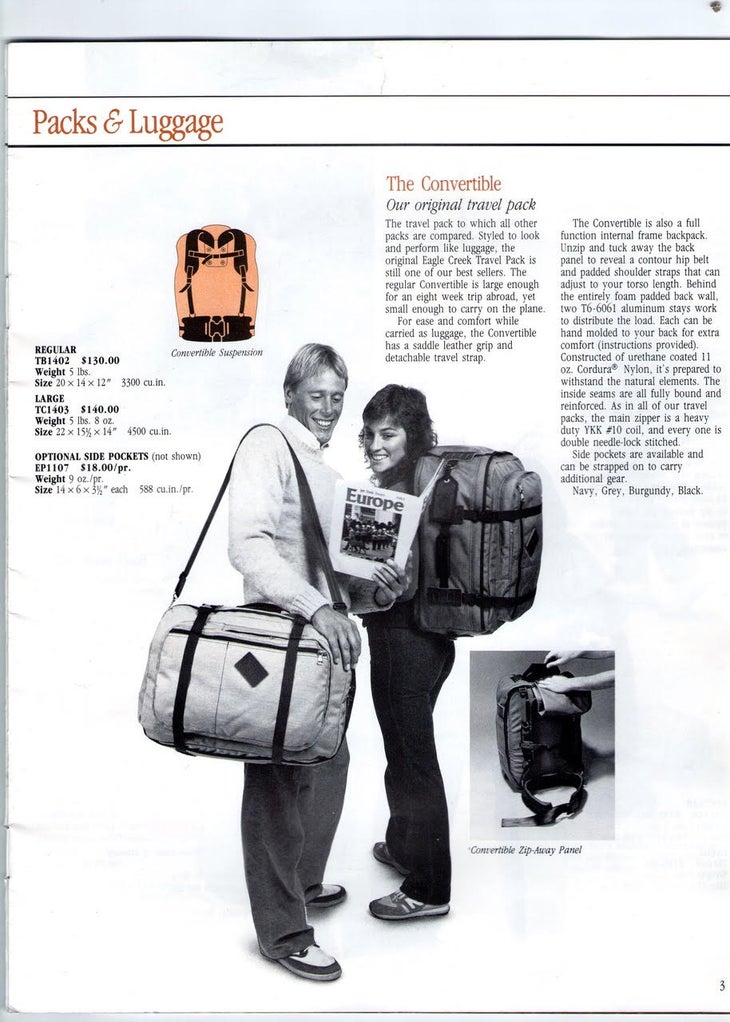 Many would say that Eagle Creek really started the adventure travel category in the outdoor space. Are you comfortable taking credit for that?

SB: Well, we were all in love with the outdoor industry. It was just natural for us to support ORCA [the original name of Outdoor Industry Association], the Conservation Alliance, Adventure Travel Trade Association, and others. People from Eagle Creek served on boards and volunteered. But this is more than just wanting to hang on to memories and a legacy. We really believe that travel is an integral part of outdoor. And, you know, we did pioneer that niche. We got brands like REI to actually include travel in their mix. A big thing for us was when retailers started to merchandise travel as a category. If you look at the architecture of most brands today, what they carry in travel is a brand architecture that was really pioneered by Eagle Creek. Even if you look at newcomers like Yeti, who just got into travel, their assortment is basically what we brought to the market years ago.
Why do you think travel is so key to the outdoor industry?

SB: One of the unintentional consequences of VF's decision to sell Eagle Creek—coupled with REI's recent announcement to close down its international travel operations—is the message sent to the marketplace about the viability of the travel sector. This kind of corny, but travel is key to world peace. Going out and seeing new cultures, meeting new people and appreciating them—it's the anecdote to the America-first point of view. Travel done right supports conservation. It supports the communities that offer sustainable economies. It benefits gateway communities in North America. Going forward, I think travel is going to be key to implementing natural climate solutions like 30 by 30, the Biden administration's push to conserve 30 percent of the nation's land and water by 2030.
What's your outlook for the travel industry as a whole?

Nona Barker: When we started our company, only 3 percent of U.S. citizens had a passport. Today, about 47 percent have one. And that's still pathetic compared to Canada, the U.K., and other developed countries—70 percent of those citizens have passports.
SB: If the U.S. can get to 70 or 80 percent passport ownership, that's a significant opportunity. I think it's important that the outdoor industry embrace travel because it's ideally suited to what outdoor retailers are good at. Back in the early retail days, when we saw our customers planning trips like surfing in Bali, we found that a great niche to design products for. These customers still wanted to carry a backpack, but they wanted to get out on a plane first.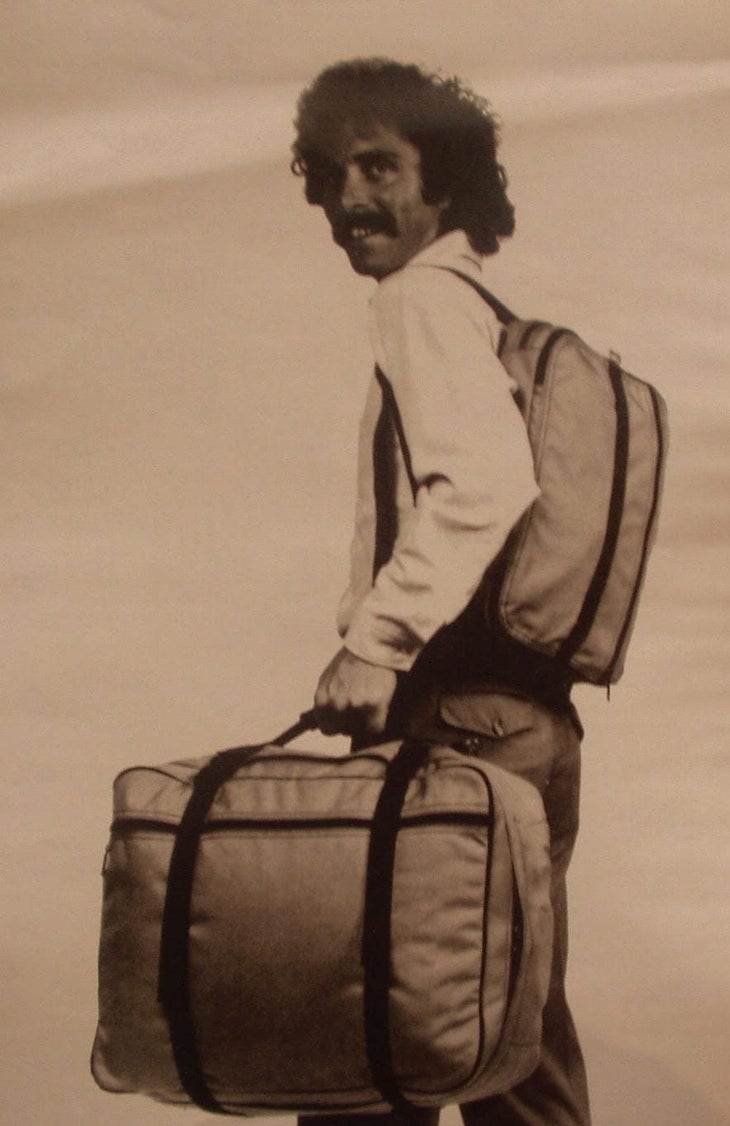 Have you learned any big lessons learned from all this?

NB: Somewhere in here there's a cautionary tale about brands, exit strategies, and legacy. As Ricky Schlesinger, our former senior vice president, used to say, business is cyclical, but life is linear. As we get older, these things become more and more important to us. 
SB: Yeah, seeing an otherwise healthy brand be put down, it's pretty horrible. It's not a great analogy, but selling to VF was sort of like marrying off your daughter, seeing it not work out, and not being able to do much about it. When we sold it, we knew this was a possibility and certainly a risk. We were looking for a partner to help us grow. Eagle Creek was small, but VF was attracted to the fact that we were a category leader with global distribution. The whole idea was interesting because I served on the OIA board with folks from VF. It seemed like a good fit, but we were probably the smallest acquisition they'd ever made. I thank them for taking a risk with us, and we're sorry it wasn't a good fit, but we think the brand is still viable and sustainable. We hope it doesn't die.
Are you thinking about buying it back? 

SB: We've talked to them about it. We would certainly entertain the idea. My guess is that there'll be a lot of interest out there in Eagle Creek. And of course, we're here to help the brand in any way we can. As long as it's trying to be an ambassador for sustainable travel and conservation of wild places on the planet, we're all in.
So the story of Eagle Creek is not over just because VF is abandoning it. You feel pretty strongly about that? 

SB: I do feel strongly about that. And frankly, if it ends up being over, it would be a horrible shame. What we created—both the market we pioneered and all the people we touched—was special. We still have great relationships with all of those folks we met along the way. We ran it like a family. 
NB: My take on this is just a little different than Steve's. I'm thrilled with what we did. I'm personally leaving it on a good note. Somebody probably will pick the brand up, but I don't think it will be us at this point. I'm sorry that VF couldn't be successful with it. I guess that's the nice way of putting it, but the reality is that they failed.
What are your hopes and dreams for this brand? What would be the ideal outcome for Eagle Creek? 

SB: Well, not surprisingly, my vision for a new Eagle Creek would be similar to where I've focused my life the last ten years, which is sort of at the nexus of conservation, outdoor participation, and travel. I think it's an unbranded space and there's still a huge opportunity for someone to see great success with Eagle Creek. I really feel that, coming out of COVID, we're going to see a change in attitude around work and living a balanced life. There's an incredible opportunity for the outdoor industry here, and travel's a huge piece of that. I really think this is when "Eagle Creek 2.0" could anchor into those values.
Were VF and Eagle Creek just a mismatch?

SB: They were. We made some wrong assumptions. When we went to sell the company, we assumed that travel was mainstream enough that you could just add money, and away it would go. Now I realize it's more entrepreneurial. It's going to take a long time to keep grooming and growing the niche, and there's nothing wrong with that. But that's not what VF does well. It's not where they want to focus, and I get that. As a public company, they want to make sure they're investing in things that are going to get a return for their shareholders. So, yes, it was a mismatch. 
Looking back at the last 15 months, it's not hard to understand why a company would be skeptical about investing in a travel business, though. Right?  

SB: Yes, there's going to be a tough lift in the next 18 months. Travel has definitely taken a huge hit, which breaks my heart. We have friends all over the world working in the travel industry and they are hurting bad. They're worried about their families. We're coming out of COVID here in the States, but I don't think people realize that Asia, Africa, and South America are still way deep in this and not seeing the light at the end of the tunnel. That's why at Adventure Travel Conservation Fund, we're trying to give grants to folks to keep them alive, to keep rangers in the field, to keep poaching down, and to all the things that travel and tourism fund. So it's a big concern.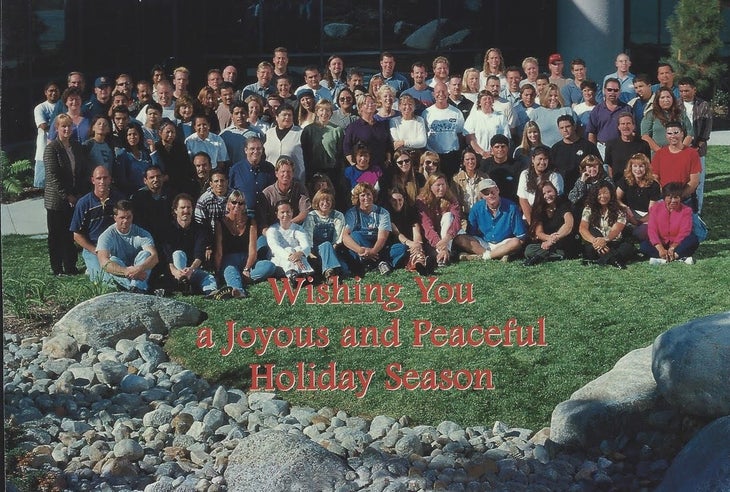 Well, let's all cross our fingers for a big comeback, both in the global travel sector and for and Eagle Creek itself.
SB: That's what we're hoping for on both fronts. I think a comeback for Eagle Creek is very possible. As I said at the beginning, we've received an overwhelming amount of support from the industry and friends since the announcement. We mourn for what the brand is going through. But at the same time, it's been an incredible ride. 
Any final thoughts?
SB: I just hope VF does the right thing and sells the brand to folks who will do the right thing with it—not take it downmarket, but nurture and grow it. Financially, it's inconsequential to VF, so it becomes a matter of doing the right thing. I do think Steve [Rendle] has a say in what happens. He knows the values behind this brand and his heart is in the right place. I hope he finds the best steward for the brand to move it forward. 
Trending on Outside Online