Outside Business Journal
Sponsor Content: Elastic Suite
How Elastic Suite Helped These Brands See Double-Digit Sales Growth
Brands and retailers are clear: the stalwart B2B sales platform lives up to the hype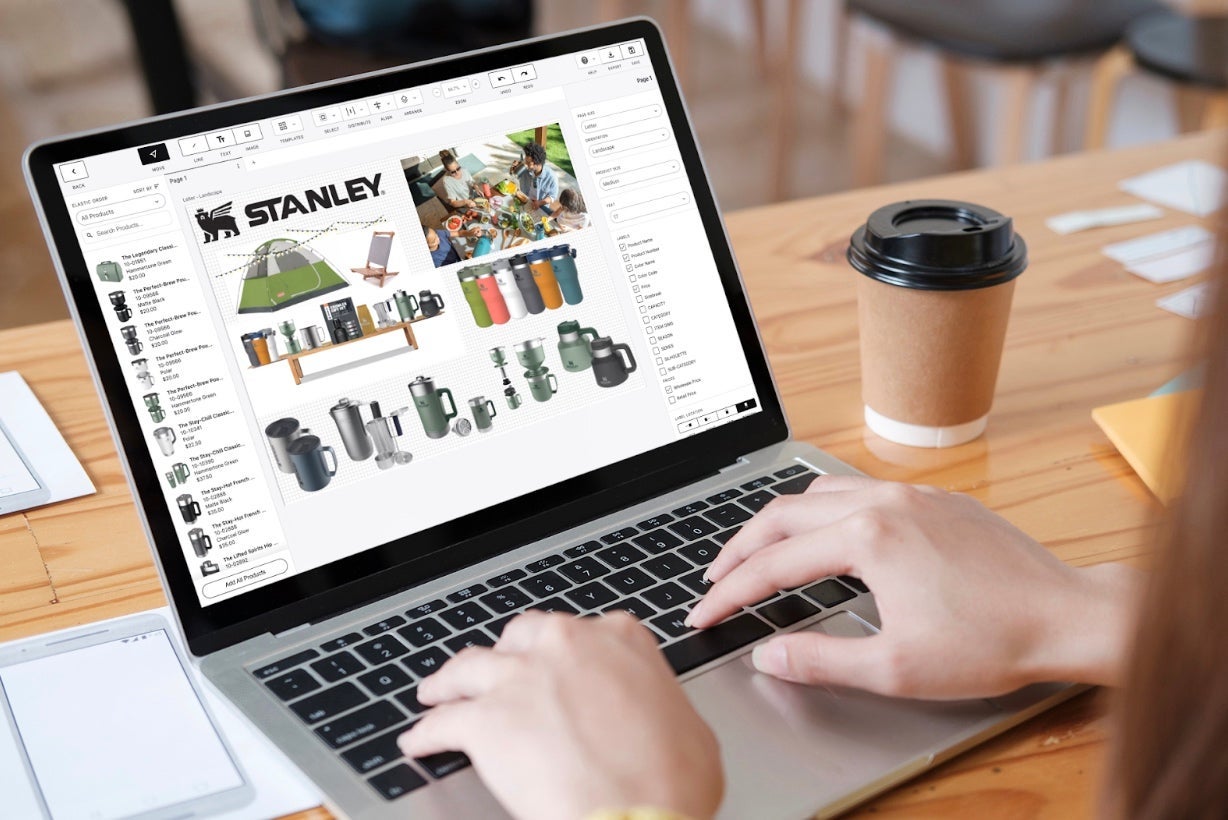 Consumers don't know how good they have it: while customer-facing e-commerce platforms make it easy for shoppers to load up their carts, B2B markets have been slower to catch up. But as the pandemic has accelerated the arrival of the digital buying age, one tool has risen through the ranks, drawing more big-name outdoor brands than any other.
That tool is the B2B wholesale platform Elastic Suite. As one of the first B2Bs on the market, Elastic has more than 20 years of experience and iteration behind its powerful technology. Over the past few years, VF, Fjällräven, Orvis, Patagonia, and hundreds more brands have used Elastic to streamline buying, increase sales, reduce costs associated with paper B2B marketing materials, and organize digital merchandising assets in one place.
So how does it all work? For starters, Elastic functions as an interactive, 360-degree digital catalog, enabling retailers and dealers to see products available in real time. The platform gives retailers a quick-service portal for writing orders and a dashboard that shows everything they've ordered in previous seasons. The ease of ordering has led to "tremendous growth" for Stanley PMI in small-business accounts, said director of program management Ray Brown, who manages and implements third-party SaaS solutions for the brand. On top of that, Elastic has helped standardize the way Stanley PMI's products are merchandised. Now retailers are all "in lockstep" with Stanley's branding, vision, and most up-to-date technical product knowledge.
"No matter what size retailer you are, you get VIP access to our portal so you know what we're launching, when we're launching it," Brown said.
Here are a few more ways Elastic's tools have revolutionized B2B shopping for brands and retailers in the outdoor industry.
Retailers Can Shop like Consumers—in as Few as Six Clicks
Gone are the days of complicated order forms. Elastic offers an intuitive e-commerce platform—think shopping carts and in-depth specs on every SKU—that lets retailers both place new orders and repeat orders in as few as six clicks. Elastic's system also creates more intentional touch points between retailers and sales reps: when retailers place reorders, they can browse similar products that might also sell well in their shops, and their reps will be notified. This gives the reps an opportunity to increase sales by suggesting relevant related products.
Merchandising Assets Are All in One Place
Before Elastic, Brown said, retailer merchandising for Stanley's products was all over the place. Elastic's system allows the brand to upload photos of all its products in an intuitive library that retailers can pull from at any time. With logos and product imagery right at retailers' fingertips, Stanley's branding is now far more consistent across retail sites, Brown said.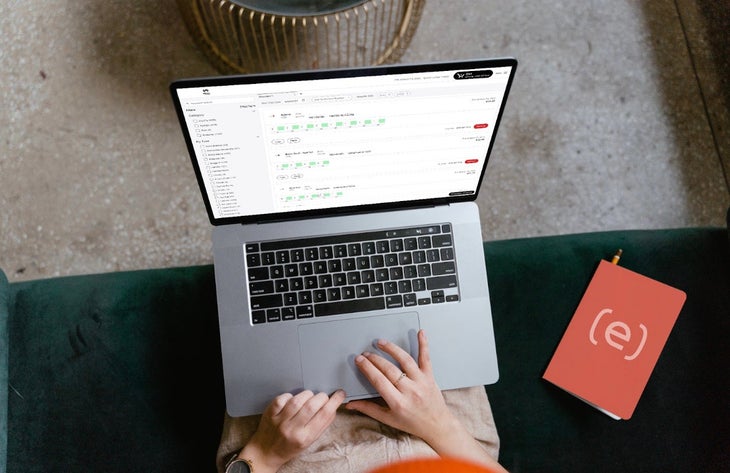 Retailers Can Shop Sales—Boosting Order Size
Elastic's intuitive B2B shopping platform automatically helps retailers qualify for tiered promotions. According to Brown, the feature has resulted in bigger orders with deeper, rather than wider, assortments. If your brand has a minimum order size for a specific category discount, for example, your dealers will see exactly what they need to add to their cart to qualify. The result can benefit both brands' and retailers' bottom lines. For Stanley, Brown said, the result has been 130 percent growth in North American specialty sales. Because the order processing and confirmations are far more efficient, manual ordering went down 41 percent in 2021. "We've also seen an increase in future ordering," he said, crediting Elastic's tools and incentives.
Elastic Provides Ease of Ordering Across Size Range
For retailers who stock products with numerous sizes and variations, this feature is a game changer. Take a fly-fishing shop, for example. When a shop stocks flies, it usually orders a ton of them, and in various sizes of each fly pattern. "For [retailers] to be able to see a product and add multiple sizes at the same time without having to go into different screens or drop-downs is super helpful," said Ben Hoiness, CTO of Yellowstone Fly Goods. "All of our customers respond really well to that." And it's not just anecdotal: Yellowstone Fly Goods saw roughly a 10 percent increase in sales in just its first quarter of using Elastic. "The platform has really helped us grow into the modern era of selling."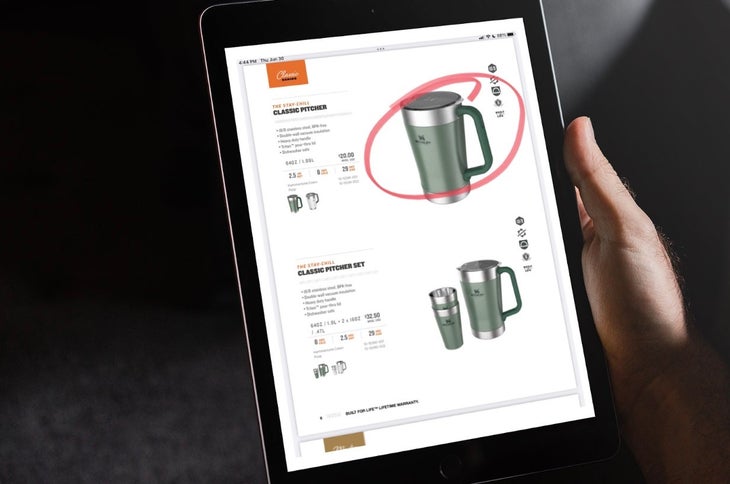 Sales Reps Have the Tools They Need to Succeed
Since it began using Elastic, Stanley PMI has noticed a significant improvement in the way its products are presented by independent sales reps, Brown said. Now that reps have a centralized place to show buyers every single product offered, they can go into meetings ready to present a wide range—far more than they can carry in physical samples. "It's deepened our relationships with dealers and made sales reps feel more like they're a part of our team and our family in their knowledge of the brand," Brown said. In fact, since adopting Elastic in 2020, Stanley has seen dealer engagement with the platform grow to 87 percent. That widespread adoption and engagement, he explained, is a big reason for the brand's growth in North American specialty stores over the past two years.
Retailers Understand Elastic
Elastic's easy-to-use platform has already been adopted by retailers nationwide. This saves time and resources they would have had to spend on training and onboarding. That slashes time-to-market. When Yellowstone Fly Goods got on board, Hoiness said, he didn't have to teach his retailers how to use the new system—which made the whole ordering process easier for everyone. "Already having that familiarity was super helpful," he said.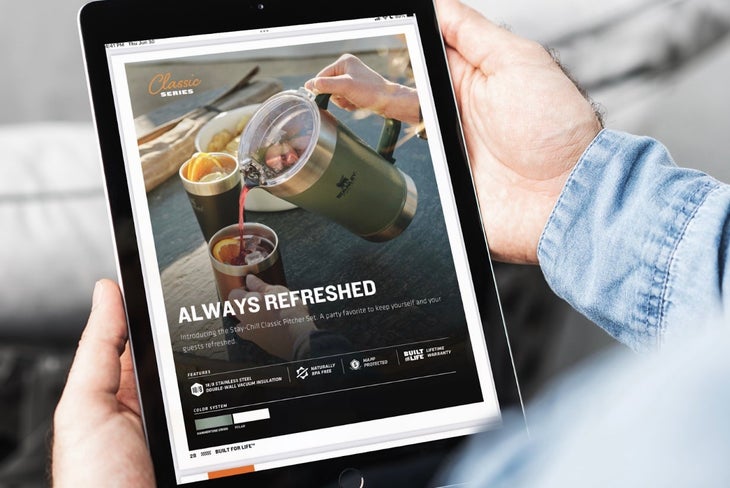 Printed B2B Material Costs Are Virtually Eliminated
Paper waste and environmental impact aren't the only cons of catalog production. Besides the creative effort that goes into the process, publishing print media isn't free. Elastic has provided Stanley PMI a better solution, Brown said: the platform collects digital assets all in one place, letting dealers and retailers easily navigate through the line before, during, and after meetings to connect the dots. Stanley PMI now saves up to $100,000 per season by not producing the printed materials it no longer needs.
The Bottom Line
Since adopting Elastic, both Yellowstone Fly Goods and Stanley PMI have seen better engagement from reps and dealers, bigger orders, and more-streamlined communication surrounding brand strategy and vision. "Stanley Global sales, since 2019, have been on a rocket-ship trajectory," Brown said, adding that North American specialty-store markets have seen particularly strong gains. Without a doubt, he added, "Elastic's B2B platform played a key part in that growth." 
---
Elastic is a best-in-class B2B and wholesale e-commerce SaaS platform. Designed to help brands and retailers connect, transact and, ultimately, grow. By increasing sales revenue and creating cost efficiencies, Elastic is optimizing every step of the wholesale process. E-commerce is taken from transactional to transformational by bringing together ERP and backend data, sales reps, retailers, and distributors.