Outside Business Journal
#Vanlife Hacks from Two Pros
Learn how these young adventurers maintain legit careers while living the dream on the road and building their business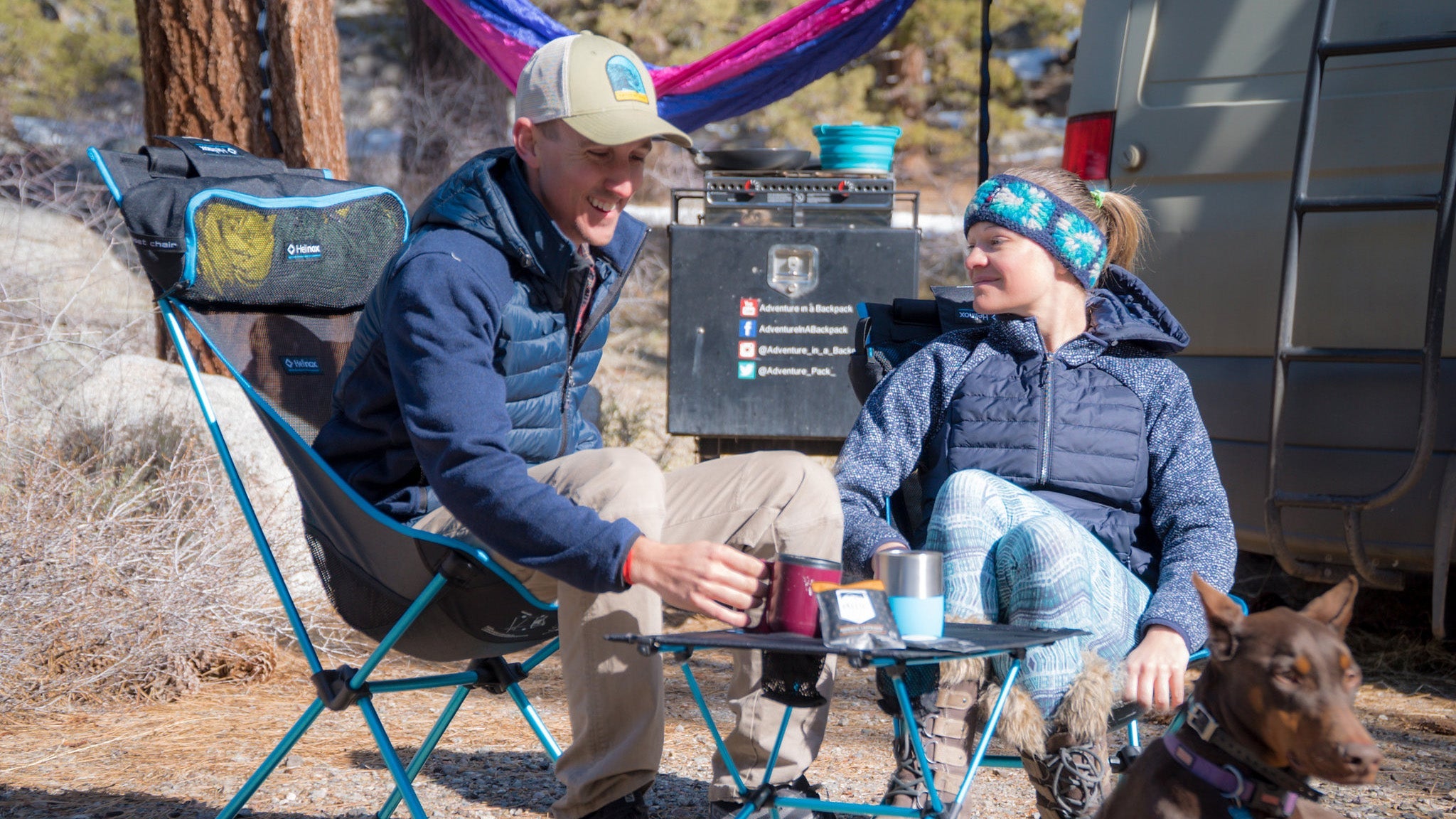 Heading out the door? Read this article on the new Outside+ app available now on iOS devices for members! Download the app.
Two years ago, Nate and Steph Yarbrough, both now 29, posted their first YouTube video announcing their move into a van. Both their channel and blog, Adventure in a Backpack, were created as journals to share their new lives working full-time on the road with family and friends. But when Nate's father passed away in December 2015, and as their audience grew, the videos became a platform to educate, motivate, and entertain followers.
"Adventure in a Backpack changed drastically and became more about inspiring others to get out and live their lives in the present, because you really are not guaranteed tomorrow," Steph Yarbrough said.
Their first video from December 1,  2015, received 686 views; a video posted 8 months ago has been watched 612,000 times on YouTube and 2 million times on Facebook. Vanlife is a way for them to live a flexible lifestyle, but also a tool to network all over the world.
"Many people think that living in a van or traveling full-time means you have to give up your career and professional life," Steph Yarbrough said. "That couldn't be further from the truth. Some of my best clients came as either referrals from other travelers or they were our followers that happened to also be business owners."
The Yarbroughs shared with Outside Business Journal how they manage to work on the road, tips for any professionals looking to live a mobile lifestyle while keeping their careers, and a few of the wacky assumptions people have about vanlife.
Some followers might see your travels as strictly fun, but you actually spend a great deal of time working from your van and the places you visit. How do you make money while on the road?
We have three main revenue streams. My consulting business brings in the majority of our income right now. I write business plans, help small businesses with startup and growth strategies, and help businesses restructure their financial processes to optimize profitability and understand their finances. Basically, I work on spreadsheets all day. Nate is a videographer and shoots videos for brands to showcase their products in use out on our adventures. We take products along with us when we're hiking, biking, paddle boarding, or camping and test them out in nature. He also does all of the videography and editing for Adventure in a Backpack, which takes up a lot of his time.
Adventure in a Backpack does make money at the moment, although we pump most of it back into the business to help grow it. We make money from things like affiliate links for products we recommend as well as YouTube advertisements. We also work with brands demonstrating products that fit well with our lifestyle.
What dictates your travel schedule? Where do you go and why?
For the most part, our travel schedule is based around various events. We like to go to trade shows, festivals, and even meet with clients around North America, and we plan our travel schedule around those stops. Even when the events are a month or more apart, we'll take a route between those two stops and look at interesting points along the way to make the journey more of the adventure.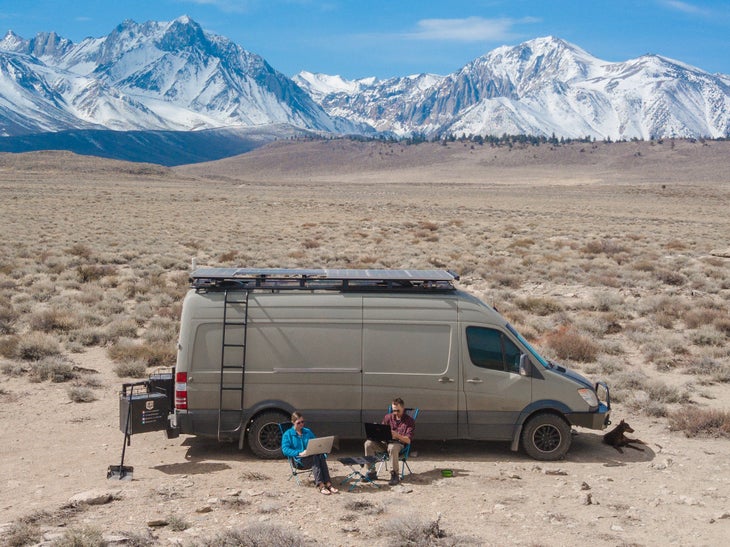 What's your advice for professionals looking to move into a van?
First, be realistic with your goals and your schedule. It's easy to fall into a routine of skiing on Mondays rather than answering client emails, so you really need to be disciplined. On the flip side, however, set expectations for your clients so they know that you are not available 24/7. Maintaining expectations is very important. If you're looking to move into a van to have more adventure in life, you don't want to be working seven days a week either.
Second, be flexible and learn to roll with the punches. Sometimes your van will break down at the most inopportune times and you have to cancel all your calls. It's okay, your clients understand that you're human.
Forming good networking relationships is challenging on the road, but your overall network will easily expand (geographically), but truly forming a relationship with other professionals becomes more difficult because you're always on the move. My advice here is to have a solid network prior to taking off, as well as seek out networking opportunities in the areas you do visit. Don't be shy about telling people you live in a van, because it's a fantastic ice breaker.
What are the top three strangest questions you've gotten from people about vanlife and how have you responded?
1. "How much weight our paint added to the van build?" By far the strangest question we've gotten several times. We used PlastiDip—like a liquid plastic that you spray on like paint—to change the color of the van. We always try to respond to every question we get as educationally as we can (there are no dumb questions, right?), so we respond to that one with: it took about ten gallons to paint the van and a gallon of water weighs eight pounds. Most of the liquid in the PlastiDip would evaporate when it dries, so at most 80 pounds is our best guess. But honestly, we have no clue how much weight it added!
2. We were recently asked if we had ever thought of pulling a small trailer behind the van so that we can carry 275 gallons of water. It was that last part that threw us for a loop. We've thought of many things that we could do with the van, but pulling 275 gallons of water behind the van is not one of them! What would you even do with that much water? We carry 14 gallons of water.
3. "You live in a van, I thought you were vegan." We were not told when we moved into our van that being vegan was a prerequisite, but apparently most people think so! When we show videos of us cooking or eating, we often get people commenting that they assumed we were vegan.