Outside Business Journal
The New iPhone 14 Has a Built-In Satellite SOS Feature. Is Garmin Worried?
Will the iPhone eventually do to personal locator beacons what it did to digital cameras?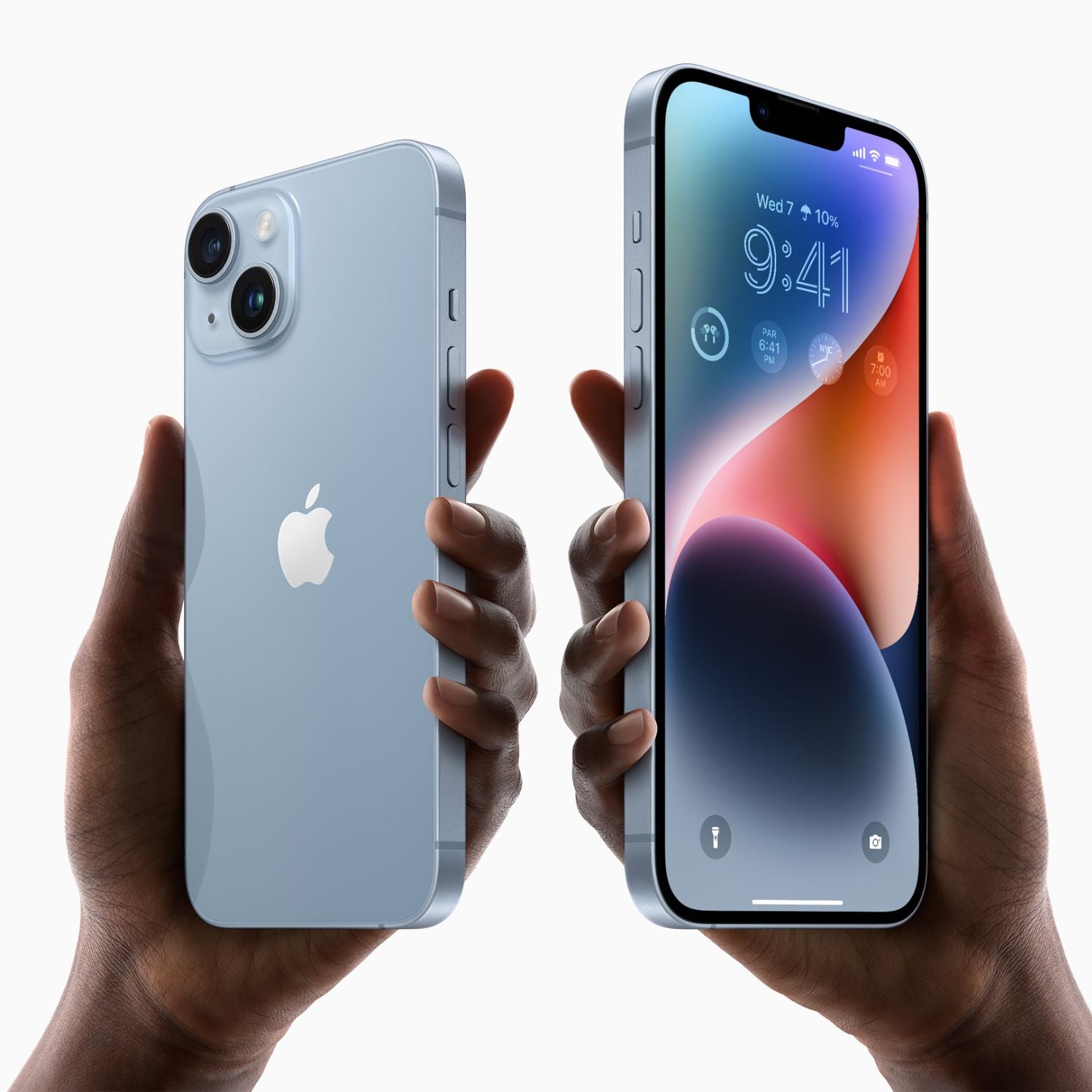 Heading out the door? Read this article on the new Outside+ app available now on iOS devices for members! Download the app.
Apple's iPhone 14 announcement last week made waves in several markets, not least the outdoor industry. Among other features that aim to capitalize on the growing outdoor sector, the introduction of a satellite-enabled SOS function puts the iPhone in the ring for the first time with Garmin, setting the outdoor stalwart against Apple as a potential competitor.
The question on some experts' minds is whether the new iPhone threatens Garmin's offerings, specifically the inReach personal locator beacon. Is Garmin worried?
No, says the company, and here's why.
"It would be difficult to characterize a smartphone product as a true competitor to inReach," said Chip Noble, Garmin's senior product manager for inReach devices. "The inReach Mini 2 offers battery life of up to 30 days. What's more, Garmin inReach devices are impact resistant, so they're built to withstand the elements. Smartphones, on the other hand, are fragile devices with screens that can shatter, rendering them useless."
Noble said another distinction is that Garmin satellite service gives users the ability to communicate with friends and family from anywhere in the world without cell service, not just emergency dispatchers. Currently, Apple says the iPhone 14 can only communicate with its in-house emergency routing center from within the U.S. and Canada.
In 2020, Garmin purchased the International Emergency Response Coordination Center (IERCC). Based in Montgomery, Texas, the IERCC receives all Garmin Satellite SOS notifications, as well as calls from other brands including Zoleo and Iridium Communications that contract with Garmin. Users can have direct text conversations with IERCC employees to describe their emergencies. The IERCC, open 24-7, then contacts the appropriate 911 emergency agency to coordinate rescue or extraction while staying in contact with the customer via text messaging.
How Apple's Satellite SOS Feature Works
Details about Apple's new SOS satellite service are still trickling out, but we know the company will release the SOS feature via an iOS 16 software update for the iPhone 14 in November. Apple says the SOS service will be free for owners for two years after purchase, but that a subscription will be needed for the service after that. Garmin's satellite communication devices are all subscription based at purchase.
Apple will use its own in-house response center to respond to emergencies, Apple has said. To initiate an SOS response, Apple users will need to tap the Emergency Text Via Satellite button on their screen, then tap the Report Emergency button. Through preprogrammed questions, the user will describe their situation. Once the phone connects to a satellite, Apple emergency responders receive that information, as well as the user's pre-filed medical information, emergency contact information, location, and remaining phone battery life. Users then may be asked to respond to additional questions via text. Messages are sent in encrypted form and decrypted by Apple to be passed along to the relevant emergency services.
By contrast, Garmin devices require the pressing of a single SOS button, which initiates contact with an IERCC employee. The IERCC immediately receives the device's location.
At launch, Apple's service will support American English, American Spanish, and Canadian French, and Apple's Emergency SOS satellite service will only be available in the U.S.—including Puerto Rico and the U.S. Virgin Islands, but not Guam and American Samoa—and Canada. International travelers who visit the U.S. and Canada can use the iPhone's new feature, unless they bought their phone in mainland China, Hong Kong, or Macao, Apple has said.
Garmin's Final Word
While the functionality of Apple's satellite SOS service haven't been tested yet in real-world emergencies, Noble said Garmin has several advantages over the Apple product.
"Garmin staffs a professionally trained 24-7 response coordination center that goes beyond ensuring an SOS is relayed to emergency dispatchers," Noble said. "Coordinators engage correct local authorities, communicate with your emergency contacts, and keep you up to date on progress until the incident is resolved. InReach devices do not require the device to be continually aimed at a passing satellite for either messaging or declaring an SOS."
The iPhone, by contrast, does need a direct view of the sky for the SOS feature to work at peak speed. "In ideal conditions with a direct view of the sky and the horizon, a message might take 15 seconds to send, and over a minute to send under trees with light or medium foliage," Apple has said. "If you're under heavy foliage or surrounded by other obstructions, you might not be able to connect to a satellite. Connection times can also be impacted by your surroundings, the length of your message, and the status and availability of the satellite network."
So, while the iPhone 14 may be eagerly awaited by consumers for this and other features, Garmin said it isn't sweating it.
"Recent announcements will naturally raise awareness of the importance of staying connected while off the grid," Noble said. "We feel confident that the Garmin inReach will continue to be the satellite communicator of choice for outdoor customers."
Lead Photo: Apple