Outside Business Journal
Sponsor Content: Kavu
25 Years and Counting: Will Kavu Ever Grow Up?
The apparel company known for its funky prints and the iconic Strapcap will always stay focused on fun, but founder Barry Barr has learned a lot in a quarter century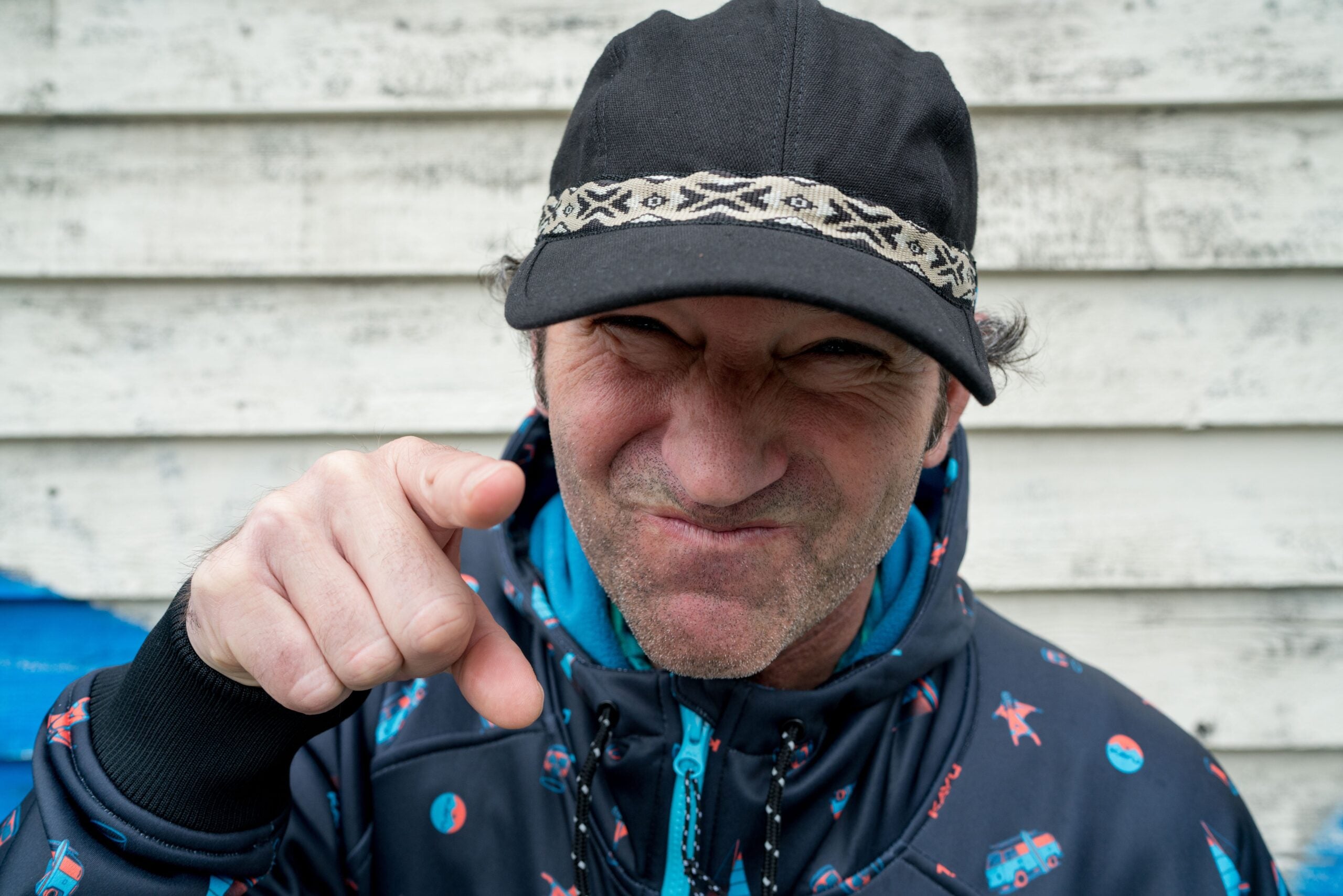 It's the late 1980s and Barry Barr is at the helm of a 32-foot commercial salmon fishing boat in Alaska's Bering Sea. It's a pretty good summer gig for him while studying at Washington State University, but there's one nagging issue on the young captain's mind (or off it, in this case): he keeps losing baseball caps to the ocean. They blow off his head like tissue paper against the gusts that buffet the Alaskan waters.
Like all young adults, Barr was trying to chart a course for his future. And like many recent college grads, the idea of starting at the bottom rung of some nameless corporate ladder wasn't particularly appealing. So, with that hat blowing of his head, Barr got inspired looking at a Teva sandal. He found he could sew polyester webbing similar to that of a Teva sandal around the edge of a baseball cap and cinch it down—making it impervious to the ocean winds.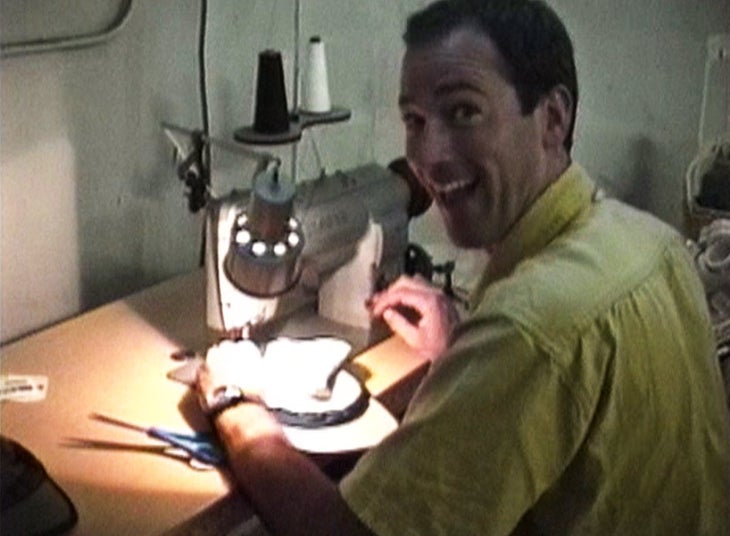 And with that simple innovation the Strapcap was born, Barr found his path, and Kavu was launched in 1993. Barr's mission from the start has been "Just have fun." He pumped his life savings into Kavu. That was 25 years ago, and today the Seattle-based clothing company does about $22 million annually in sales.
Barr's college and salmon fishing days are far behind him today. He's 48. The Kavu line stretches to some 1,200 items when you combine colors and sizing. What started with selling a few Strapcaps to a marine store in the San Juan Islands has swollen to more than 1,000 retail accounts. Kavu has around 30 employees based in Ballard, a trendy waterfront Seattle neighborhood and ambitious plans for international expansion. And it all started from a hat blowing off his head in the Bering Sea.
Kavu's Single Ownership
With a few notable exceptions (see Patagonia, for instance), clothing brands that emerge within the outdoor industry are prone to ownership changes.
"There's this cycle that develops where brands need an infusion of money in order to grow," said Ned Post of Gateway Trade Funding, a finance company specializing in purchase order funding for outdoor industry companies. "What happens a lot of times is that the founders of the company—men and women who had the vision to start the whole thing—end up selling a stake of their company in order to get that cash. They essentially trade their ownership for capital."
Kavu has managed to avoid that. Barr is still at the helm, even though he's likely to be the one lugging out the recycling and trash from Kavu's headquarters on any given day.
"I was lucky enough to be able to use my fishing money and just keep pumping everything I could back into Kavu," Barr said. "I had seven employees before I even started drawing my own paycheck."
Kavu's Steady, Patient Growth Strategy
Kavu grew with respectable speed in the early years, quickly moving beyond hats to produce other apparel—shirts, shorts, dresses, pants and jumpsuits. Everything Kavu makes is a reflection of the "just have fun" mission. It's colorful, often whimsical, offering a subtle snub of general conformity.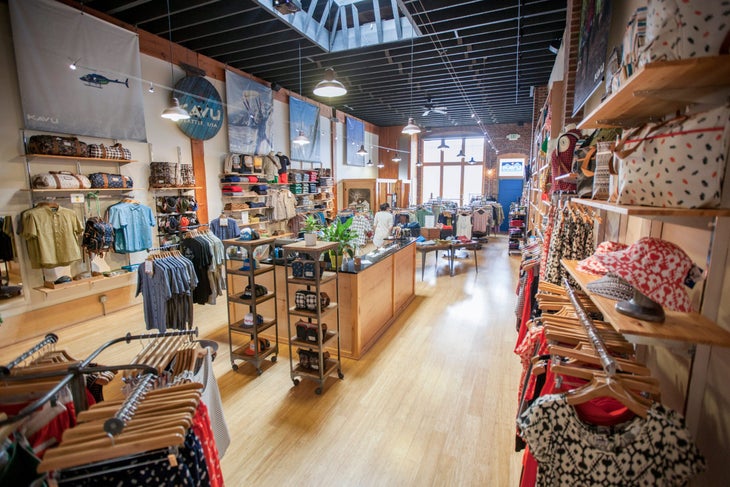 Barr is quick to admit that it hasn't always been silly grins, high-fives, and mid-day games of pickleball—a tradition at the a rambling, gray house that once served as a salmon processing facility but is now home to Kavu. He freely discusses the difficulties faced as it grew. Chief among them: an unfocused approach to product that made it difficult for retailers to find a specific niche for KAVU to fill. In 1997, Kavu had a reported $3 million in sales, but the growth chart was trending toward flat.
"We kind of lost our way," said Barr, who says the growing pains, while nerve-wracking, provided some spark. "After about 1999 we started seeing real changes in retail in this country and we weren't really evolving as these changes started to take place. It took a few years, but we eventually clawed our way back."
A Mature Kavu: More Than Hats
Flip through Kavu's 2018 product catalog or look at what Kavu employees are wearing to work and you instantly get a sense of what Kavu has matured into. Kavu has blossomed into de rigueur wear for younger-skewing, active, outdoor types. It's a brand for surfers without being a surf brand. It's worn by skiers and mountain bikers without being a ski or bike brand. It's purposefully non-technical—designed to be worn to the casual office or to the river with equal ease. There's a definitive feel to Kavu now.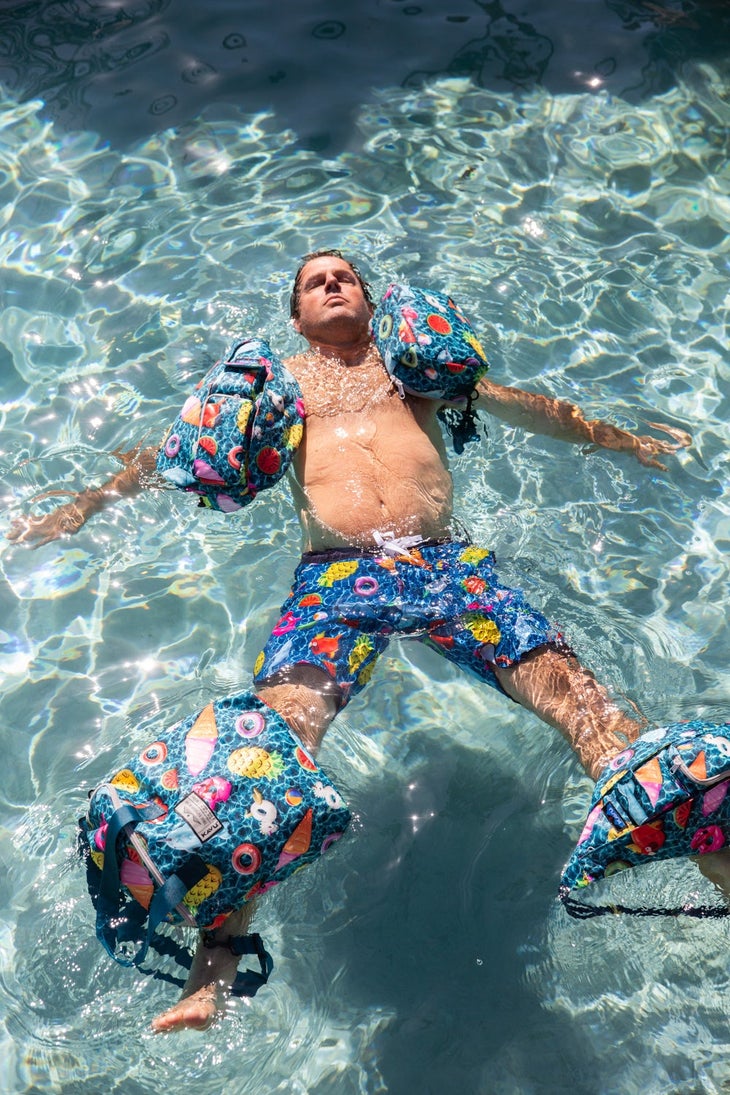 Sales have responded. According to numbers provided by Barr, sales have increased by more than 70 percent since the start of 2014. Part of that comes from opening retail outlets in countries outside of the U.S. and Canada. Kavu has a strong, and growing, presence in Japan, Hong Kong, Taiwan, and Korea. With a quarter of century now behind it, the brand is starting to focus on the next chapter—expanding its reach in Europe a primary goal.
"The brand is a vehicle for people who like to have an enjoyable life," said Tyler Lee, who gave himself the title of Kavu's marketing director when he joined the company in 2009. "We're not really a household name, but once somebody connects to our brand there is definitely a family feel."
Watch this vintage mini-movie about Kavu's beginnings.
Barr, of course, is a big reason for the intimate connection people have with the brand. Even though Kavu is not an athletic brand like Nike or adidas, it employs a team of athletes as ambassadors that include climbers, sailors, BASE jumpers, and paragliders. Kavu nurtures relationships with its retailers, too. Shop owners and employees know who Barr is not because he's the face of a slick advertising campaign, but he because he takes them to dinner at trade shows or visits them in their shops.
"I met Barry several years ago and he stands behind our store as much as he stands for Kavu," said Brooke Pierce, an apparel buyer for Mahoney's Outfitters in Johnson City, Tennessee. "He's fun and interesting and the face of Kavu, but he's also very committed to making sure he takes care of us in a way that's beneficial for our business. There are very few companies like that. We love them."
Heading into 2019, Kavu will continue to make apparel that appeals to the young, hip, and active. Kavu will continue to spend time refining its ethos of fun and increase its bottom line. But it's more than that now. With the wisdom and perspective that comes with middle age, Barr knows what that "more" is he wants his brand to exude.
"Above all else," Barr said, "I want this company to have soul."