Outside Business Journal
Keen and Osprey Innovate to Keep Customers Safe
As customers resume in-person shopping, two outdoor brands are going above and beyond to help retailers deal with safety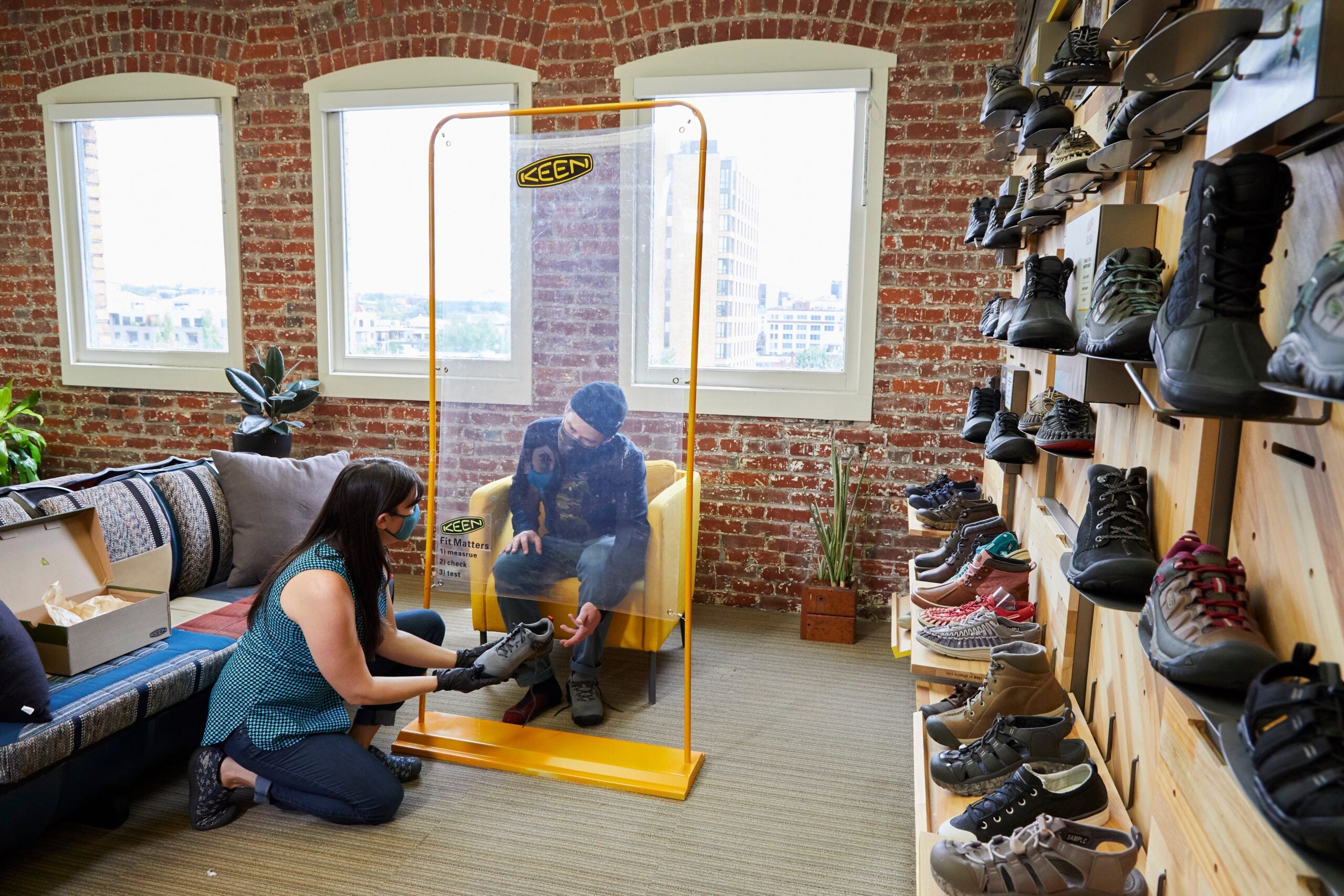 Heading out the door? Read this article on the new Outside+ app available now on iOS devices for members! Download the app.
Retailers across the nation are reopening, people are out shopping again, and everyone is wondering just how safe they are, say, sitting down to try on a pair of shoes or getting fitted for a pack.
Throughout the outdoor industry, most (if not all) major brands have poured resources into keeping employees safe on factory floors and in corporate offices. But only a handful have extended those efforts to promote customer safety inside their independent retail partners' various locations. On this front, Keen and Osprey are leading the way.
Keen Fit Shield
Footwear fitting often requires retail associates to get up close and personal with customers, increasing the likelihood of viral transmission. With this in mind, Keen has rolled out a new tool called the Fit Shield to provide a barrier between customers and retail employees during in-store fittings.
The design is simple enough: a seven-pound, six-foot-tall frame with a clear plastic guard that sits between employee and customer, with a gap at the bottom for taking shoes on and off.
"When stores started reopening, we asked ourselves how we could help our retail partners do it safely," said Keen senior director of global marketing Ashley Williams. "We wanted to invent something that would give people confidence while they were getting fitted for new shoes."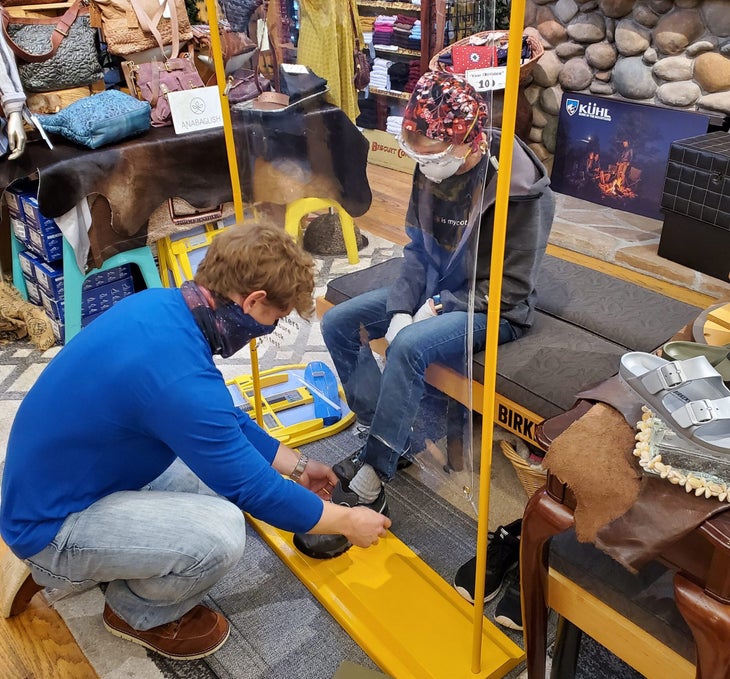 The Fit Shield was developed quickly, according to Williams, after the company examined best practices and recommendations from the CDC. Keen designed the Fit Shields in house and contracted an undisclosed manufacturing partner to produce roughly 800 units. About 650 were shipped to the U.S. in June, with the remainder going to several of Keen's subsidiaries in Canada, Europe, and Japan. In the U.S., Keen managed distribution of the Fit Shields through its network of sales reps.
"They were available to whoever wanted them," said Williams. "We did it through our territory managers. There was no real selection criteria for retailers to receive one, and stores could get more than one if they wanted. We had a certain quantity available and we just distributed them as best we could."
One of those retailers was American Shoe in Wenatchee, Washington, which received three.
"Customers immediately recognized them for what they were and appreciated them," said Kevin McKinley, one of the store's managers. "We're not requiring anyone to use them, though. We've had customers say they love them, but we're not forcing people to use them at this time."
In addition to their intended use, the Fit Shields have been particularly helpful in acting as dividers between benches where customers sit to try on footwear, McKinley said.
"We can only have eight people in the shop at a time, so it's a good way to create divisions between customers even when staff aren't getting close. In that regard, they've really helped us."
Keen wouldn't disclose how much the company spent designing, manufacturing, and shipping the Fit Shields, but Williams confirmed that retailers paid nothing to receive them. No plans are currently in the works to produce more.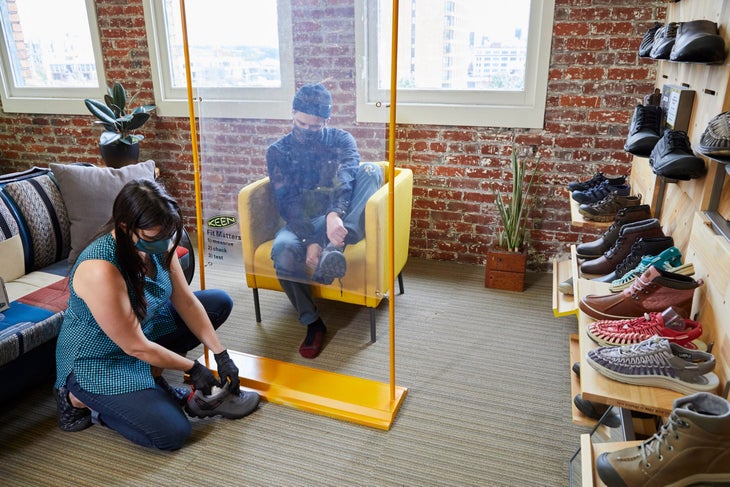 Osprey Contactless Pack Fitting
Another brand that has devoted significant resources to improving retailer safety in recent weeks is Osprey. Recognizing the need for a new kind of pandemic-friendly pack buying, the company developed a comprehensive set of tools that retailers can use to train staff in "contactless fitting."
"As far back as April, we started having conversations with our sales team. They're the ones in constant contact with our retailers," said Osprey director of marketing Vince Mazzuca. "One of our reps in particular—Koby Crooks in Austin, Texas—was pretty vocal about needing to develop this. He made up his own version, brought it to Osprey, and told us, 'This contactless fitting is really important, and it's going to be something our retailers are going to need.'"
Customers know they need to visit a retailer to get a proper pack fit, Crooks told the team at Osprey. They understand that it's not feasible, in the majority of cases, to buy a pack without trying it on. Therefore, if they don't have confidence coming into a store, they won't buy packs at all.
The logic made sense to the team at Osprey. They got to work quickly.
"We didn't necessarily want to come up with a whole new method of fitting a pack," Mazzuca said. "We wanted to lean on the training materials and fitting method that we've been using for years, because our retailers are already familiar with them. But we needed to shift them from a hands-on format to a show-and-tell format."
That new format requires a two-pronged approach, according to Mazzuca. First, retailers need to be instructed how to set up their stores to make contactless fitting possible. Once that's accomplished, sales associated need to be re-trained according to specific protocols.
No special tools were required to get the new system up and running; as a result, the cost to Osprey was negligible. The only outlay of resources was the time needed to create training assets that were distributed to retailers and posted online.
Andrew Schlegel, store manager at Great Miami Outfitters in Centerville, Ohio, has implemented the program in recent weeks, with great results.
"We knew there were going to be a lot of changes across the board as things reopened," he said. "As a team, we started throwing ideas around for how we were going to make it work. Our staff started asking, 'How are we going to do packs?' We actually developed some of our own protocols even before Osprey released theirs."
Those protocols were supported and expanded by Osprey's effort, Schlegel said. At Great Miami Outfitters, sales associates have been using the guidelines to create "classroom-style" experiences for customers—a method that aligns with the store's larger commitment to outdoor education.
"One of the benefits of contactless fitting is that customers have to learn a little bit about how to do it themselves, with the guidance [of a sales associate]," Schlegel said.
Looking ahead, Mazzuca is hopeful that the new guidelines will have applications beyond the pandemic.
"Not everyone is comfortable with being touched when getting fitted for a pack, regardless of virus risk," he said. "These methods, we hope, will be more broadly applicable even after this is all over."
Until that happens, he said, "it's all about safety."
Trending on Outside Online