Outside Business Journal
KEEN Kicks off PFC-Free Challenge with Full-Page New York Times Ad
The Oregon-based brand is asking outdoor footwear companies to take a "detox journey" and showing them how to do so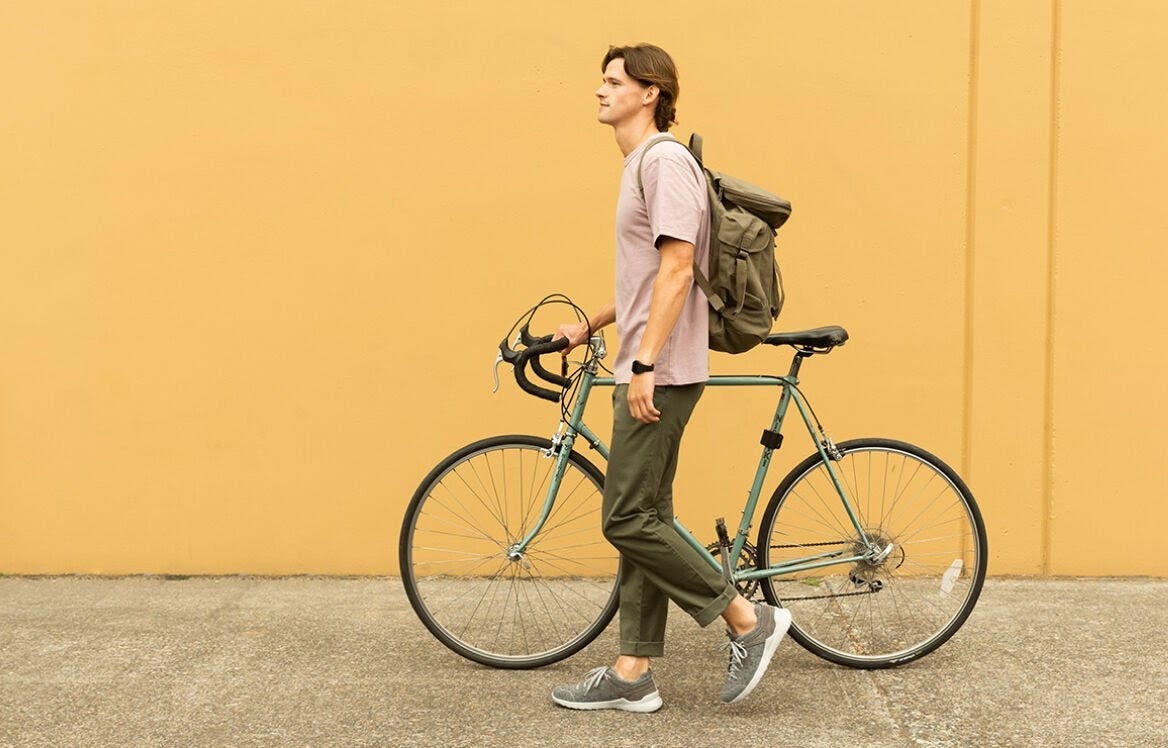 Heading out the door? Read this article on the new Outside+ app available now on iOS devices for members! Download the app.
Since its founding in 2003, Keen has lived by an unofficial mantra: "Actions speak louder than words."
That ethos formed soon after the company's launch, when brand leaders reallocated the entire annual marketing budget to support tsunami disaster relief, and it's driven the company ever since, now through the efforts of Keen Effect—what the company calls its corporate social responsibility (CSR) efforts.
"We've consistently been led internally by our values, and we've done it in a relatively quiet way because we're not the big guys on the block," Erik Burbank, vice president of Keen Effect, told Outside Business Journal.
He means that literally. Keen's neighbors in its hometown of Portland, Oregon, include Nike and Adidas, so it's been easy for the family-owned, privately held outdoor footwear brand to sit in the shadows and let those behemoths grab headlines.
But Keen is staying quiet no more. A highly visible example of its newfound, outspoken voice can be found in today's edition of The New York Times.
The company spent $70,000 for a full-page ad in the paper's business section, challenging the outdoor footwear industry to join the brand and become PFC-free by 2025. In the ad, Keen first welcomes Salomon to the "PFC-free club" after that brand also eliminated fluorinated chemicals from its supply chain, and then asks other footwear makers to hop aboard the "detox journey" it's been traveling for the last seven years.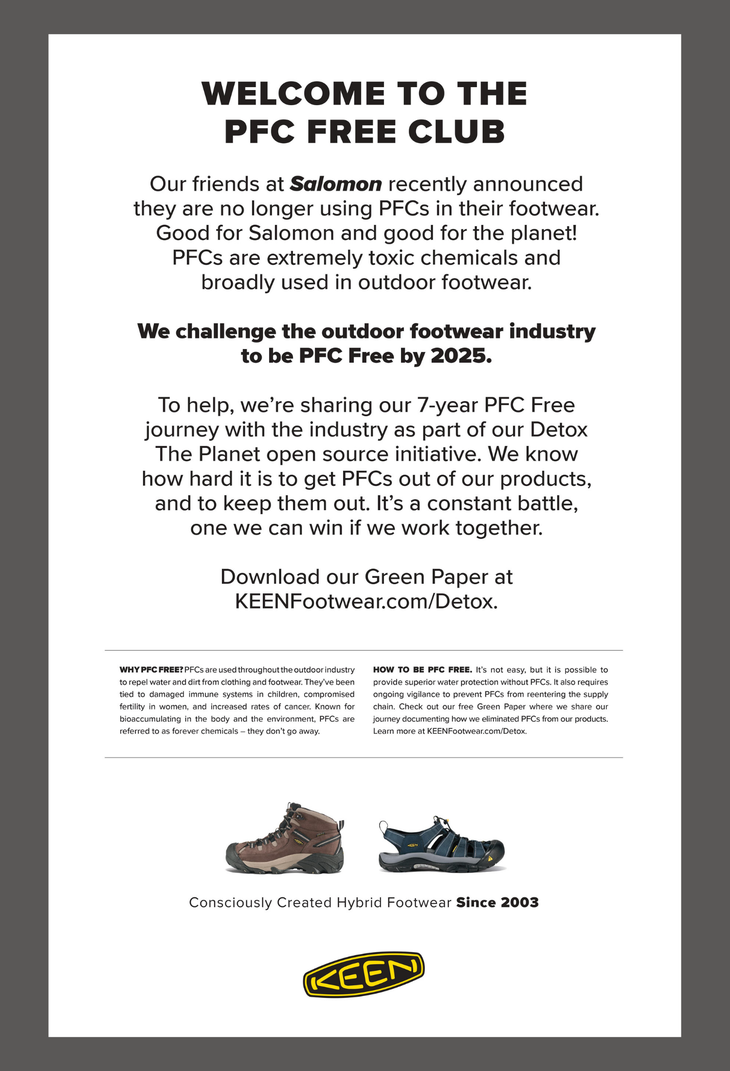 "This detox journey started around 2014 with the belief that we need to do more," Burbank said. "We wanted to focus on taking the toxins out of our supply chain. We're about experiencing the outdoors and the mental and health benefits of being outside. The idea of our products causing human and planetary harm was contrary to our core beliefs. We dug into this issue, and what we found was that those PFCs were being applied on everything, so we started along this journey."
"Open-Source Code" for Going PFC-Free
Keen's goal with the splashy ad is twofold. First, it wants to get as many brands as possible to become PFC-free and have a lighter footprint on the planet. Second, Keen wants others' journeys to be easier than its own. The company is sharing all the details of its "Detox the Planet" initiative in a document called "The Road to PFC-Free Footwear," which brands can use as a step-by-step guide.
"In the digital world, this is us making our code open source," Burbank said. "Anybody can go in there, play around, look at it. We've set up a feedback loop as well so that people can contact us for help with the roadmap, even the challenges."
Burbank says Keen views other footwear makers less as "competitors" and more as "colleagues" because "we're all on the same planet. The hope, whether it's a small degree of adoption or all the way in, is that this helps generate a shift in how brands are approaching their supply chain."
Burbank says Keen's path to becoming PFC-free took a long time, but with the open-source tips and tools provided in the paper, other brands should be able to achieve the status in a year or two.
He also noted that Keen chose this date for the ad because March 22 is World Water Day.
"It seemed a relevant moment in time," Burbank said. "PFCs leech out into the environment, and they're easily dispersed through the environment, particularly through groundwater." 
Speaking Up About Sustainability
Burbank says the amount Keen paid for the NYT ad might seem like a lot, but "the cost of not doing something is far greater," he added.
He also says he understands that going PFC-free could appear cost-prohibitive for some companies, and while he couldn't put a price tag on Keen's total investment in this process, other than that it's "easily in the seven figures," he believes that giving other brands a roadmap will allow them to spend less to accomplish the same things.
"Part of the ambition here is that by providing this roadmap, others can do it much more efficiently," he said. "We didn't have a roadmap, so we were trying to figure this out on our own through trial and error. That should save a lot of resources, both in human time and financial, for brands following this roadmap."
Burbank says Keen's PFC-free journey is an ongoing initiative, and part of the brand's larger sustainability story. Recently, the company also announced that it will reuse leather scraps from car seat manufacturers, upcycling them into footwear.
Another critical component of the open-source campaign is Keen's willingness to discuss what the company is doing rather than just letting its actions do all the talking. While the ad might seem to be about Keen promoting its brand, "that's not what this is about," Burbank said.
"We're reluctantly stepping up, trying to try to bring our colleagues along with us in taking care of human and planet health," he said. "Our mission is really about making the outdoors more accessible and inclusive for everybody. For that to work, we have to have an outside for us to go and enjoy, an outside for us to recreate in. We're feeling the imperative that somebody's got to step up and talk about it more publicly."