Outside Business Journal
Kemper Snowboards Returns Just as Retro and Bright as Before
After a 25-year hiatus, one of snowboarding's original brands is back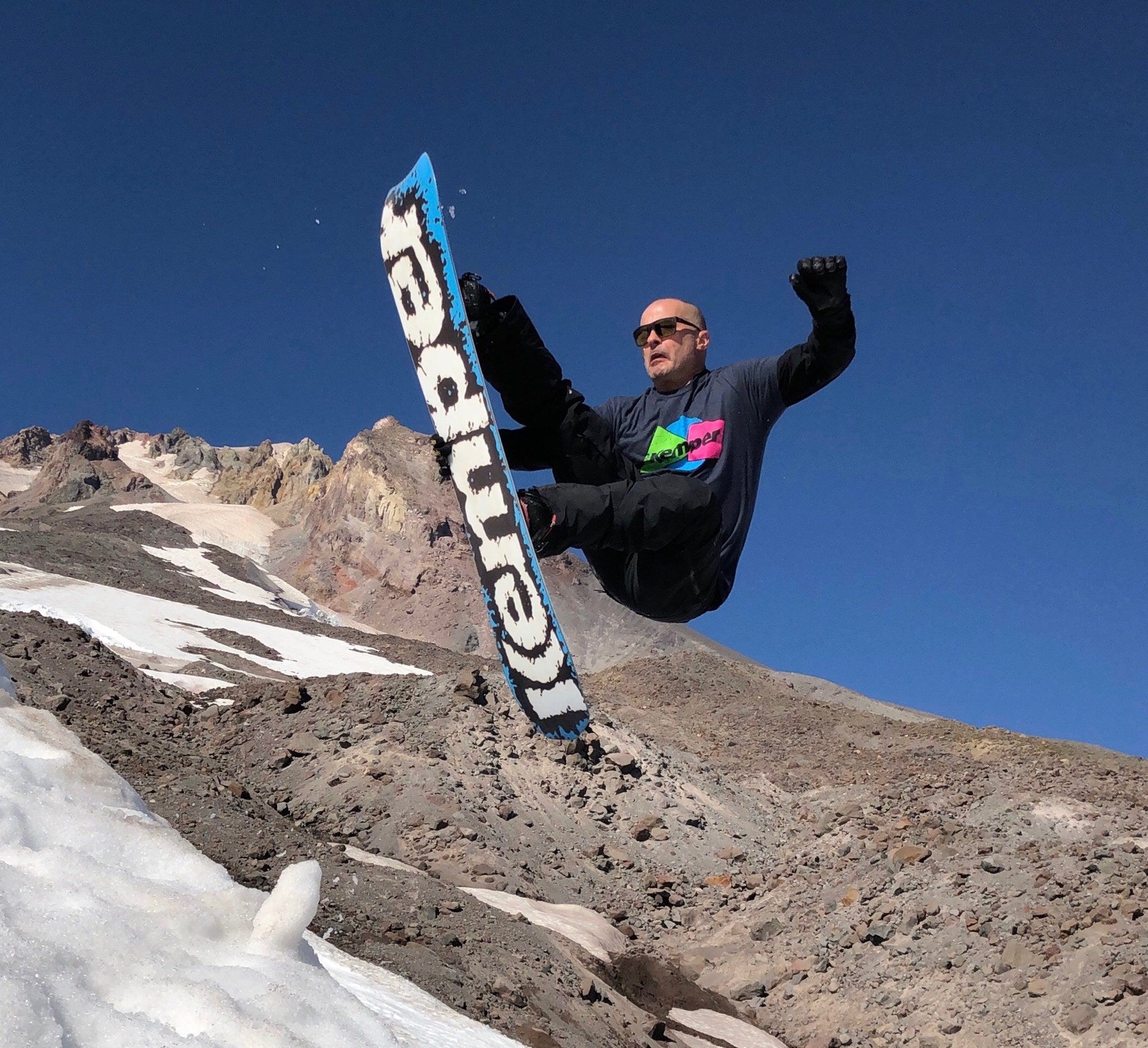 Heading out the door? Read this article on the new Outside+ app available now on iOS devices for members! Download the app.
In 1994, Kemper Snowboards went kaput after it was sold to an in-line skate company on the East Coast. But former professional snowboarder, Jib Hunt, driven by nostalgia, is resurrecting it.
For Hunt, 43, launching this one-man show is a culmination of his life experience. Hunt grew up skiing and snowboarding at Cranmore Mountain Resort in North Conway, New Hampshire. The Kemper Rampage was the second snowboard that Hunt owned at 13 years old in 1988—when Burton, Kemper, and SIMS were the top three snowboard brands.
After competing in snowboarding through college and graduating with a graphic design degree from Plymouth State University, Hunt spent five years as an apparel designer at Burton in Vermont. Then, Hunt worked for 16 years in New York City and New Jersey as a contract designer for streetwear apparel, launched Virgin Mobile USA, and eventually, ran global marketing for technology companies.
"I've always wanted to get back to working in the snowboard industry," Hunt said. "This is the perfect scenario to do everything I like and put it all into one company."
The brand is already growing. Product is predominantly sold direct-to-consumer online and through key snowboard shops, as well as a pop-up store. Distribution is expanding to Australia and Japan. And for winter 2020-21, the snowboard variations will double to 30 iterations of shapes, graphics, and sizes. OBJ spoke to Hunt, whose lifelong passion of snowboarding and design is apparent, as he enters the inaugural winter with Kemper Snowboards and 15 new takes on the heirloom rides.
What is your mission with relaunching Kemper Snowboards?
The snowboard industry has gone through many changes over the years. The era of snowboarding, during Kemper's prime in the late '80s, was completely associated with fun. The sport wasn't mainstream yet. Riders would make their own jumps and quarter pipes by hand. Relaunching Kemper is about bringing back the roots of snowboarding.
I also want to shake up the industry with a comeback brand, retro graphics, and bright neon colors. We want to be one of the big players pushing snowboard construction, shape, technology, and new graphics—in addition to old graphics. Using photo references and original snowboards, I redrew the graphics of three seasons' of models from 1988 to 1991.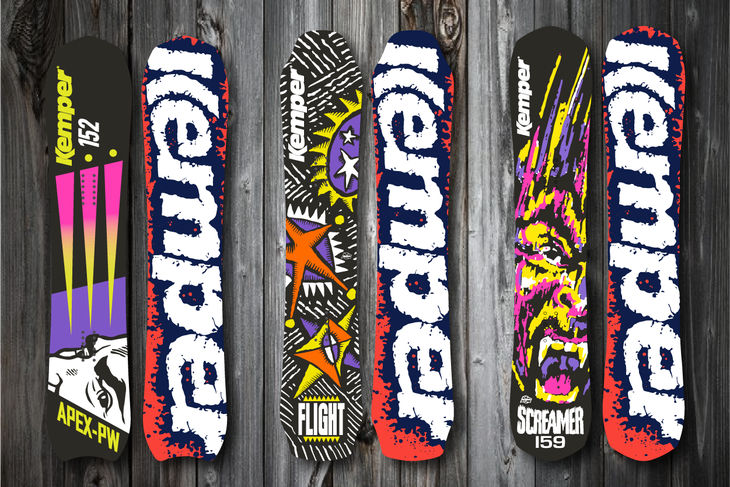 Who is the quintessential Kemper consumer?
There are two. The brand attracts people in their 30s, 40s, and 50s who snowboarded when the brand was first around. There's a huge following of collectors, sellers, and buyers of retro, nostalgic snowboards. Multiple Facebook groups have 8,000 to 10,000 people or more per group who collect or sell these boards there or on eBay. That market inspired me to restart this brand from back in the day.
Also, a lot of younger customers are into Kemper because of the retro graphics and uncommon shapes. A lot of companies are creative with shapes that don't follow a traditional template. But those younger riders want something different and throwback that makes them stand out. The Kemper Snowboards Flight, for instance, has a unique tail and nose shape, and it's the original silhouette of that snowboard.
Why is Park City a good home for Kemper?
I moved here in July. The Wasatch Mountains is home to some of the best snowboarding I've ever had. I like the vibe of the people who live in the area and I like the mountain scene.
Being here offers great visibility for the brand. We're the only snowboard company based out of Park City. We partnered with Corner Sports Ski & Snowboard Rental Shop, at the base of Park City Mountain Resort, to have a pop-up store within the shop. Everyone walks by the window to get to the chairlift, so it's great exposure.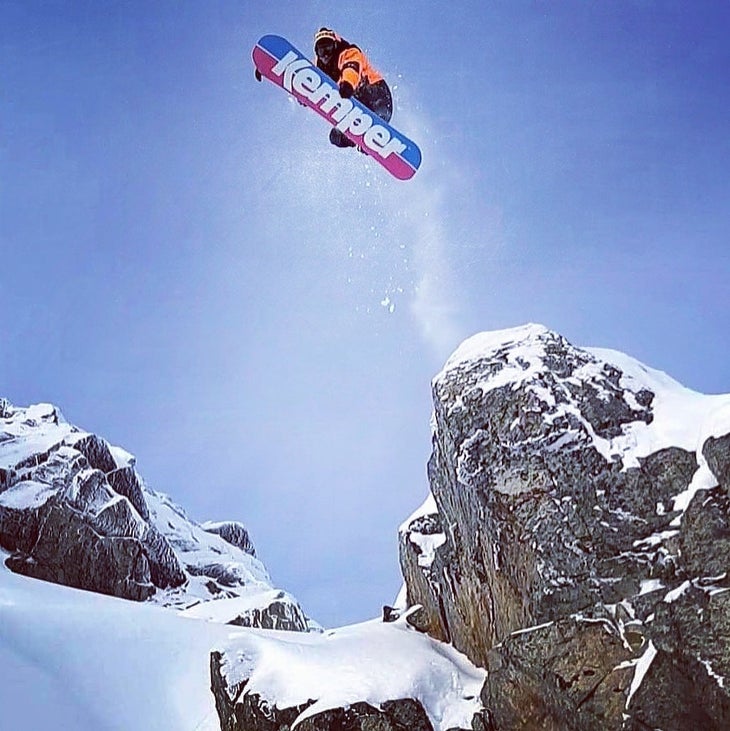 What production, design, and manufacturing resources do you have there?
I do everything right now: graphic designs for the snowboards, website, marketing, production, and sales. The goal is to grow sales and hire additional help.
Our manufacturing is done overseas in China in the GP87 factory, which is owned and run by American snowboarders. The factory has a great reputation. Many brands in the industry have their boards made there, including Weston. The quality control, design, and manufacturing is done by men and women who know snowboarding and are up to date with the latest and greatest in the industry.
What's your distribution model? Will we see you at Outdoor Retailer?
We sell off of our website, kemper-snowboards.com, and in our Park City pop-up shop directly to consumers. We also sell at retail core snowboard shops such as The Easy Rider in Canada and Invasion Board Shop in Vermont. We also currently work with Moosejaw online in the states. We have a distributor in Australia and we working on expanding in a large Japan retail chain and also core snowboard shops for 20/21.
I will not be at OR, but plan on being at the on-snow SIA demo. We will also be exhibiting at the WWSRA Salt Lake Shows and Utah demo days.
How will Kemper stand out from longstanding snowboard makers like Jones, Burton, and Weston Backcountry?
First, we are aligned with a factory that produces snowboards for some of the top brands. To push the limits, we need great construction and technologies—like edge traction, different core and sidewall materials, and carbon integration—plus fun shapes and graphics that stoke people.
There's also an evolution of brand growth. As bigger companies become more mainstream, the core customer of the sport tends to gravitate away and toward smaller, edgier, newer companies. Those riders want to be more one-of-a-kind and not have same product as a larger mass of people on the hill.
Trending on Outside Online