Outside Business Journal
From Outdoor Retailer to Shark Tank: A Startup Shines in Prime Time
Peter Arlein, founder and owner of Colorado-based mountainFLOW eco-wax, got his big shot on ABC's "Shark Tank" on Friday night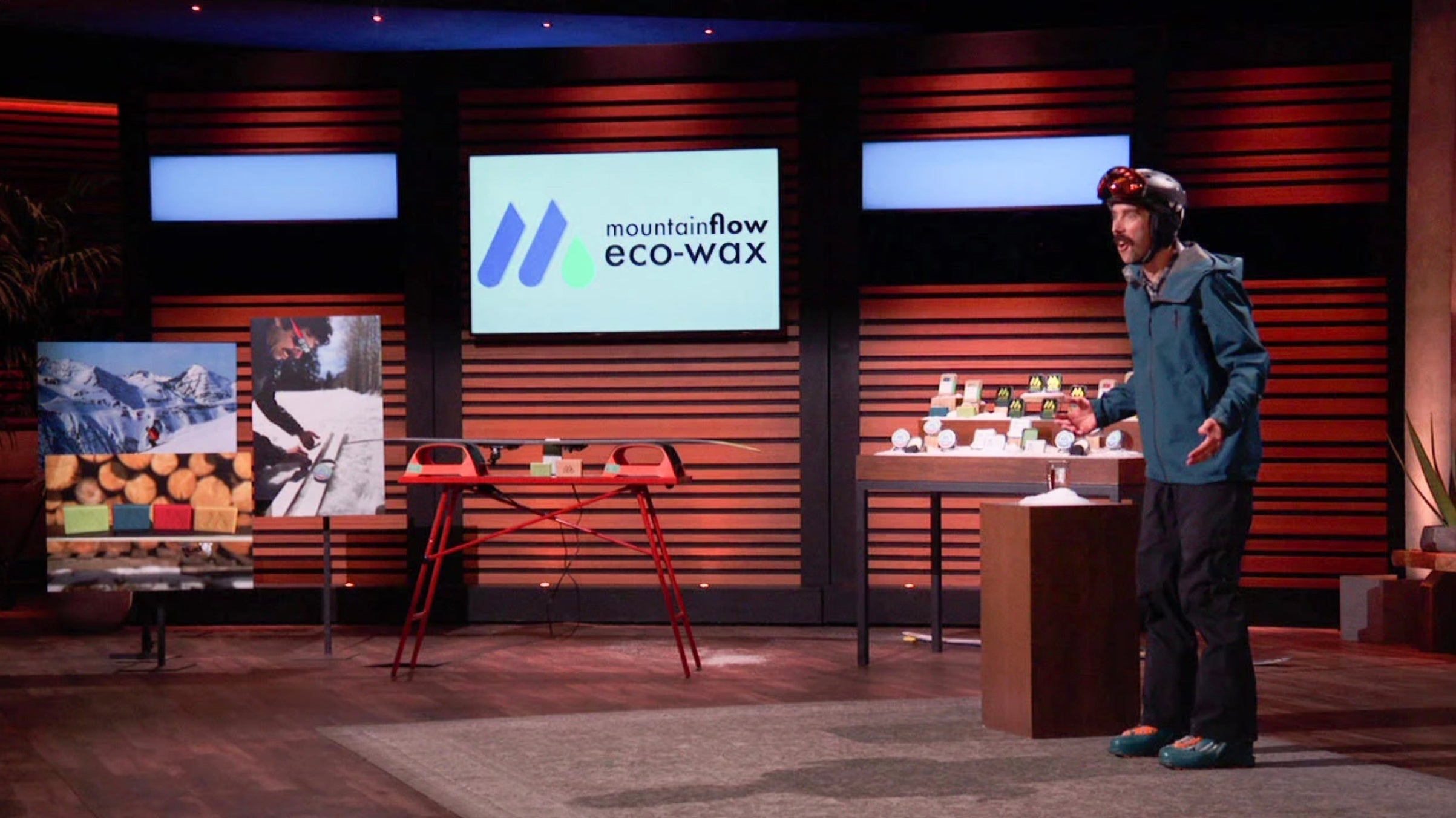 Heading out the door? Read this article on the new Outside+ app available now on iOS devices for members! Download the app.
When Peter Arlein first appeared on camera during Friday's episode of the hit reality show "Shark Tank," his ski ensemble and swagger quickly garnered the attention of the "sharks," who all smiled at the memorably offbeat and mustached contestant before them.
Wearing a full kit—replete with helmet, goggles, boots, skis slung over his right shoulder, and poles gripped in his left hand—and sporting a confident grin, Arlein strode into the show's production studio at The Venetian Resort in Las Vegas and proceeded to deliver the pitch of a lifetime.
Arlein introduced his Carbondale, Colorado-based eco-friendly ski wax brand, mountainFLOW eco-wax, to the panel of celebrity entrepreneurs and asked them to invest in his business in exchange for a small ownership percentage. When he was done, it was obvious he didn't just stick the landing. He stomped it.
"I thought it went great," Arlein said Sunday afternoon via phone from his office. "Honestly, I was happy with how the final edit turned out. They captured the most interesting parts of the conversation. It told the whole story, so the viewer could understand where I was coming from."
Arlein taped his "Shark Tank" segment last summer, though it didn't air until Friday, February 5. He asked the sharks for $250,000 in exchange for a 10 percent stake in his company. The panel peppered him with questions about the business, including its revenue, sales channels, competitors, and current and future market profiles.
His presentation was as well received as his mountain look, and he adeptly and calmly responded to questions about why mountainFLOW eco-wax—which doesn't use petroleum-based materials (many other waxes do), yet doesn't sacrifice performance—would be worthy of their capital. The sharks understood the benefit of Arlein's product as well as its growth potential with resorts, ski shops, and other industry stakeholders looking to lessen the sport's environmental impact.
Two sharks, Mark Cuban and Lori Greiner, bowed out, but Kevin O'Leary, Barbara Corcoran, and Daymond John each offered to invest. After some haggling, Arlein declined John's proposal and accepted O'Leary and Corcoran's joint investment of $300,000 in mountainFLOW for a shared 20 percent ownership of the company.
"I was stoked on the deal," Arlein says. "To see them bump up the offer and provide even more money than I was asking for was a good show of faith. They were willing to compromise, and they obviously wanted to come in on this deal. That was enough for me to say, 'Yeah, let's do this.'"
From Venture Out to Vegas
The roots of Arlein's appearance on the show date to January 2020, when his eco-friendly ski wax caught the eye of a "Shark Tank" talent scout prowling the Outdoor Retailer Snow Show in Denver.
From a booth that was seemingly hidden in the show's Venture Out section, Arlein harbored the typical OR expectations for his burgeoning plant-based ski wax brand. He figured he'd meet retailers, write orders, and promote the hell out his brand to anyone who stopped by to say hi or express curiosity about why a skier or snowboarder should buy his nascent product instead of the tried-and-true ski waxes that have been on the market for decades.
Little did he realize the event would be life changing. The "Shark Tank" scout, who didn't approach Arlein during the show, soon sent him an email to gauge his interest in pitching his innovative product on television. At first, Arlein thought the email was spam and nearly deleted it.
A few months after accepting that initial offer, Arlein traveled to Vegas to pitch his business and, hopefully, attract an investor.
In the 'Tank'
Arlein says he watched old episodes of "Shark Tank" to prepare for the line of questioning from the sharks. While he knew the types of business topics they'd want to discuss—where production occurred, annual sales revenue, how many retailers sold mountainFLOW eco-wax—he was, understandably, quite nervous.
"These are some big-time stars, and this was national TV," he says. "I had to rehearse the pitch over and over again until I felt comfortable with it. But then I walked into the tank and there they are—these five famous people I've seen on TV, and I know that they're not always super nice to the contestants. I'm in this huge studio, with the lights and the cameras and the crew, and it was a little overwhelming. But once I started the pitch, it just all started to flow. I built this brand from the ground up, and I developed the products myself, so I know the product inside and out."
He was concerned, he says, with how well a plant-based, biodegradable ski wax would go over on a show where the pitches usually concern broader categories in the marketplace. He wondered whether his product was too niche.
But Arlein says wearing his ski gear put him at ease, as if he were on the slopes, and he confidently conveyed to the sharks the value of mountainFLOW as a ski wax that's better for the Earth and just as effective as anything else on the market.
"That value proposition immediately resonated with them," he says. "It always takes a little bit of education because people don't know what 'normal' wax is made of, or that there's an alternative. But once I tell that story in 10 seconds, people say, 'Yeah, this is a no-brainer. I could see using it. I could see why ski resorts would want to use it and market it. I could see why ski shops would get on board.' The sharks were able to see the value in it."
Made for TV
Arlein didn't see the final cut of the episode until it aired, so he had no idea what portions of his roughly 45-minute presentation would be included in the 10-minute clip. He says he was "terrified" beforehand because the show's producers "could've made me look like the biggest dummy in the world or they could've made me look like I know what I'm talking about."
Clearly, they showed Arlein in a favorable light.
In advance of the show's airing, and in hopes of a positive reaction, mountainFLOW boosted shipments and suggested to channel partners that they increase their inventory. Now, with this sudden fame, look for the brand to further ramp up production and distribution.
"We've already seen a nice bump," Arlein says. "Friday night was big, but Saturday was pretty good and [Sunday] has been good too. A lot of people stream the show, so they're watching after the fact and now we're getting steady orders, every day."
Arlein says the post-show buzz has been off the charts. He's gotten calls, emails, texts, and social media mentions from friends far and wide. Now, he and his team are eager to use the business savvy of O'Leary and Corcoran to take mountainFLOW eco-wax to the next level, an effort that will include a sizable investment in global marketing.
Arlein made quite the impression when he walked onto the "Shark Tank" set. But once the deal was sealed and his segment over, Arlein created another made-for-TV moment. As he walked out of the studio, having secured two new partners and an infusion of cash, he pumped his fist.
It didn't seem possible, but in that moment his smile grew even wider.