Outside Business Journal
On Running Goes Public, Raising $746 Million in IPO
The 11-year-old Swiss footwear maker, which debuted on the New York Stock Exchange today, has an estimated market value of $7.3 billion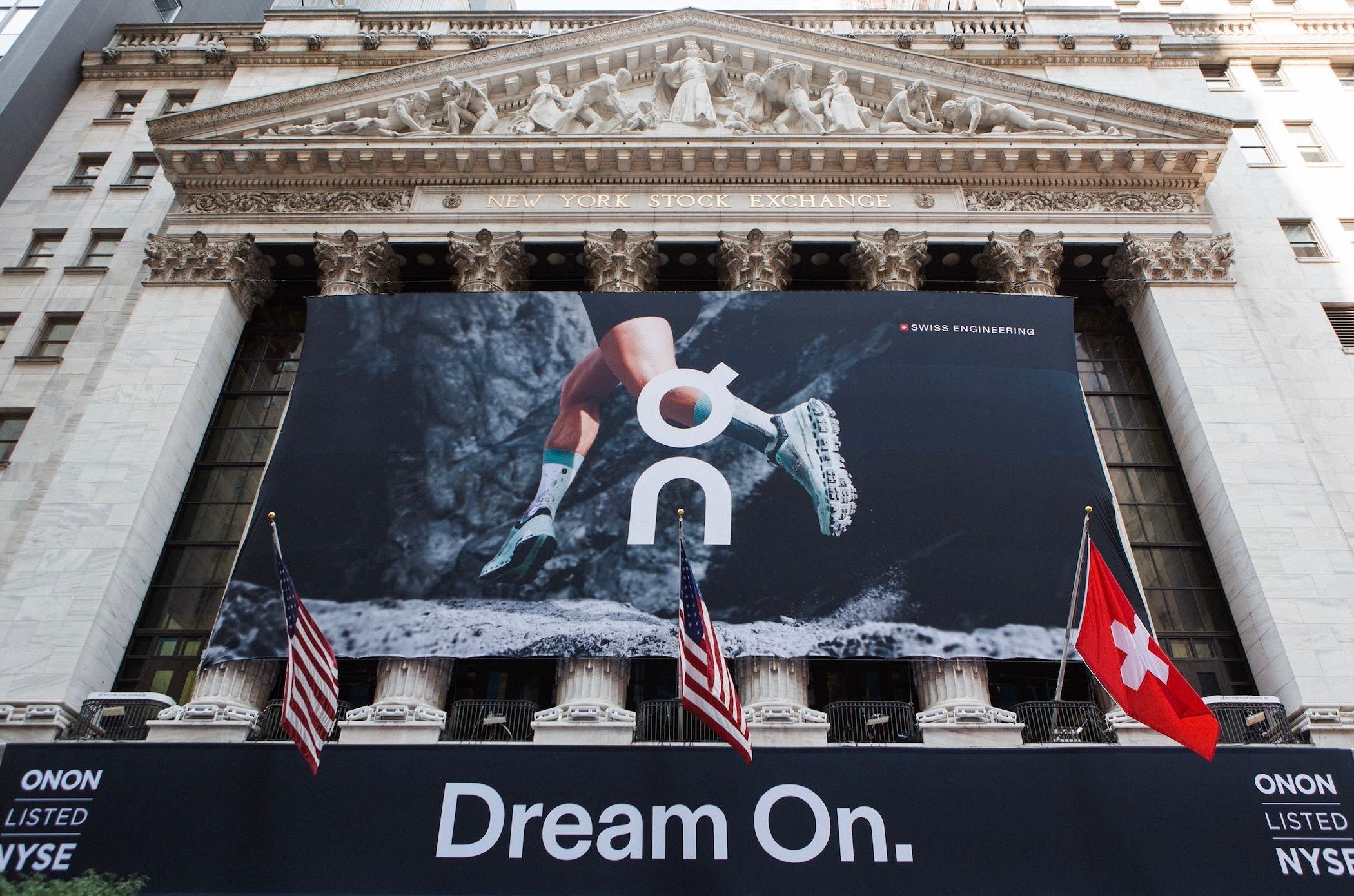 Heading out the door? Read this article on the new Outside+ app available now on iOS devices for members! Download the app.
When Swiss-based footwear company On Running debuted on the New York Stock Exchange Wednesday morning, it did so in style—while also staying true to its mission and brand.
On's founders, along with about 100 other runners, jogged along the Hudson River en route to Wall Street, where the company's leaders rang the NYSE's opening bell, officially making their business a publicly traded company.
"On is a global brand, resonating with customers in more than 60 countries," the company wrote to commemorate the occasion. "Running to Wall Street with its community is in the DNA of a brand born 11 years ago in the Swiss Alps, driven to prominence by World Champions, Olympians, and a fanbase around the world who have fallen in love with its unique performance across both shoes and apparel."
With its IPO, the brand—which is barely a decade old yet already recognized globally for its rapid growth in a crowded market—offered further proof that outdoor and athletic consumers aren't the only ones buzzing over the company. So are investors.
On priced its IPO of 31.1 million shares at $24 a share—up from its initial expectations—for an initial raise of $746 million. The brand has an estimated market value of $7.3 billion based on the number of outstanding shares listed in U.S. Securities and Exchange Commission filings.
The company's first day on the stock exchange didn't disappoint. On shares spiked $11, or 45.8 percent, to $35 at market close Wednesday. The business is trading on the NYSE under the ticker ONON.
"On's initial public offering and listing on the New York Stock Exchange will allow it to continue its unique journey as an independent sports brand and engage with new consumers around the world with agile access to capital," the company wrote. "As the On brand continues to progress, the spirit of running and exploration remains paramount."
The move to public also means On joins the OBJ Outdoor Index—Outside Business Journal's custom investing tool that compares the financial performance of companies with one or more outdoor brands in their portfolios.
It will make its debut with some impressive revenue numbers. On's half-year net sales for 2021 grew 85 percent to CHF 315 million (US$342.5 million) compared to the same period in 2020. OBJ will start tracking the company's sales and profit numbers beginning with its first earnings report later this year.
On Running: Origins and Growth of the Brand
Olivier Bernhard, Caspar Coppetti, and David Allemann launched On in 2010 in Zurich, but the brand expanded beyond Switzerland quickly. According to a report in Forbes, On now has more than 1,000 employees in nine offices, including its largest in Portland, Oregon.
On sells shoes in more than 60 countries, with North America now its biggest market, accounting for 49 percent of its business. The brand's global footprint includes Europe, Asia, Australia, and Latin America.
"We feel very much like we have grown a company that has become a global movement out of Switzerland and are ready to take that next step, to continue to innovate and become relevant to more consumers globally, including China," Maurer told Forbes. "We want to expand our own retail network and on the innovation side we can invest in materials and sustainability. We feel this is the right point in time."
Not only was the brand's bell-ringing Wednesday morning different from the norm—how many C-suite execs run to Wall Street to launch their IPO?—but On's formal announcement about the IPO also stood out.
Gone was the traditional press release with On's financial figures lined up above a pithy quote from its leadership team about the magnitude of the day. Instead, the brand wrote about its business model in a series of vignettes—about its innovation, its goals of capturing a wider audience, its "explorer spirit," its mindset to "dream on."
That outside-the-box PR strategy is on-brand for a company that has forged its own path in the last 11 years. Though the brand is in 8,100 retail doors, On's direct-to-consumer business accounts for 37 percent of revenue. Now, On will look to leverage its multichannel strategy and its brand loyalty as it grows with the backing of a new legion of stakeholders.
"On successfully bridges the gap between a highly demanding performance audience and culturally obsessed lifestyle consumers," the company wrote. "In a world where sports, life, and business mix like never before, it's no surprise that both audiences appreciate products with performance DNA that can stretch far from the track."