Outside Business Journal
New Numbers Indicate an Outdoor Industry Turnaround
The newest survey data from the Outdoor Recreation Roundtable show a positive change in sales and employment at outdoor companies for the first time since April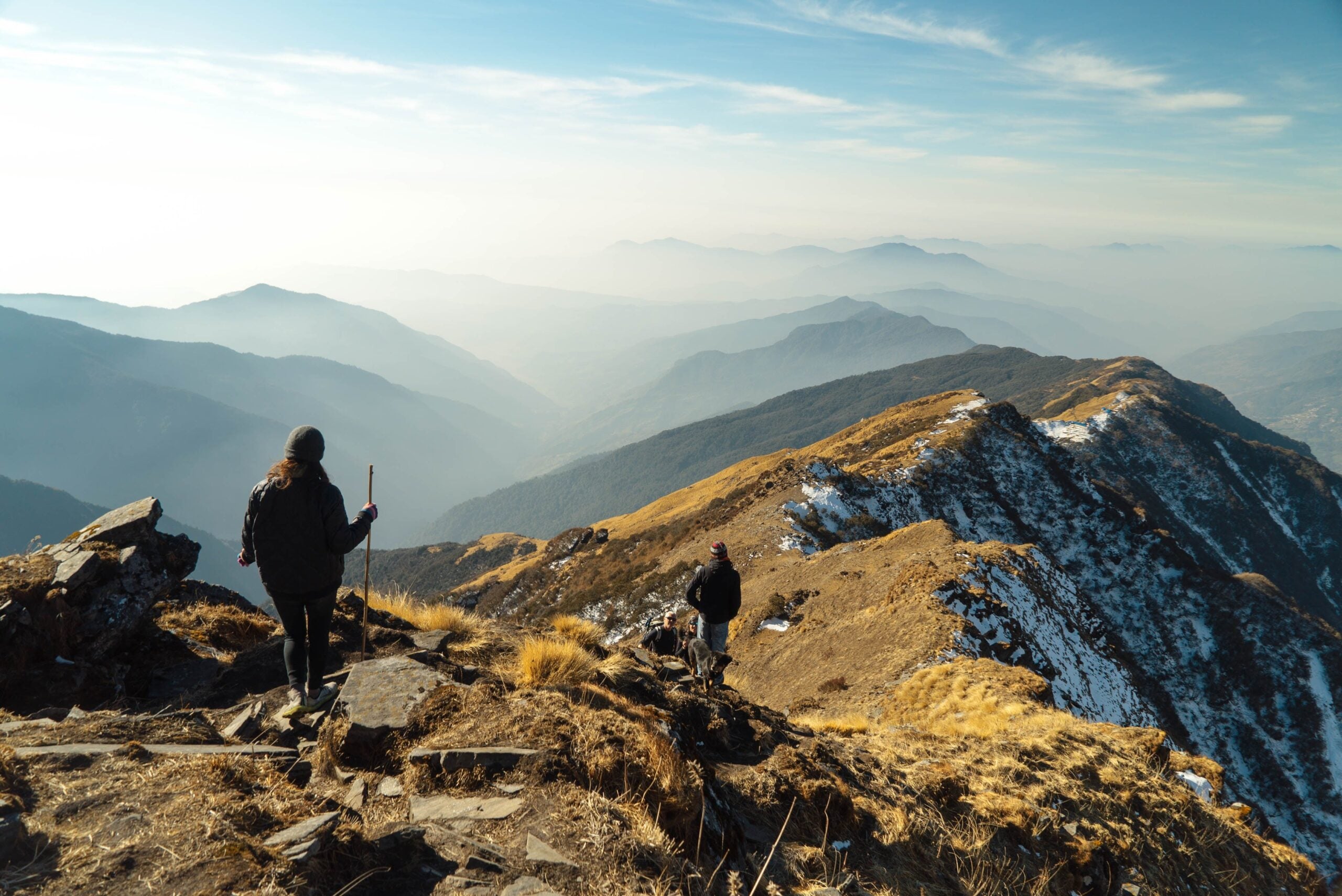 Heading out the door? Read this article on the new Outside+ app available now on iOS devices for members! Download the app.
It's hard to believe, but the latest data from the Outdoor Recreation Roundtable showing a 65 percent year-over-year decrease in sales among outdoor businesses actually counts as good news.
Of course, it's all about context.
ORR, in partnership with the Oregon State University Outdoor Recreation Economy Initiative, has conducted several large-scale surveys of outdoor companies since the pandemic began. These surveys include responses from 23 national outdoor recreation trade associations, representing over 25,000 businesses with nearly 2.5 million employees.
The latest results, which present data for August, constitute the first time the numbers have not trended downward since the first survey was conducted in April. Responses to questions about supply chain disruptions, layoffs, and sales indicate that many outdoor businesses are headed in a positive direction for the first time in months.
"This is the first time the industry showed some positive-trending recovery numbers," said Lindsey Davis, vice president of ORR. "We had been hearing positive things anecdotally from members in late May and early June, but this confirmed it."
It's heartening news, but it by no means indicates that we're out of the woods completely. The whole picture is—as usual—complicated.
Running the Numbers and Communicating the Results
The most promising numbers from the new survey involve stats on production/distribution, revenue, and employment.
In April, 89 percent of outdoor companies surveyed reported disruptions to production and distribution. That number increased to 100 percent in May, and decreased to 91 percent in August. Similarly, year-over-year revenue was down 84 percent in April, 94 percent in May, and 65 percent in August. Layoffs and furloughs took place at 79 percent of surveyed businesses in April, 88 percent of businesses in May, and 47 percent of businesses in August.
Following the publication of the survey data, ORR hosted a conference call on September 3 to communicate the results to eight leaders from relevant trade associations, including members of the National Association of RV Parks & Campgrounds; the RV Industry Association; Outdoor Industry Association; the National Forest Recreation Association; the American Sportfishing Association; the Motorcycle Industry Council; America Outdoors; and the National Marine Manufacturers Association.
"We wanted to have this call to explain the results," Davis said. "Our message was, yes, we have a really great outlook right now, but there's still a lot of looming threat for businesses in the outdoor industry."
Those threats, Davis says, come mainly in the form of a radically changed landscape that will require new business strategies to navigate.
"The ironic thing is, while we're in the middle of this hardship, we're getting the participation metrics that we've always dreamed of," Davis said. "The industry has been working double-time to show up for that. We're seeing more people interested in very specific categories like fishing licenses, ATVs, RVs, and bikes. At the same time, these industries are also dependent on sales that happen at trade shows and supply chains being able to keep up with the demand. We wanted to have a call to explain all these nuances."
Guides Still Struggling
Unfortunately, Davis says, adventure guides and outfitters are still suffering the worst effects of the pandemic, with little hope of a turnaround soon. As Outside Business Journal reported in July, the coronavirus crisis has hit the guiding community particularly hard.
"Guides and outfitters are really not recovering in any way, shape, or form," Davis said. "Most operators haven't been able to reopen, and if they did open, they're not able to operate at a profitable capacity because of social distancing limitations. The majority of those businesses are still at risk of permanent closure."
On the call, American Outdoors executive director Aaron Bannon said that most guiding companies are operating at a reduced capacity of around 60 percent. There is reason to believe that demand to book guided trips still exists at pre-pandemic levels, he says, but state and local restrictions have throttled companies' ability to meet that demand. Even if tour operators wanted to open at full capacity, many could not do so legally. With margins already thin and no other sources of revenue, these companies have felt the pain of the restrictions like few others.
A Complex Picture
While the new numbers from ORR are largely positive, the full picture of the situation is much more complicated than a complete, industry-wide swing in one direction or the other.
"According to the U.S. Census Bureau, outdoor recreation was the second-most impacted industry this year due to the COVID-19 pandemic, next to food and accommodation," said Davis.
"Impacted" has meant unpredictable changes in both directions, including some sectors of the industry outperforming sales in previous years. According to the ORR's latest data, 22 percent of businesses are reporting an increase in sales compared to one year ago, even as 65 percent report decreased sales. Any businesses holding steady—showing no increase or decrease in sales—represent a very small sector of the industry.
(We reported on some of the categories outperforming last year in the summer issue of The Voice, shown below. We also covered the surging sales at bike shops earlier this year.)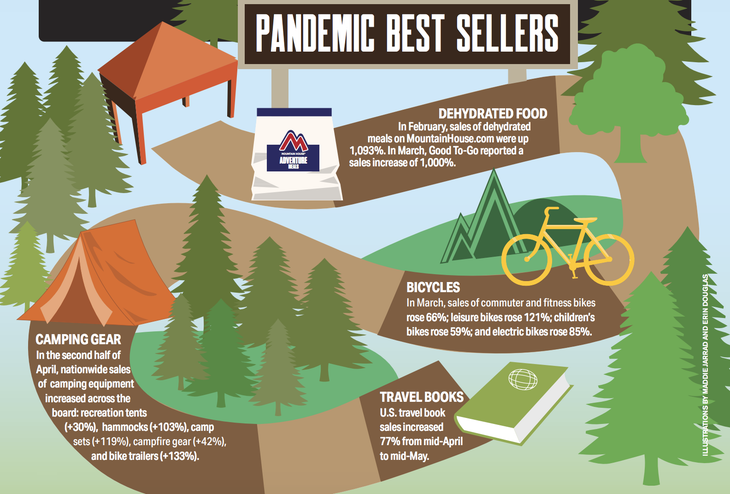 At the same time, there's still considerable fear among members of the outdoor community that we haven't seen the worst of the pandemic's effects.
In a recent OBJ poll, 75 percent of respondents said they expect outdoor industry revenue to remain down over the next six months. Davis addressed that reality by noting that, of course, one positive data point doesn't indicate a trend, merely a change.
"I think industry-wide, we are optimistic, but the sentiment is we're not completely safe yet," said Davis. "There's still so much that needs to be fixed for a lot of businesses to survive. The picture is both positive and negative—there's incredible growth and user participation in some areas, but at the same time, if we go through another round of closures and shutdowns, a lot of our small businesses aren't going to make it. If supply chains aren't repaired, there won't be anything to sell in the first place. So we're optimistic, but we're not out of the woods."
Trending on Outside Online