Outside Business Journal
Taking the Show on the Road: How Brands Can Support Specialty Shops Through Retail Events
Tours aren't just for rock bands. With direct sales eating away at specialty shop sales, road shows featuring retail events offer a symbiotic solution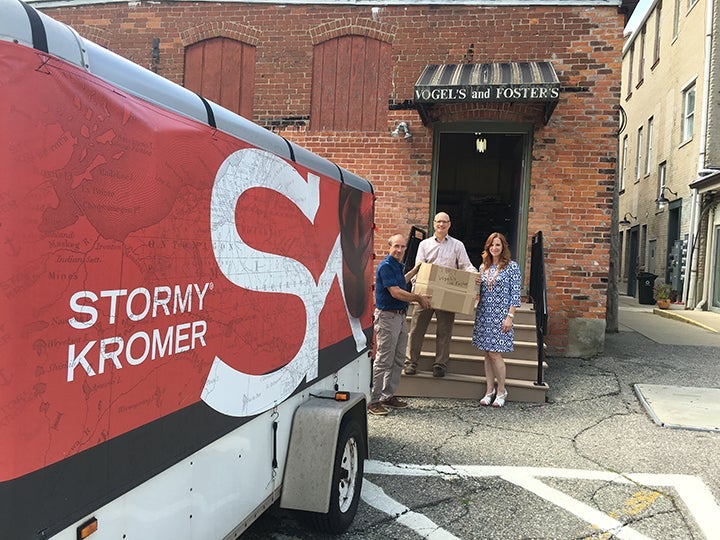 Heading out the door? Read this article on the new Outside+ app available now on iOS devices for members! Download the app.
It was still dark when Stormy Kromer's president, Bob Jacquart, pulled out of his driveway. It was 5 a.m., and he was off to meet people he knew well, had talked to for years, but never actually laid eyes on.
Stormy Kromer is one of several brands that has noticed the widening, internet-fed gap between vendors and retailers and has decided to do something about it, taking the brand on tour to shake the hands of the people actually passing product over the counter. From Backpacker Magazine's Get Out More Tour to Patagonia's endlessly meandering Worn Wear mission, more and more brands are hopping on board with retail events. Most recently: Electric's Legends of the Volt Tour, RootsRated and Marmot's Fall in Love with the Outdoors Tour, Industrial Revolution's Go and See Tour, and Jacquart's journey to hand-deliver 22 stores-worth of Fall 2016 product.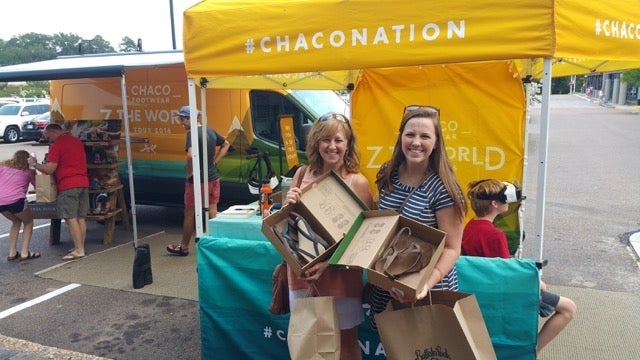 It's becoming a popular marketing strategy because it creates a symbiotic relationship; brands use the trip to drum up social media hype, introduce new products to retailers and customers, and cultivate their adventurous image while shops get sponsored retail events.
Other tours are more focused on cultivating a specific brand image or reaching out to a new demographic. Chaco's 2015 music festival-hopping Fit for Adventure Tour is one example. Another is Keen's Live Monumental tour, which motored tirelessly across the country to fan the flames of conservationist fervor, visiting natural areas and gathering petition signatures for proposed national monuments (while more securely aligning their brand image with outdoor advocacy at the same time).
Building Relationships

Jacquart, however, confesses he wasn't aware that tours were trending. For him, the idea was born after weeks of daydreaming about how he could learn more about how to be a better specialty business.
He knew his specialty retailers had something to teach him, but didn't want to pick anyone's brain for free; he'd do something in return. "I figured, how about I deliver them their preseason orders, save them a couple hundred bucks in freight in exchange for an hour of their extremely valuable time," he said. So he hit the road, towing a trailer wrapped in Stormy Kromer banners.
"I've worked for my company 45 years," Jacquart mused over the phone, turn signal clicking in the background. "And this is the first week I've been away from my wife on business."
Jacquart is a man who cares about relationships. And that's the whole point, after all, of putting rubber to the road and seeking out handshakes and facetime with retailers and customers. It's showing solidarity with your boots-on-the-ground people. It's showing them you care. And his first stop, Mr. Bike Ski & Fitness in Escanaba, Michigan, felt it.
Just hours after Jacquart's visit, assistant manager Mickey Trottier said, "We don't have CEOs of any of our companies, ever, that stop by and shake hands and talk about family and life," she said. "In a time when companies are doing more and more (direct) internet sales and caring less about the dealers, he shows us we count."
Aside from being able to put a face to a name, Trottier said it makes a big difference for the head honcho, not a distant middleman, to ask what he can do to promote a retailer's success.
"We're talking to the guy who can make things happen really quick," she said.
That's not the only way such road trips can help specialty retail.
A Nod to the Host
Often, the brand throws a party in whichever retail store it lands.
"It's like a miniature outdoor retail version of a marquee concert. You show up to see Journey (Patagonia) but it turns out Foreigner (Great Outdoor Provision Co.) is opening, and you realize they're pretty great, too," said John Millsaps, backcountry creative officer at multi-store North Carolina retailer Great Outdoor Provision Co.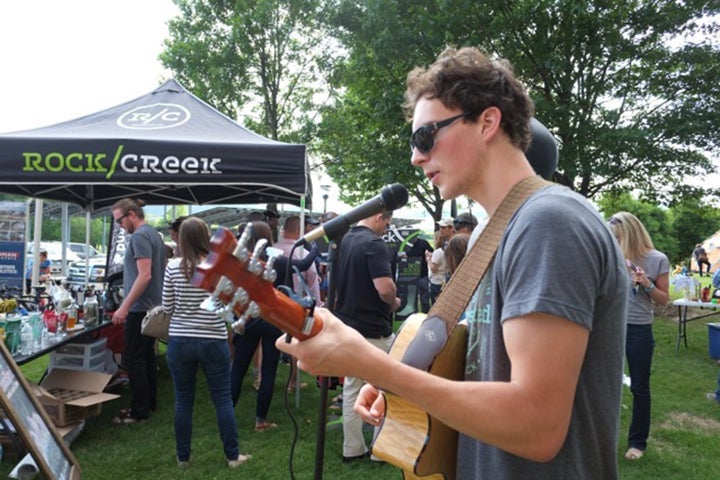 After a successful 2015 tour, online adventure guidebook and content platform RootsRated teamed up with Marmot for their 2016 trip, beginning this fall. Anytime RootsRated drops in for a retail event, they serve beer, play live music, hold tent-pitching contests, and invite a local conservation group, chosen by the retailer, to give a presentation. In 2015, RootsRated held over 35 Pint Nights in a row and raised over $20,000 for local conservation groups. Each event brought an average of 150 to 200 people to the store.
Both Marmot and RootsRated do good business online, relying on the speed of the internet to get purchases made and content disseminated, respectively, so it might seem curious that they're going to the considerable time and effort to fund and plan a logistically challenging tour.
"A tour is three-dimensional. It's conversational. It's crowdsourced," said Jordan Campbell, Marmot's director of public relations. "The cool factor is huge."
"Ultimately when you talk about who's driving participation and getting new people into the sport or doing trail work or raising money to protect the areas where we recreate, you're talking about specialty retail," said Mark McKnight, also a cofounder of RootsRated.
Plus, the whole network of trails, adventure destinations, and secret spots they've collected has been provided to them by outdoor shop owners and employees across the U.S. It's in their interest to keep specialty retail strong.
Quantifying Success
Campbell says Marmot was drawn to RootsRated because of the content platform's reputation for authenticity and the fact that the RootsRated staff, as real adventurers and product users themselves, represent a lot of the core outdoor audience that Marmot is trying to reach.
"It's really a tour that's designed to generate stoke and excitement about the brand," said Campbell.
Chaco, just finishing its third year of experiential tours with the 2016 Z the World Tour, is after a similar connection with their consumers.
"It's an opportunity to bring in loyal Chaco fans who really want to connect with the brand as well as new consumers who want to learn more," said Chaco experiential marketing specialist Alyssa Omlie.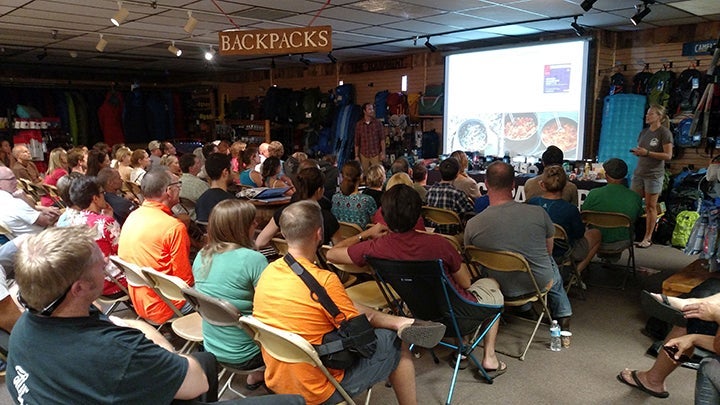 And bring in customers, they do. To quantify the success of a tour, which Omlie said can cost hundreds of thousands of dollars, Chaco representatives actually count the people they talk to. Representatives carry around clickers that they punch every time they speak to someone new, thus measuring "consumer contact," one measure of a successful tour according to Chaco marketing VP Colin Butts. They also use external analysts to measure brand awareness and track likes, comments, and shares attributed to experiential content (like tour-related posts). The verdict?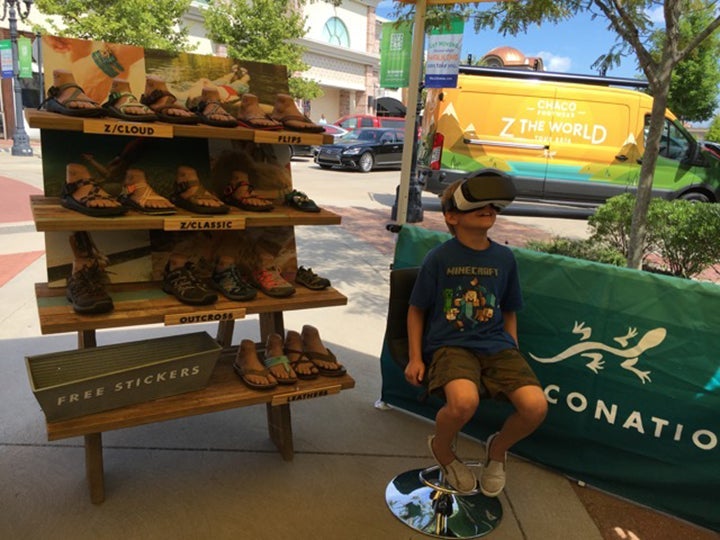 "Awareness is increasing. We doubled our awareness among 16 to 24 year-old-women from 2015 to 2016, and consumer contacts are at an all-time high in the dozens of thousands," Butts said.
As for specialty stores? According to Adventure 16's John D. Mead, store events draw as many as 300 people to the store, and Adventure 16 sees an uptick of sales related to brand chatter before the event as well as directly after when attendees drift from their chairs (and the refreshment table) onto the floor. Touring brands help with that.
"Chaco doesn't bring any retail product with us," said Omlie. "We push all customers to the store so they can see what the store brings to their purchase."
Getting on the Invite List
Want to host a tour? Securing an invitation is one part knowing the right people and one part having a proven track record. Marmot, RootsRated, and Chaco all say they hand-pick their most successful independent retailers, the ones they've worked with for years and can trust to hold successful retail events.
McKnight says RootsRated chooses retailers they already have a relationship with, though retailers are welcome to reach out to them at any time to talk about partnering. Coming to the brand with a resume of successful in-store events doesn't hurt.
"We want retailers who will invest in the opportunity," said Butts. That means dealers that demonstrate their willingness to spend time and energy planning as well as contributing financially to bring in food, drinks, or music. Chaco does offer after-the-fact reimbursements for event co-promotors, but being able to trust a dealer's absolute commitment to the event is a must.
Putting the Party on Right
An effective tour is one that highlights what retailers bring to the table. Achieving road tour success is harder than you might think.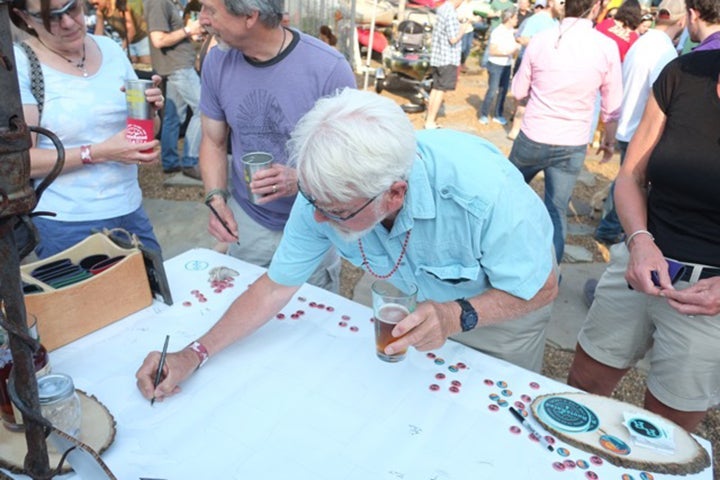 According to both Mead and Millsaps, the ingredients for successful retail events include: live music from a local band, food from a local restaurant, local beer or wine, six to eight weeks of lead time for retailers to publicize the event, and a talent for flexibility.
When the air conditioning in the presentation room goes out or the presenter shows up late, it helps to have brand reps that can roll with the punches and have a loose enough itinerary to rearrange.
"The transformer blew out at a Royal Robbins talk once," said Mead. "So we lit some candles and went on with the presentation, and it was one of the best shows we've ever had."
If the atmosphere stays light, when the customers wave their goodbyes at the end of the night, hopefully with a receipt and new purchase in-hand, they're more likely to leave with a smile.
"We get to be the heroes," said Mead. That's what tours are about: bolstering specialty retail and strengthening communities by toasting local retailers, one city and one store at a time.