Outside Business Journal
Rue Mapp Q&A: Outdoor Afro CEO Talks Reaching Diverse Audiences
Rue Mapp talks to us about how the outdoor industry can overcome some its diversity shortcomings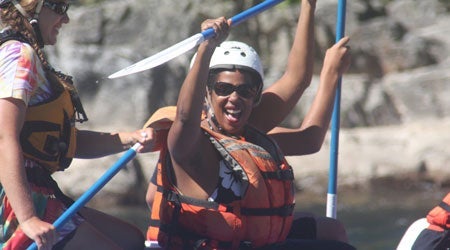 Heading out the door? Read this article on the new Outside+ app available now on iOS devices for members! Download the app.
Outdoor Afro started as an answer to the simple query: What would you do if money and time were not obstacles?
Rue Mapp's response: start an organization to reconnect African Americans to the outdoors. Her blog Outdoor Afro has grown to reach tens of thousands of people.
Over the last five years, Mapp has partnered with what she calls passionate stakeholders at companies like REI, Keen, and Clif Bar to connect black people to nature.
"The industry is filled with people who not only believe in the products they sell, but also in an outdoor lifestyle where anything is possible, while striving to do the right thing for people and the planet," Mapp said.
Mapp, who grew up on a ranch and is an avid outdoorsy gal thanks to her late father, discusses with the O.R.D. how she's successfully reached communities of color.
The barrier is lack of time and authentic relationships between outdoor companies and diverse audiences, Mapp said, not lack of money or interest. Plus the industry needs to stop looking for diversity in traditional outdoor activities and meet people where they are recreating outdoors: local parks, tailgating at stadiums, and closer to home in general.
What are some of the barriers to the outdoor industry reaching a diverse consumer base? 
It's critical for the industry to develop authentic relationships with a diverse set of communities — especially with cultural amplifiers. Meaning, it is important that we not only focus on demographic numbers, but also identify people or public figures that have broad, credible influence in the communities we want to reach. We then need to co-create strategies to engage communities based on their identified needs and values. This is a big part of our work at Outdoor Afro when we engage as brand ambassadors.
What are some misconceptions about reaching communities of color? 
The assumption that certain groups do not engage with the outdoors because they don't have interest or money are some that remain prevalent, and are absolutely wrong today and historically.
Outdoor Afro's largest demographic are African-American women ages 35-44 who are family and community leaders, most of who have degrees and high incomes. When polled about the reasons they are not getting out as much as they would like, the No. 1 answer was time.
Also, people are looking in the wrong places for diversity, and too often validate certain types of outdoor experiences over others. For instance, in most local city parks where I live in Oakland, California, there are people doing a wide range of activities for different reasons. I see lovers enjoying a picnic on the grass, walkers and runners doing laps, kayakers, birdwatchers, yoga classes, doting parents pushing strollers and more! So yes, people are out, you just have to look beyond the places where you might typically go.
What activities do participants prefer? 
I find that busy working families often prefer to stay close to home in their leisure time. The prospect of driving hours away to a place you have never been, with which you are not familiar, is a much harder sell for people than to get outdoors much closer to home, surrounded by familiar faces.
Also, it is not always about income, it's about leveraging values around what people are choosing to spend money on. Specifically for African Americans, the estimated spending power for 2015 is predicted to be $1 trillion. There's a potential tremendous and overlooked market opportunity out of this demographic.
How can the industry overcome some of these diversity shortcomings? 
Insularity in any community can be a serious problem. Beyond issues of diversity, the industry has to investigate opportunities to broaden its definition of outdoor engagement by responding to what people are actually doing versus how we want them to engage. As a result, there are markets we could be tapping, such as overnight youth summer camps, or the RV industry, that use many of the equipment and gear found on the floor.
What are your thoughts on collaboration?
Most believe in collaboration, but perhaps we should ask ourselves: Are we working with the same people we always have? Are we deliberately streaming in new ideas and challenging our assumptions? Do we value transactions over relationships? In an increasingly diverse consciousness, it is critical we strive to work together with more people who may not look like us, or are even outside of the industry so we may have a better chance of evolving with a broader scope of relevancy, and increase our chances to meaningfully and sustainably reach new demographics.