Outside Business Journal
Polyester Parties, Breaking News, and Fresh Voices: Looking Back at 37 Years of SNEWS
Editors past and present take a look back at the biggest stories, seismic changes, and expanding influence of the publication's first 37 years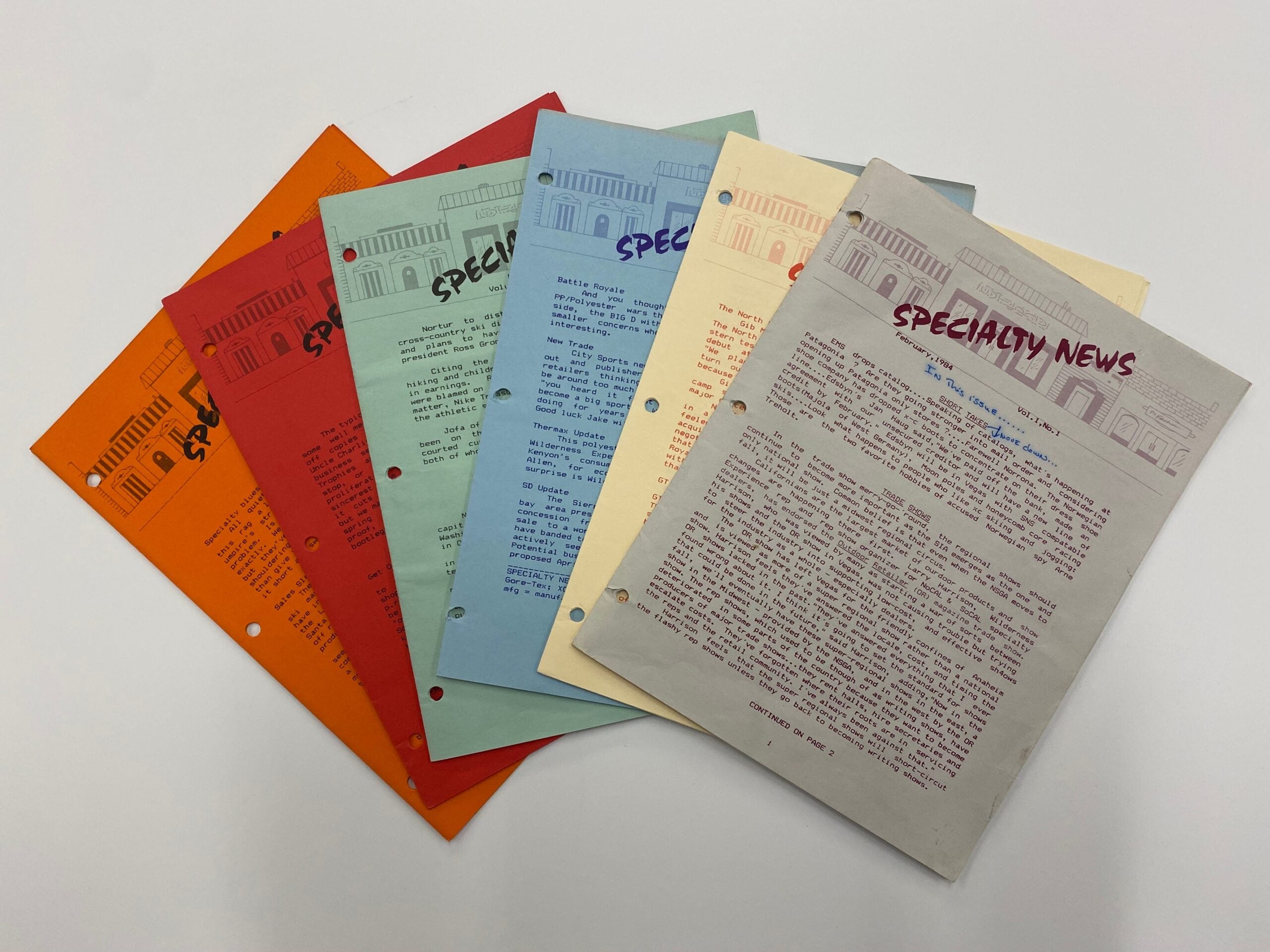 Heading out the door? Read this article on the new Outside+ app available now on iOS devices for members! Download the app.
This week, SNEWS marks a new chapter with a brand-new name: Outside Business Journal. What better time to take a look back at the brand's rich 37-year history as the outdoor industry's news publication of record? Here are just a few of the twists and turns SNEWS has taken from its time as a 'zine-style orange newsletter to the multichannel force it is today.
A Brief History of SNEWS
Nov. 1983: Bob Woodward and Ted Eugenis start discussing the need for an outdoor industry news source from their homes in Bend, Oregon. Woodward, who'd worked in computer sales, Silicon Valley startups, and the retail side of Sierra Designs, was then a freelance journalist. His ski/cycling budding, Eugenis, had edited for the likes of National Outdoor Outfitters News and Backpacker. "We felt it would be beneficial to the industry to publish something that was straight, no chaser, without any advertising," Eugenis said, "so the retailer could make good decisions to compete." Woodward added, "The news aspect was primary—unvarnished, accurate news. I liked the outdoor business; good people. I felt they deserved to get inside information." 
Feb. 1984: The first issue of Specialty News, aka SNEWS, mails to about 50 subscribers for a $100 annual fee. Woodward and Eugenis, along with a third editor Chris Hughes, printed the monthly newsletter on orange paper. "It was ugly as hell, but it couldn't be photocopied," Woodward said. Highlights include a Q&A that asks if specialty retail shops are dying; the line, "A ski rep will drive for two hours to get a line of coke, but he won't get out of bed to get a reorder"; and a retailer answering the question "Gore-Tex in shoes?" with "I don't think it's necessary."
The '80s and '90s: SNEWS grows in reach and renown, thanks to its signature combination of reporting, opinion, and irreverent tone. Woodward fondly remembers the introduction of the newsletter's Average Human Being test, in which the editors asked regular people (not pro athletes or elite outdoorspeople) to try out new gear. Eugenis kicked it off with his idea to send Gates gloves to Chicago garbagemen in midwinter for testing. "It was a real, practical use," Eugenis said. "Most people aren't going to use ice axes with the gloves. Retailers are going to sell to the garbage guy, or someone walking his dog.
The newsletter also built up a reputation for breaking industry news and bringing people together, from the birth of Mountain Hardwear, to The North Face's Chapter 11 bankruptcy in 1993-94, to printing an interview with The North Face's Bill Simon that prompted Yvon Chouinard to contact him and begin forming the Conservation Alliance. SNEWS's "unvarnished" coverage also earned the publication its share of critiques. Woodward laughingly recalls an employee of a fabric company that had earned a negative review trying to start a physical fight with him and Eugenis in Las Vegas, and Outside's Larry Burke screaming in his face at a trade show for calling it "the magazine for high-rise adventure living." (Little did either man know that one day SNEWS and Outside would become sister publications.)"We had to endure some tongue-lashing," Woodward said. "We felt it was a good sign."
And of course, the '80s era saw the advent of the SNEWS Poly Party, born at the 1982 SIA Show. Attendees were invited to raid the thrift stores of Las Vegas for gaudy leisure suits; the magazine started renting a bowling alley to host the event, and "then we'd all go to the Hilton lounge and invade the dance floor," Eugenis said. 
2000-2002: Woodward begins handing off SNEWS, which now has about 2,000 subscribers, to husband-wife team Michael Hodgson and Therese Iknoian; the pair take full control in 2002. Right off the bat, Hodgson and Iknoian introduce a seismic shift: launching snewsnet.com and moving all content online. "It gave much more immediacy and engagement," Hodgson said. "It allowed us to be far more responsive to the news. All of a sudden the news cycle became 24-7 for us." Iknoian, a veteran journalist, also brings new standards to the publication: "I'm not saying [Woodward] wrote gossip, but he had that insider, 'This is what I'm hearing' aspect to it," she said. "We weren't just printing whatever someone says without proof and sources. I was very, very strict about the news rules. If we're going to be news, then let's do it right." Gene Treacy also joins as a partner in 2002.
2000s: SNEWS continues to expand, branching into the fitness business and introducing the FitBiz newsletter; growing the sister publication/website GearTrends ; and launching a law review to cover legal issues in the industry with Jim Moss. "We got a reputation of being very accurate, probing, and very fair," Hodgson said. "When anyone wanted to leak something or get a story out accurately, they came to us." He recalls the satisfaction of breaking big news—"those many stories where we were the first call from the CEO or CFO of a company"—and particularly his investigative report on BPA in aluminum bottles. 
The year 2007 brings more major changes as Active Interest Media (AIM) acquires the business. Previously, Hodgson hadn't considered selling. But just as he hit the Outdoor Retailer trade show floor in summer 2007, he got the news that his father had passed away. That same day, Hodgson's close friend and AIM employee Jon Dorn approached him with the idea of the acquisition. "Up until that point, I would have said no," Hodgson said. "Then I said, maybe now is the right time." SNEWS keeps on growing and takes over production of OR Daily in 2010. 
2011-2016: Iknoian and Hodgson move on in late 2011 and early 2012, respectively. Megan Mulligan takes over, then passes the torch to David Clucas.
2016-2020: Kristin Hostetter, who had served as gear editor at Backpacker for 22 years, takes the reins. Her first four years include covering (and dealing with) the Covid-19 pandemic, Bears Ears, and the tumultuous, changing trade show landscape; and another acquisition, this time by Pocket Outdoor Media, in 2020. But Hostetter says her biggest thrill has been launching The Voice biannual magazine (now also called Outside Business Journal), which debuted in summer 2018.
"We had a really strong desire to bring deeply reported, opinionated, and honest stories about the outdoor industry to our audience," she said. "That level of B2B journalism simply didn't exist in the outdoor industry before our magazine." The publication also strives to elevate the voices of journalists, photographers, and illustrators from marginalized communities. "I know we still have a long way to go, but we've worked really hard to bring diverse voices into the magazine (and the website)," Hostetter said. "DEI, as well as climate action and sustainability, have become two content cornerstones for us." Overall readership of the magazine and website reaches 250,000 people per month.
March 2021: Hostetter and associate editor Andrew Weaver oversee a rebrand, SNEWS's latest evolution. "If you've been working in the outdoor industry for 20 years, you probably know SNEWS and appreciate what it stands for and what we do," Hostetter said. "But I've always felt that name is too 'insiderish.' It doesn't welcome new people into our community. We all want our content to be inviting and accessible to everyone." The team will be rolling out "reinvigorated" content in the coming weeks, including new departments, a podcast, and a video series. "We're very much doubling down on being the industry's business publication," Weaver said. "This is a reflection of a deeper shift, rather than just a bit of window dressing." 
The SNEWS old guard has given its blessing: "I think it's a good time to change the name," Woodward said. "We can always happily sit around and have a cocktail and say, 'Remember the SNEWS years?'" But now, the focus is on OBJ's future—to at least 37 more years as the outdoor industry's must-read title.
Trending on Outside Online