Outside Business Journal
Snow Peak Opens Takibi Restaurant, a Tasty Approach to Experiential Retail
Tucked neatly into the back of Snow Peak's Portland flagship and HQ, Takibi offers consumers a new way to interact with the Japanese outdoor brand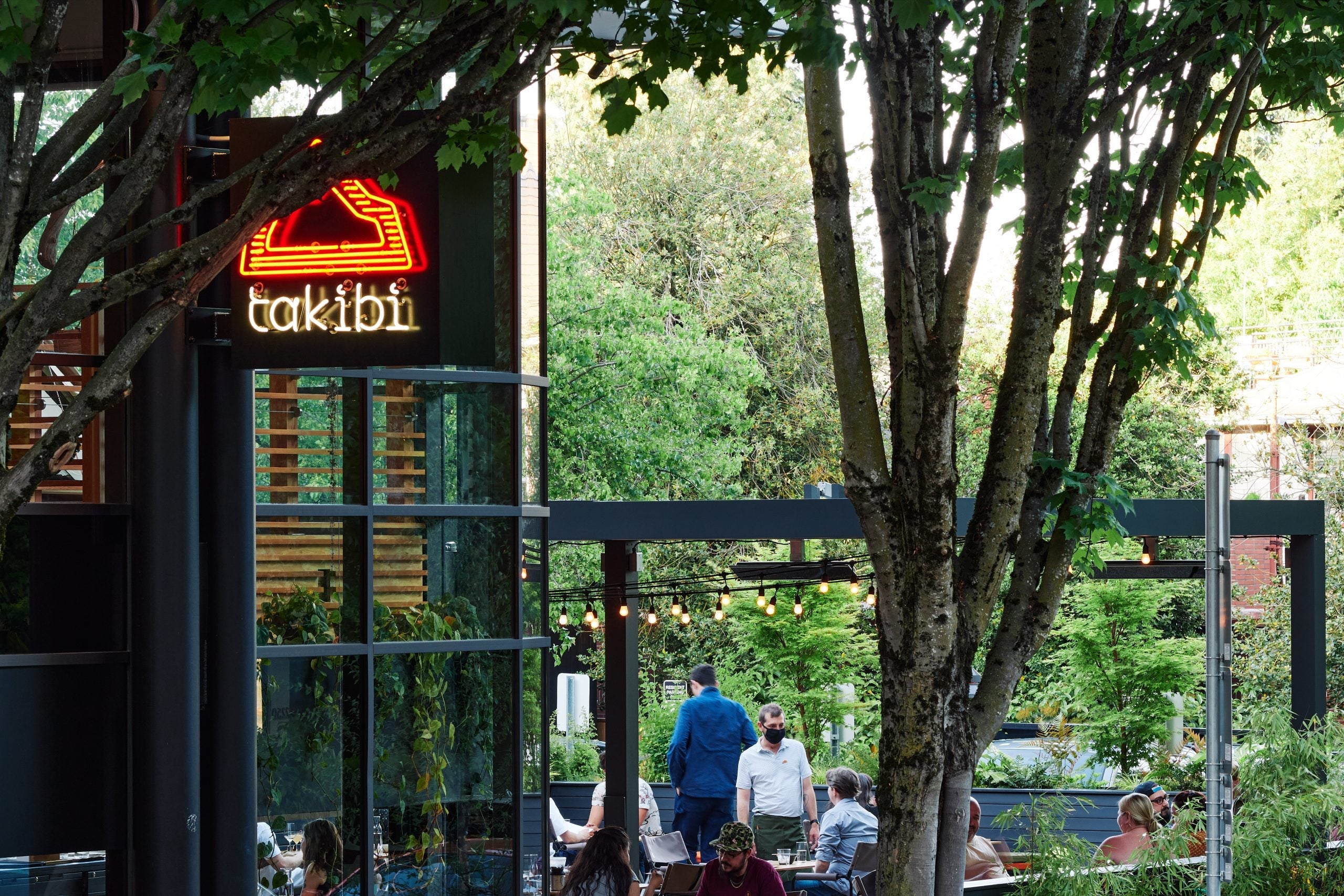 Heading out the door? Read this article on the new Outside+ app available now on iOS devices for members! Download the app.
As early customers started trickling in shortly after 3 P.M. on Tuesday, the gentle, opening-day hum of Snow Peak's new Takibi began to take shape. 
"I love that they're doing this in a unique and minimalistic way," said diner Mac Bailey, an ardent Snow Peak fan, admitting he and fellow patron Ryan Sweet had been waiting for opening day for a long time. 
"It's a really intimate experience with the brand and food culture," Sweet added.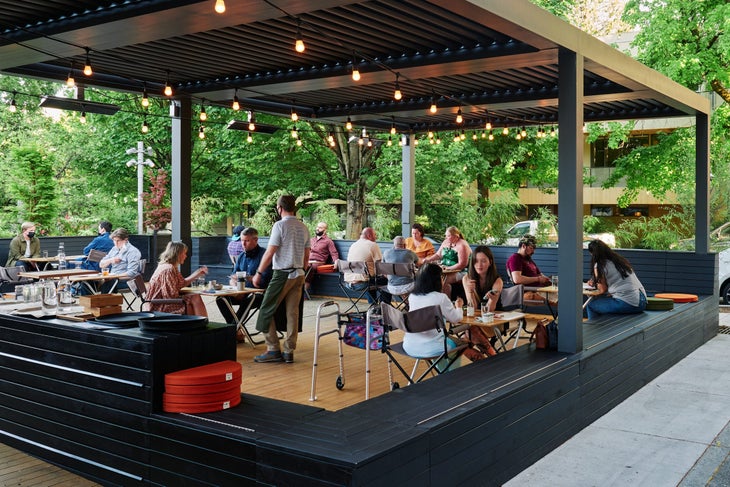 Located on Portland's re-emerging NW 23rd Avenue, Takibi marks the arrival of not only what's sure to be one of the city's most sought-after dining destinations, but a pioneering approach to how outdoor brands can organically provide space for the local community while offering ample opportunity to interact with their wares. 
"We want Takibi to become the beating hub of the community—something larger than the restaurant itself," said Snow Peak COO Matt Liddle. 
He noted that the restaurant is not a "sales tactic" for gear, but rather a space where Portland's outdoor community can come together, enjoy a moment to slow down, and let those experiences with Snow Peak products naturally follow. 
At the restaurant, product experiences are subtly intertwined into every part of the meal: each table setting has Snow Peak chopsticks and a camp lantern, and certain drinks are served in the brand's iconic camp mugs. Outside on the patio, diners sit in the brand's camp furniture.
"This experience is certainly a tester for some of their products," said first-day diner Opal Dillard, sitting on a foldable Snow Peak chair on Takibi's patio. 
Takibi Embodies the Snow Peak Ethos
With respect to conversations about "authenticity" and brands staying true to their roots, Snow Peak appears to have found a winning combination. With emerging chef Alex Kim and a high-powered bar team led by notable bar industry veteran Jim Meehan, Takibi is positioned not only to thrive in Portland's ultra-competitive dining scene, but also to give patrons a chance to begin or deepen their relationship with Snow Peak through a high-caliber hospitality experience.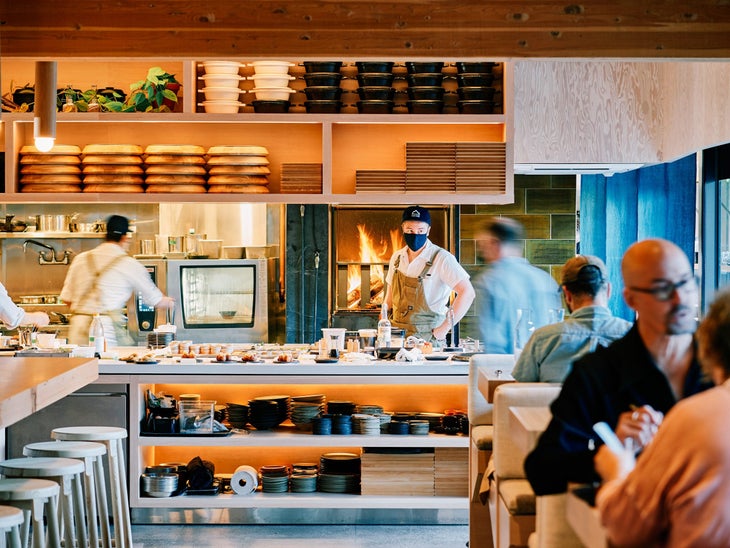 That experience includes the food. Liddle noted that he and his team spent time eating their way through Snow Peak's native prefecture in Japan, understanding the seasonality of various offerings and how that could translate to Takibi's approach. True to form, the Japanese-inspired menu focuses on local ingredients prepared and served with a camping flare. In this discerning dining market, that approach is essential to success. 
Traditionally speaking, outdoor brands usually open a store to showcase their products, letting consumers touch and feel items. Takibi actually puts products into use, amplifying the product-consumer connection—and the potential to convert that use into a sale.
"When you do brick-and-mortar in the outdoor business, you're typically building a space to house products," Liddle said, "but in this space we're saying, 'Let's build a space to house people.'" 
To that end, Snow Peak created the venue with the help of one of the city's top architectural firms—using plenty of subtle, neutral colors and overgrown plant life meshing the outdoors with urban life in a way only Snow Peak can do. 
Pandemic Delays
Takibi was originally scheduled to open last summer (in tandem with Snow Peak's new HQ and flagship store), but the pandemic delayed plans and Snow Peak was forced to wait. The restaurant sat unused until the timing to open was right.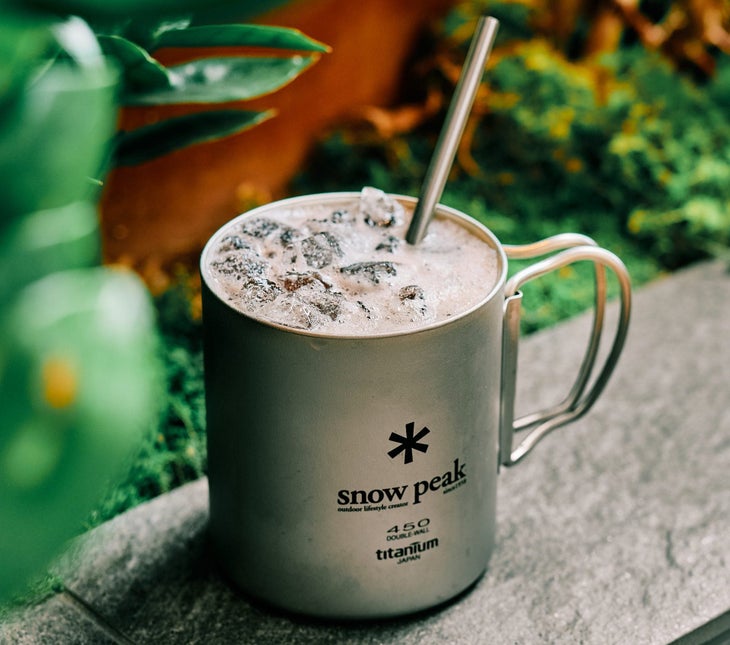 Liddle said that while standalone financial success is an important marker for Takibi, the broader vision is that it's a place to deepen understanding of the Snow Peak brand, values, and community. He wants Takibi to be a space where employees love coming to work every day and where customers will have a dining experience they'll want to return to again and again. 
As Takibi opens lunch and takeaway service later this summer, the concept will act as a roadmap for how Snow Peak might build out future U.S. retail and dining locations. 
"This is the first time we've done this in the U.S. and we believe it will be really successful," Liddle said. "As this thing starts to come to life, its success will inform how far we want to go.  There's always been a vision of more than one and we don't believe Portland is the only place this will resonate."
Trending on Outside Online