Outside Business Journal
Solo Stove Acquires Chubbies Shorts, Rounding Out New Solo Brands Portfolio
Solo Stove's recent acquisitions, the latest of which closed yesterday, will form the basis for a new DTC-focused outdoor portfolio called Solo Brands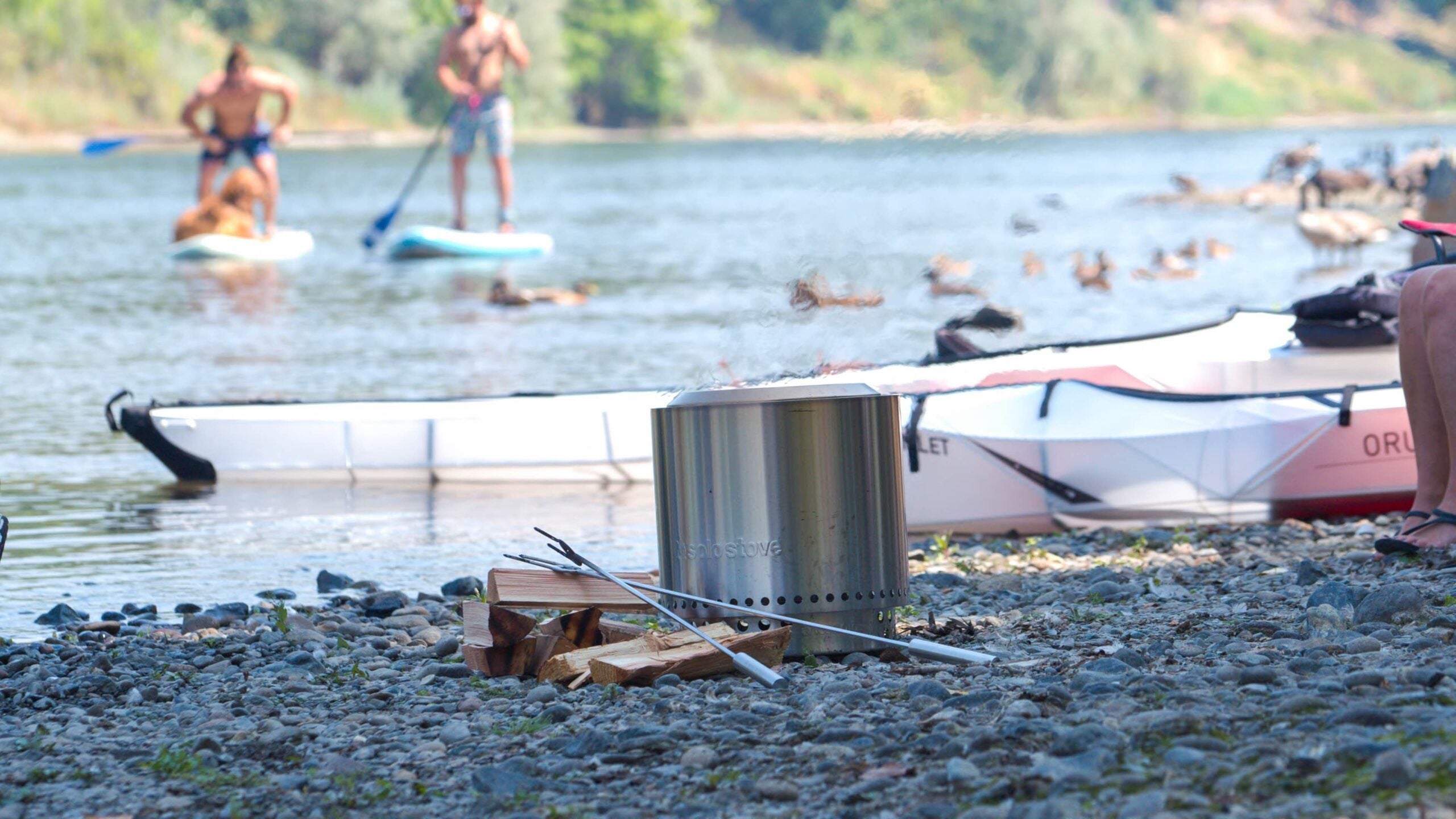 Heading out the door? Read this article on the new Outside+ app available now on iOS devices for members! Download the app.
John Merris and his team at the outdoor firepit brand Solo Stove didn't set out to become serial acquirers, but that's exactly what happened when the private equity-backed company went from zero acquisitions to three bolt-ons in the span of just a few months.
Solo Stove on Wednesday closed on its acquisition of men's outdoor apparel brand Chubbies Shorts, a deal that followed the May acquisition of Oru Kayak and the August acquisition of paddleboard maker Isle.
The result of the buying spree is a new outdoor platform called Solo Brands, with the quartet of businesses now working together under the majority ownership of Boston-based Summit Partners.
Merris told Outside Business Journal the reason for the spate of additions was simple: Solo Stove found a trio of like-minded brands that wanted to partner not only because of their outdoor-focused product lines but also because each is customer-obsessed with a penchant for direct-to-consumer sales and a strong focus on giving back to communities. Together, each brand adds value to the other.
"We just started leaning in hard on everything that these brands collectively could bring together and we started envisioning our customers in Chubbies gear feeling great about themselves, or out on the water on an Isle paddleboard or in an Oru Kayak, or sitting around their Solo Stoves at camp," he said Wednesday. "It just started all feeling right, and we thought, 'These brands are in our wheelhouse, and maybe we're thinking about something even bigger than we initially thought.' And the idea of Solo Brands was born."
A Shared Value of Delighting Customers
With the last of the three deals formally completed and closed, Merris becomes CEO of the Solo Brands platform and brand president for ten-year-old Solo Stove.
He said that while "acquire is the accurate and right word" to describe the addition of Oru, Isle, and Chubbies, "in a lot of ways we just feel like we're just partnering with great brands."
For one, there are no redundancies with the union, no need to eliminate entire departments like finance or marketing or HR. Each brand will operate as its own P&L from its current headquarters location—Solo Stove in Southlake, Texas; Oru Kayak in Oakland, California; Isle in San Diego; and Chubbies in Austin, Texas—and with current teams intact. The same goes for each company's leadership structure, Merris added.
"They're not being acquired and thrown to the side, and that makes this unique," Merris said. "They're excited to lean into this together as a team and do something that has never been done before, which is bringing together a house of outdoor enthusiast lifestyle brands that are digitally native, and everybody wants to stay in and be a part of it. Everybody wants to continue to build their unique communities but then also share across those communities, which I think is pretty special."
Solo Stove employed about 140 people, and now Solo Brands, with the addition of the three new companies, will have more than 220 employees, Merris said. 
"We've almost doubled in size in terms of headcount through the acquisitions and we've done that without a single person being redundant and having to be let go, which has been awesome," he said.
Merris declined to disclose the financial terms of the deals, but he emphasized that aligning with Oru, Chubbies, and Isle was about much more requiring an EBITDA minimum or some other metric on a balance sheet. 
Instead, it's about the shared philosophy of providing great product for consumers and delivering that product primarily, though not exclusively, via a direct channel. Their similar approach to customer experience—Merris said the four companies all hold the aim of "delighting the consumer"—was a key unifier in bringing them together under one umbrella.
"This is not a financial play for us," he said. "We truly believe that the next decade and beyond is going to be led by direct-to-consumer, digitally native brands that know how to deliver and are obsessed about delivering an exceptional customer experience. We believe that, if done right, bringing brands together as we've done is better than any one of us could have done it by ourselves. It's going to give us improved access to the customer, it's going to give our customer better options."
The Pandemic's Role
Another driver behind the deals, undoubtedly, was the pandemic. Not only did COVID-19 spur more people to venture outdoors and fuel demand for firepits, kayaks, apparel, and SUPs, but the brands that make those products found that going to market on their own, without the help of a retailer, was a way to control distribution and messaging while preserving margins.
"COVID accelerated an emphasis on the outdoors, and also around direct-to-consumer brands—brands that were figuring out ways to make it more convenient and faster and easier for customers to transact with them online," Merris said.
Yet another commonality for the four brands—giving back to communities. Solo Brands' core values are "Do Good," "Live Grateful," "Have Integrity," and "Be Authentic."
Merris said even the other three brands and even the platform's backer, Summit Partners, live those ideals. He called that a rarity in the private equity world, which often gets tagged with the "slash and burn" reputation for buying companies, finding efficiencies such as cutting costs, and milking every dollar out of the business.
"Our whole brand mantra at Solo Brands and Solo Stove has been around 'create good,' and that's what we've leaned into and from the beginning. That's what we continue to lean into," Merris said. "It's important, in my role, to make sure that we're partnered with the right sponsors and with the right backers that have that same mentality and that same commitment of creating good. Fortunately, we found that in Summit."
More Deals on the Horizon?
Something Solo Stove found in its partnership with Oru, Isle, and Chubbies is a series of shared synergies across the businesses.
For example, Solo Stove operates 800,000 square feet of warehouse and fulfillment space across the United States and now the Netherlands, and the brand will soon open an owned fulfillment center in Toronto for Canadian customers. Those facilities will eventually handle fulfillment for all four brands, Merris said.
"What we've done at Solo Stove is bring most every competence in-house," he said. "We realized several years ago that to do a great job for our customers, we needed to own the process, and that was across the board—from marketing execution to operations to warehousing fulfillment to supply chain to product development to customer service. We don't outsource those services."
When OBJ spoke with Merris on Wednesday afternoon, the ink was still drying on the third and final contract of Solo Stove's acquisitions, but that didn't mean the topic of more deals was off the table. After all, M&A is booming in the outdoor space, one recent example being a similar platform that MacNeill Pride Group has created with Klymit, GCI Outdoor, and Orca.
Additions to Solo Brands appear possible, even likely. As Merris pointed out, there's no proof-of-concept stage needed with the nascent holding company's portfolio. Each brand will handle business as usual—with the benefit of some operational upgrades thanks to the shared synergies.
That allows Merris, Summit, and the Solo Brands leadership team the freedom and flexibility to begin scouting for new assets to target as consolidation ramps up across the outdoor space. 
"Our criteria is a little bit more narrow than what you have seen in the outdoor industry in terms of consolidation, but I do think that M&A will continue to happen," Merris said. "Our brands are growing, acquiring new customers, growing their communities, and launching new products. That means we'll continue to look for brands we think fit great into the Solo Brands platform. If we find them, nothing will stop us from doing our best to partner with them."