Outside Business Journal
The Hottest New Gear Dropping in Spring/Summer 2022
We've compiled the 50 best products of next season, ranked by more than 100 retailers, gear testers, and outdoor enthusiasts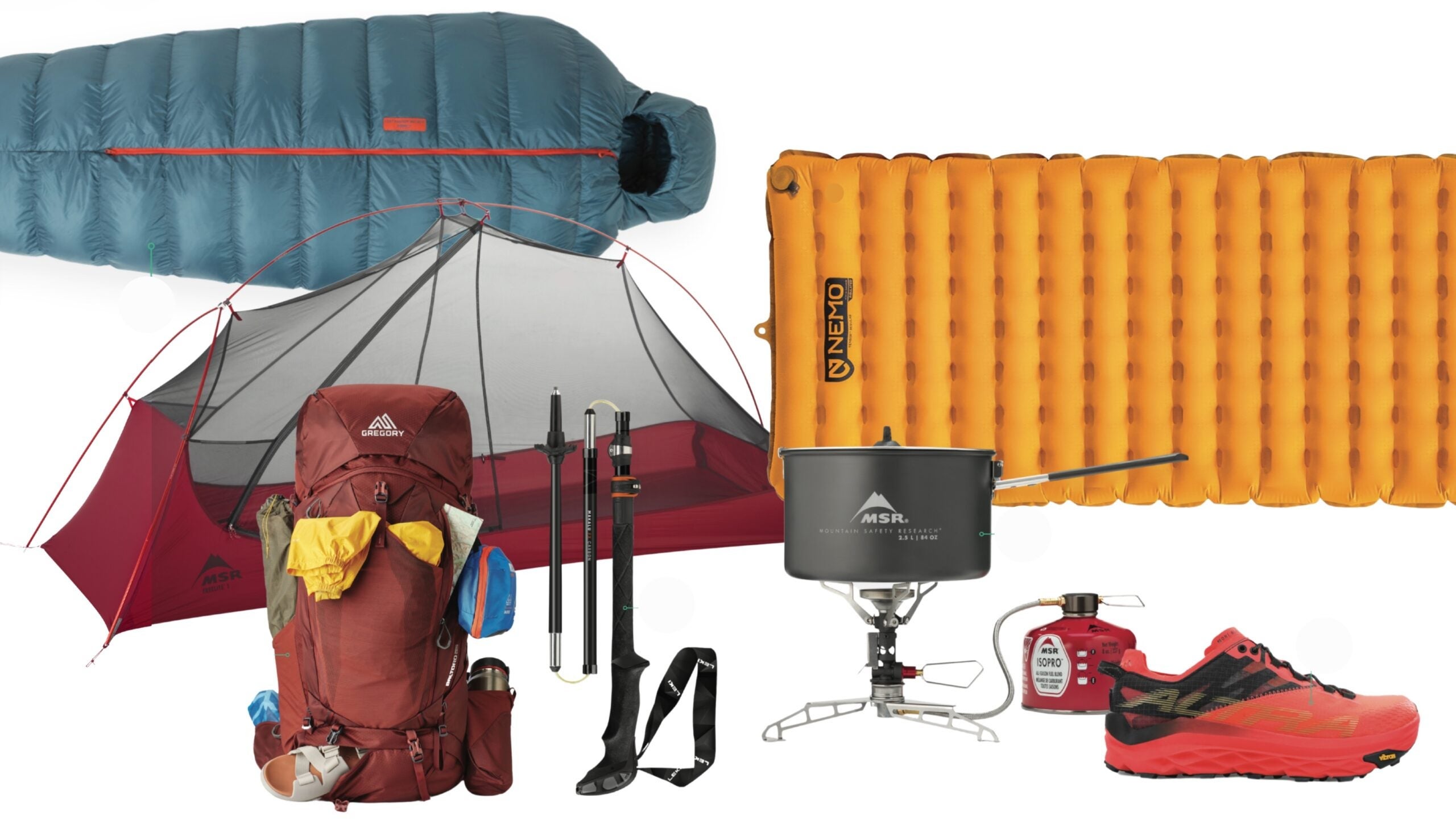 Heading out the door? Read this article on the new Outside+ app available now on iOS devices for members! Download the app.
While some brands halted production completely in the last year due to pandemic supply chain delays, others went full steam ahead. One thing's for sure: there are still plenty of exciting new products to be found. And the people have spoken. After sifting through 181 submissions, more than 100 staffers, retailers, gear testers, and outdoor enthusiasts (Outside+ members) ranked the top items on a scale from one to ten (higher numbers equal higher stoke). We averaged those scores to bring you this ranked list of the 50 most-coveted products of the Spring/Summer '22 season.
Democracy Rules
We'll be honest: some of these rankings surprised us editors. But that's what happens when you sample a cross section of retailers, consumers, and staffers. To provide some transparency on how the votes shook out, we've indicated the top three picks (according to average scores) among each of our voting groups: independent retailers, gear testers, Outside+ members, and Outside staff.
Without further ado, we present the 50 hottest gear picks for Spring/Summer '22.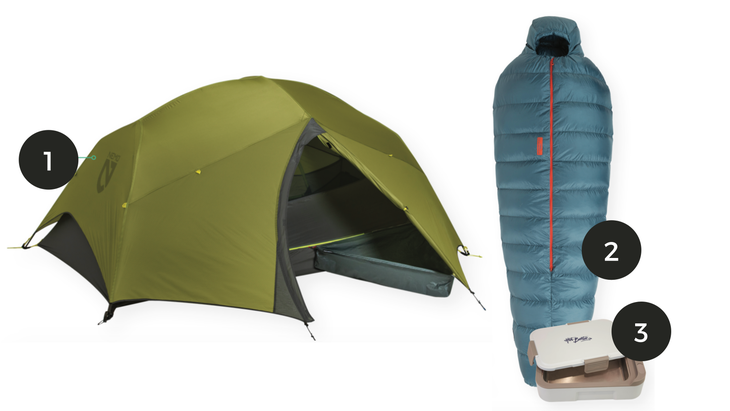 1. NEMO Dagger Osmo 2P ($480)
The promise: NEMO sets a new bar in the world of eco-friendly tents.
The deets: This two-person shelter is made of NEMO's Osmo fabric, a polyester ripstop base coated with a laminate layer that eliminates the use of harmful fire-retardant chemical additives, while still keeping the tent flame resistant. The composite weave has high strength and water repellency, yet weighs only three pounds two ounces. A bonus "tub" in the corner of the vestibule keeps gear from getting wet.
Top finisher: This item was the #1 retailer pick and #3 staff pick among all 50 products.
2. Big Agnes Lost Ranger 3N1 ($500)
The promise: You don't need a quiver of sleeping bags to cover all the seasons.
The deets: Two down bags are better than one. This 650-fill Downtek system consists of an outer bag rated to 50°F (men's comfort rating) and an optional insert rated to 35°F. Combined, they'll keep you warm down to 15°F. It all adds up to a package that won't weigh you down, at two pounds 13 ounces.
Top finisher: This item was the #1 Outside+ member pick and #1 staff pick among all 50 products.
3. Hot Bento ($90)
The promise: It's like having your own personal microwave on the go.
The deets: Fill the container at home with anything you like—from leftover spaghetti Bolognese to chicken soup—keep cool until you're ready to eat, then press a button to heat up your meal in 15 minutes. At two pounds four ounces, this product requires no power cords or boiling water, just battery power.
Top finisher: This item was tied for the #3 retailer pick among all 50 products.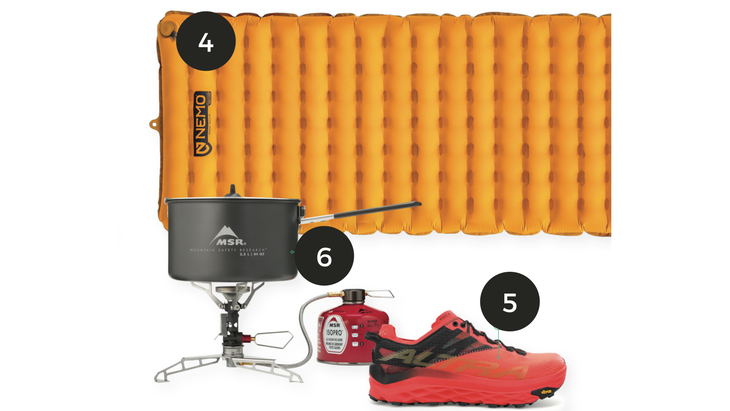 4. NEMO Tensor Insulated ($190-220)
The promise: This popular pad is now much warmer.
The deets: NEMO upped the R-value from 3.5 to 4.2 with a continuous TPU film to prevent convective heat loss. Meanwhile, the weight remained virtually the same—15 ounces. Three inches of waffle construction maintains the stability and weight distribution.
Top finisher: This item was the #2 Outside+ member pick and #3 tester pick among all 50 products.
5. Altra Mont Blanc ($180)
The promise: This shoe offers superior traction in a lightweight package.
The deets: Altra's brand-new foam midsole means each footfall feels like hitting a pillow. The upper is hyper-breathable, but it's the outsole that inspires confidence. A combination of micro and macro lugs up to three mm deep respond to loose scree and slick boulders.
Top finisher: This item was tied for the #3 retailer pick among all 50 products.
6. MSR Lowdown Remote Stove Adapter ($50)
The promise: Cook safer with any stove.
The deets: This 6.3-ounce accessory works with any standard canister stove (MSR says it has only tested it on its stoves) to convert it to a more stable cooker by separating the gas canister from the burner and creating a lower center of gravity. You can control the flame valve from about a foot away, instead of directly underneath it, affording better and safer flame control.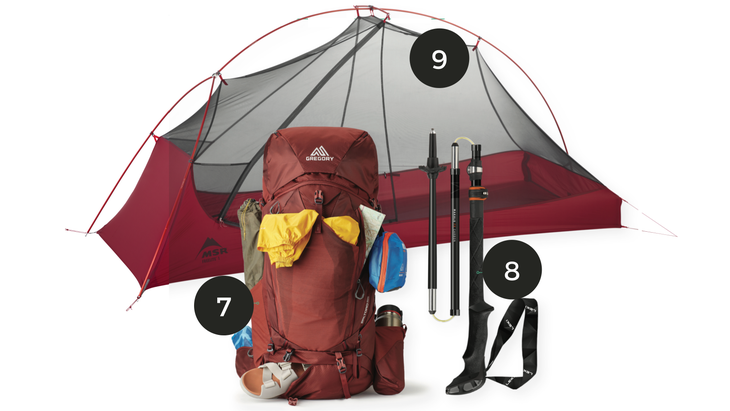 7. Gregory Baltoro and Deva 65/60 ($300)
The promise: A pair of classics get a makeover.
The deets: This year's Baltoro and Deva have an all-new, patented FreeFloat suspension system with 3D mesh and a foam-free design that permits more airflow. Compared to previous models, there's more adjustability in the torso, shoulder harnesses, back panel, and hipbelt for a more customizable fit. Other improvements include enlarged hipbelt pockets, an attachment system for a bear spray holster, and a reduced carbon footprint with 31 percent less plastic in each pack.
Top finisher: This item was the #2 staff pick among all 50 products.
8. Leki Makalu FX Carbon ($220)
The promise: The consumer becomes the engineer with this trekking pole.
The deets: A patented technology allows the user to exchange parts on this three-section trekking pole. Switching the lower section from a carbon piece to an aluminum one transforms it into a more durable four-season pole in just three minutes. Should a section break, you can just swap that piece out rather than replace the entire pole, reducing landfill waste. Plus, a new handle design offers maximum comfort and grip.
9. MSR Freelite Series 1P Tent ($210)
The promise: It's a spacious refuge for the solo camper.
The deets: Even with 20 square feet of livability and 39 inches of peak height, this tent's packed weight is one pound five ounces, which is nine ounces lighter than the previous model. The finer details include DAC aluminum poles, cable ports on all the storage pockets, and no-curve door zippers that are easy to open one-handed.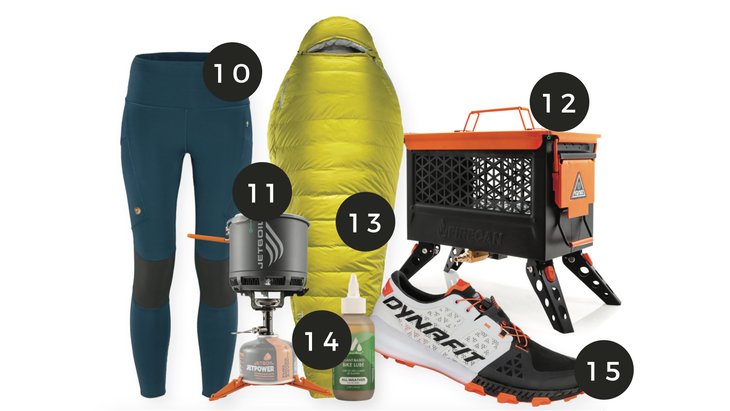 10. Fjällräven Abisko Trekking Tights Pro ($150)
The promise: No need to feel constricted in hiking tights.
The deets: The adjustable drawstring waist and polyester fabric allow freedom of movement, while the seat and knee areas are reinforced with Cordura for abrasion resistance. Secure a few items on the go in the envelope-like leg pockets.
11. Jetboil Stash ($130)
The promise: It's the lightest Jetboil cooking system ever.
The deets: Jetboil's latest portable backcountry cooking system weighs just 7.1 ounces, yet boils water in two minutes 30 seconds. All parts of the stove nest in the .8-liter pot for better packability than the older models.
Top finisher: This item was the #3 Outside+ member pick among all 50 products.
12. Ignik FireCan ($200)
The promise: Enjoy the irresistible glow of a campfire without the danger of a wildfire.
The deets: Most wildfires start with human activity like campfires. With more burn bans in place, this propane-powered steel fire pit makes campfires safer, plus the mesh sides circulate generous heat output. It's also the size of a toaster oven and weighs 10 pounds, making it ideal for basecamping. Foldable legs add to the portability.
Top finisher: This item was the #2 retailer pick among all 50 products.
13. Therm-A-Rest Parsec 32 ($350)
The promise: Three-season sleeping comfort for just over a pound.
The deets: This bag's 800-fill Nikwax Hydrophobic Down makes it warm enough for those 30°F nights, yet still lightweight at one pound eight ounces. The 100 percent recycled shell and liner are soft to the touch, and anti-snag zippers make ins and outs frustration free.
14. MountainFLOW Bike Lube ($14)
The promise: Use plants, not petroleum, to grease your bike.
The deets: This plant-based lube not only provides long-lasting slickness and reduces friction on bike chains, but it's nontoxic and better for the planet.
15. Dynafit Sky DNA Shoe ($180)
The promise: There's a new way to lace your shoes.
The deets: A grommet-and-loop lacing system eliminates pinch points and fully supports the entire foot, while still keeping the toebox roomy for speedy descents. And thanks to this shoe's four mm drop from heel to toe, trail runners can easily navigate demanding inclines and declines, but with a lower-impact stride.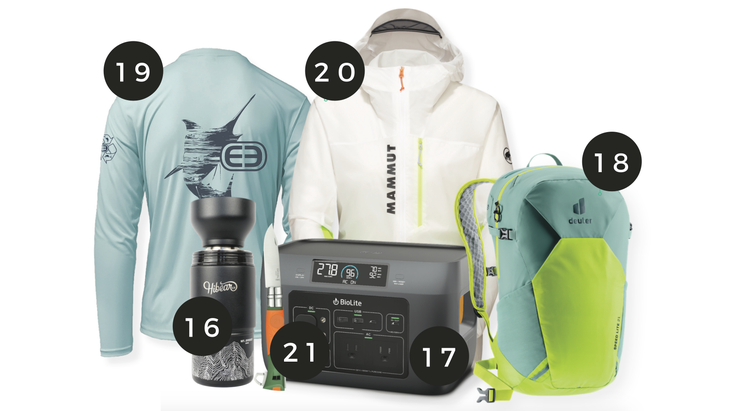 16. Hibear All-Day Adventure Flask ($85)
The promise: It's the Swiss Army knife of insulated bottles.
The deets: Serve up the bevvie of your choice by swapping the components of this 32-ounce insulated bottle. A filter lets you infuse your water with cucumbers, a special lid makes pour-over coffee, and a strainer enables cocktails over ice. Each bottle highlights a different artist. The wide mouth means easy cleaning without a bottle brush.
Top finisher: This item was tied for the #3 retailer pick among all 50 products.
17. BioLite Basecharge 600 ($699)
The promise: More off-the-grid juice for those modern-day electronics.
The deets: This 600-watt portable power station accommodates an array of devices, including a laptop, with multiple USB ports and DC sockets. Plug it in or attach it to a solar panel (sold separately) for recharging. At 15 pounds, it's ideal for a basecamp office. For even more power, upgrade to the 1500-watt version.
18. Deuter Speed Lite 21 ($80)
The promise: Fast and light does not mean featureless.
The deets: This 21-liter pack weighs only 15 ounces, yet it's full of surprises. The waist belt is detachable for lighter loads, there are multiple stretch and zippered pockets, and the pack is hydration compatible.
19. Deep Apparel Eco Series Men's Marlin Sunshirt ($48)
The promise: This shirt protects you and Mother Earth.
The deets: This layer may have started as 16 plastic bottles, but we think it's current form—a quick-drying, antimicrobial polyester long- sleeved shirt with UPF 50 sun protection—is a major improvement.
20. Mammut Aenergy Windbreaker ($159)
The promise: Weaving two layers into one creates a comfortable microclimate.
The deets: This lightweight jacket repels wind and water with its outer Pertex Equilibrium nylon fabric layer, while the inner layer uses finer yarns to create a denier gradient that mechanically moves moisture away from the body. Thanks to elasticized fabric inserts on the forearms, a cinchable hem, and a helmet-compatible hood, the fit is optimal.
21. Opinel No. 12 Explore Tick Remover ($49)
The promise: This knife is made for tick territory.
The deets: Opinel's No. 12 Explore contains a four-inch steel blade that makes quick work of most camp chores, but this new version includes a tick remover. A plastic, wider-than-normal tweezer pulls out from the handle to pluck out ticks. There are three extra tools, including a whistle.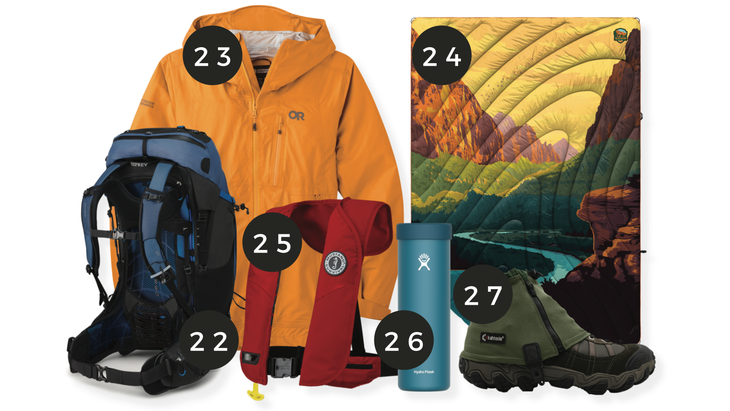 22. Osprey Unltd Anti-Gravity 64 ($700)
The promise: This could be the most comfortable pack ever.
The deets: Osprey has partnered with 3D-printing firm Carbon to bring a brand-new technology to backpacks. A lattice-work of elastomeric polyurethane creates a springy-yet-grippy lumbar pad that conforms to any lower back shape. Not only does it promise a more precise fit, but an updated adjustment system allows the user to fine-tune the harness and shoulder straps on the fly. But ouch: the price.
23. Outdoor Research Helium AscentShell Jacket ($400)
The promise: A new fabric combination delivers a more breathable and waterproof shell.
The deets: The update to the Helium Ascent comes from an exclusive collaboration with Pertex. The three-layer Pertex fabric has a 30-denier face and diamond-shaped filaments that lock together, increasing tear strength and abrasion resistance. The shell also has a very high waterproof rating of 15K. Even with the added durability, the jacket only weighs 11.5 ounces.
24. Rumpl National Parks Original Puffy Blanket ($129)
The promise: Wrap yourself in your favorite national park.
The deets: Made of recycled polyester, this blanket blurs the lines between indoor style and outdoor performance. The exterior has a DWR finish for stain and water resistance to protect the pretty designs that spotlight iconic national parks, such as Glacier, Denali, Grand Teton, and Olympic.
25. Mustang Survival MIT 150 Convertible PFD ($189)
The promise: This is the least bulky personal floatation device you ever did see.
The deets: Pull the tab to auto-inflate this life vest or or just blow into the mouthpiece. Alternatively, water will trigger automatic inflation if you are unable to pull the tab for whatever reason. The minimalist membrane-inflatable technology separates the film from the nylon shell fabric for more comfort, and the inflation provides 38 pounds of buoyancy—more than three times what an average adult needs to float.
26. Hydro Flask Tandem Cooler Cup ($35)
The promise: Have your second drink ready to go with this tandem cooler.
The deets: Keep two 12-ounce cans ice-cold and locked in place with this two-story, double-wall stainless steel cooler cup. Finish your first drink, then open the next one without even getting up from your camp chair. The flexible collar seals in the cold and keeps cans from jiggling.
27. Kahtoola Renagaiter ($50)
The promise: This gaiter's durable strap has a thousand-mile guarantee.
The deets: One of the biggest failure points of a gaiter is the instep strap. That's why this one—made from TPU—tucks into the lugs of any shoe or boot, and is rounded to deflect rather than get caught on terrain features. The DWR-coated nylon/polyurethane gaiter zips up over hiking shoes (it comes in two sizes) and seals out dirt, debris, and precipitation thanks to a drawcord, toggle lock, and lace hook.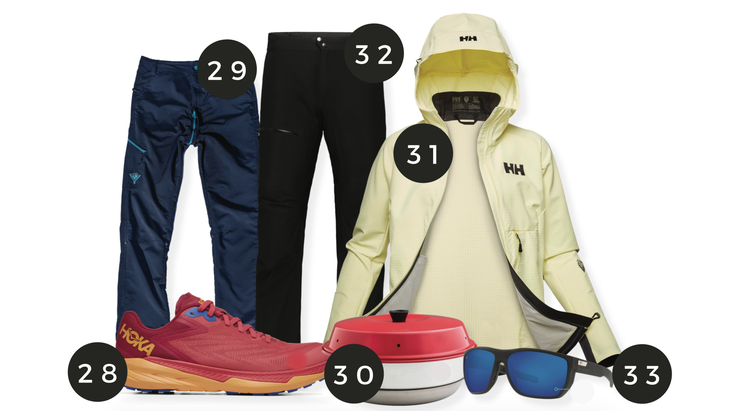 28: Hoka One One Zinal ($160)
The promise: Travel like a gecko: fast, light, and nimble.
The deets: At 8.5 ounces per shoe (m's), this sneaker is featherlight. Not only does the Vibram outsole have maximum traction, but EVA foam layers in the midsole create durable, responsive cushioning.
29. SheFly Apparel Women's Summer Hiking Pant ($128)
The promise: These pants make bathroom breaks easier for women on the go.
The deets: No more dropping trou and exposing yourself to the elements. These pants unzip at the crotch for quick and easy pee breaks. The pants also feature four-way-stretch, anti-pilling, anti-snagging material with UPF sun protection and five pockets. Roll them up into capris and secure with snaps.
30. Omina Stovetop Oven ($67)
The promise: Vanlifers and car campers now have a portable oven option.
The deets: New to the U.S. market, the Omnia is a lightweight (one pound one ounce) cooking system that works with any burner or heat source to make bread, baked ziti, or chocolate chip cookies. The stainless steel base directs heat upward, while the lid sends it back to create a cocoon of heat.
31. Helly Hansen Odin Pro Shield Jacket ($220)
The promise: This fleece crosses over into the waterproof category.
The deets: Designed for shifting mountain conditions, this layer pairs DWR-treated nylon with a gridded interior fleece to create a watertight fabric with breathability, stretch, and abrasion resistance. Zippered pockets, elastic sleeves, and an adjustable hood make this fleece even more versatile.
32. Norrona Paclite Gore-Tex Pants ($279)
The promise: You'll opt for these svelte shell pants even when it's not raining.
The deets: Gore-Tex fabric guarantees complete wind- and waterproofness while dots on the interior lining create higher friction and keep the fabric off the skin. The bottom leg portion is three-layer Gore-Tex with a 30-denier face fabric for increased durability. Other elements include side zippers for ventilation and a bootlace hook.
33. Costa Santiago ($219)
The promise: Fishing line takes 600 years to break down. Costa gives it new life in these sunglasses.
The deets: Costa collects fishing nets from the coast of Santiago, Chile, and turns them into polarized shades. Not only are they sustainable, but they're also big on comfort with rubber grips on the nose and arms, side shields, and vented nose pads.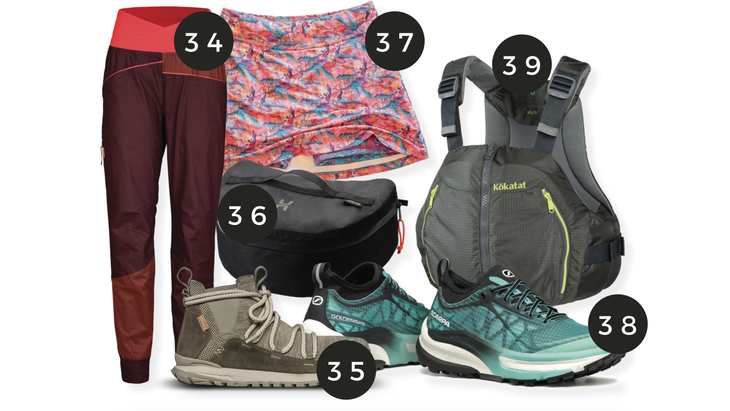 34. Ortovox Valbon Pants ($150)
The promise: Climb comfortably with an ergonomic fit.
The deets: With their wide thighs, shaped knees, and tapered ankle cuffs, plus their blend of organic cotton, hemp, and merino wool, these climbing pants are both comfortable and long lasting. The three strategically placed pockets jive with a climbing harness, and the Tasmanian merino wool inside the waistband prevents chafed hips.
35. Oboz Women's Lena Mid ($125)
The promise: These lifestyle boots deliver a dose of vintage style.
The deets: The midcut boots slip on easily thanks to the stretchy knit upper, while the long laces tighten for support around the ankle. There's also a story to tell behind the shoe, as its namesake is a famous gender activist from the early 1900s, Lena Mattausch.
36. Hillsound Equipment PackStack Pro ($29-$32)
The promise: These pack accessories mean wet socks will never touch snacks in the backcountry.
The deets: Designed to stack neatly inside any pack, these waterproof, crescent-shaped chambers help separate wet from dry and smelly from clean. The curved back edge cradles hydration reservoirs, so there's no dead space in your bag.
37. Youer Women's Get After It Skort ($88)
The promise: Go hike, run, or hang in these shorts.
The deets: Hiking skorts are the best of both worlds—they offer equal parts protection and good looks. This mid-rise skort is made of recycled poly with a touch of spandex for stretch, and a roomy gusset.
38. Scarpa Golden Gate ATR ($139)
The promise: Run on a cloud, no matter the terrain.
The deets: Using a combination of both medium- and low-density EVA foam, the Golden Gate provides strategically placed impact absorption and energy rebound in the heel and forefoot. A breathable mesh outer keeps it lightweight (10.2 ounces per shoe for m's size 42).
39. Kokatat WKNDR (Price TBD)
The promise: This life vest is designed for the higher seats in modern kayaks.
The deets: The thin foam back panel accommodates higher seat backs for a comfortable paddling excursion. Between the adjustable padding on the shoulders, the sculpted front foam that wraps around the torso, and the side adjustments, this PFD provides a safe and precise fit. Two pockets warm hands in between strokes and casting the reel.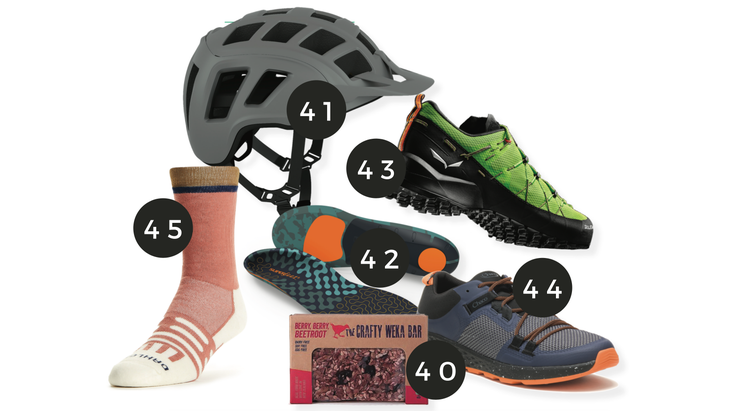 40. Crafty Weka Bar ($2.40, 1.4-Ounce Bar; $3.99, 2.6-Ounce Bar)
The promise: These bite-sized bars are packed with big flavor and nutrients.
The deets: Full of nuts, oats, seeds, and New Zealand's famous Manuka honey, this dense bar may be no bigger than a bar of soap, but it delivers six grams of protein, 190 calories, and seven grams of fiber. Of the four flavors, the tester favorites are berry beetroot and orange date.
Top finisher: This item was the #1 staff pick among all 50 products.
41. Bridger Highline Helmet ($230)
The promise: Year-round and multisport protection can exist in one helmet.
The deets: Thanks to patent-pending technology in the outer shell, users can alter this helmet's ventilation and utility from bike commuting to mountain biking to snow sports. The whole ABS shell is interchangeable, while the bike brim and ear pads are removable, allowing the helmet to match the season and sport.
42. Superfeet Adapt Run ($50)
The promise: These insoles make running more comfortable.
The deets: Dual foam layers provide a cradle for the heel and cushioning in the forefoot. The angulation in the heel area dispenses vibrations and lessens force during the foot strike for more natural shock absorption.
43. Salewa Wildfire 2 ($140)
The promise: This shoe takes you from the approach to the top of the climb.
The deets: A highly ventilated mesh upper and a sticky rubber outsole make the Wildfire 2 agile yet tough. And by tightening the toebox, you can convert this shoe from hiking to climbing mode. A built-in stretch gaiter keeps out debris during technical approaches.
44. Chaco Women's Canyonland ($110)
The promise: Go from land to lake to land again, all in the same shoe.
The deets: With a mesh upper, polyester lacing, removable arch support, and nonabsorbent foam, this shoe is built for wet conditions. Synthetic toe overlays and a rubber outsole give it grip on slippery terrain. And at less than ten ounces per pair, they're packable.
45. Dahlgren Legacy Sock ($24)
The promise: Dahlgren, a beloved sock company of yore, is aiming to make a comeback with the Legacy.
The deets: Alpaca, merino wool, and nylon fibers in the toe and heel area translate to high absorption and fewer holes, while polyester, nylon, and spandex elsewhere provide evaporation and wicking.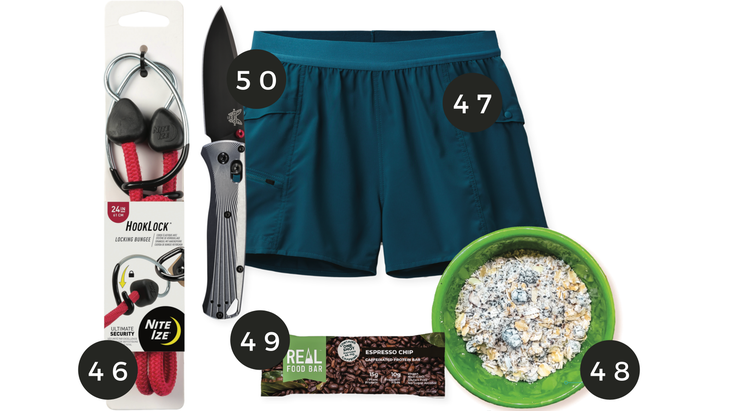 46. Nite Ize HookLock Locking Bungee ($5-$6)
The promise: Avoid the "ouch" of bungee cord snaps.
The deets: This bungee cord locks back onto itself for security, so it won't break or whip back at you. There's a steel hook that connects to the cord to prevent potential injuries, but you can also fasten it to grommets, D-rings, or other small openings.
47. Mountain Hardwear Trail Sender Shorts ($69)
The promise: These polyester shorts will become a go-to in your summer wardrobe.
The deets: The drawcord waist keeps these shorts adjustable and comfortable for everything from day hiking to trail running. Two hand pockets and a zippered thigh pocket carry a snack or phone. The polyester fabric ensures abrasion resistance all season long.
48. Rawlogy WellEnergy Cold Soak Blueberry Lemon Zest ($6, Single Serving; $20, Four-Pack)
The promise: Everyone loves dessert for breakfast.
The deets: Rolled oats mixed with cashew milk, lemon, and blueberries sure sounds better than plain oatmeal. All you need to do is soak the mixture in water (in its sealable bag) before bed to enjoy this unique cold cereal dish for breakfast. It's packed with 417 calories, 20 grams of fat, 46 grams of carbs, and 13 grams of protein to supply all-day energy on the trail.
Top finisher: This item was the #2 tester pick among all 50 products.
49. Real Food Bar Espresso Chip ($35, 12-Pack)
The promise: Get your afternoon espresso shot in a protein bar.
The deets: Real Food turns imperfect produce—kale, sweet potato, and cauliflower—into this, a vegan, soy-, dairy-, and gluten-free bar with 15 grams of plant protein, ten grams of prebiotic fiber, seven grams of natural sugar, and 12 grams of carbs. The full shot of espresso (65 mg of caffeine) in each bar will deliver that extra boost of energy.
50. Benchmade 535BK-4 Bugout
The promise: This updated blade is ready for rugged environs.
The deets: The newest edition of the Bugout is made with M390 blade steel, which offers durability and corrosion resistance. The air- craft-grade aluminum handle is engraved with a sunbeam line that is not only artsy, but also improves grip and functionality.