Outside Business Journal
Trend Report: The Rise of Ski-Coaching Technology
Will new tech take the instructor out of instruction?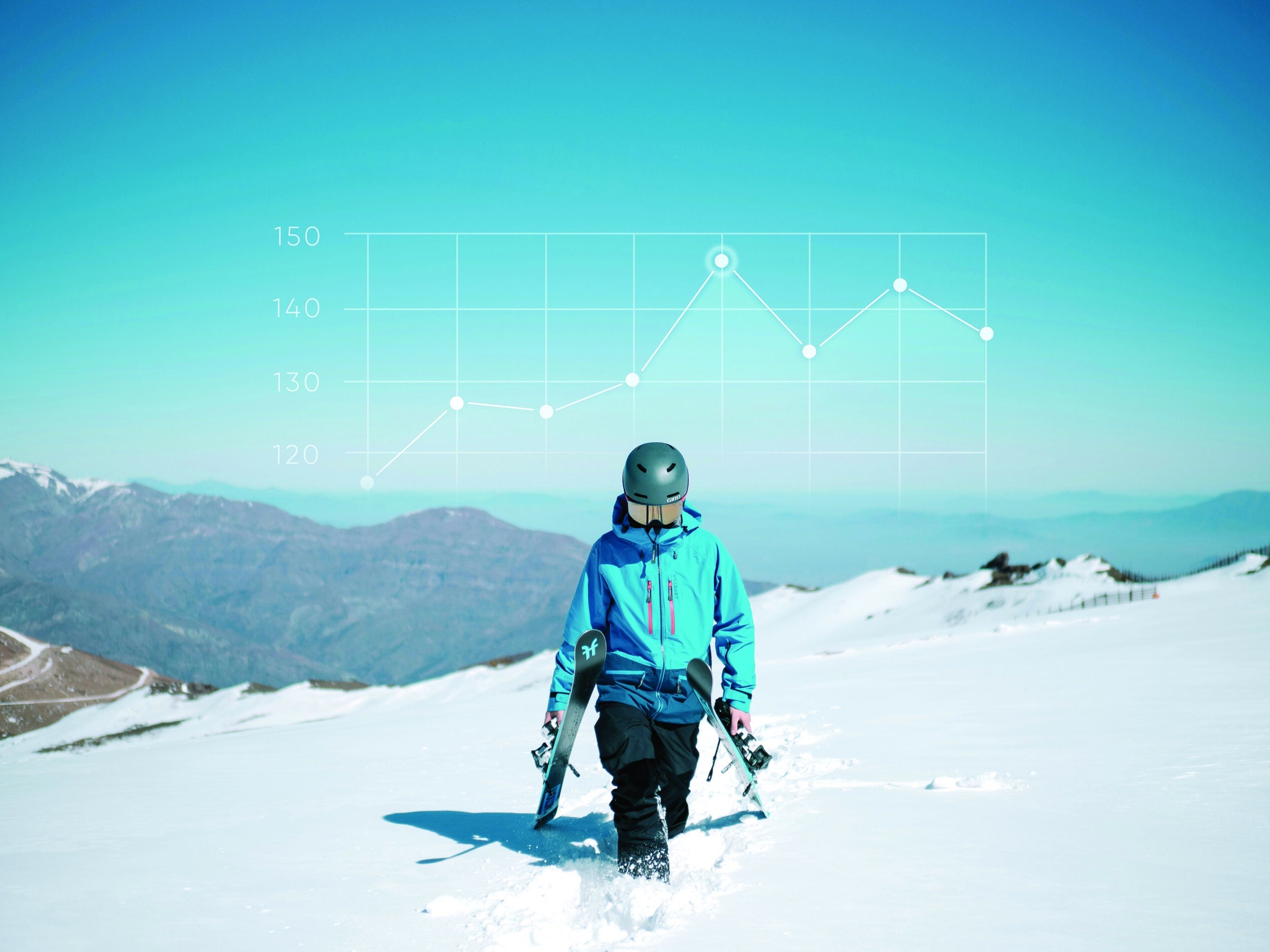 Heading out the door? Read this article on the new Outside+ app available now on iOS devices for members! Download the app.
There's a lot of math that goes into hurtling down an icy, 40-degree face. If you're racing on the pro circuit, your coach is constantly calculating things like g-force, ski angle, body angle, and turn shape. That same feedback would also help average skiers who just want to smooth their turns or make it down a black-diamond run, but until recently, it's been hard to come by without a World Cup coach or spendy private lesson. Now, a handful of companies are developing tools to bring expert-level ski coaching to your smartphone.
Learn to Carve from a Computer
A month ago, I got my hands on the Carv system to see how well this ballyhooed app works. Retailing for $149 plus a subscription of $199 per year, the tool consists of boot-shaped inserts that fit between your shell and inner boot and link to a tracking unit that clips to your booster strap by a small cable. The tracker unit interfaces with an app that provides computerized feedback on your technique and offers suggestions on how you can improve—either after you ski or while you're skiing.
After an easy, 20-minute setup that included calibrating the boot to the tracking unit, I was ready to Carv my brains out. At the top of the lift, I hit "Record" on the app, and for the duration of my run Carv tracked my overall "ski IQ," which was based on things like how well I edged, how round my turns were, and how consistently I initiated a turn. Then, back on the lift, I could watch a video tutorial that focused on a problem area, based on my scores (from 0 to 100 percent). Not only was the game of constant improvement fun, but I also found that I noticeably sharpened my skiing skills.
Others clearly think so, too. Demand is currently outpacing supply, says Carv's CEO Jamie Grant. "We've sold out every season since launch [via Kickstarter in 2016]." So far, 20,000 Carv members have skied over 621,000 miles, measuring over 50 million turns.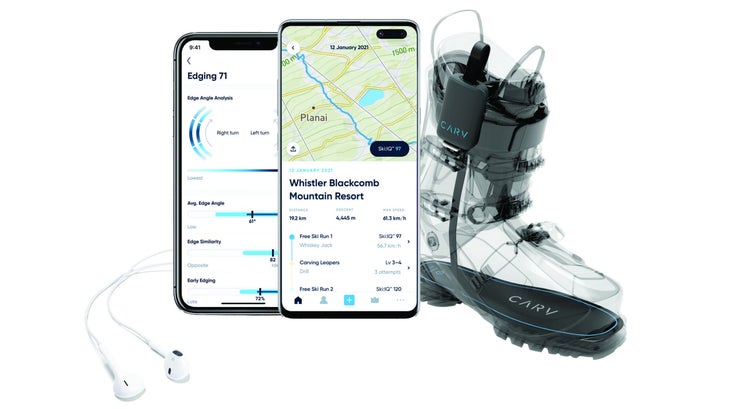 For those who'd prefer a flesh-and-blood coach over Carv's velvety-voiced AI, there's Givego, created by Salt Lake City-based entrepreneur Willie Ford in 2020. It works by connecting users to certified sports coaches, instructors, and professional athletes. When skiers send Givego a video of themselves doing whatever skill they'd like to improve (carving trenches, shredding steeps, floating through trees), the coaches provide personalized feedback. (Givego is free to download. Experts set their own price for consultation; the average is $20 for an hour.) "I started skiing last season after moving to a mountain town from Alabama," said user Kyle Rusak, who found it challenging to maintain confidence at higher speeds and used the app to connect with Jeb Boyd, one of the best pro instructors in the country. "I was amazed at how helpful his advice was. After a couple of short, asynchronous sessions, my skiing improved substantially."
And then there's Skeo, developed by a Swiss tech company and two-time World Cup champion downhiller Bode Miller. Designed for professionals (racers, coaches, and instructors), it's also great for recreational skiers. The system tracks data on a skier's stamina, turn quality, ski-to-snow engagement, style, and body position with a set of sensors that affix to the user's skis and chest. The retail price is $449 for sensors, mounting brackets, a chest sling, and a charging pad. Similar to Carv, the analytics land on your smartphone.
Skis That Think
For the past few years, brands have been working to put coaching tech directly into the skis. In 2018, Rossignol joined forces with a company called Piq to embed motion sensors that tracked important metrics, including speed, turning angles, transitions, and the g-force of each turn, into the materials of a ski. An integrated computer analyzed skiers' technique and sent data to their smartphones so they could study themselves later. But then Piq went out of business, and "the app worked for a while, then started crashing," said Alpine Category Manager Jake Stevens. "So we pulled the plug."
But ski designers aren't giving up. Since 2018, Elan has been working on a smart-ski prototype equipped with sensors that give skiers real-time readouts on things like body balance position, edge activation, ski flex, dynamics, and turn phases. When finalized, the setup will allow audio guided coaching on snow. Global brand director Melanja Korošec said Elan is the only ski company with the patents for the tech it's creating, and that it's still tweaking the sensors to make sure the ski will fly without hiccups when it debuts. Come launch ("soon," but the exact date is TBD), the company expects the skis to take tech-assisted coaching well beyond what's on the market. Competitors "offer mostly gadgets that may measure movements of the skier and their position as an add-on technical solution," Korošec said. "[But] they are not using readings directly from the skis."
From the Boots Up
In 2015, Atomic started working on the industry's first "smart ski boot" with biomechanics experts from Salzburg University. The goal: to create a boot that can help skiers become more aware of their balance and where they can apply more pressure for better performance. The result, the Hawx Ultra Connected, talks to Atomic's free Connected app, which then relays information to the skier. "This product is great for the target consumer because you can dissect your skiing down to each individual turn and compare exactly how you ski versus the best in the business—like 'benchmark' athlete Daron Rahlves, who won World Championship gold in the Super G in 2001," said Atomic's head of boot development in Austria, Jason Roe. "Your run is also boiled down to an overall carving score that is a direct reflection of how well you ski. It's quite addictive to keep your score at the level you want it to be." Expect to see the Connected in use at various Canadian ski schools this January, and it should be available in the U.S. soon after.
Looking to the future, Elan believes there will be increasing demand for technology that puts skiers' progress in their own hands. "We live in a data-centric world, and people are already constantly learning, evolving, and honing in on their skills from the feedback provided by technology," Korošec said. "Products like smart skis will provide real-time feedback. This allows skiers to learn at an accelerated pace." When challenges like COVID and supply chain issues start to resolve, prepare for a wave of skiers ripping down the slopes, their personal coaches softly purring from the pockets of their coats.