Outside Business Journal
Retailer Spotlight: Backcountry Essentials in Bellingham, Washington
This shop offers the best gear with the best instruction, and welcomes you to chill with the kings and queens of the backcountry (even if you're not on their shred level yet)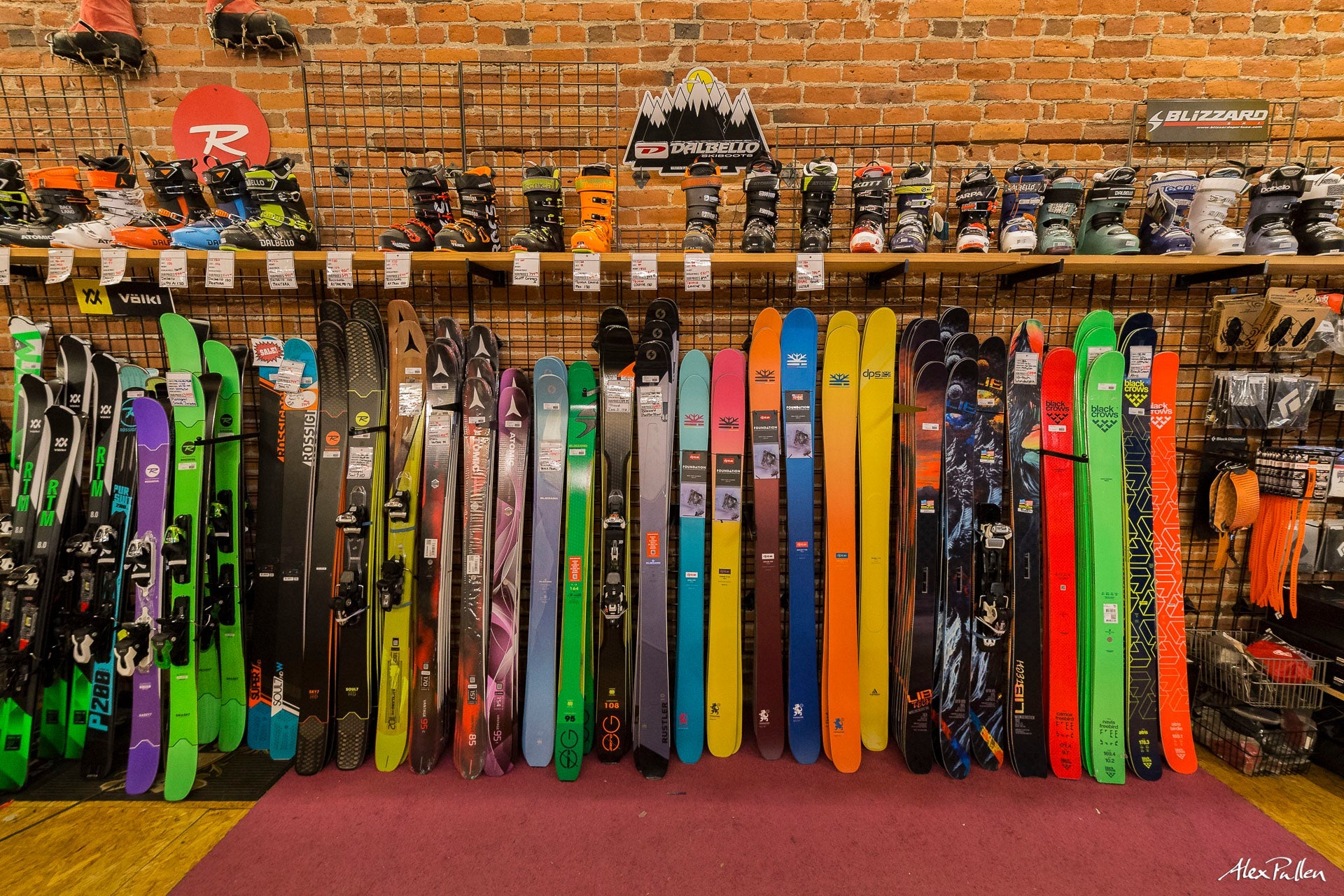 Heading out the door? Read this article on the new Outside+ app available now on iOS devices for members! Download the app.
It was a shared appreciation for simple living that led friends to peg Chris Gerston and now-wife Erica Gerston as ideal blind date material."The common thread was that we both did a lot of living out of our cars," Chris Gerston said with a laugh.
From the start, both Gerstons knew living the good life really only required the essentials, like beer and gear.
In the spirit of simplicity, the couple opened Backcountry Essentials about 12 years ago as a technical gear shop with a cozy floor plan and expansive atmosphere, complete with a built-in three-door beer cooler to keep bevvies cold.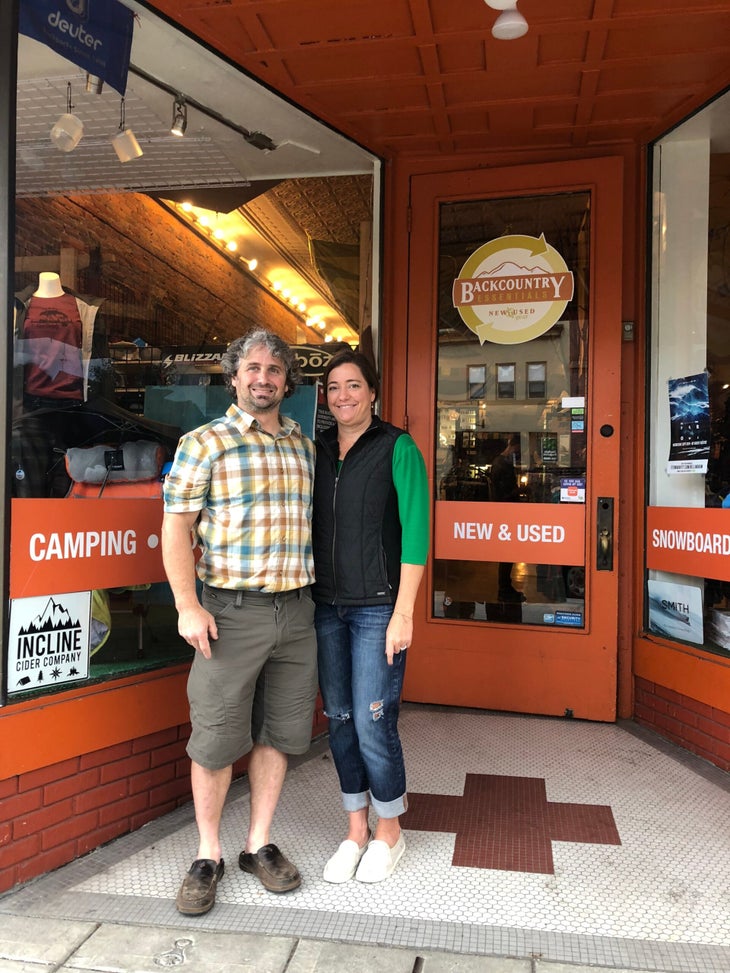 Technical Prowess
The shop carries the must-haves for playing in the Pacific Northwest through all its seasons—climbing, hiking, camping. They booted kayaks about a decade ago to make room for the beer cooler. But Backcountry Essentials really comes alive after the first snow falls and the skis line up to dominate the store's limited floor space.
"Winter is more our strong suit," Chris Gerston said. "We're gonna end up talking about winter one way or another."
Formerly, Chris Gerston was a mental health counselor who worked in wilderness therapy, and Erica Gerston worked as a long-time bookkeeper for multiple local businesses. In combining their passions and expertise to open an outdoor retail space together, two aspects of their new store were nonnegotiable: technical expertise and genuine friendliness. The union of these qualities actually helps get people outside, and then—relative to their experience level—get after it once out there.
"We're really a technical gear shop, and that's how we wanted to be," Chris Gerston said. "We wanted to be a store that sold gear first, and sold clothing second. Our forte has always been our technical services. The name we've built for ourselves here in town is really based off the bootfitting and ski techery. This was a service our town really needed."
When a town's local ski hill is 11,000-foot-high Mount Baker, it needs a technical ski shop. It's safe to say the mountain has a reputation for legendary powder days: in 1999, Mount Baker Ski Area set the world record for recorded snowfall in a single season (1,140 inches). And at 641 inches a year, Mount Baker Ski Area racks the (unofficially) highest average snowfall of any ski resort in the world. If the snow is that good in bounds, imagine the backcountry.
Enter Backcountry Essentials: a place where backcountry shredders can find the specialized and advanced gear they need. The Gertsons built their community reputation off a refined, technical—and yes, essential—backcountry ski selection backed up by the deep know-how to outfit and prepare powder hounds to head out of bounds when ready.
"We get a lot of skiers in town, and Mount Baker has a great open gate policy," said Chris Gerston. "So as long as you've got your transceiver, probe, etcetera, you can start cutting lines and going out of bounds. There's tons of skiing to do here."
But before the shop, many skiers likely were cutting those lines in ill-fitting boots.
"There wasn't really a good bootfitter here, and the guy we have now has been bootfitting for 30 plus years. He's really good," Chris Gerston said. "When I hired him, I'd been bootfitting for eight or nine years. I thought I was kinda, you know, gettin' my groove on. And he showed me that, truthfully, I'm so average."
Now Backcountry Essentials is grooming a long and fine legacy of bootfitters.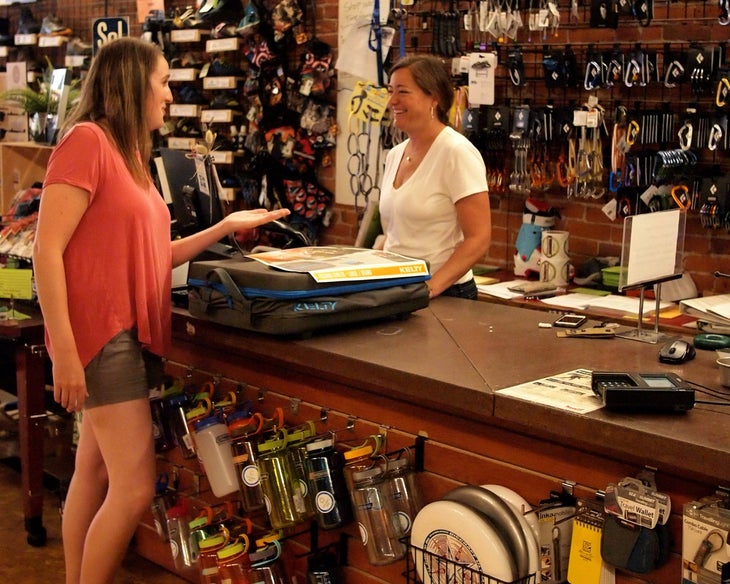 Kindness Over Gnarliness
But with intense and intricate gear expertise can come the risk of snobbery—a sort of technical elitism that might intimidate beginners or even intermediates (anyone not pro)—from even walking through the door, let alone setting out for the slopes.
"People oftentimes walk into a gear shop like this, and they're somewhat intimidated, like, 'Who are these guys? Are they gonna have a chip on their shoulder?'" said Chris Gerston.
For Backcountry Essentials' staff, good hearts come before epic accolades.
"One of the things we really drill into our staff is that I don't hire them because of how hard they climb or how fast they ski or how high they jump. I really just need them to be nice people," Chris Gerston said. "And it's one of those things that's really easy to say, and yet most gear shops can seem to have a little bit of an attitude. We just try to not."
Besides, what better way for a small specialty retailer to encourage folks to come into their store than by being nice? Kindness: the essential building block of community.
"We want to be seen as nice people—as a resource," Chris Gerston said. "And, not knowing what else to do with marketing, here's what we can do: we're approachable. We're here for you. We definitely spin ourselves off being a community hub. [We have] events at a local place for the community to come see a slideshow and have a beer."
Expansion: Gear for the Groomers, Too
Five years ago, the biggest ski shop in Bellingham closed. Another smaller local ski and bike shop sold, and only kept the biking side. That's when Backcountry Essentials saw its chance to expand from selling solely backcountry ski gear to offering the whole shebang. They quickly transformed from peripheral, technical ski stop to the main ski game in town.
Convincing brands to get on board with the expansion (and allow them to pick up the slack from the stores that closed) came easy due to Backcountry's specialized roots and stellar repute.
"Those two stores had their liquidation of ski gear. As soon as we heard, we got on the phone and started calling companies we wanted," Chris Gerston said. "They were looking for a new store, and so all the brands were pretty much open to us. And because we had that sort of technical background, it was very easy for everyone to be like, 'Oh, it's just natural. We're going to trust them because they already do avalanche stuff.'"
Although Backcountry Essentials has diversified its inventory to better serve beginner as well as super technical users, Chris Gerston still prefers skiing the backcountry over the groomers.
"I enjoy skiing in bounds without a doubt," Chris said. "But I kind of need my exercise so I like backcountry touring. It seems like a more well-rounded experience. I love it."
Having fun and staying alive comprise the bare essentials for successful outdoor adventure. Chris Gerston gets it: "When I was in grad school, I had classmates who were miserable and freaking out about something, say, a paper that was due. And I was like, 'Did someone die? No? No one fell down a crevasse? No? Okay, everyone's alive. Then we're good.'"