Outside Business Journal
Sponsor Content: Nikwax
5 Ways Nikwax Supports Its Retailers
Nikwax makes it easy for retailers to carry, sell, and explain the importance of gear care and maintenance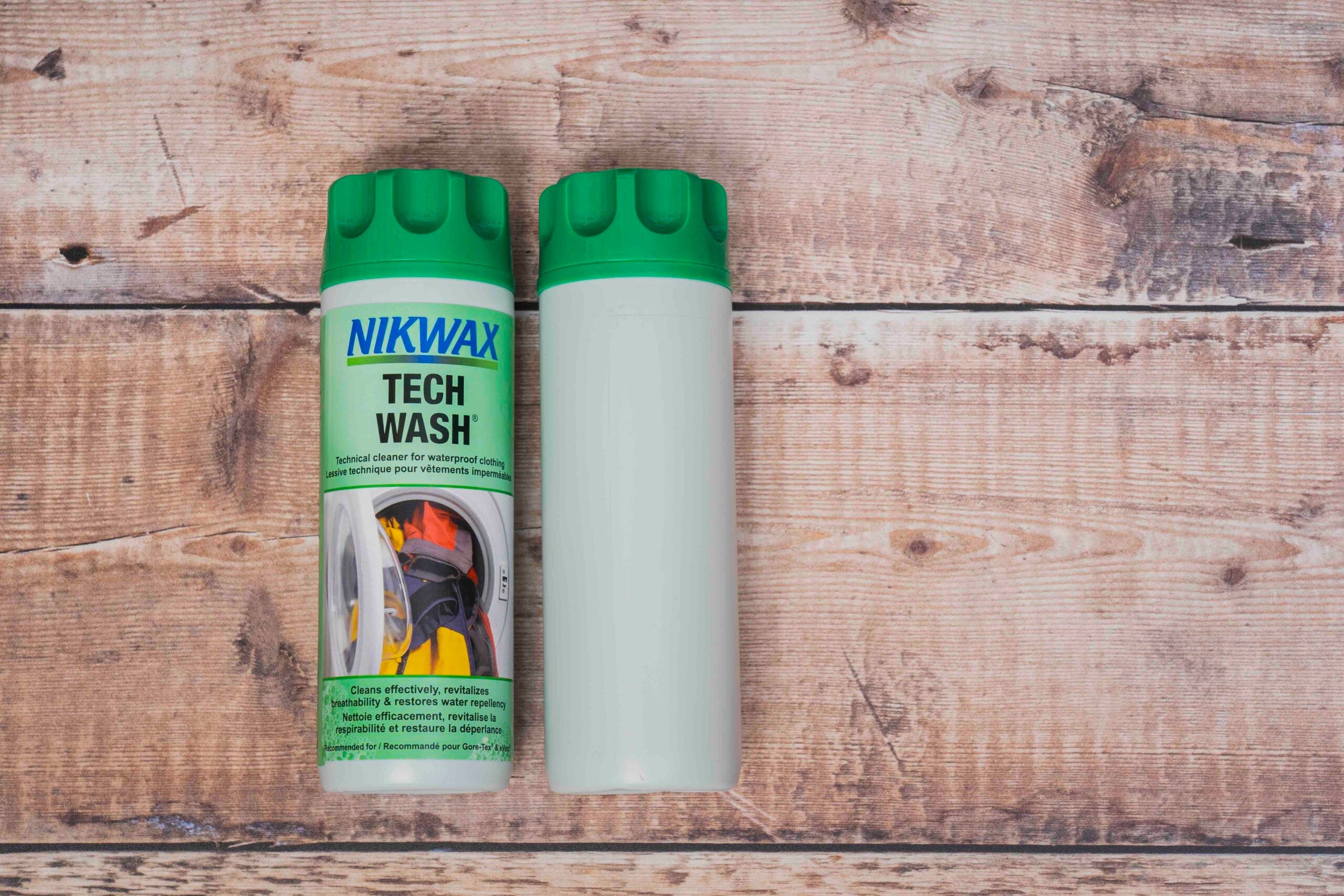 Today's enlightened consumers want to minimize their environmental impact, and there's no better way to do that than to keep good gear in circulation, rather than replace it. This mentality is largely what shaped Nikwax's mission—long before reusing Grandma's ski jacket and Dad's old backpack was considered cool. With high-quality aftercare products, Nikwax provides consumers an environmentally safe process for extending and fortifying gear's long-term performance.
The maintenance and repurposing of gear via repair and resale programs is growing increasingly vogue, as proven by the popularity of Patagonia's Worn Wear and iFixit missions, REI's beloved garage sales and new online Used Gear marketplace, and many more brand-driven recycling and repurposing initiatives across the industry. The longer articles of clothing, backpacks, tents, ropes, and shoes are used, the fewer new items people need to buy—reducing manufacturing production waste, packaging materials, and even product delivery's carbon footprint. Focusing on these tenets of gear functionality and an eco-friendly ethos, Nikwax has developed specialized retailer support programs to help retailers sell such points and Nikwax's corresponding products—five of which are detailed below.
1. Nikwax's Display Program
Heidi Allen, vice president of Nikwax marketing, knows the importance of an engaging, yet informative product display. She's helped propel Nikwax's display program, which retailers can use to organize, advertise and explain its popular waterproofing, weatherproofing, cleaning, and conditioning products.
The display outlines Nikwax's environmentally friendly attributes while presenting the products in an approachable and attractive way. With dozens of products that can help maintain, clean, and strengthen high-quality gear, the displays "help customers first identify the product category and then understand each of the products," Allen explained.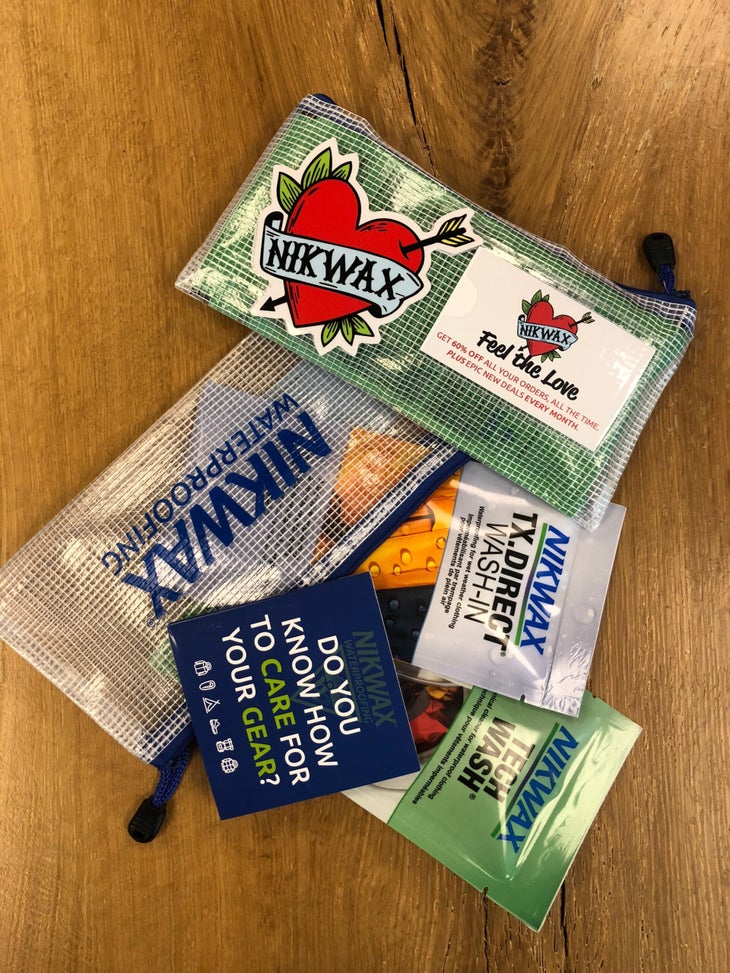 2. Retail Staff Education Program
The folks operating retail stores have anything but extra time on their hands. "We're not [going to demand they spend] their own breaks watching 20-minute videos," Allen said.
Instead, Nikwax recently launched a new retail staff education program. Any retailer employee can enroll in the program, and if they do so, they'll receive their very own "Feel the Love" kit that includes samples of Nikwax products so they can speak honestly about product experiences. Pocket-sized information booklets are also included for retailer staff; as staff talk with customers, they can whip out the booklets and reference specific details in an engaging, organic way. "We're trying to make the information as easy and digestible as possible," Allen said.
3. Staff Incentives
Employees enrolled in the program are automatically offered steep discounts on all Nikwax products, plus monthly deals including VIP access to new samples, free shipping deals, and more. "We really want to get store employees stoked about the products," said Allen.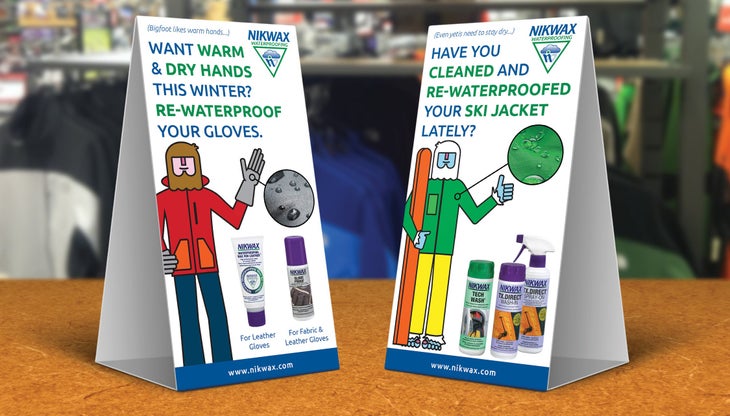 4. Seasonal Retailer Support Kits
Changing seasons are the perfect time to capitalize on new themes and new beginnings. Because weather is an integral part of Nikwax's existence, it's a prime opportunity to highlight the impacts of the brand's products, which is why Nikwax sends out seasonal retailer support kits twice a year. Kits include specialized hang tags and table-top displays that help drive home customer awareness of gear care importance, focusing on things like fortified waterproofness, clean weatherproof gear, and additional UV-blocking finishes, depending on the season.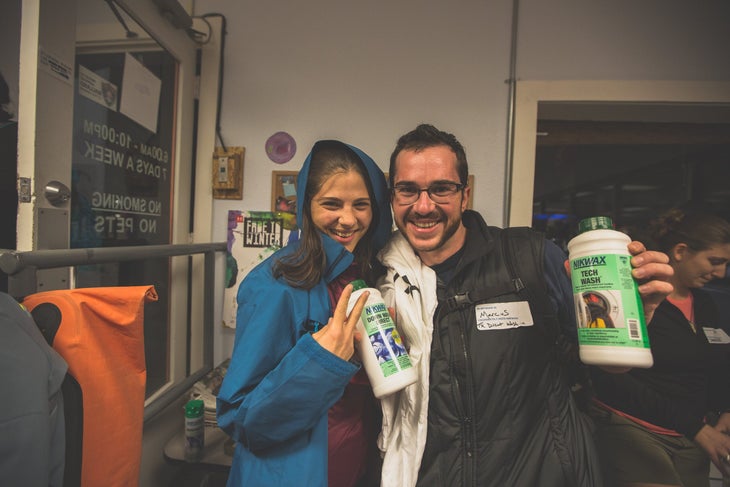 5. Robust Sampling Support
Good work speaks for itself. Nikwax offers product samples for retailers to give out at all sorts of events, be them in-house celebrations, ski movie screenings, gear care event nights, retailer spotlights, or any other kind of gatherings. "We're very generous with our samples," Allen said, particularly buy-one-get-one collaborations. "We're happy to support special programs that [leave customers with] free Nikwax samples." All you have to do is ask.