Want Your Kids to Feel Safe? Let Them Build Forts.
Creating a shelter in nature is fun, encourages creativity, and offers an emotional refuge from the pandemic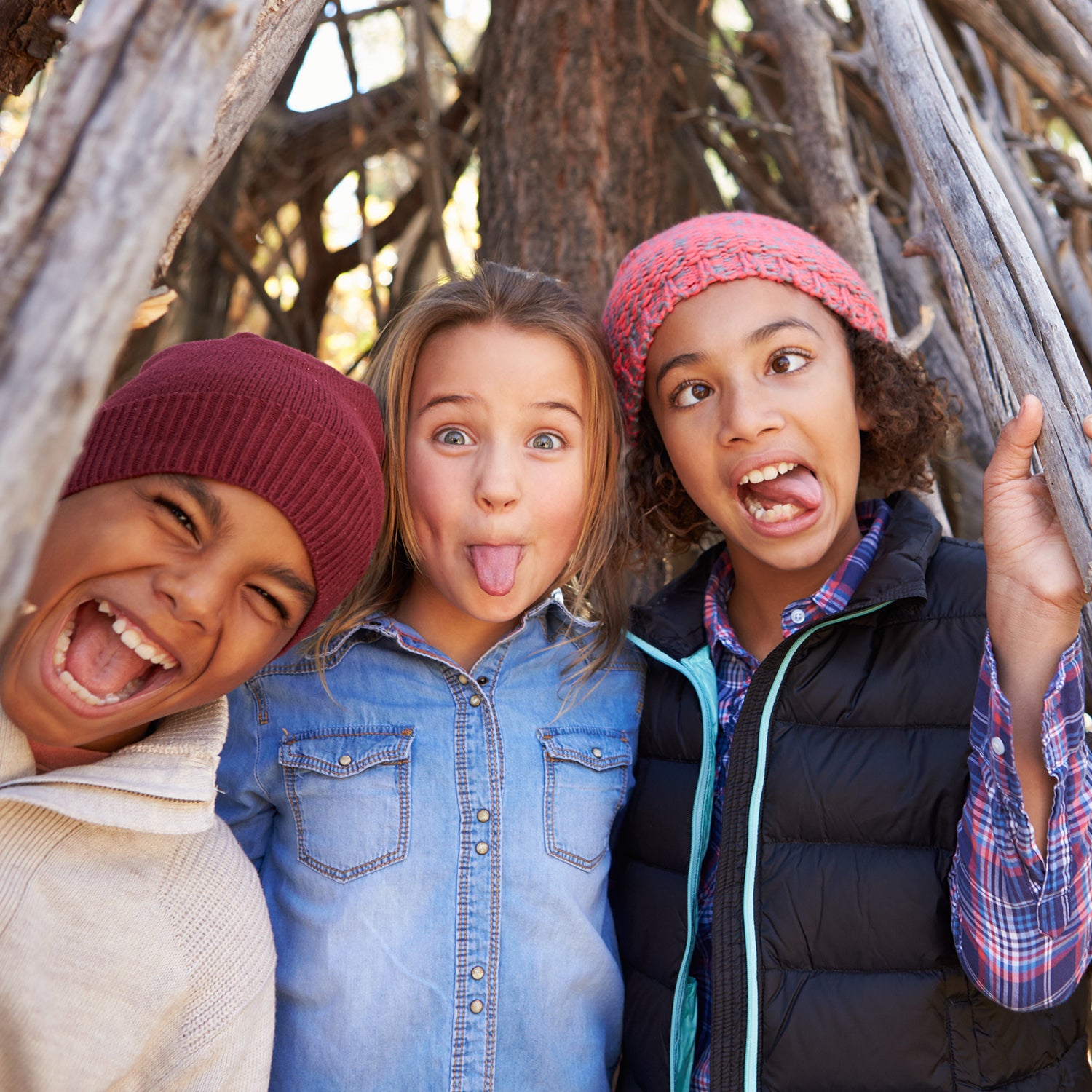 Heading out the door? Read this article on the new Outside+ app available now on iOS devices for members! Download the app.
In early April, as COVID-19 tightened its grip and schools and businesses shut down, I started noticing a curious trend around my home in Durango, Colorado: forts. Lean-tos, rock structures, and other shelters cobbled together from natural materials began sprouting up near trails and on public lands as if by magic. And like magic, the forts offered a kind of relief from the stress of the pandemic. I never managed to catch anybody building one, but each new fort made me smile. I appreciated the sudden dose of whimsy they added to my day, yes, but mostly I loved the idea of kids (and maybe grown-ups) channeling their restless energy and newfound free time into creating ephemeral outdoor refuges. 
The fort-building surge wasn't just happening around Durango. In May, nature writer Robert Macfarlane posted a series of Instagram photos of stick forts near his home in England, with the caption that the woods were "full of these frail shelters." At least a dozen of his followers—from Edinburgh, Scotland, to Northern Ireland to Virginia to the Rocky Mountains—commented that they, too, had noticed an uptick in fort building. Apparently, something about COVID is inspiring people around the world to construct forts. 
Maybe, with schools, sports, camps, and other activities shut down, it's pure, simple boredom. (This isn't a bad thing: studies show that unstructured free time can make kids more imaginative). But perhaps, as Macfarlane suggested, there's also something about the uncertainty of a global pandemic that's prompting people of all ages to create safe spaces where, at least temporarily, we can imagine that we're keeping the scary parts of the world at bay. 
So as the pandemic continues to rage, we at Outside hereby declare this the Year of Fort Building. 
To get a better idea of how to encourage even more kids to build forts, I called Tom O'Rourke, director of the Hartley Nature Center in Duluth, Minnesota. The independent nonprofit manages 660 acres of wilderness, where it holds summer camps with themes like animal tracking and pond life. But its most popular camp, year after year, is a week of fort building. The center has put a lot of energy into developing lesson plans that turn the practice into something much more meaningful than a building task.
"Fort building is a fundamental childhood activity," O'Rourke told me. "Kids are hands-on, tactile, imaginative creatures, so the idea of using natural materials and problem-solving and thinking creatively affords all these opportunities for them to learn and grow."
But while O'Rourke gladly uses forts as teaching tools to get kids to work together or think about animal adaptations—like how beavers, bald eagles, and other creatures build their own "forts" to survive—he's wary of instructing a child how, exactly, to construct a fort. (If you must know, the internet is rife with such advice; one article even solicited tips from a professional architect.) Instead, O'Rourke suggests that caregivers step back and let kids figure it out on their own. 
"Sometimes when parents are outside with kids and trying to facilitate an activity, they're too prescriptive," he says. As long as kids aren't damaging trees or plants, O'Rourke thinks they should be given free rein to "let their imagination run wild. They should approach it how they want to approach it, without mechanical-engineer dad trying to tell them what to do. That's what keeps someone engaged—that feeling of agency and ownership." 
Kids do need some basic guidelines for outdoor forts, though. First, encourage them to use materials already on the ground, rather than tearing branches or leaves off living plants. Depending on where you are, the materials available will differ, but everything from driftwood to rocks to mud to bark from downed trees are fair game. That said, using a live tree or a big boulder as a pillar or foundation is a great idea. If kids are having a hard time getting going in one spot, walking even just a few hundred feet might offer a different suite of possibilities. 
Leave-no-trace principles instruct fort builders to destroy and scatter their creations when they're done, but O'Rourke said that when kids are doing the building he bends those rules. "What we're doing is place making," he explains. "We want kids to want to come back and visit their spot, to feel connected to this place. We've had people tell us that they don't like forts in the park, and we're like, 'Well, sorry, it's kid habitat.'"
The Gulf Islands Center for Ecological Learning in British Columbia—another nonprofit that incorporates fort building into its curriculum—takes the same approach. Outdoor educators there noticed that when kids have the chance to return to the forts they've built over the course of a multi-day program, they tend to be better behaved and more well-adjusted. 
Still, until we learn more about how COVID-19 is transmitted, it's probably wise to try to keep your kids out of other people's forts you come across. Instead, encourage them to build their own. And if you live in a place where you don't have unfettered access to a backyard, park, or public lands, indoor forts work, too. Letting children create a shelter from chairs, blankets, and couch cushions offers similar opportunities for creativity and problem-solving while giving them a private nook where they can play or snuggle up and feel safe. 
We're all seeking ways to weather the impacts of the pandemic. For a lot of adults, this has meant pitching a tent in a forest or hiking to a vista we can reach from our home. But for kids, who are just as affected by the pandemic as the rest of us, there's nothing quite like the coziness and sense of ownership of a fort they built themselves.
Lead Photo: monkeybusinessimages/iStock