The Pandemic Moved Classrooms Outside. Let's Keep It That Way.
The pandemic forced schools to teach outside. Many teachers, parents, and kids want to keep it that way.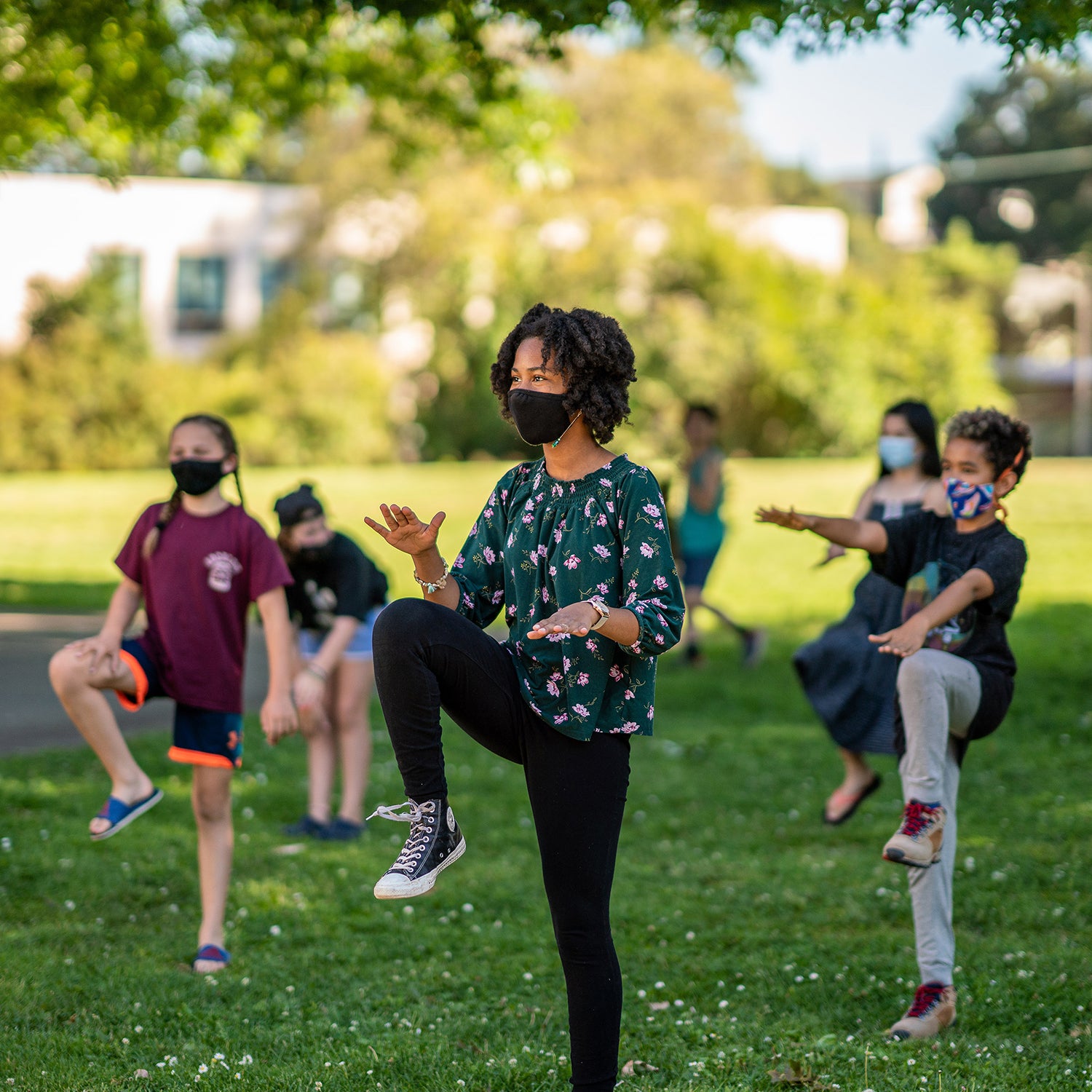 Thomas Kuoh Photography
Heading out the door? Read this article on the new Outside+ app available now on iOS devices for members! Download the app.
Mackenzie Nichols always dreamed that her children would go to the same school she'd attended: Peterborough Elementary, a public school of about 250 students in a small, outdoorsy community in southern New Hampshire. But she worried about how her six-year-old, Breton, would adjust to sitting in a classroom all day. "I struggled with the decision because of how much he thrives outside," she said. "He's most at home when he's free to roam and disappear into the trees behind our house."
Nichols wished Peterborough students could be outside more, but teachers and other parents were less enthusiastic about the idea of holding classes outdoors during New Hampshire's bitter winters. Then COVID-19 hit, and Peterborough, like schools and districts across the country, realized that the only safe way to continue in-person learning was to move outdoors, where viral transmission is far lower. The elementary school erected makeshift tents that served as classrooms, held lunch outside, and incorporated elements like looking for animal tracks into lessons.
Now, as a new school year looms, hardly anyone in Peterborough wants to bring kids back inside. The district is building several permanent, gazebo-like outdoor classrooms and plans to improve a wooded trail that runs through school grounds. "I think outdoor learning will continue post-COVID," Nichols said. "The pandemic gave people who were reluctant about it a sort of trial run."
Across the United States, thousands of other schools that moved outdoors due to the pandemic are also planning to make outdoor classrooms a permanent part of their infrastructure, according to Sharon Danks, CEO of Green Schoolyards America. For the past 30 years, Danks has worked to transform concrete schoolyards into spaces that resemble parks, with trees, grass, gardens, and other natural elements. Interest has been steadily growing for years, she said, but the pandemic accelerated it tenfold.
In part to meet this new demand, Danks helped found the National COVID-19 Outdoor Learning Initiative, a project that provides free online resources to encourage schools to safely stay open by moving outside. Topics range from designing outdoor learning spaces to finding funding to coping with excessive heat or cold. In one case study from Portland, Maine, for instance, the district purchased and distributed hats, gloves, and snow pants to ensure all students could stay warm in winter.
Numerous studies have shown that outdoor learning helps students stress less and focus more, improving their overall well-being.
Moving classrooms outside doesn't just decrease the risk of kids passing around germs. Numerous studies have shown that outdoor learning helps students stress less and focus more, improving their overall well-being. Plus, because the increasing number of nature preschools and forest kindergartens in the U.S. tend to serve communities that are predominately white and wealthy, getting more public school students outside can improve equitable access to nature, particularly in cities where parks tend to be clustered near wealthier neighborhoods but schools are equally dispersed.
Schools in all 50 states participated in the National COVID-19 Outdoor Learning Initiative, Danks said, from small independent schools to those in large districts like Washington, D.C., and New York City. Just like Peterborough, many plan to continue holding classes outside even after the pandemic subsides. "The interest appears to be sustained," Danks said. "The people who went outside are reporting pretty universally positive outcomes, in terms of kids who were happier and teachers who felt safe and realized they like having some of their day outside."
Public schools aren't necessarily becoming full-fledged nature schools or keeping students out all day amid the elements. While some have incorporated outdoor activities like gardening or even mountain biking into their curricula, others have simply built shade structures or picnic-table desks to move indoor lessons into outdoor spaces. Such structures may be shared between classrooms and are often built with federal funds distributed to help schools cope with the pandemic.
Yet even small changes represent a major shift for American education. Many of America's public schools were originally built to turn unruly kids into obedient soldiers or factory workers, and buildings and schoolyards reflected that mentality. Now more schools are moving toward a model that better aligns with 21st-century values. And while hurdles remain—California, for instance, bans public schools from erecting tents big enough to shelter an entire class, because of the risk of earthquakes—the shift is welcome news for parents like Nichols who want to give their kids a public school education without disconnecting them from the natural world.
And as the more contagious Delta variant of COVID-19 tears through the country, even more schools are getting on board with outdoor learning, Danks said. "We want to help schools invest in outdoor infrastructure now that they can use later, too. This isn't going to be the last variant, or the last crisis."
Lead Photo: Thomas Kuoh Photography