A Father's Last Shot at Cheating Death
During 40 years of adventure, hard-charging writer and climber Mark Jenkins has asked a lot of his wife and kids. After his fourth attempt on a dicey Chinese peak, he examines the risks and rewards of a risk-defying career.
Heading out the door? Read this article on the new Outside+ app available now on iOS devices for members! Download the app.
"This is my last expedition."
My wife, Sue Ibarra, was driving me to the small airport outside Laramie, Wyoming, as she had dozens of times before. It was dark, and the lights of the little prairie airstrip were shining like stars.
"You know how many times you've said that?" Sue's long, dark hair was tied in a loose ponytail to one side. She laughed and wiped away a tear.
"Really," I insisted. "I'm getting too old for this."

Download the Audm app for your iPhone to listen to more longform titles.
It was April 2005, and I was bound for Nyambo Konka, an obscure, 20,000-foot mountain in central China. Neither particularly hard nor notably high, it's plenty dangerous—mainly because of the likelihood of avalanches. The peak had initially attracted me because it was unclimbed and because of its ele­gant humpback shape, resembling a white whale breaching the sky.
"I'm not sure how long I can keep this up," I said.
"What?" Sue said. "Being who you are?"
There was nothing I could add that I hadn't said too many times before. What do you say to your wife when you're heading off on yet another expedition that might end in death, leaving her at home with two young daughters? Addi, 12 at the time, and Teal, nine, were used to dad "going on a trip." Thankfully, Teal was not yet very time conscious, but Addi had started to realize that this was a euphemism. Sue, a stoic veteran of separation and long silences, was teaching her how not to worry. "We'll write letters to Daddy," she said.
The kids didn't come to the airport. We tried that a few times and it was heartbreaking. I'd said my goodbyes the night before, so they could sleep on it. In the morning, Mom was there making French toast and Dad was gone. This is how it had been for most of our marriage.
"I'll be back in just a month," I told Sue. "Up and down and home."
"I hope so. We'll see." She and I had done many expeditions together—in South America, Africa, Asia. She knew how fucked-up things could get.
It was twilight at the airport, the sky the color of a bruised peach. We hauled out two heavy duffels and embraced, holding each other for a long time. Sue was crying silently. "You know," she said, "I'll kill you if you don't come back."
---
The only place we can bivouac on the mountain's face is in the middle of the central couloir at 16,000 feet. We chop out a ledge beneath an overhanging boulder and press ourselves up against it, hoping that any rockfall or an avalanche will somehow shoot over the top of us. J.J. Cieslewicz, my climbing partner, sinks two pickets into the snow and we tie in—the rope snaking into our sleeping bags—so we can't roll off into the abyss.
"You've got kids," says J.J., his white teeth showing through a dense blond beard. "You sleep on the inside. I'll wear a helmet and sleep on the outside."
We had hoped to spend two nights on the face to acclimatize, but the shelf is too perilous. We were at 13,000 feet this morning; tomorrow we'll have to move to 18,000 feet on the ridge. We just need to survive a few dark hours.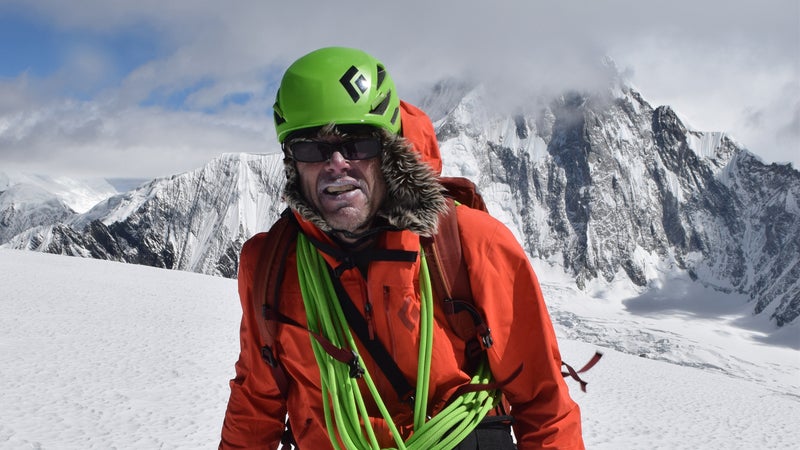 It's April 2017, and this is J.J.'s first big expedition as an alpinist and his first time to Asia. I did my first expedition to Asia in 1984, 33 years ago.
A 31-year-old climbing guide from southern Utah, J.J. is almost half my age, but he's already climbed more rock. He was sending 5.13 in high school—putting up routes so bold that he can't repeat them now. One of his climbing partners, Jerel "Supe" Lilly­white, told me that J.J. was something of a legend around Zion National Park. "He has the ability to make good decisions very quickly," Lillywhite said. "He's also got gnarly toes that can grab anything. I've seen him climb 5.12 barefoot."
We remove our double boots, careful not to drop them, and scooch into our sleeping bags. I finally get the petulant stove started—after a thorough cleaning that blackens my hands—while J.J. patiently fills our water bottles from a trickle coming off the boulder. Sitting up in the bags, we swallow hot liquidy mush. The sun has set. The sky is pink, but the peaks around us have already turned black.
Perched here on the east face of Nyambo Konka, swaddled in goose down, we're high enough to identify the surrounding mountains of the Daxue Shan, a heavily glaciated range on the eastern edge of Tibet, a two-day bus ride west of Chengdu, China. After three failed expeditions to Nyambo Konka—in 2005, 2009, and 2011—I know the surrounding peaks and their stories.
"That's Minya Konka, almost 25,000 feet," I tell J.J., pointing to an enormous snow-crested pyramid with an ominous purple plume streaming from its summit.
Minya Konka was first climbed in 1932 by a four-person American team; two of them, Dick Burdsall and Terris Moore, reached the summit. In a 1935 book, Men Against the Clouds, a third member of the group, Arthur Emmons, noted unemotionally that, after the expedition, the Chinese village of ­Yachow "was destined to be my home for seven months while my feet underwent renovation and my toes were removed."
I swing my arm northward. "Beside it is Long Shan, 22,000 feet, unclimbed. And over there"—I point to the east—"Tai Shan, 21,000 feet."
Long Shan was attempted in 2015 by my friend Bruce Normand, a connoisseur of ­Sichuanese mountaineering, and Kyle Dempster. They were turned back 1,000 feet from the summit by high winds and dangerously soft cornices. The pair survived that climb, but Dempster's number came up before long. With partner Scott Adamson, he vanished on the north face of Ogre II in northern Pakistan last year.
Tai Shan was climbed in 1981 by a ten-man Swiss team led by Roman Boutellier. They had only four good-weather days out of 50, and the avalanche danger was unbelievable. Still, they managed to make the first ascent of seven 6,000-meter peaks, returning unscathed.
By the time I finish talking, J.J. is asleep, sitting upright with his helmet lamp still shining. Black clouds have rumbled in, and the silhouetted peaks and silky stars have vanished. As I stare out into nothingness, it starts to snow. This is exactly what I've feared. We're in the direct line of fire for an avalanche, and I have no faith that the boulder will shield us. A slide of any size would sweep us off the mountain. Snow starts to collect on our bags, and I worry about how much is loading on the couloir above. I've been in this position twice before on this mountain.
To my enormous relief, at some point in the night the snow stops, and I slowly calm down. I think of Sue, halfway around the world, in bed.
---
I've spent so much time in a sleeping bag—thousands of nights—that I'm most comfortable with nylon against my skin. At home I will go to bed between the sheets, but often I slip down to the basement, open all the windows, and crawl into a bag.
We live in a large, 100-year-old Craftsman house. Bought it cheap before the kids were born and spent three years fixing it up. Sue knows how to replace a toilet, rewire a chandelier, hang drywall—because things needed to get done and I wasn't necessarily around to do them. In every marriage, there's a division of labor. I write and go on assignments. Sue travels with me when she can, and when she can't she holds down the fort.
I did my first big trip, to North Africa, in the spring of 1977; my first big expedition, to Denali, in the spring of 1980. I've now done roughly 50 expeditions and gone on far more foreign assignments.
Sue is the only woman I met who didn't expect me to change, in part because she's an adventurer herself. We met in college, and after a handful of dates we did a ten-day camping trip in the Grand Canyon. (She was a marathoner, so she more than kept up.) We've bicycled across eastern Europe and climbed in Bolivia. She's a tough, self-reliant Wyoming woman who's up for everything.
Ross and I shouted at each other, but the roar buried our screams. We ripped at the zippers, dived out of the tent, and ran for our lives in our socks and underwear.
The first time I went to Nyambo Konka, in 2005, I was with a partner named Ross Lynn—Louisiana farmer, Montana ice climber, guitar picker. We were in the tent talking about a Yosemite climb called Lurking Fear when a deep, terrible grumbling clammed us up. In seconds our tent was being pounded by snow. Ross and I shouted at each other, but the roar buried our screams. We ripped at the zippers, dived out of the tent, and ran for our lives in our socks and underwear.
When the avalanche stopped, we slowly picked our way back up to camp. The slide had crushed the tent. A chunk of ice had cut straight through the vestibule. We dug out a new platform farther to the right, but then an avalanche swept by in that direction. We spent the rest of the night wide awake, straining to catch the sound of the next explosion that might kill us.
In the morning, despite the close call, Lynn and I started climbing on the face above us. We were unroped as we proceeded up loose rock. Things eventually became so tenuous that we reluctantly moved into the avalanche gullies.
Soft snow layered over ice made for slow going. The weather deteriorated. By the time we stopped climbing, dervishes of swirling snow were whipping our raw faces.
We didn't even have to talk about it. We turned around.
---
There's no sound in the mountains more beautiful than the purr of a stove. I have ours going at 5:30 A.M., J.J. still asleep. While the stove melts snow, I pack up, anxious to get out of the avalanche chute. We each slug down a large cup of watery oatmeal, and I start moving, ahead of J.J. The snow in the couloir is punchy enough that we can kick steps into it. We continue to climb unroped.
When the sun strides out, I go to the right-hand edge of the couloir to wait for J.J. I've just gotten my pack off when I hear a whirring, like the sound of a bomb coming in, and duck beneath an outcrop. A stone the size of a brick grazes my face.
"Rock!" I scream. "Rock! Rock!"
J.J. is in the worst possible place, right where the couloir funnels into a narrow neck. It's a horror show in slow motion. I see him look up. I see the stone whizzing right at him. I see him throw an arm above his face. The stone hits the snow a hundred feet above him, bounces, hits the snow again, then strikes him. I hear him scream, but he isn't knocked off the face. He's standing there, groaning, both axes buried in the ice.
"You OK?"
"Yeah," he yells back. "Hit my forearm."
I wait until he climbs up to me, and we reassess. His forearm is bruised, not broken.
"The snow's not safe," J.J. says, "but it's safer than the chossy rock!"
We angle up and to the left, moving as fast as we can with heavy packs. Eventually, the angle steepens and the snow becomes perfidiously hollow, so we rope up. Placing a few ice screws, we reach the ridge in two long pitches.
We're cramponing along the ridge, J.J. announcing how relieved he is to be off the face, when my legs plunge into a crevasse. He pulls the rope tight, and I crawl out. We identify more hidden cracks in the glacier before finding a safe place to cut a platform. J.J. sets up the tent, and I get ready to start cooking. The stove won't start, and I'm forced to fieldstrip it. The wind is so ferocious, tearing right off the Tibetan Plateau, that J.J. is compelled to haul large stones from a nearby pinnacle to guy out our tent and keep it from sailing into the sky. He goes about his task with a guide's meticulousness.
J.J. earned a degree in restoration ecology from Utah State University, living efficiently and happily in his truck the whole time. His forefathers were from Poland. He has lived there, speaks Polish, and has the laudable ability of most Slavic climbers to suffer with a smile.
The wind screeches all night. Exhaustion and half an Ambien finally conspire to knock me out.
---
I've been on deadline most of my adult life, so in the rare times when I'm not, I am aimless, listless, irritable. When this happens, Sue realizes that I'll be on a new story in a matter of days and just rides it out.
Every spring I start to get hungry and restless, like a grizzly emerging from hibernation. Sue knows this. Perhaps by now she even counts on it. At some point she'll say, "You need to get out of here."
And I do. I go off to Tibet or Mozambique or Afghanistan.
For many years, our separate lives were out of sync. Packing for an expedition, I'd be all pumped up, but she'd be quiet, antic­ipating her impending loneliness. After coming back, I'd be desperate for affection, but by then she was in her groove and doing fine without me, immersed in another community project and the girls' lives. I longed to sit in the kitchen and have dinner with everybody. Sue had been with them 24/7 for weeks or months and was ready to get out.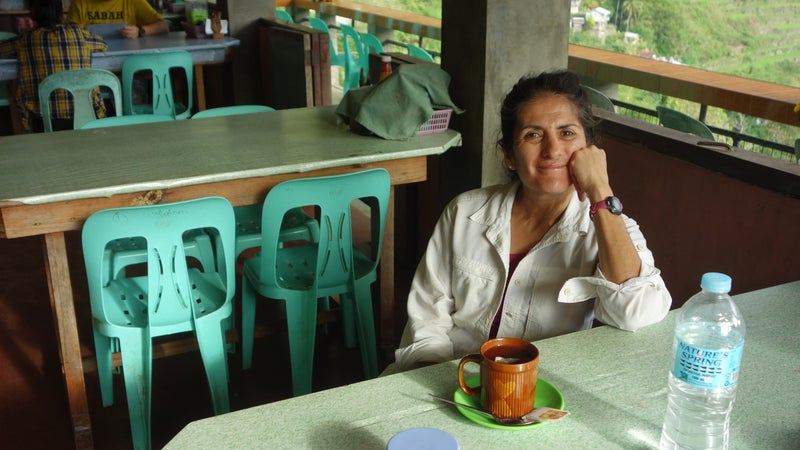 Sometimes we would circle each other warily for a few days before finally settling back into the relationship. Over the years, our emotional wrinkles got smoother. Sue started leaving on her own travel adventures, and I had to learn how to be the one who stayed home.
Back from a trip, I'd spend days, weeks, playing with the kids, trying to make up for lost time. But that's impossible. I've missed so much beautiful, ordinary life. Holidays, funerals, barbecues. I've been gone on either Sue's birthday or our wedding anniversary almost every year of our lives together. I left when Addi was 18 months old, still in diapers and sleeping in a crib. When I returned two months later, she was fully potty-trained, gleefully sleeping in her own room upstairs, and speaking in full sentences.
I'll never get that time back. But there have been gifts from the roaming life, too. Once, Sue and the girls met me in Nepal and we rode elephants. I took Teal on assignment to Tanzania, and at one point we were surrounded by two dozen lions. I took Addi to Bangkok when she was 15 and let her run around the city by herself all day for a week. It changed her life.
On the dark side, I've buried most of my best friends, all killed in the pursuit of an adventurous life. Sue and the girls know where to spread the ashes when my number comes up.
---
In 2009, I convinced New Zealanders Lydia Bradey and Penny Goddard, along with a pony­tailed Jackson Hole climbing guide named Kenny Gasch, to come to Nyambo Konka for a second shot.
This time, Lydia and I reached the mountain's north ridge, tunneling up through a cornice of sugary, unstable snow. But a storm descended on us, and we were forced to rappel back down onto the southeast face. We hacked out a hasty platform and crawled into our tent. After a few hours of listening to snow slam the nylon walls, I said, "It's gotta stop."
"No, mate, it doesn't," Lydia said. She was the first woman to solo Mount Everest, in 1988, and she's self-effacing, tough, and blunt. "A mountain doesn't have to do a damn thing, Mark. You know that."
At midnight it was still snowing hard. Six inches had accumulated.
"Well, looks like we're in a bit of a pickle," Lydia said calmly, in a classic bit of Kiwi understatement. If we stayed put and it kept snowing, we would most likely be swept off the face before morning. If we headed down now, there was a high probability that we'd trigger an avalanche ourselves.
Waiting for death was not an option that either of us could stand. We pulled on every stitch of clothing we had and crept out into the bellowing darkness. Shards of snow strafed across the meager beams of our headlamps. The tent had already hardened into an ice cave.
"We'll have to leave it!" I shouted.
We roped up and started postholing steeply downhill, hoping that the line between us would snag on a rock ridge in the event that we were swept off. We descended blindly through the maelstrom all night, dropping 2,000 feet. We reached our advance base camp an hour after daybreak. Two feet of snow had fallen. Two more would fall that night, ending our expedition. Later that same year, on May 20, alpinists Jonny Copp, Micah Dash, and Wade Johnson—who were climbing just over a ridge from where we'd been—were killed by a slide.
---
It helps that J.J. and I have built momen­tum on Nyambo Konka, because it's hard to get out of your tent at 18,000 feet when the wind is just shy of a tornado. Cold is one thing, but wind so fierce that it feels like some malevolent force is trying to shove you off the mountain? It can be demoralizing if you give it any quarter. So we act like we don't even notice.
J.J. and I march off into an invisible gale, coils of rope over our shoulders, the line whipping in the wind between us. It's a bluebird day. We've been humping loads and climbing nonstop for a week—and desperately need rest—but you have to go when the sun shines.
Our biggest fear, other than simply being blown away, is coming to an icefall that's insurmountable. Before we left, a close-up look on Google Earth revealed an indistinct welter of open-mouthed crevasses halfway up the east ridge. We have pickets and ice screws and extra line, but we're strung out and have only one day, this day, to get it done.
Looking both ways along any suspect lines of sastrugi, we curl around ice bulges and keep clear of fathomless holes. The crevasses we feared are largely filled in. We do a spicy traverse on a spine of ice that requires moving à cheval—­straddling the crest like you're on horseback—but it's more fun than frightening. We reach the top in five hours.
On the summit I feel no elation. No triumph. That will come later. We hug, take a few pictures, and turn around. We spend maybe three minutes on top.
---
There's a thin line between not giving up and becoming obsessed. Kayakers, alpinists, sailors, and BASE jumpers sometimes cross it and die. Perhaps the greatest self-awareness in life is knowing when to let go. I'm still working on that. I tried to climb Denali in 1980, failed, returned in 2000, and summited. I tried to climb Everest in 1986, failed, returned in 2012, and got to the top.
Sue understands this. She knows that mountains and rivers aren't always the greatest dangers. The serious threats are unmaintained Russian choppers, reckless Pakistani bus drivers, forgotten land mines, and stoned Congolese 15-year-olds with AK-47's.
Back before there were cell phones and the Internet, Sue and I wrote each other, blue aerograms expressing our love and what was happening in our lives in tiny, tight script. Whenever I was incommunicado, our understanding was simple: no news is good news. She told me once that she would have gone mad without this mantra. She taught herself not to worry and instead to dive into her own life.
---
I went back to Nyambo Konka for a third try in 2011. It wasn't really a serious attempt. My partner, Joel Charles, and I were more interested in ascending the smaller peaks in the area. We gave the mountain a half-hearted shot but were thwarted on the south side by Jenga-like 100-foot pinnacles of rotten rock.
That was it. Enough is enough. I let it go and was proud of myself for doing so.
Then one day, years later, Dougald MacDonald, editor of the American Alpine Journal, sent me a report stating that a large Korean team using fixed lines—and leaving behind lots of garbage—had climbed Nyambo Konka. They did it on my old route up to the north ridge.
Good for them, I thought. I tried to blow it off. I tried to convince myself I was chill. No luck.
We hauled out two heavy duffels and embraced, holding each other for a long time. Sue was crying silently. "You know," she said, "I'll kill you if you don't come back."
I had just met J.J., and we were climbing long routes in Red Rock Canyon, the magnificent sandstone walls west of Las Vegas. This doesn't happen often, but somehow we were in harmony from the first pitch. We moved at the same pace, assessed risks similarly, came to mutual decisions easily. On our third day of climbing, I asked if he'd ever been interested in doing an expedition.
"Sure."
"Well, I know this mountain…"
Just like that, he was in. I called Sue.
Since 2005, the year I thought I could give all this up, I'd attempted Nanga Parbat in winter, made the first descent of the largest cave in the world in Vietnam, bicycled the Ho Chi Minh Trail with Sue, spent months in Africa and Asia writing about land mines and mine victims, and put up dozens of new routes around the world.
"Really, Mark? Does it mean that much to you?"
"No," I said sheepishly.
There was a long silence. Then she asked if J.J. was competent.
We bought tickets that day, had passports and China visas FedExed the next. Less than ten days later, starting on April 1, we were on Nyambo Konka, sucking wind, attempting an unclimbed route on the unpredictable east face.
---
And damned if we didn't get up the thing.
That should be the end of the story, right? The summit. But that's not how it works in mountaineering. You finally get to the top, your lungs gulping for oxygen and your face crusted in ice and your body wasted and your blurry mind just ready to be done with it all, and you still have to get down. You have to recognize, even in your benumbed state, that hypervigilance is compulsory—otherwise the mountain will kill you.
J.J. strides off the summit, descending sure and fast through the howling wind. I struggle to keep up. At one point he pulls me in with the rope.
"You OK?" he shouts.
No. I'm starting to stumble from fatigue. "Beat," I mumble. My age is showing, despite all my efforts to deny it.
We split an energy bar, and J.J. takes weight from my pack. It's what I did for my mountaineering partners when I was his age, when I was strong and invincible. Even in a fugue of exhaustion and hypoxia, I'm still capable of realizing that I've crossed into unfamiliar territory.
We make it back to our tent eventually, without mishap. Wind has torn the fly in half. We're severely dehydrated, and our stove won't start. J.J., unconcerned, swallows packets of cider mix and dry oatmeal.
The next day, we do a dozen rappels down the east face, with lots of delicate downclimbing in between. The couloir that I was afraid would slide when we were bivying on the face has slid. Carefully, we crunch down through avalanche debris. The next day we make it out, and by nightfall we're fumbling with chopsticks in a deliciously steamy street shop in Kangding.
Slurping rice noodles with sunburned lips, pounding down bad Chinese beer, so tired I can barely sit up—this is when I finally feel triumph. It comes over me in a wave of joy, relief, and recognition.
Maybe this will be my last expedition. Probably not. Either way, I know Sue will be waiting at the airport.
Read more: A professional adventurer has to break a few eggs along the way—and, apparently, several bones and a skull. Mark Jenkins tallies up the most memorable injuries and mishaps from a life lived on the edge.
Mark Jenkins (@authormarkjenkins) was Outside's Hard Way columnist from 1999 To 2006.