E-Cargo Bikes Are the New Minivans
Eco-conscious parents are turning to electric utility bikes to haul their most precious cargo: their children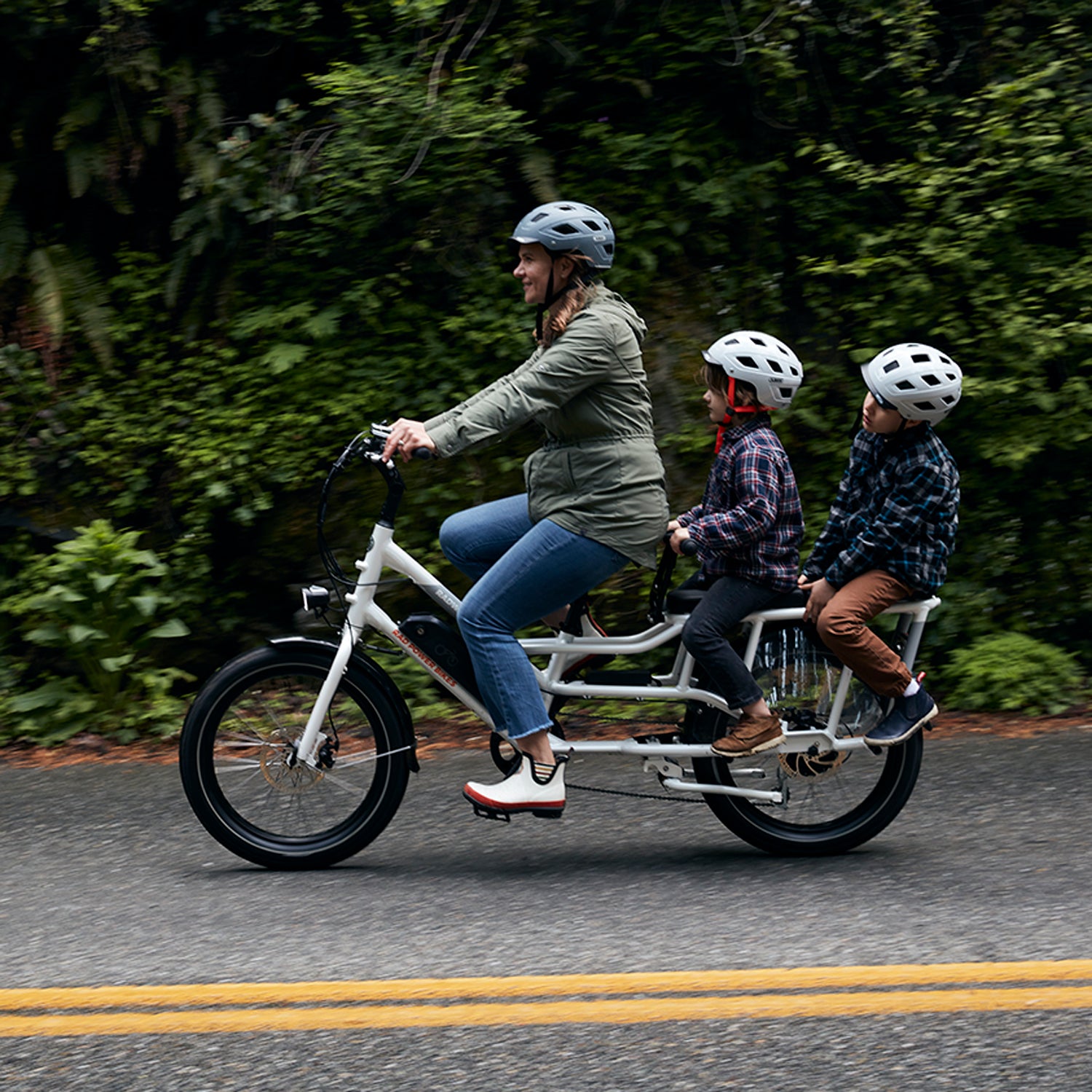 Rad Power Bikes
Heading out the door? Read this article on the new Outside+ app available now on iOS devices for members! Download the app.
Last week, while on my way to pick up my daughter from preschool, a neighbor pulled up next to me at a stop sign. "Nice RadWagon!" he said by way of greeting. "How do you like it?"
A RadWagon ($1,899) is an electric cargo bike made by Rad Power Bikes. Like other e-cargo bikes, it's a battery-powered cycle that plugs into a regular wall outlet and is made to haul hundreds of pounds of people and stuff. Some e-cargo bikes, like the Urban Arrow, are front-loaders, with an open or closed box that looks like a wheelbarrow mounted at the front.
Others, like the RadWagon or Benno Boost, have an extended rear that can carry numerous configurations of children, adults, groceries, and gear. Both types have become ubiquitous in recent months in my hometown of Durango, Colorado.
While I sometimes see teens riding e-cargo bikes to school or retirees pedaling them home from the grocery store, they're especially popular among families with small children. Parents use them instead of cars to bring their kids to school, sports events, music lessons, parks, and everywhere in between. Sure enough, my neighbor was riding a new black RadWagon to pick up his six-year-old twins from the local elementary school.
"I love it!" I shouted as we pedaled across the street. "We've put 170 miles on it in a month!"
I knew this because the small screen on my handlebars, which tracks battery life and speed, also includes an odometer. I'm sort of obsessed with the odometer: unlike the dismay that comes with watching the mileage on my car climb ever closer to an oil change or mechanical breakdown, racking up miles on my e-bike brings a feeling of smug satisfaction. Every 25 miles represents roughly a gallon of gas saved. Beyond that, each mile represents less time spent sitting in a car and more time breathing fresh air, saying hi to my neighbors, and moving my body.
Electric cargo bikes are still only accessible to families who can afford them, but their usefulness is undeniable.
Before getting an e-cargo bike, I tried to be conscientious about riding my bike instead of driving. But I live at the top of a hill at 6,500 feet above sea level, and as my daughter got bigger, biking with her became less convenient. I'm in decent shape, but the heavier she got, the more excuses I came up with. I just took a shower, I don't want to get all sweaty pedaling up that hill, I told myself. Or, I need to pick up groceries on the way home. I can't haul a 30-pound toddler and 30 pounds of food!
With the RadWagon, though, the amount of pedal assist increases or decreases with the push of a button, so I can carry up to 350 pounds without getting sweaty and out of breath. And riding is often just as fast as driving when it comes to trips around town. The RadWagon runs 45 miles on a charge, and my average cruising speed is just shy of 20 mph. Plus, by taking bike paths and back roads, I largely avoid traffic lights.
Equally important: e-bikes make running errands straight-up fun. I've lent our RadWagon to several friends, and all of them have returned from their spins around the neighborhood grinning from ear to ear. Some have even whooped out loud with the kind of joy that I associate more with snowboarding in powder than commuting to work. I'm pretty sure I whooped out loud myself the first time.
Overall, sales of electric utility bikes in Europe grew by 60 percent in 2019 alone, and they're predicted to rise by 10 percent a year in the U.S. for the next decade. But given the number of such bikes in Durango, I wondered whether most of the sales are going to similarly affluent mountain towns, which aren't necessarily representative of the places where most people live. So to make sure this is an actual trend, I posted on Twitter that I was looking to talk with other parents who regularly use e-cargo bikes to haul their kids around.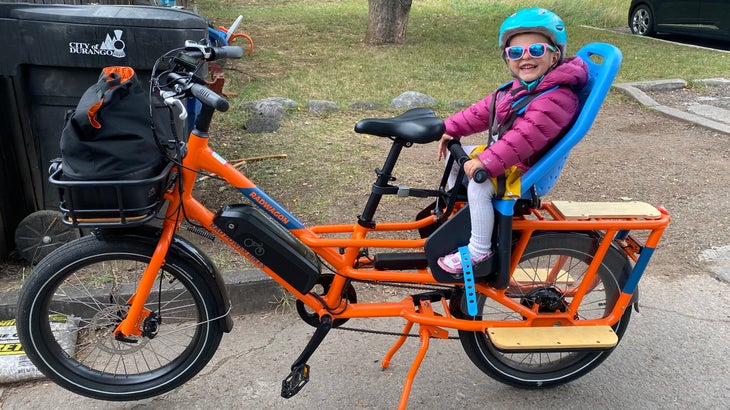 I was inundated with responses. People reached out from rural Pennsylvania, a small town in Maine, Canada's Yukon territory, Denver, Portland, Seattle, Boston, New York City, Washington, D.C., San Francisco, Minneapolis, Madison, Austin, St. Louis, Oklahoma City, Tel Aviv, Vancouver, Calgary, London, Geneva, Auckland, the Netherlands, Slovenia, Australia, and on and on and on. Parents shared pictures of their bikes carrying multiple children, mountains of sports gear, and even a Christmas tree. Some said they had used e-cargo bikes for years and were thrilled that the trend was becoming more widespread. One guy told me he'd put 2,500 miles on his in the first year. Their enthusiasm was palpable.
Electric cargo bikes are only accessible to families who can afford them, but their usefulness is undeniable. Roughly half of all car trips in the U.S. are less than a mile long, so replacing even a small portion of those with bike rides can cut down on the 28 percent of greenhouse-gas emissions that come from transportation. Perhaps even more important, biking instead of driving shows children that they can play a role in keeping our planet clean and safe. Even my three-year-old understands that driving less helps keep pollution out of the air.
A few miles after chatting with my neighbor, I pulled up at my daughter's preschool to see a veritable fleet of e-cargo bikes. There was an Urban Arrow capable of carrying three kids; a dad with his son's pedal bike strapped to the back of his Blix Packa Genie; and several iterations of RadWagons. Parents stood around the bikes chatting. I thought of school pickup during my own childhood: a line of gas-guzzling '80s station wagons and early '90s minivans lined up at the curb, with parents—nearly all of them mothers—ensconced inside, often smoking cigarettes.
Even if the scene at my daughter's preschool isn't representative of the country as a whole, we've come a long way since those days. And with e-cargo bikes gaining in popularity among not just parents but also delivery companies, older adults, and other groups, I'm hopeful their price will eventually decrease—helping all of us continue to move in a healthier, more sustainable direction.
Lead Photo: Rad Power Bikes