Gear to Get Your Toddler Outside All Year Long
With the right clothing, tools, and toys, your family can be happy and comfortable out there anytime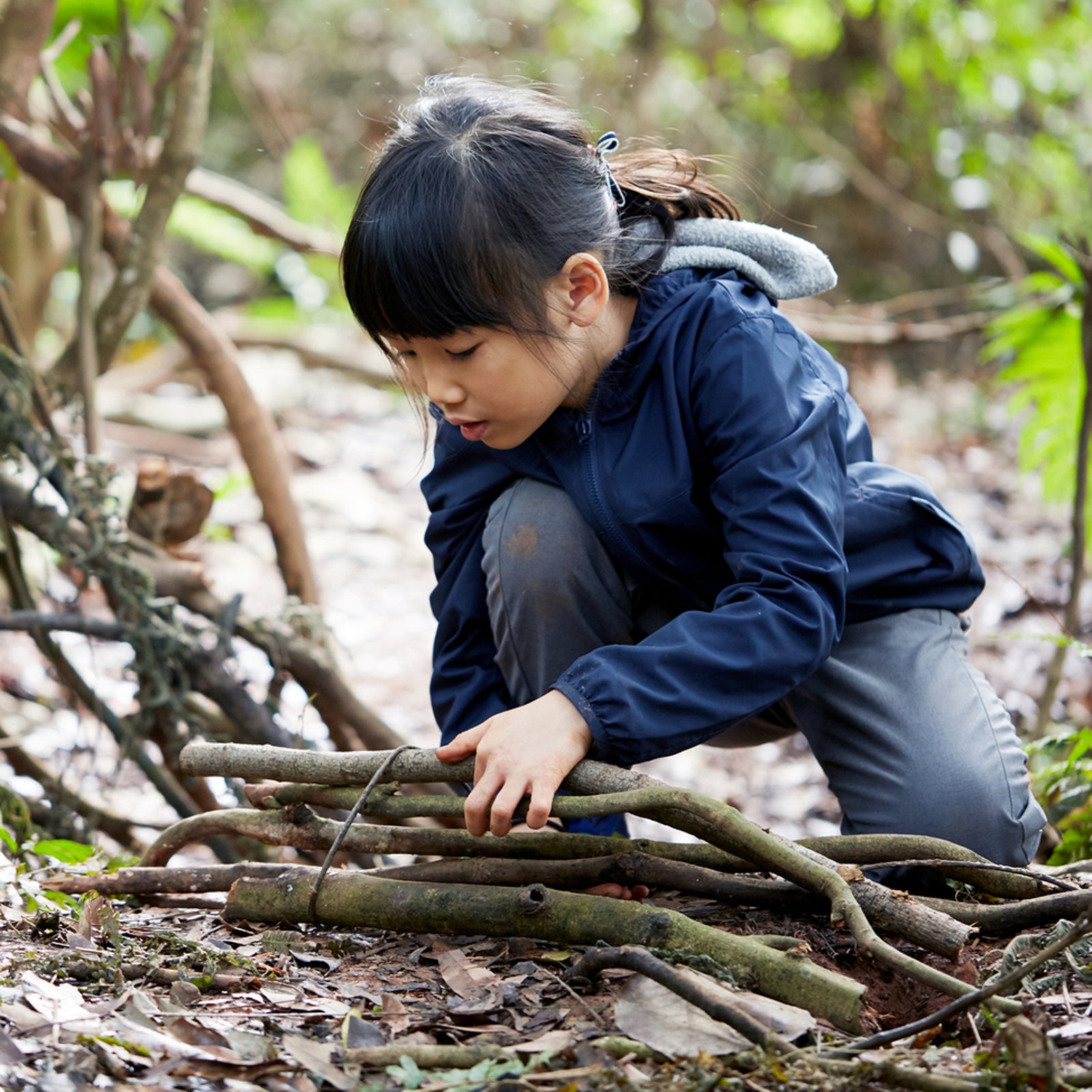 Heading out the door? Read this article on the new Outside+ app available now on iOS devices for members! Download the app.
Toddlers love being outside. They also love stalling, pushing boundaries, and asserting their independence, which can make getting them out the door and into nature an adventure in itself. So when I began putting together a list of the best gear to help you and your toddler spend more time outside, I had one goal: to include items that make it as fun, easy, and hassle-free as possible. 
This is not a list of hot new gear for 2021, nor does it suggest specialized equipment for turning your kid into an outdoor sports prodigy. Instead, this is the stuff that's been in heavy rotation in my own life as the parent of a two-and-a-half-year-old. These items that have helped us maximize our time outside in every season and type of weather. And given that the holidays are coming up, these are also great gift ideas for toddlers or the caregivers of toddlers. (If you're looking for ideas for babies, I put together a similar list last year to help you get your infant outside; those recommendations still stand.)  
---
Best for Family Bike Rides
Until this year, I didn't know it was possible to be evangelical about a bike seat, but now I can't stop raving about the Mac Ride ($199). Specifically designed for taking toddlers on singletrack, this front-mounted marvel weighs just two pounds, fits on any adult bike, and has no straps or harnesses apart from rubber foot stirrups. That might be a little terrifying at first, but most kids get the hang of it right away. Once they do, your child becomes an active participant on rides, responsible for holding their own balance and getting a feel for steering. We use ours several times a week, for family singletrack rides as well pedaling around town to the library or park. I wrote a full review here and truly can't recommend it enough.  
Best for Fun in the Sun
My family lives at 6,500 feet in sunny Colorado, which means we use a lot of sunscreen. But because I don't love slathering up my kid 365 days a year, I also use other forms of sun protection, like this wide-brimmed hat from Sawyer, paired with a lightweight hooded sunshirt, like Patagonia's Cool Daily Sun ($39). When I do use sunscreen, I swear by Sierra Madre sun cream by the Super Salve Company ($13). It's creamy, water-resistant, and made with natural, recognizable ingredients. 
Best for Little Campers
One of the most common questions I get from other parents is how my family gets any sleep when we're camping. The answer is twofold: First, we camp often so that it feels fairly routine. Second, we make sleeping on the ground as comfortable as possible with a Big Agnes Duster 15 ($110). This ingenious sleeping bag attaches to an inflatable sleeping pad, so your kid won't roll off in the middle of the night. Also, the bottom rolls up like a tube of toothpaste, so the bag can grow with your child. Without empty space at their feet, toddlers stay toasty; and without having to buy a new kids' sleeping bag every few years, you have more money for college savings.  
Best for Budding Naturalists
Sometimes (OK, most times) the most fun thing to do with a toddler isn't crush miles but get deep into one small corner of nature. Encourage your child's curiosity and observational skills with a Melissa and Doug Shimmy Snake magnifying glass ($5) and this sturdy wooden bug and critter cage ($15) from Etsy seller Out On a Limb Wood Gifts. Together they're perfect for examining lichens, catching fireflies, and taking home rocks and acorns. 
Best for Reluctant Hikers
Sometimes my daughter will run down the trail so fast I can barely keep up. Other times… not so much. For hikes when she's less enthusiastic, I have a secret weapon. I dash ahead, hide a jelly bean on a rock or log, and wait for her to catch up and find it. Is it bribing my child to hike? Maybe. Does it get her stoked for spending time outside and make her a super fun hiking partner? Without fail. We've tried a few types of candy and find that Jelly Belly Kids' Mix ($6) works best. The jelly beans are small enough that eating a handful doesn't lead to a major sugar high, they don't melt or stick to the dirt, and they're easy to stuff in a pocket. As an added bonus, we also learned that hummingbird eggs are the size of jelly beans, so we can pretend we're searching for hummingbird eggs. 
Best for Backcountry Adventures
By toddlerhood, kids are usually tough enough, mobile enough, and adaptable enough to start taking the kinds of trips that may have seemed too daunting when they were infants. But bringing tiny people into the backcountry can still be worrisome, especially for grandparents or other family members who don't understand the draw of being somewhere with no cell-phone signal. Ease everyone's mind with a Garmin InReach Explorer ($450). Yes, it's expensive, but it's an invaluable piece of safety gear that lets you send and receive text messages, alert search and rescue to your location, and track and share your trip with family and friends—all of which means you can go on more adventures with less worry.
Best for Long Days Outside
There are lots of cute snowsuits and fleece onesies to keep your child warm while playing outdoors. But as soon as your offspring are out of diapers, putting them in a suit like that means you'll have to strip them down nearly naked to pee. When it's freezing out and the wind is blowing, this is a recipe for a toddler meltdown (and/or a child who will try to hold their pee). Avoid all of that with a solid layering system: non-cotton base layers, fleece midlayers, and, if necessary, a down or waterproof outer layer. For base layers, this set from Ella's Wool ($69) is worth every penny. For your midlayer, go with REI's Groundbreaker Fleece jacket ($30) and L.L.Bean's Mountain Fleece pants ($30). For waterproof outer layers, we love the simplicity of L.L.Bean's Discovery rainjacket ($40) and Discovery rainpants ($20). And for extra-cold temperatures, tack on Patagonia's Hi-Loft Down Sweater Hoody ($129).
Best for Little Feet
Good footwear makes the difference between a fun adventure and a miserable one. You want something that goes on easily, has good traction, can handle a variety of conditions, and stands up to toddler abuse. I've tried all kinds and haven't found anything that compares to Native Jefferson Child shoes ($35) for warmer months and Baby Bogs ($55) for colder weather. 
Best for Potty Training on the Go 
The potty-training phase doesn't have to mean staying home. The Potette Plus ($35) is a travel potty that folds up small enough to stash in your backpack, comes with disposable bags for easy cleanup, and can work either as a stand-alone potty or a seat that fits over an adult toilet, which makes it equally great for airport travel and backcountry adventures. In fact, this may just be my most essential piece of toddler gear. Tip: get the one with the collapsible silicone liner for the most versatility. 
Best for Playing in the Snow
This is probably sacrilegious for a Colorado parent to say, but getting a toddler onto skis is an ordeal, and not one that I care to undertake very often. For everyday winter adventures, sledding is way more accessible and fun. From the first rides with a toddler sitting on your lap to years later when they can pull the tube uphill by themselves, there's nothing better than L.L.Bean's Sonic Snow Tube ($129). It's fast, durable, and forgiving on even the bumpiest runs.  
Lead Photo: ChaoShu Li/Stocksy