How Hilaree Nelson Navigates Risk and Parenting
The famed ski mountaineer on what she thinks about when she looks down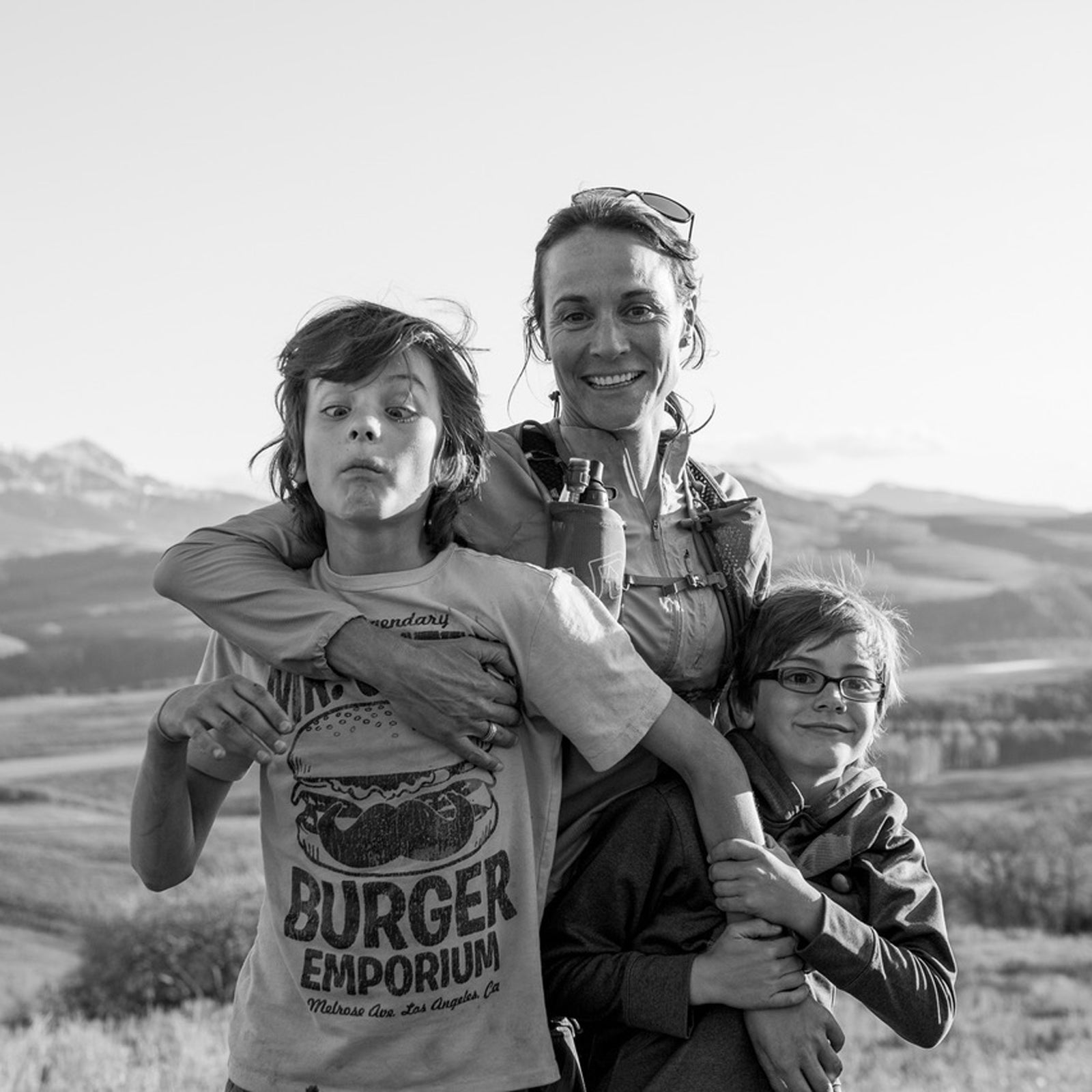 Scott Rinckenberger(Photo)
Heading out the door? Read this article on the new Outside+ app available now on iOS devices for members! Download the app.
I met Hilaree Nelson in 2012 when I was considering getting pregnant. Three months prior, the ski mountaineer had become the first woman to climb two 8,000-meter peaks, Everest and Lhotse, in 24 hours, but instead of asking about that, I grilled her about becoming a mother and continuing mountain adventures. Would it be the end of my skiing and climbing?
"Some people lose their drive after kids," says Nelson, whose sons are now eight and ten. "I didn't."
That response is one of the reasons I have a three-year-old daughter today, and I'm happy to report that I also stayed motivated. But I've often since wondered if the ability to compartmentalize those two things—your parenting mind and your climber mind—is built-in or if it's something we can learn and hone. Last fall, while reading about Nelson's historic first ski descent of Lhotse in September 2018 with partner Jim Morrison, I kept wondering what, exactly, happens in her head during that moment when she flips on the focus switch.
"It really has to do with learning how to direct your attention to what's important and relevant to the task at hand," says Mark Aoyagi, director of the University of Denver's sport and performance psychology program and a sports psychologist with the Denver Broncos. "A lot of times we talk about blocking out distractions, but you can't actually block anything out, so the skill is to learn how to focus your attention to where it needs to be, and then everything else fades away."
"My kids just appeared in my mind so clearly. They were like, 'Wake up. You have to get down.'"
Yet it's not always as simple as focusing on your mom thoughts or your athlete ones. Nelson describes a high-stakes situation in which thinking of her kids actually helped her survive. After climbing for nearly 50 hours during the Everest-Lhotse linkup, mostly above 8,000 meters, she began hallucinating while down-climbing loose, icy rock on Lhotse. In retrospect, she says, her brain was about to go off the rails, but because of the altitude, she didn't realize it. "My kids just appeared in my mind so clearly. They were like, 'Wake up. You have to get down.'" She channeled that energy in a mantra—"focus, focus, focus"—that helped her safely descend another 5,000 feet to camp.
But in 2017, when she and Morrison skied off 21,165-foot Papsura in India's Himachal Pradesh state, thinking about her kids affected her differently. After waiting three hours on the summit for fog to clear, they began their descent in a whiteout, navigating blue ice barely covered in snow in the 55-degree couloir. When the clouds lifted 1,000 feet down, the exposure on the route became clear.
"If you lost an edge, there was no chance of self-arresting, and you'd just be gone," Nelson says, describing the view 2,000 feet straight down to the crevasse. "As soon as I thought about that fall, the death, my kids popped into my mind."
A ball of panic rose toward her chest. Her heartbeat went up, and her breathing shallowed. If she didn't calm herself, she was hosed. She set the pick of her ice ax into the slope, turned her body so she could look uphill, and breathed until her heart rate came down. Then she pushed the thoughts of her boys out of her head.
The difference between her responses on Papsura versus Lhotse was about perspective, says Chris Heilman, a sports psychologist based in Driggs, Idaho, who works specifically with mountain athletes. "We all look through rose-colored glasses," she says. "In her mind, she chooses whether thinking of her kids is helpful or hurtful. In the second scenario, it was hurtful, a scary situation. [On Lhotse] she viewed seeing her kids as helpful."
Nelson navigated the sudden flood of adrenaline and cortisol by broadening her focus while on Papsura, Heilman says. This included looking uphill and conscientious breathing. "She stepped back into an open, broad focus to calm herself down and lower her arousal to a level that was appropriate for her to move forward," he says.
Ultimately, this ability to focus is a vital skill for any mountain athlete—it's just more evident in Nelson's case, with the juxtaposition of mothering and serious alpinism. "If you don't have the skill set to control your fear and your panic, then it's going to inevitably work against you in a seriously dangerous way," Nelson says. "It's allowed me to push myself deeper into adventures and deeper into harder objectives."
Lead Photo: Scott Rinckenberger
Trending on Outside Online