16 Kid-Friendly Things to Do at National Parks
Hand-picked by Kate Siber, author of the new children's book 'National Parks of the USA'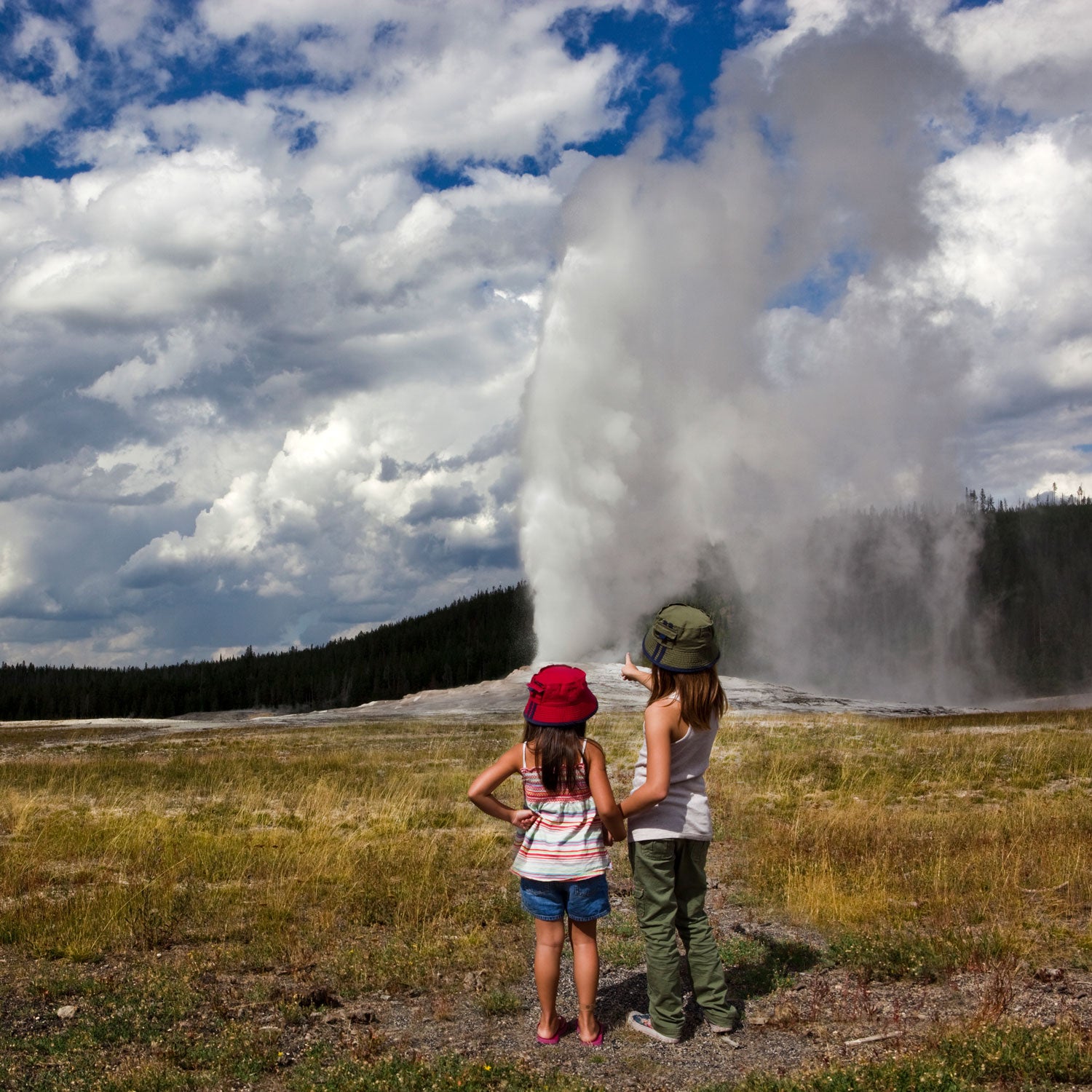 redhumv/iStock(Photo)
Heading out the door? Read this article on the new Outside+ app available now on iOS devices for members! Download the app.
When journalist Kate Siber was ten, her parents took her and her two older brothers on a tour of national parks in the Southwest. "Seeing the Grand Canyon changed my entire view of the world," she recalls. "I grew up in Boston. I didn't know that kind of landscape existed. I had never been under those huge, beautiful blue skies. I'd never seen red rock. It got me incredibly excited to explore the world." Twenty-eight years later, Siber has visited 30 parks and just published her first book, National Parks of the USA, aimed at inspiring kids to see the natural world.
Highlighting 21 parks and their flora and fauna, the book is a colorful, kid-friendly encyclopedia crammed with beta, factoids, and vivid illustrations by artist Chris Turnham. The book is crawling with strange, fantastical beings, like the desert-dwelling short-horned lizard that can puff up to twice its normal size, change colors, and shoot blood out of its eyes, and the tarantula hawk, a wasp that preys on its namesake spiders by stinging them and laying eggs in their bellies.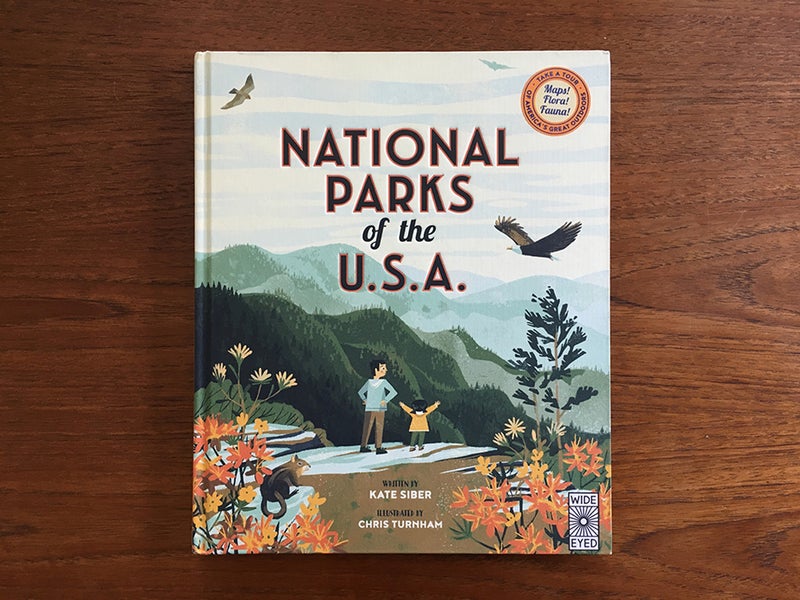 "The national parks are a fantastic gateway to getting kids excited about nature," Siber says. "There are all sorts of cool programs, from stargazing to paleontological digs to historic reenactments and the Junior Ranger program." Whenever we visit a park, my own daughters, now eight and ten, love to record animal sightings to earn their Junior Ranger badge. To help you find inspiration (and stuff to do) for your own kids, I asked Siber for suggestions at four of our best parks.
Acadia National Park, Maine
With 520 feet of elevation gain over 3.2 miles round-trip, the prominent knobby outline of the Beehive, looming above Sand Beach, is one of Acadia's most iconic landmarks. Climb up through forest to the exposed summit; granite staircases and iron rungs help you navigate some of the more exposed sections. Due to heights and exposure, this one's best suited for sturdy legs.
Tide pools are ankle-deep miniature ecosystems capable of capturing kiddos' attention for hours. Prowl for periwinkles, mussels, and sea stars—if you turn them over, you might see a clear, jelly-like substance on its underside. "That's its stomach!" Siber says. "It pushes it out when it eats and then sucks it back in."
Ice cream is pretty much required eating in Maine. After a full day of adventure, hit up Mount Desert Island Ice Cream for blueberry basil and blackstrap molasses banana cones.
Otter Cliff has easy to moderate rock climbing routes rated 5.5 to 5.10—perfect for beginners. "The cliffs aren't huge, but they are right on the ocean, which makes it pretty exciting," says Siber, who was 12 when she climbed there for the first time. "I felt like a superhero."
Badlands National Park, South Dakota
In 2010, a seven-year-old girl found a saber-toothed cat fossil in the park. Visit the Fossil Preparation Lab and follow the quarter-mile Fossil Exhibit Trail to learn about the ancient rhinos, cats, and horses that once roamed these grasslands and see real-life paleontologists doing their thing.
The park's remote location all but guarantees low light pollution, dark skies, and great stargazing. As with many parks, there are cool nightly telescope programs during summer.
The four-mile Medicine Root Loop traverses prairie with impressive views of the Badlands, one of a handful of easy to moderate hikes in the park that are ideal for little legs.
Prairie dogs are the cornerstone of the Badlands' ecosystem. Set up a stakeout in the grasslands to watch them pop their heads up from their burrows, which also act as shelter for other creatures, like burrowing owls.
Death Valley National Park, California
Ever seen a snake track? Get up early while it's still coolish to climb 100 feet to the top of the Mesquite Flat Sand Dunes, near Stovepipe Wells, and look for tracks of all the critters that were out slinking around at night—kangaroo rats, lizards, snakes, and mice. BYO sand board or flying saucer to sled down the dunes.
Bring lots of water and head to Badwater Basin, the lowest point in the United States, at 282 feet below sea level. Go at midday and keep your eyes out for the heat mirage. Sometimes it appears as an enormous, shimmering whitewater river in the desert—other times, it's a lake.
It's a Death Valley tradition to take your picture beside the digital thermometer at the Furnace Creek visitor center—especially on super-scorching 110-plus-degree days.
In cooler winter months, the Golden Canyon Trail is a straightforward three-mile hike that gets you deep into the tawny, sculpted canyon.
Yellowstone National Park, Wyoming
Old Faithful is the epicenter of Yellowstone for a reason. The geyser, which puts on an extravagant show every 60 to 90 minutes, belongs on the top of your list despite the crowds. From there, move on to other nearby steam-shooting vents like Riverside Geyser, Daisy, and Castle.
Head to Midway Geyser Basin to gawk at Grand Prismatic Spring, the country's biggest and most colorful geothermal pool, wider than a football field. The water gets its rainbow of wild Technicolor hues from the heat-seeking bacteria called thermophiles that live there.
For an up-close look at mud pots, steaming hot springs, and the bubbling Lakeshore Geyser, among others, sign up for a half-day sea kayaking tour of Yellowstone Lake, geared for explorers ages seven and up.
Go on a DIY wildlife safari through the Lamar Valley. The bison are hard to miss; head out at sunrise or sunset for the best chance of seeing wolves.
Lead Photo: redhumv/iStock
Trending on Outside Online